Wow!! Where did the time go?! I'm a little sad that she's one…but so very glad I decided to document her monthly update. I can't believe how fast it flew by. As CRAZY as it sounds…. I kinda want another one? I was very OMG NO. OH HELL NO. OH NOT EVER AGAIN. But….looking back at her baby photos… I really miss the baby stages! Thanks for tuning in her monthly updates! You can read them all here:
I love planning parties although I did consider hiring the experts at FGS Events Management to plan the event for me. I might do that for next year's party! I knew I wanted a bunny party. And because she's born around Easter time, so it was PERFECT. I got ALLLLL bunny supplies at 70% discount. I wanted the party to look like I did a lot of work with minimal effort.
Paperless Post
I am a huge party planner. I am pretty sure I've planned every single of my friend's birthday. I just love planning and making sure all the details are perfectly planned, now to the stationaries. Yes! That needs to be part of my themed party too! Now that I am a Mom, I am LOVING planning parties for my daughter. I decided to use Paperless Post, a website and app for online invites and stationery, I am SO glad I did because it's just made my life so much easier sending these invitations out. My guests loved it too!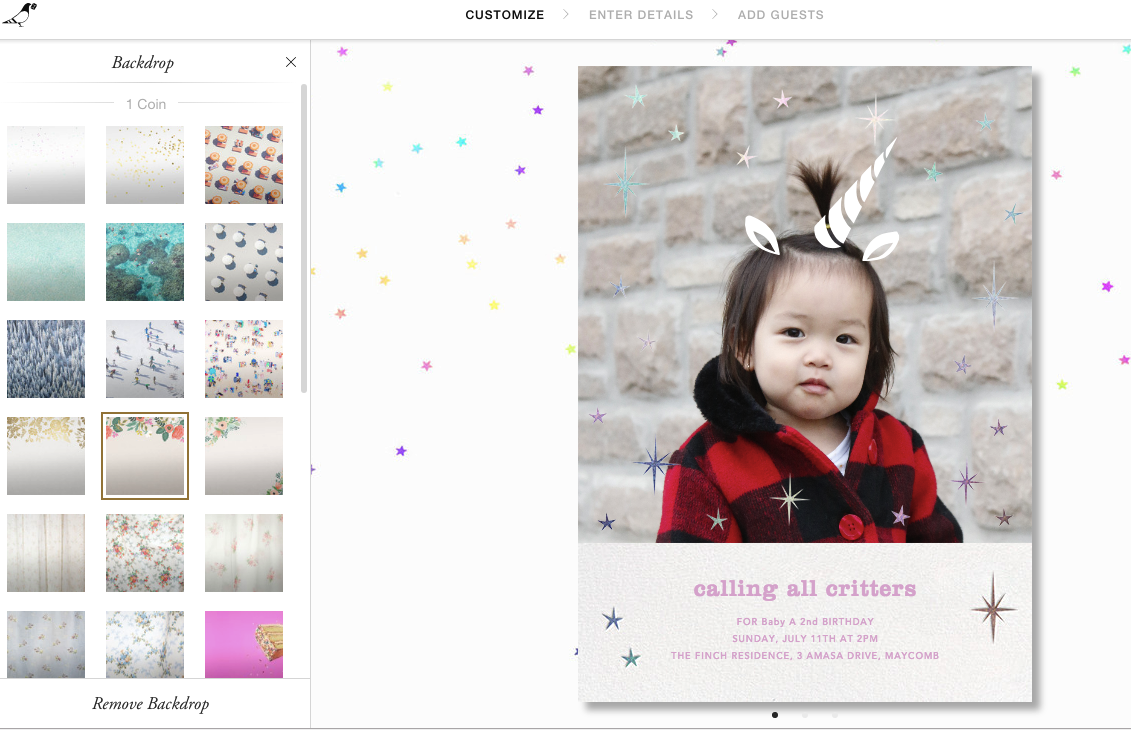 Planning the Party
I knew I wanted a rabbit theme, but I also knew… I don't have time to prep everything, so I decided to sacrifice on making home made food. If I had known about sites like office monster earlier on, then I probably would have ordered food from there. But it is what it is. At least I know for next time.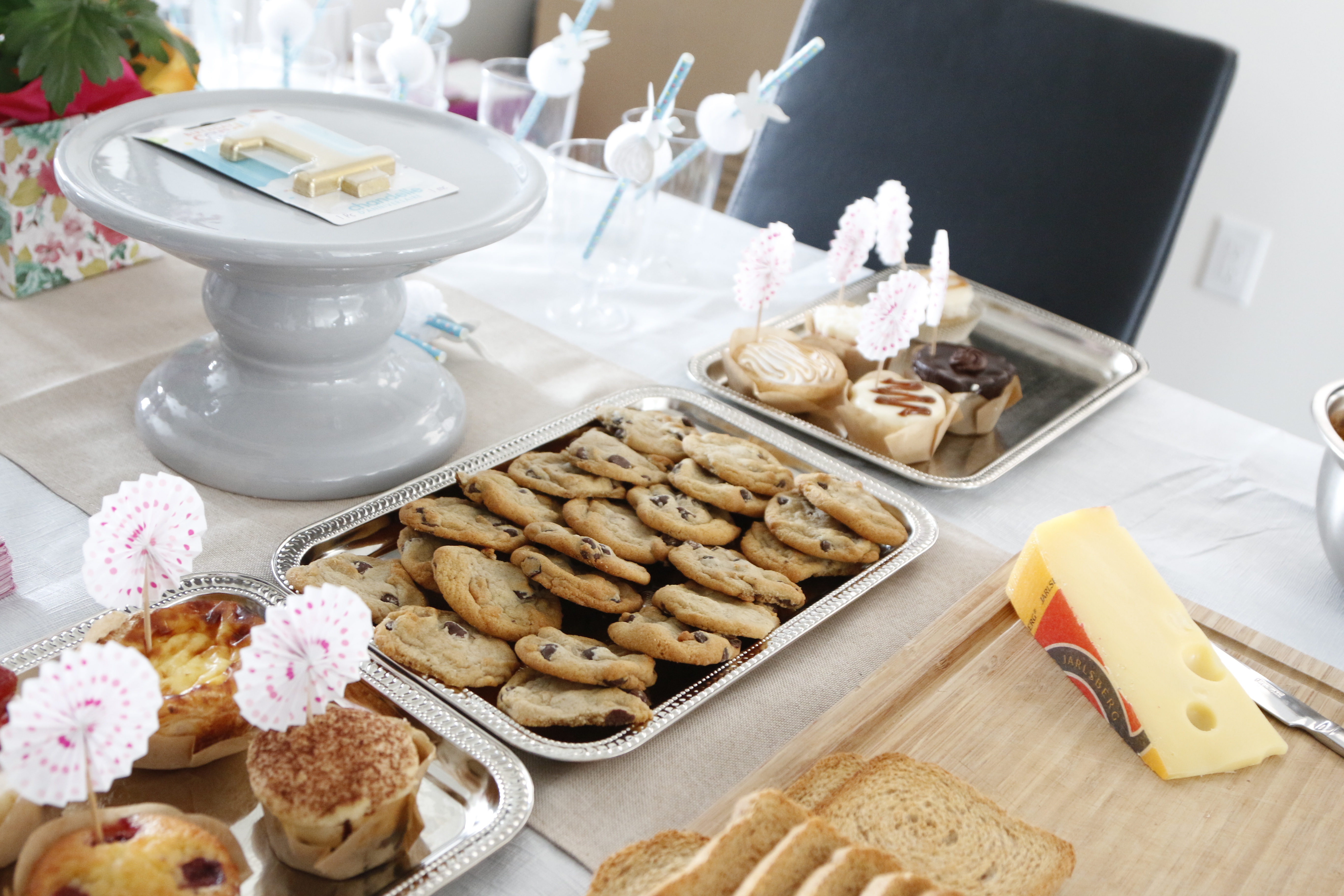 I had a dessert table, filled with chocolate chips cookies, muffins, and a platter of cheese and crackers! I also had a section for baby snacks. (duh!) My daughter is all about snacking, so I can't have a party without baby food right??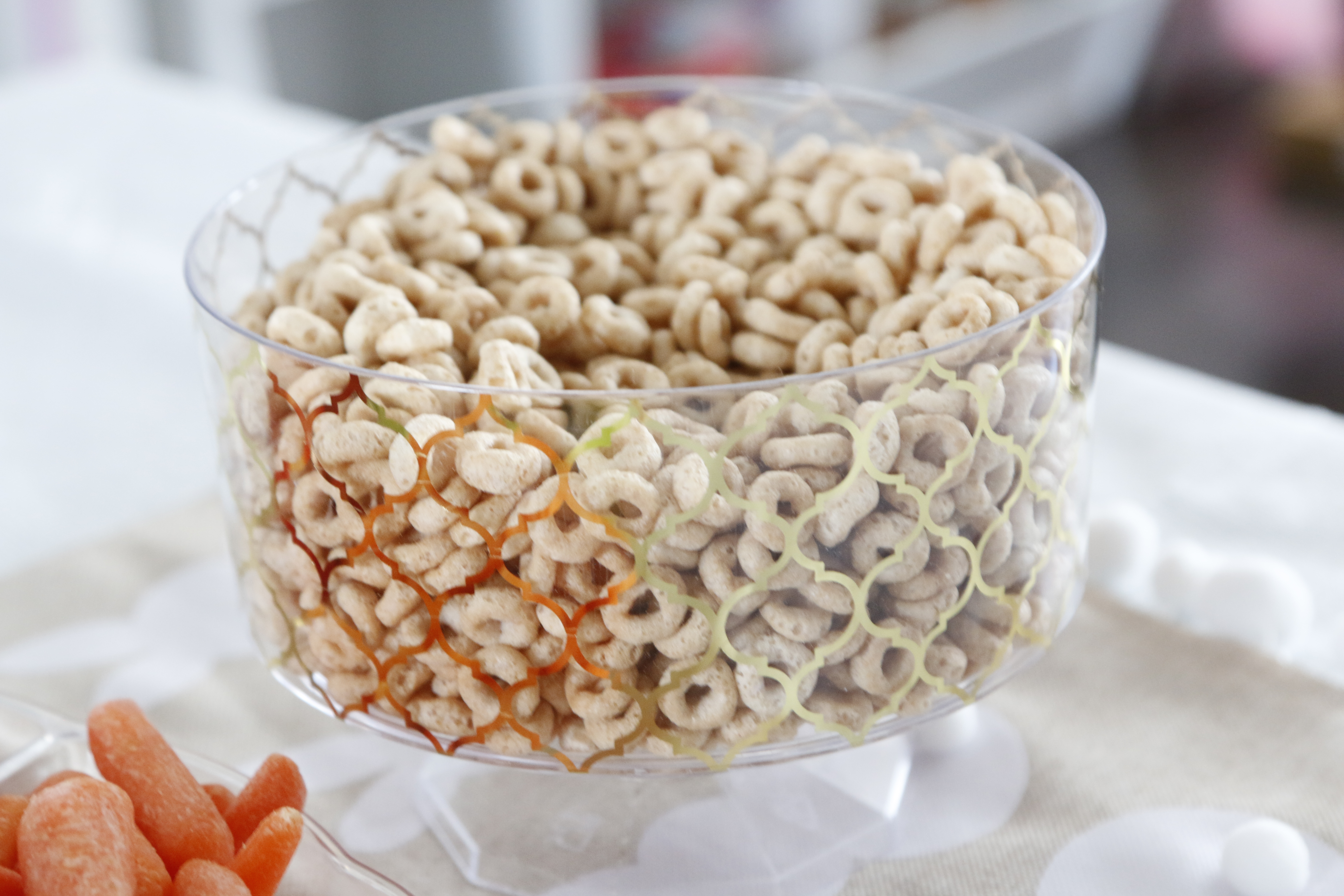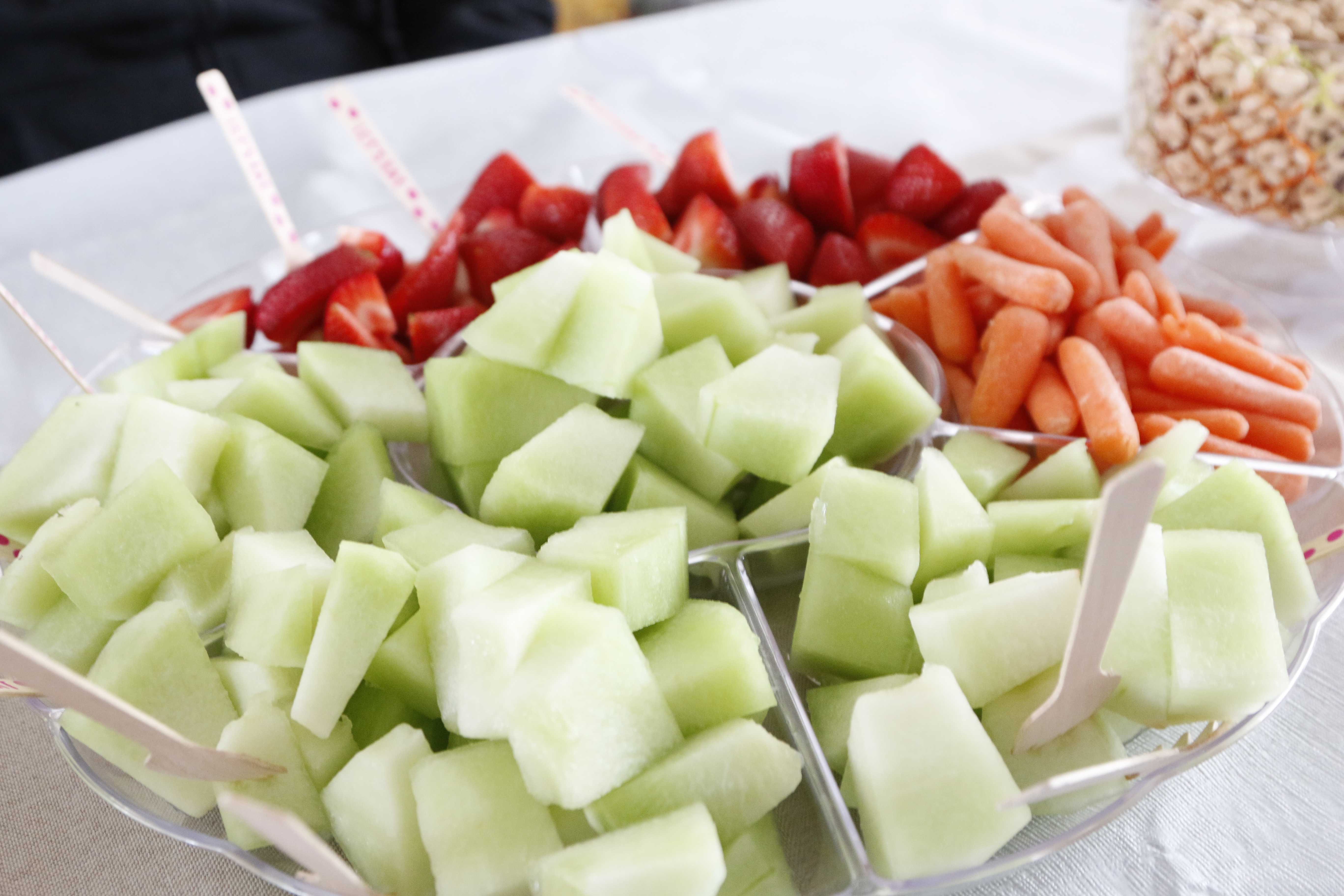 Pretty simple right?
I've also created 7 baby loot bags for the babies! Yes I had SEVEN babies coming. It was insane, I've never hosted a party with so many kids in my life. This was a challenge. It was hard to think of things to include in their loot bags that they would appreciate, but it dawned on me that unique personalized bobbleheads would be a great idea; they always seem to make babies laugh so much, and they're something they can keep forever as a reminder. I also filled them with lots of other goodies.
baby rubber duck
easter bunny ears
pens/pencils
bouncing balls
easter basket
I didn't really plan many activities as the guests were all so young and I thought they would just want to play. I found that N-Flatables has commercial bounce houses for sale at wholesale pricing and I was so tempted to get some for the garden but then I thought they might be a little small for a big bouncy house. It's definitely something I'm going to get when she's a little older and has a back yard party. I wouldn't mind going on it either!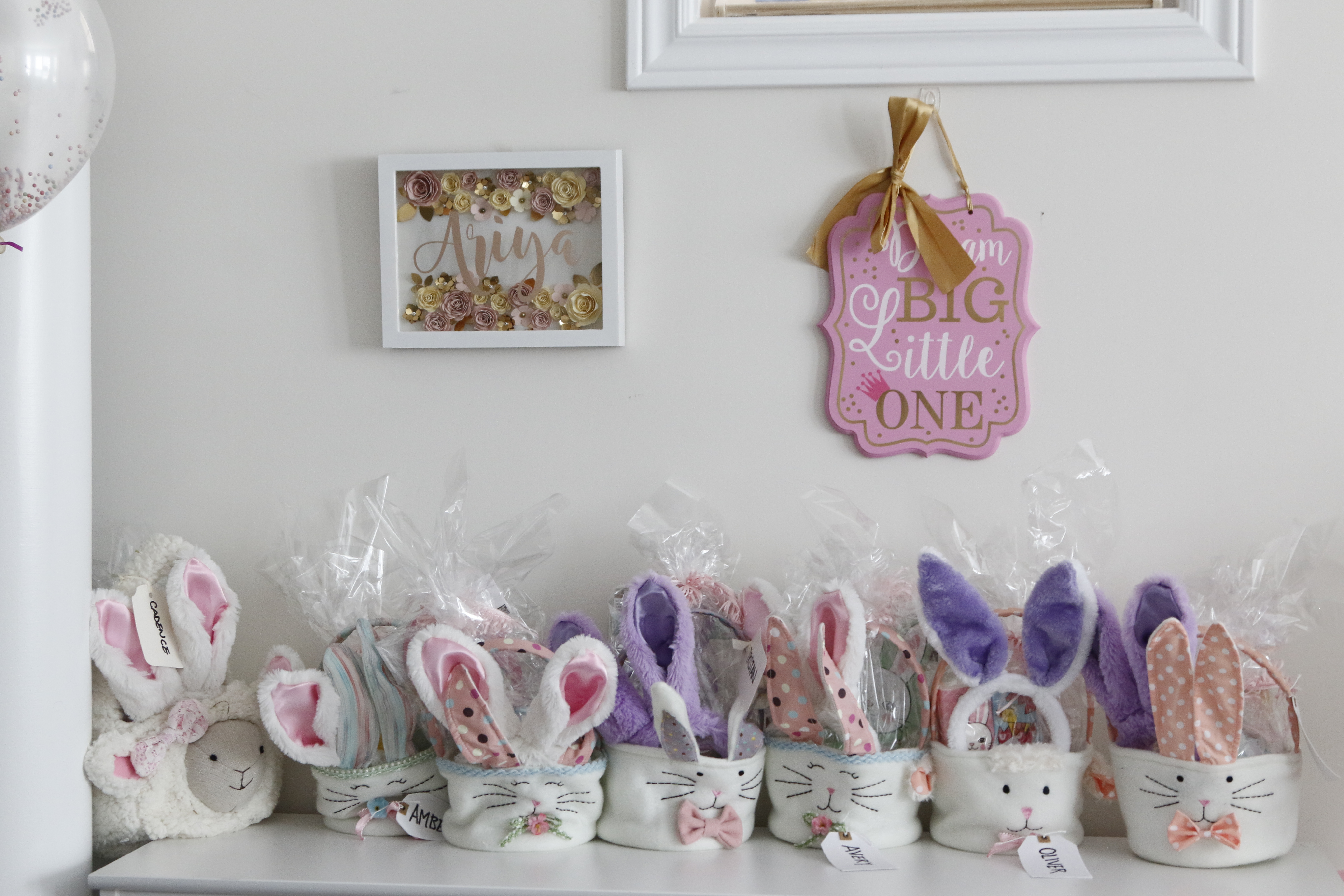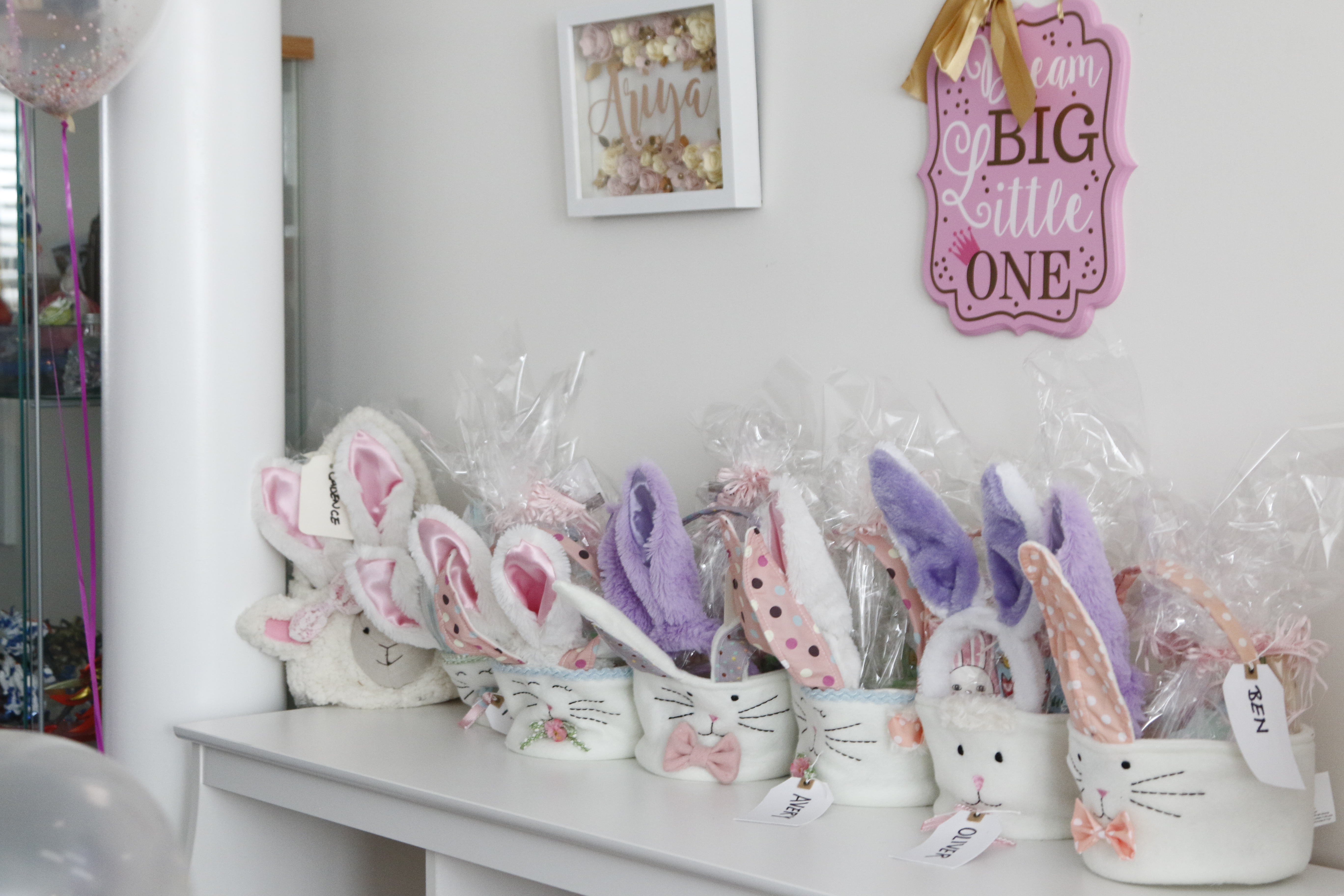 I also created bunny straws and re-used all the old jars I made when I held her 100 days! You can read all about the 100 days celebration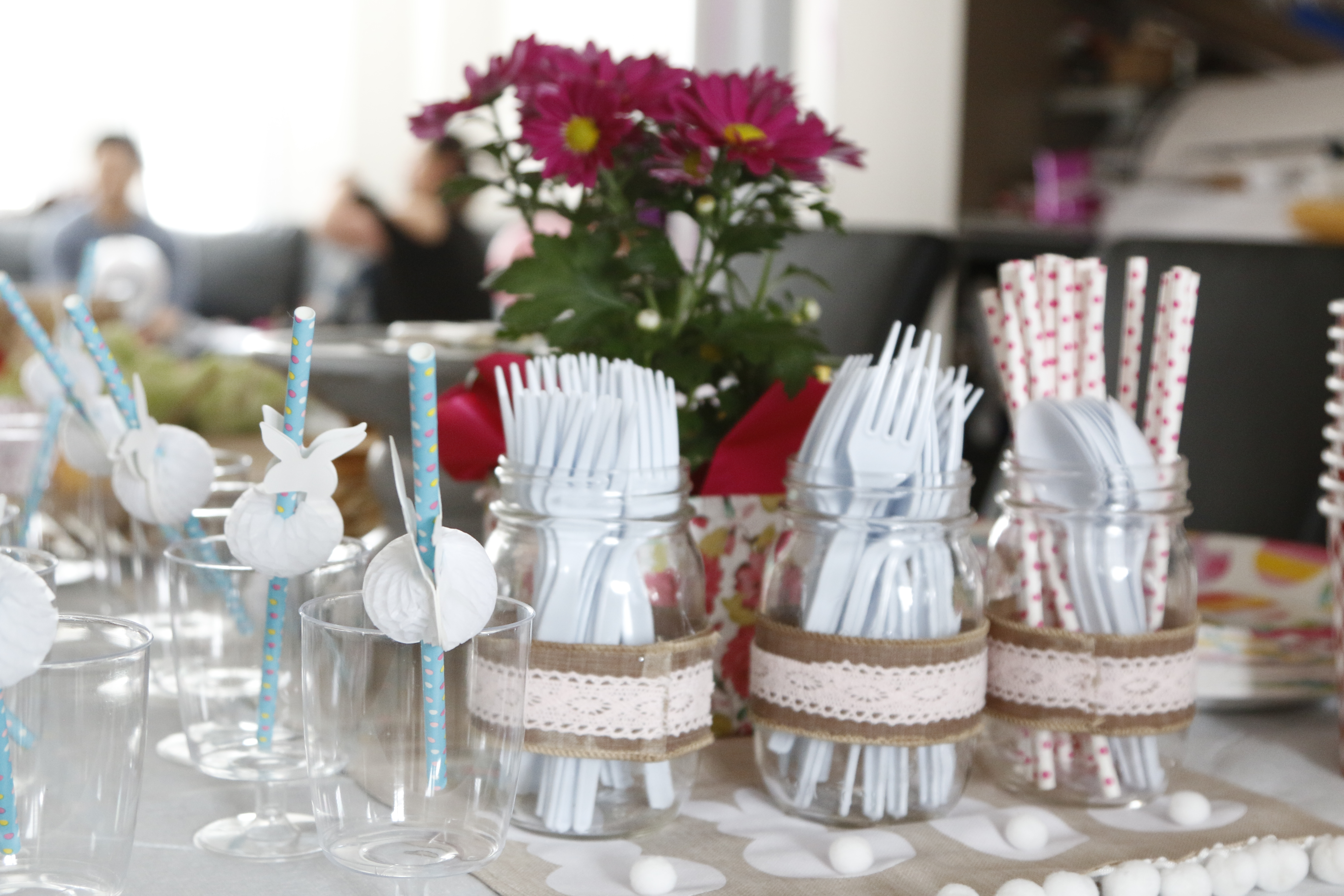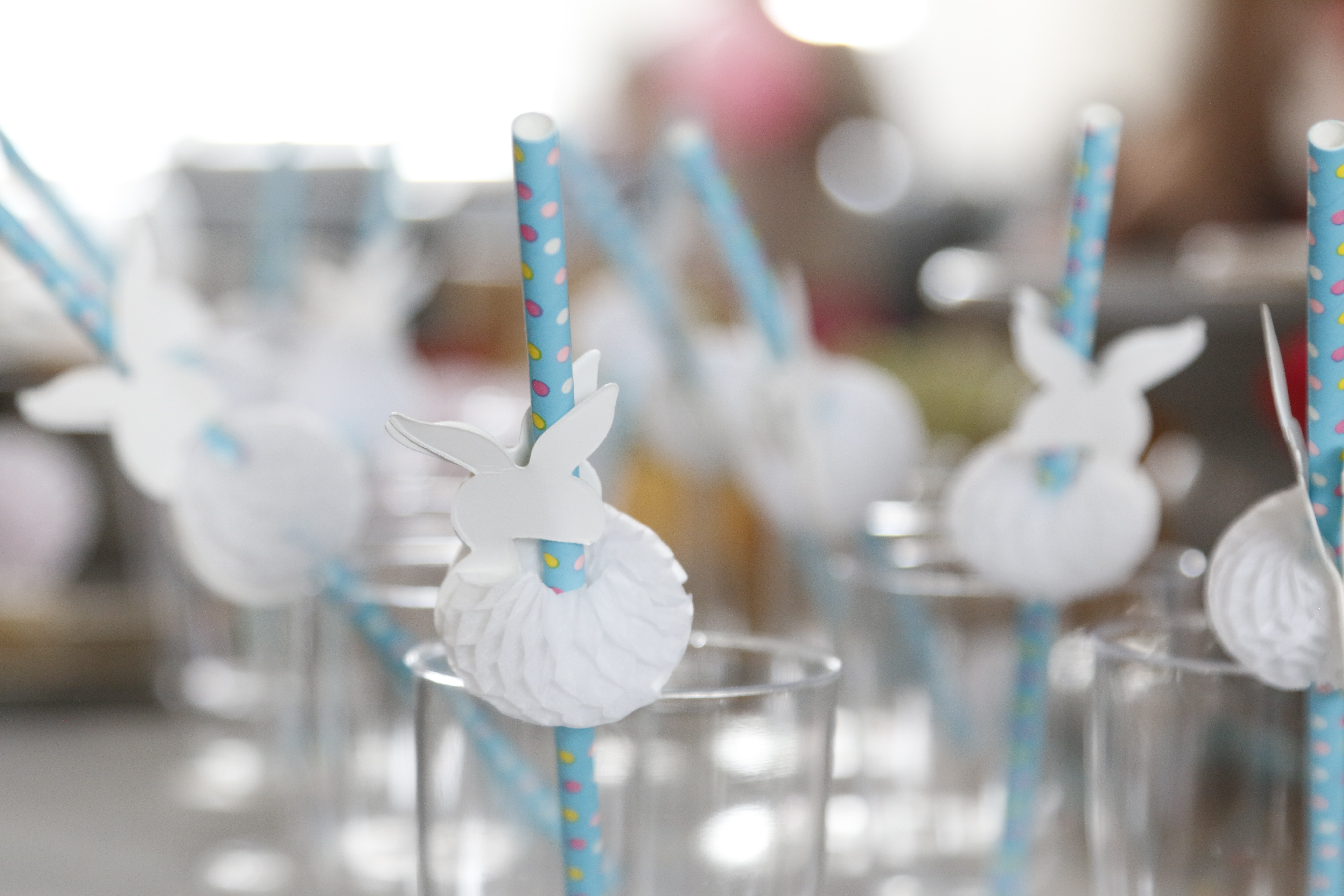 For some final touch, I added a paper fan on the muffins! Simple yet it added the final finishing touches with least amount of effort. (You will notice that I try to create things that has least amount of effort!) So you can spend your time doing other things like taking care of your baby!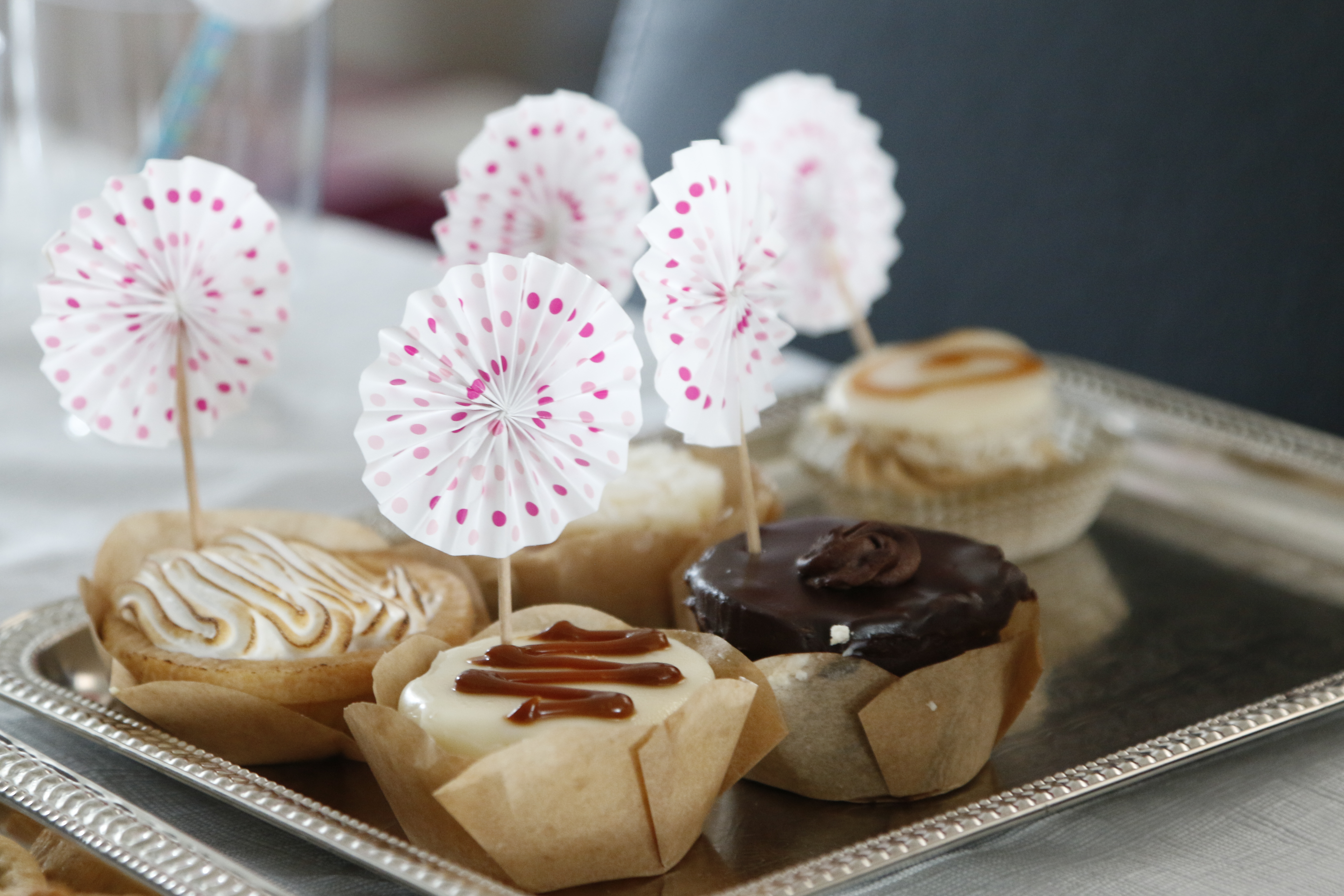 The Birthday Cake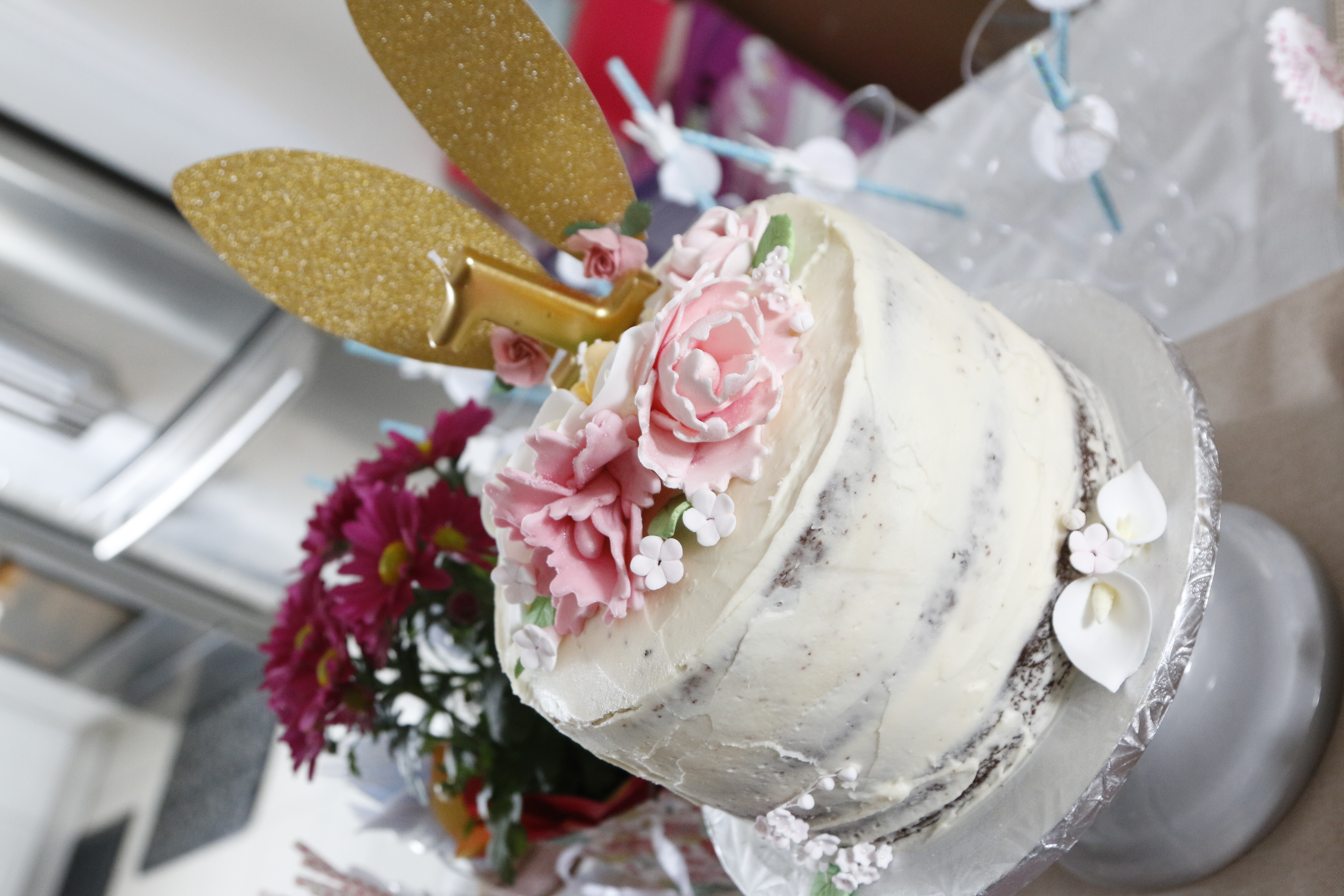 This beautiful cake was by Hanna Tarroza. Thank you so much for making the cake. This is beautiful and it was too beautiful that I didn't want to cut it!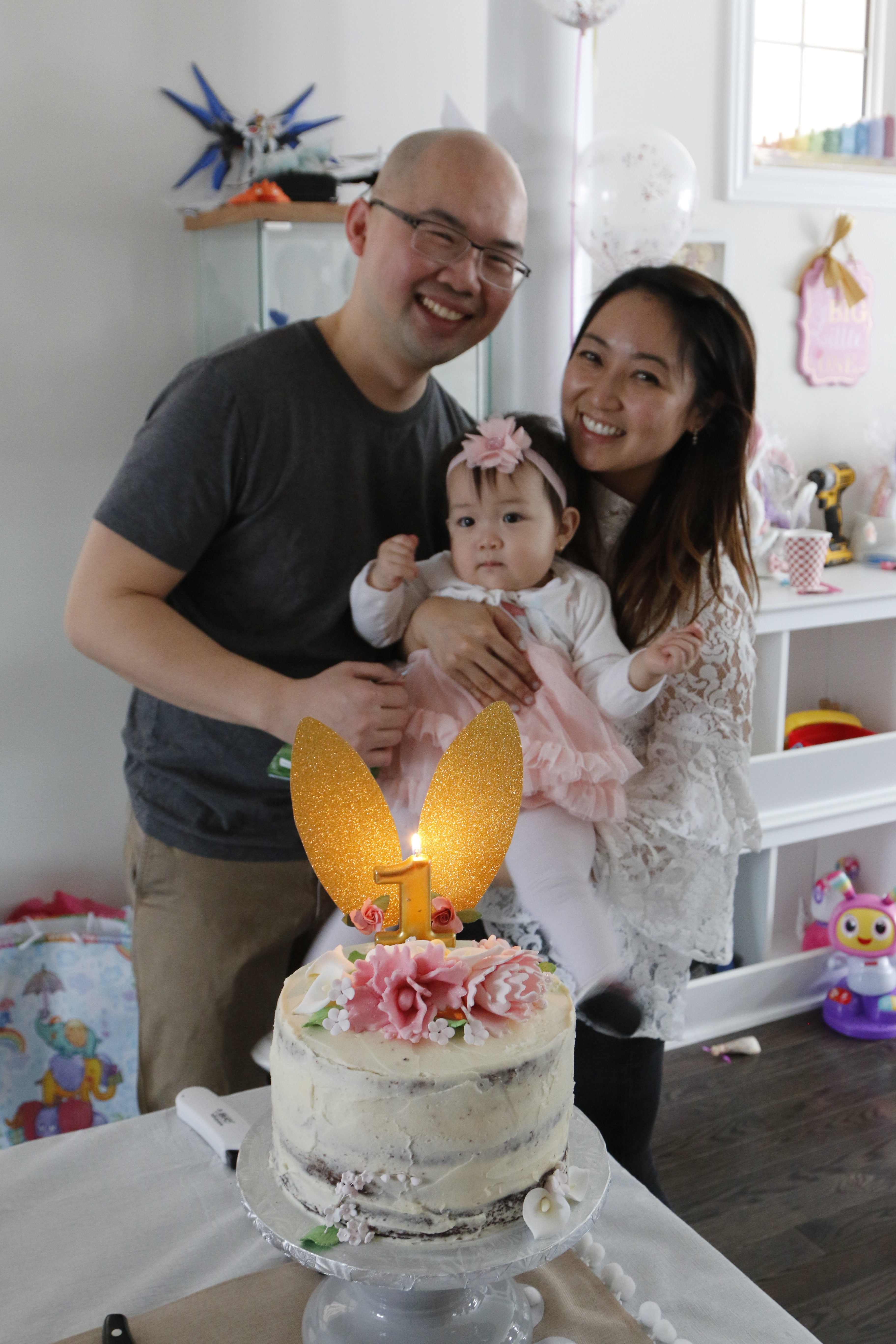 All the babies had sooooo much fun.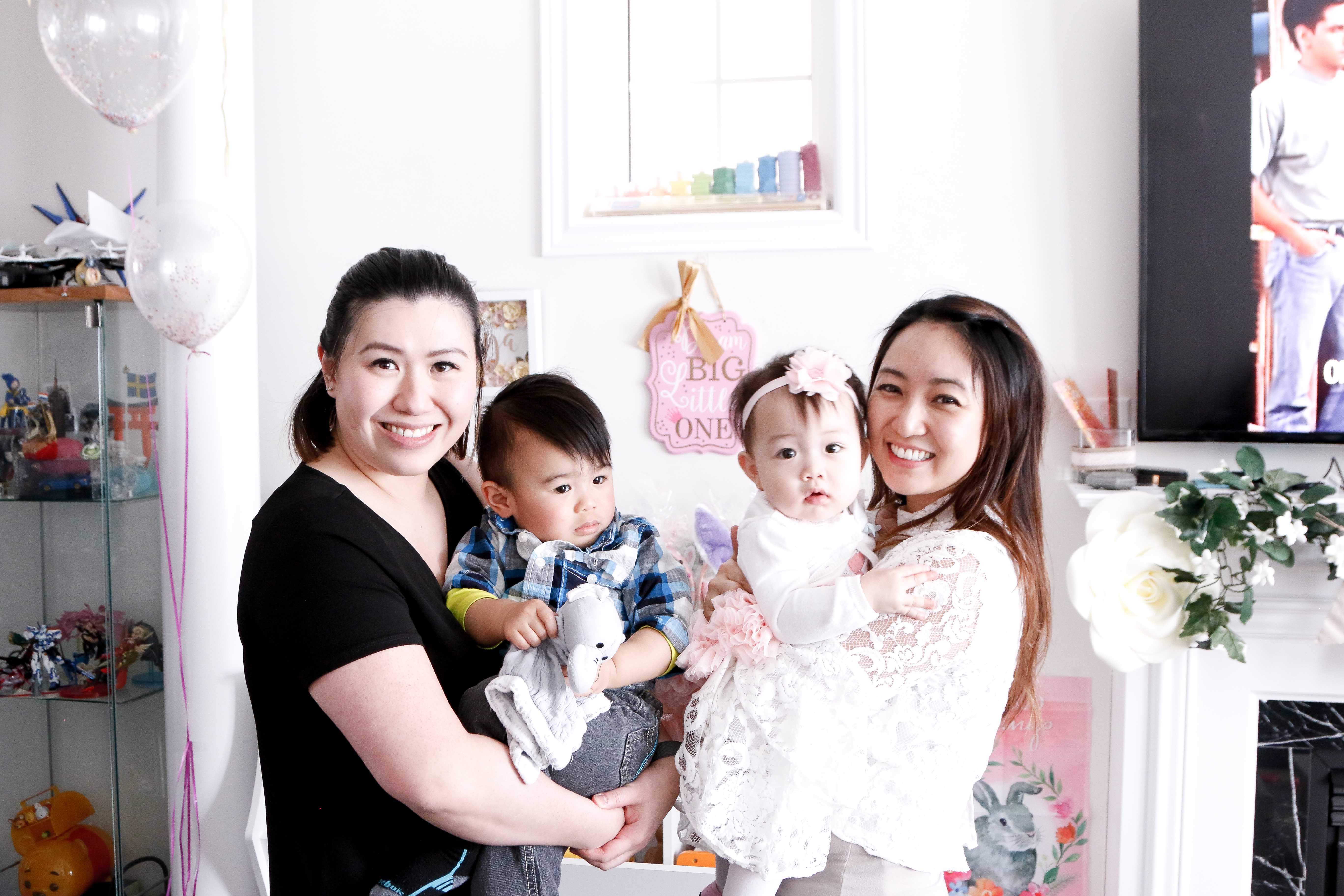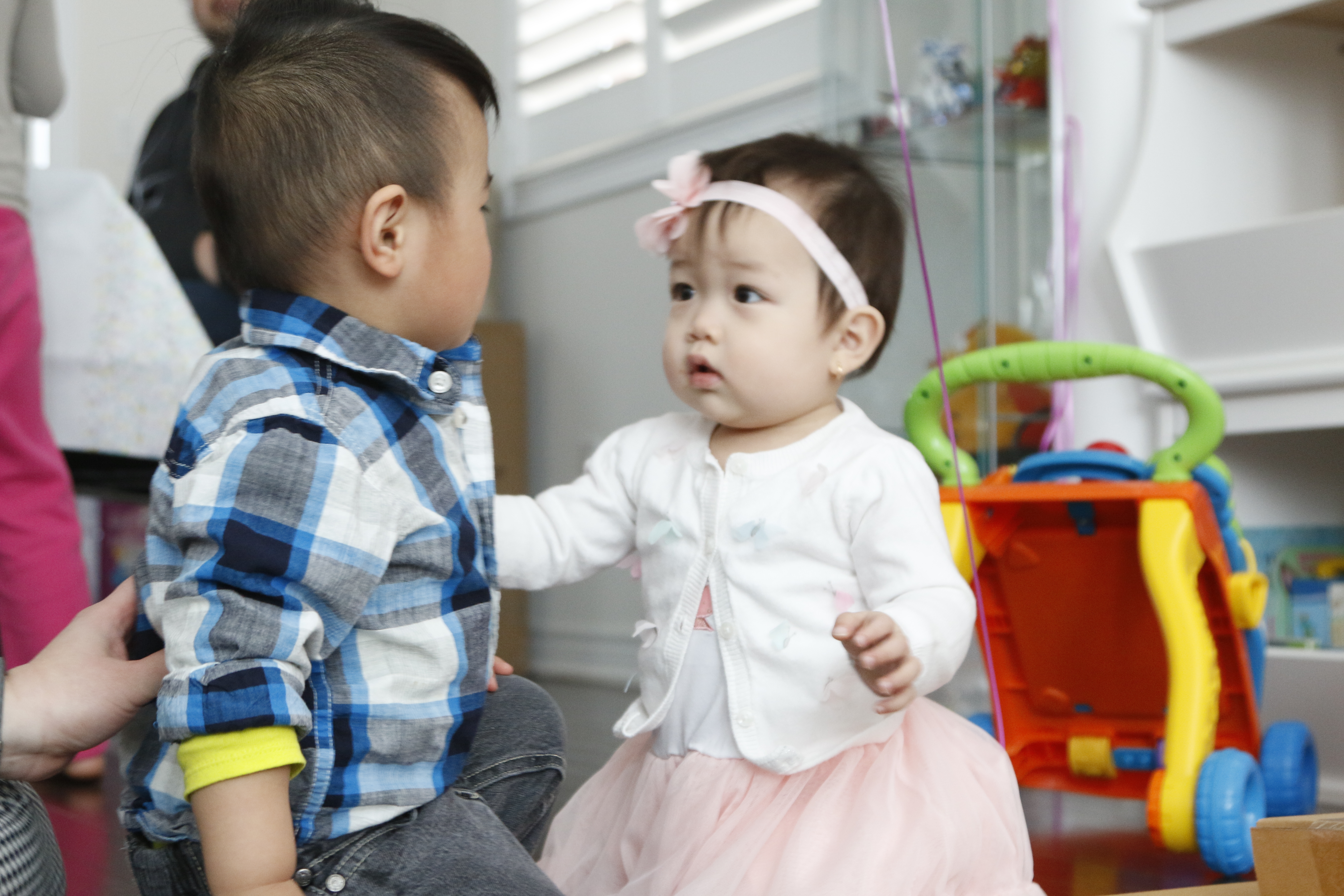 She loves talking to other babies. It's the cutest thing ever.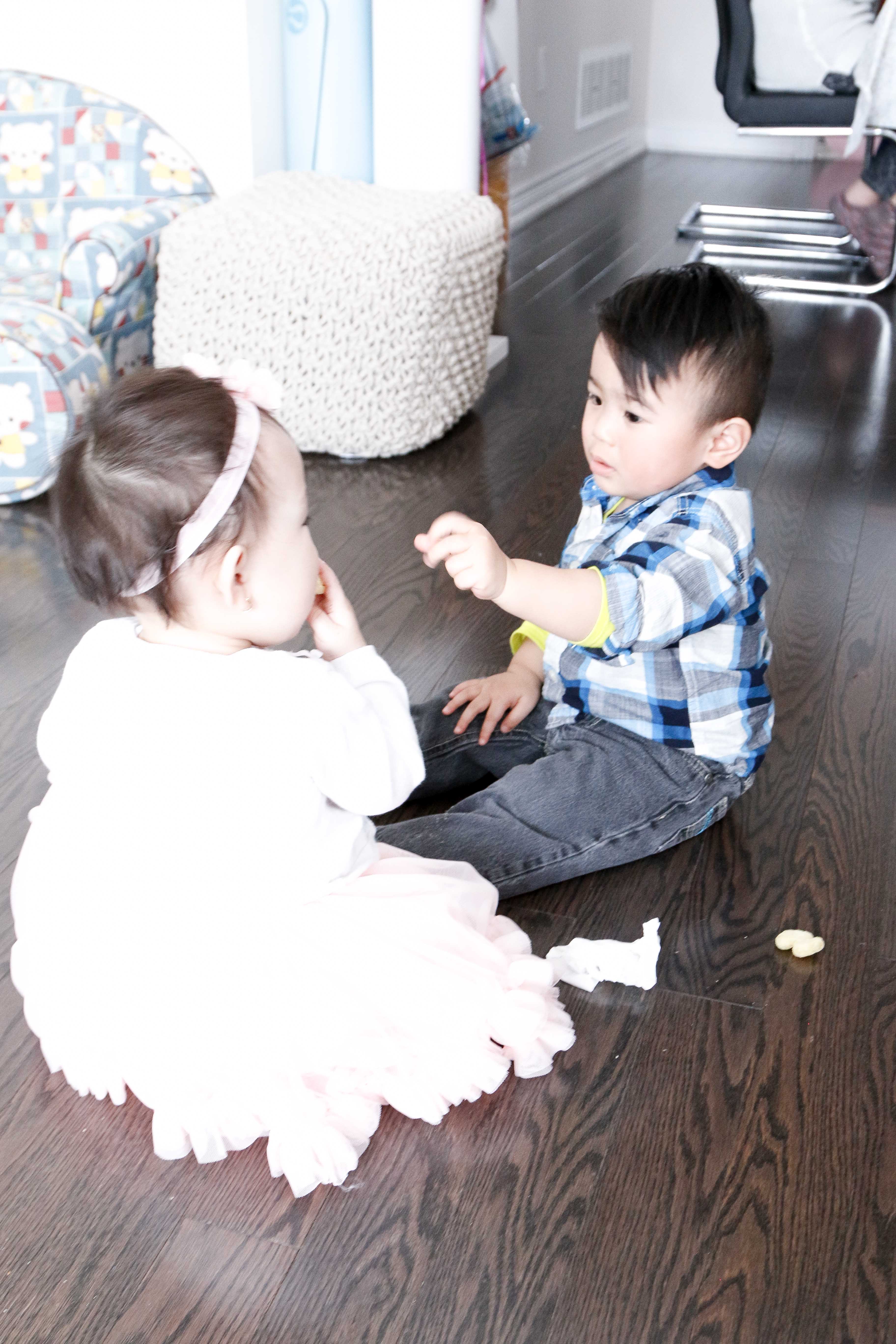 Oh and eating all Love Child Ducks!
Of course, you need to have a timeline of all the monthly photos at the 1st birthday party! Looking at these photos really make me miss the newborn stage!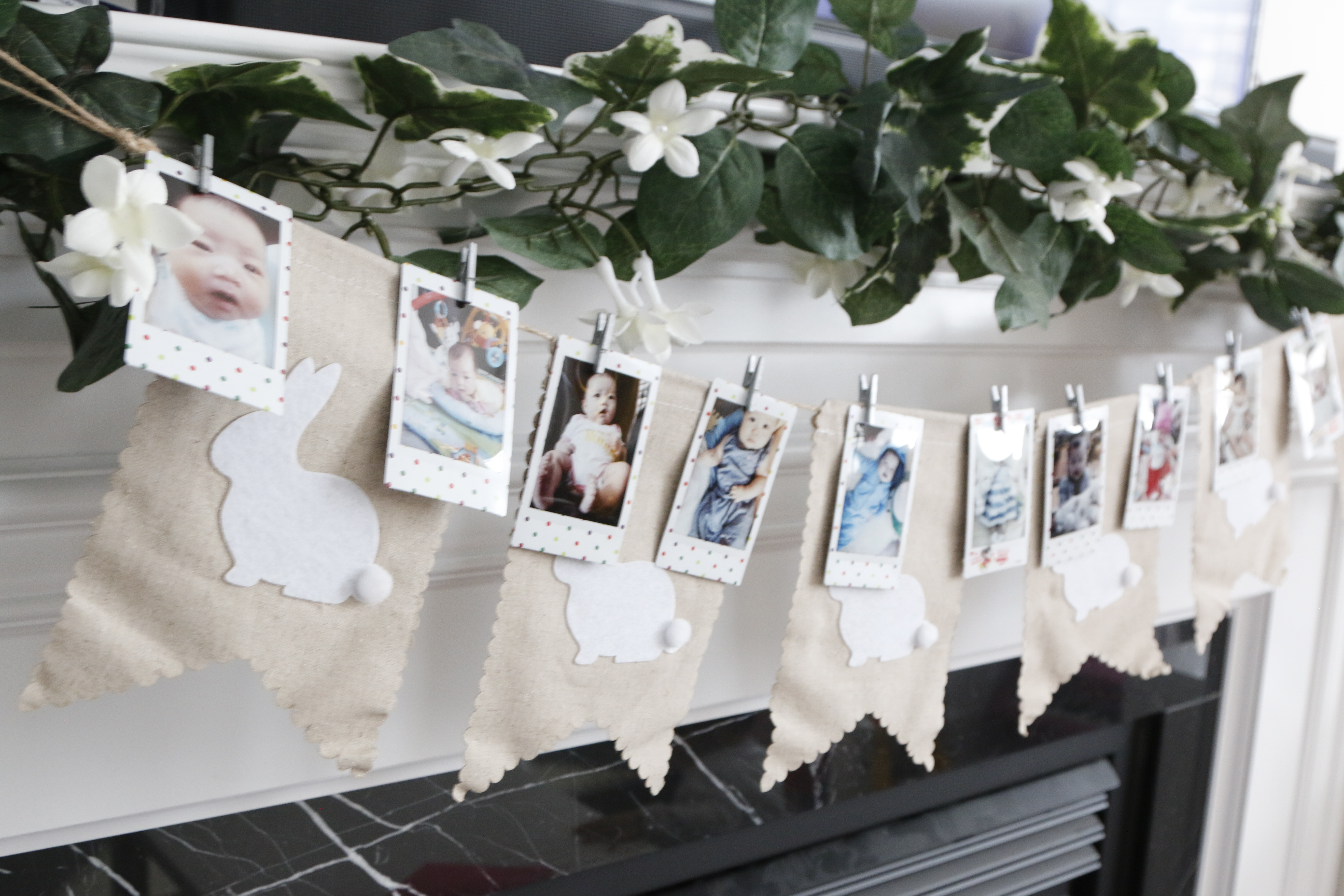 This chubby bunny was SHOWERED with gifts. She is one spoil baby.. or one loved baby? The below unicorn was from her Kai Yeh (God father) You can purchase yours here.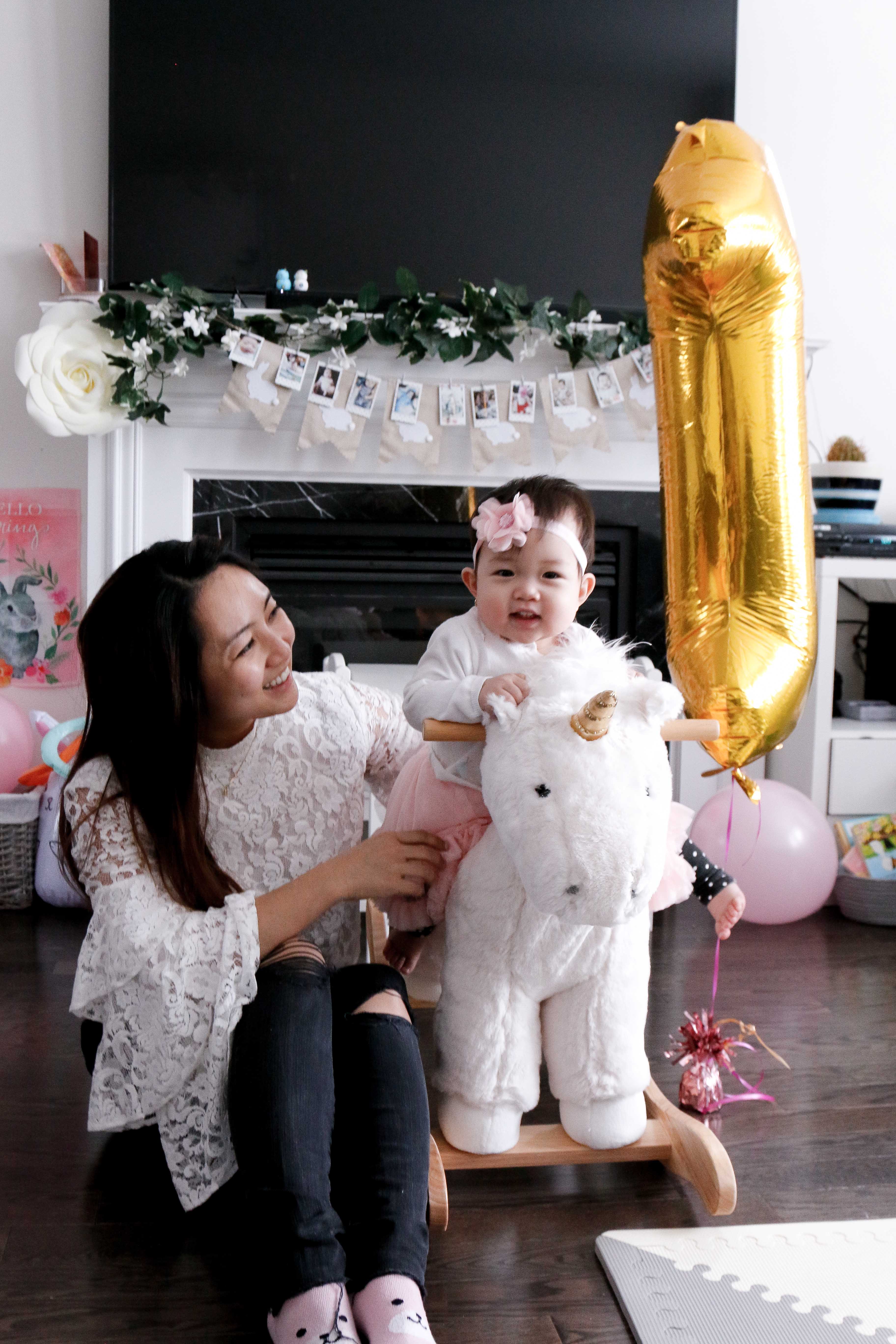 I was BEYOND exhausted after the party. Even though the party was only 5 hours. But I was DRAINED. So many kids! Surprisingly, all kids behaved and there was no crying!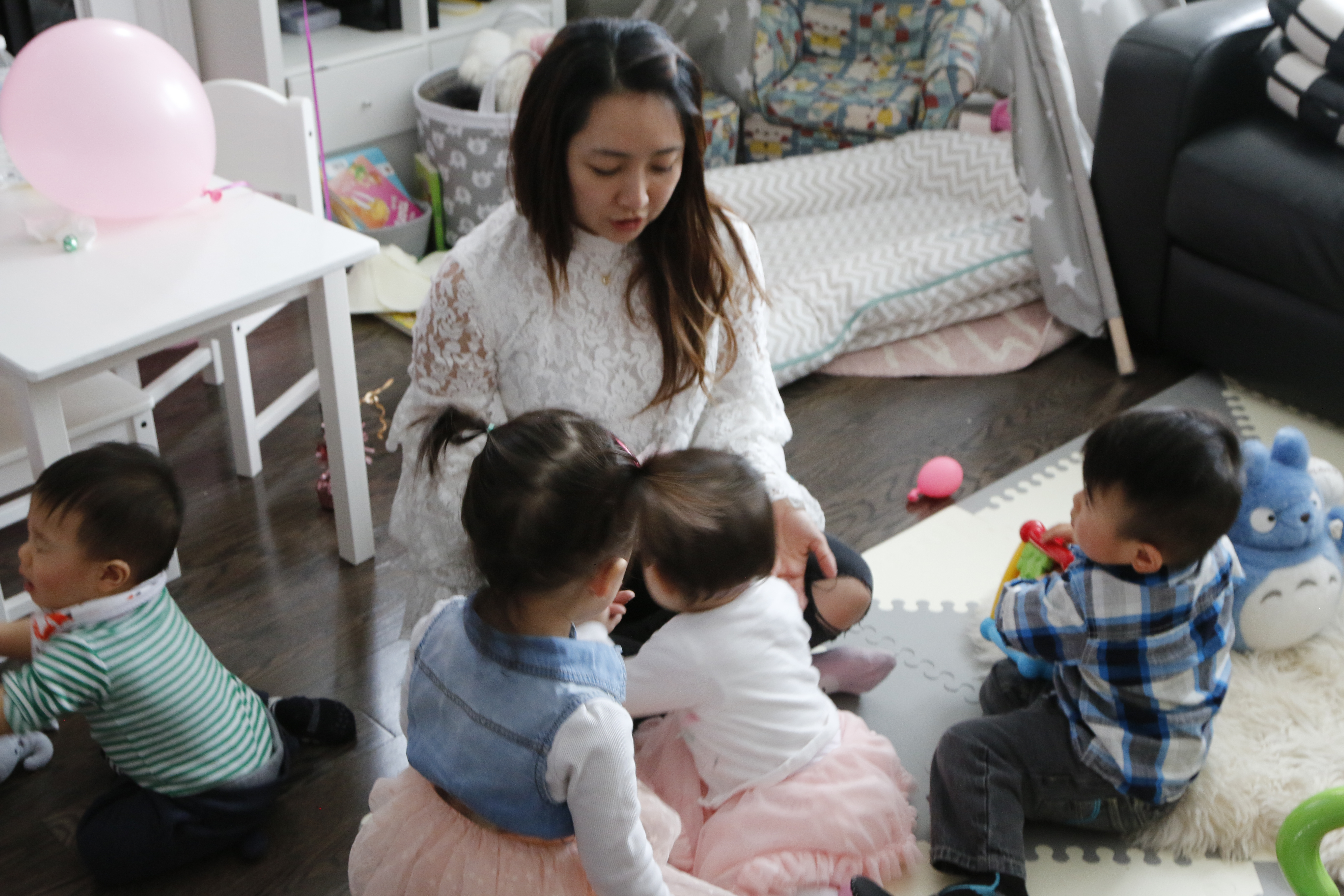 Chaos. That's all I can say. But hopefully everyone had fun!
Here's a rough guidelines when planning a 1st year birthday party for your little one!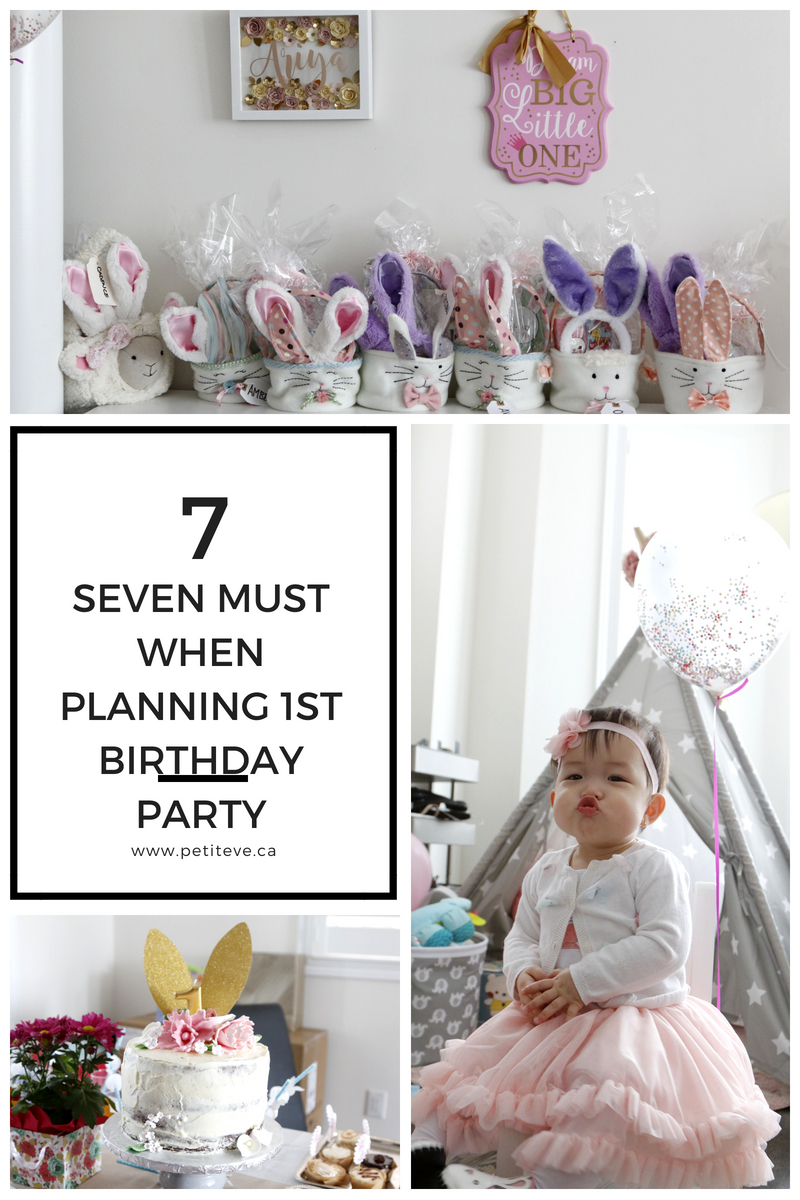 1. Limit the guest list
I really only tried to limit the guest list to friends who have kids because – well. It's no fun for adults surrounded by kids if they don't have one of their own! BUT because I have a few close friends who would LOVE to celebrate with Ariya…. I had over 25 people at the party. But if you can, try to limit the guest list because babies do get overwhelmed easy.
2. Plan around your baby's naptime
Have an open invitation during the hours you are hosting. I held mine from 12pm – 5pm. The chubby bunny went to sleep around 4pm. She was SO tired. She woke up at 1pm. I pretty much told the parents to come whenever their little one wakes up. Oh. did I mention during that weekend, we had a HUGE SNOWTORM?!?!! IN APRIL!!!?!?!?! But everyone still came! I thought we would have to re-schedule
3. Don't pick the weekend right after her 12-month shots
If you can try to avoid that weekend, because some people act different or extra cranky with the 12- month shot.
4. Don't overload yourself
Try to get your friends to help! Or at least try not to DIY everything or make all the food. I try to do minimal DIY and I just catered in. I'm so glad I did! Seriously, no one cared if i bought all the cupcakes and all the cookies…. just plate it nicely and they will be wowed.
5. Create a theme
When you are planning a 1st year birthday – Have a fun theme! Not that they would remember, but it's cute and you can even tell your guest to dress by (babies of course). I did mine all with bunnies, which was super easy for me to decide because I'm obsessed with bunnies!
6. Take pictures ahead of time
After everything is set up and the decorations are out-but before the chaos begins-I REALLY REALLY tried to do this… but it was snowstorming and I had to pick up food and my husband's family…. so I didn't have much time to take photos, but I guess it's ok! I did got some photos. Thank goodness.
7. Live the moment
I know social media paints a PERFECT 1st birthday. I mean just look at pinterest! But life is not like that. As you can see below, my daughter pushes me away any chance she gets. I didn't even have time to do my hair. I just clipped it up and called it a day. I really wanted to curl my hair and pick an outfit that matched her. But I just ran out of time… I don't even think I put my make up on properly! But really today is the day where she celebrate the tiny human in your life and you created. So enjoy!
Thanks so much for reading and happy planning!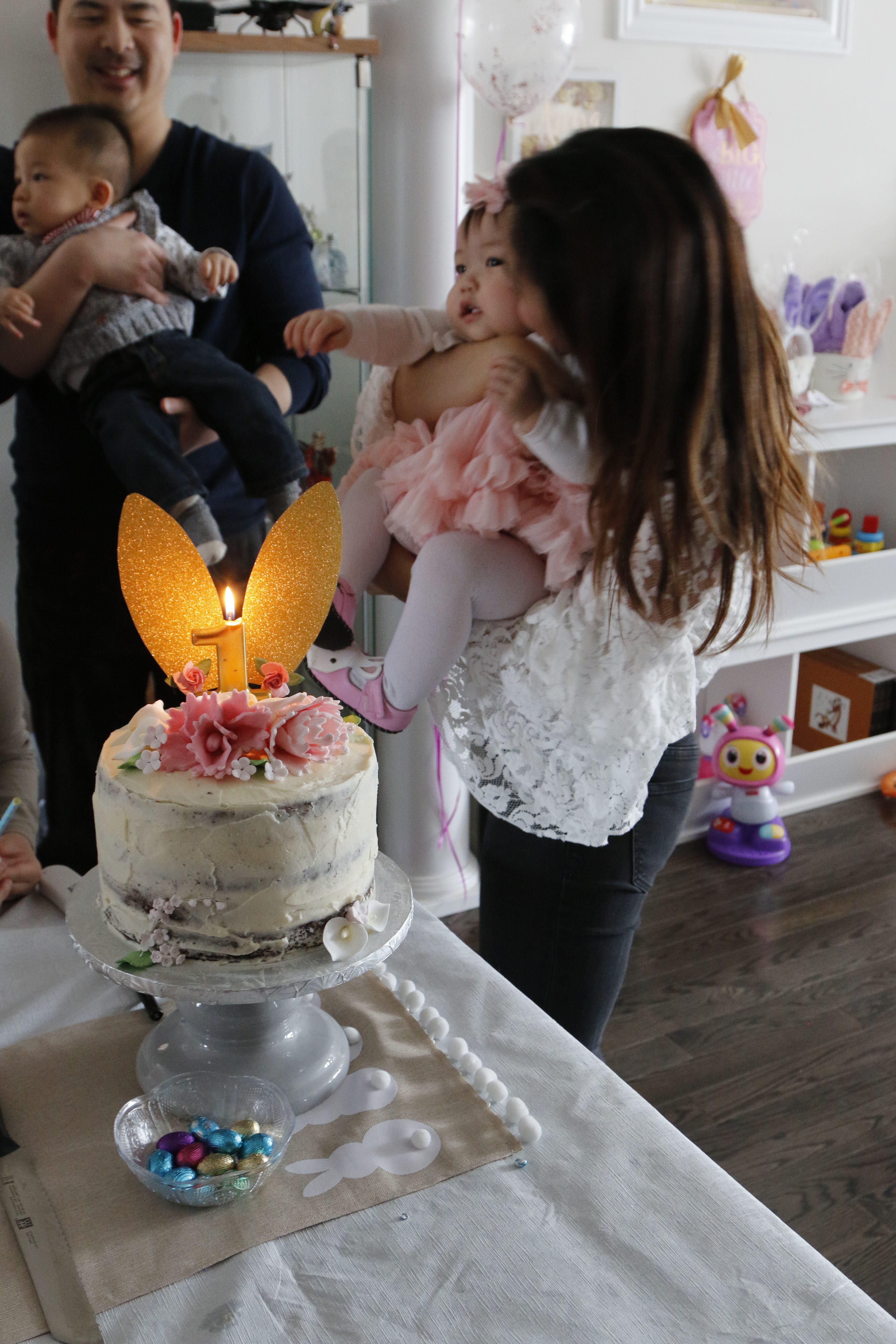 Love Ev.