Hi Everyone,
We are excited to announce we are hosting another giveaway for the upcoming Baby time show!! If you or know someone who is expecting or have toddlers, you don't want to miss out this show! It's only here for 3 days!! Read to the end of the post for a chance to win free tickets (I only have 5 pairs) and a prize!!
What is the Fall BabyTime show?
The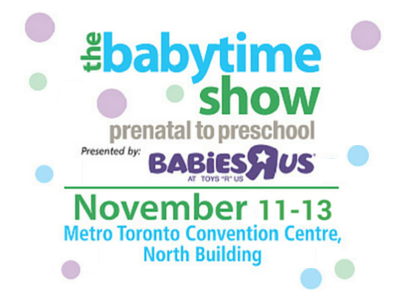 Fall BabyTime Show, GTA's first and biggest baby show, returns to the Metro Toronto Convention Centre connecting parents and expectant families with more than 200 exhibitors showcasing the latest and greatest in toys, health and nutrition, technology, child care, maternity, children's apparel, décor and more. The show runs November 11-13, 2016 and is the ultimate one-stop-shop for all things parenting and baby this holiday.
Show goers will get a chance to see the latest styles at the Fashion Show presented by Carter's Osh Kosh happeningSaturday and Sunday at 1 p.m. This year's show features appearances by Canadian parenting guru Nanny Robina, Kristi Clements of Helping Hands Doula, and experts in everything from prenatal to preschool. Plus, tons of hands on teaching seminars, special Toddler Time Stage sponsored by Dyson, guests Bob The Builder and Barney, as well as Meet & Greets with Paw Patrol and Little Charmers and much more!
 Show Dates/Times:
Friday, November 11, 10 a.m. – 6 p.m.
Saturday, November 12, 10 a.m. – 6 p.m.
Sunday, November 13, 10 a.m. – 6 p.m.
Venue: Metro Toronto Convention Centre, North Building, 255 Front Street West, Toronto
Cost: Parents and friends: $17
Grandparents: $10
Children 12 and under FREE
Parking:  Parking is located off of Simcoe Street.
Stroller drop-off available on level 4A – look for the signs in the lot.
Giveaway!! Hurry contest ends Nov 9th! (Closed)
We are giving away 5 pairs of tickets  along with this cute Nibbler by pacifier clip from Bebe Perla! Hurry contest ends Nov 9th! Please do email us [email protected] after leaving your comment, we will enter you in the draw!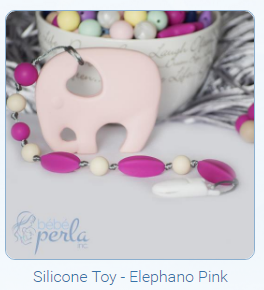 Winners!!
Congratulations to Jenny, Rana, Stephanie, Jasmin and Sheila! We will be contacting you shortly with your pair of tickets and your free Nibbler! 
Thank everyone for entering!