We are all inundated with hundreds of diet suggestions all the time, from fasting to having pre-prepared meals delivered to your door (I'm looking forward to that one! I can even use an everyplate coupon to save a little!), so I've decided to give some a try, one by one. Currently, I'm trying out the fast metabolism diet. Technically, I am halfway through the diet… but reality is… I think I am still 'starting' the diet because of my inability to stick to the diet completely. If you've been following my Week 1 and Week 2 progress… I always start out strong for Phases 1 and 2… and completely fail for Phase 3 with cheat meals or eating the wrong grain or something. This is easy to do on diets such as the Ketogenic one, as people often are in keto but not losing weight so it really is will power from then on. Of course I could blame it on "it's the weekend", or "I still want to go out with friends" etc., but deep down I know I could be doing better. That being said, I've decided to keep going with this diet after the 28 days, or follow it as much as I could except for the exceptional meal because I really do feel better on this diet (i.e more energy, my skin looks and feels better, I sleep better etc.) I have a friend who is taking turmeric pills along with the diet that she is on and she says she feels like it is working… so maybe that could be an option for me, I'll have to give it a good research!
Every start of the week I am extremely motivated, and that motivation wears down as the week goes by when I see some good progress. For instance, I was down 4lbs last Friday, then I decided to cheat here and there so by the end of the week I was only down 2 lbs. I am sure most people face similar struggles, or maybe I am just very week, but if you are like me and feeling miserable, just know that you aren't the only one out there! I will definitely keep going and hopefully sticking to the diet will one day become easier.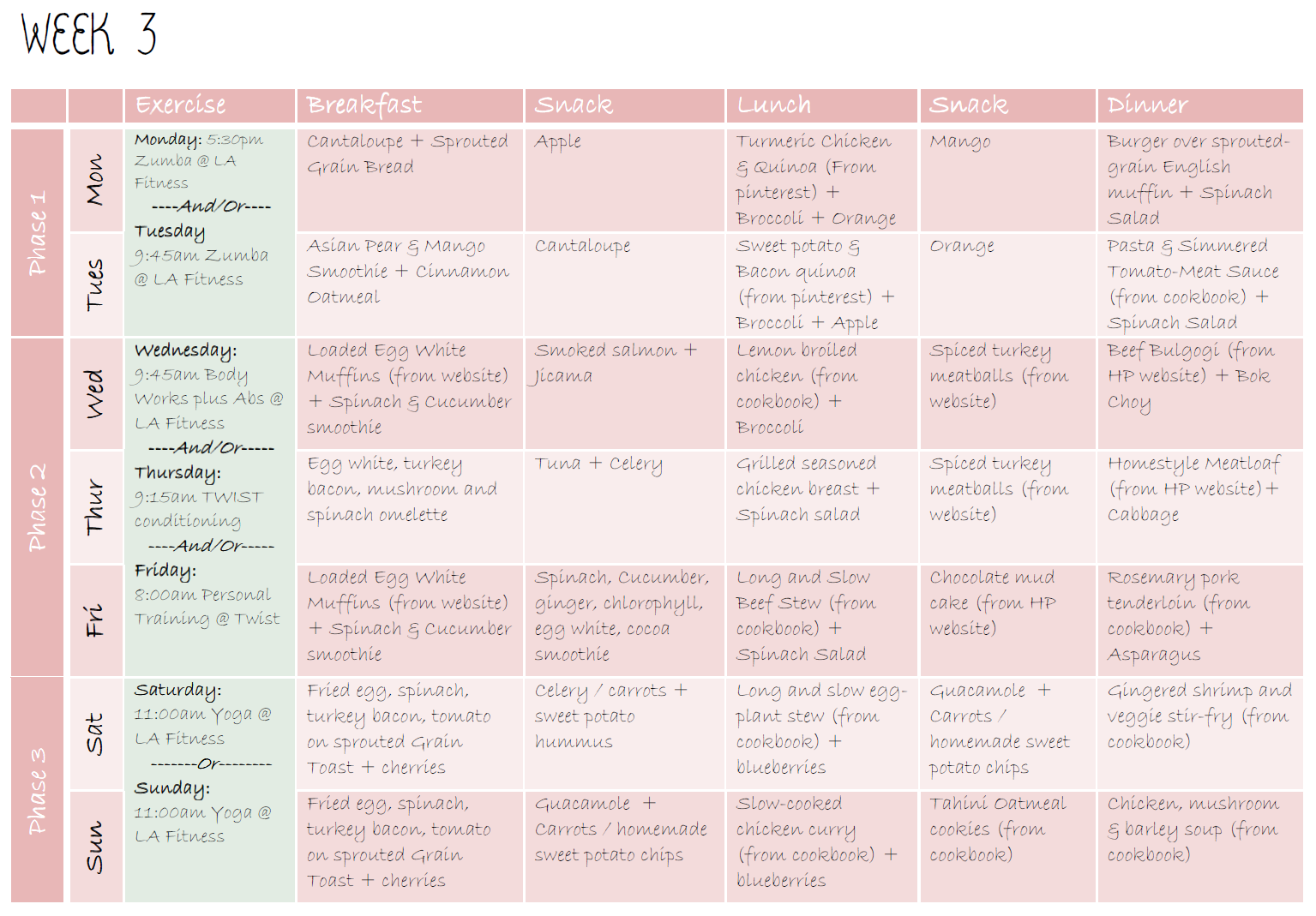 For more information on the FMD, please click HERE
Day 15
Monday's are always perfect FMD days because of all the guilt of cheating over the weekend. I was so motivated today that I even prepared meal for Phase 3 and froze it! I was planning to go to the gym for my cardio workout, but my baby was EXTREMELY fussy today (guessing its teething) and needed to be held / accompanied at all times. It was exhausting but I know it wasn't his choice. Anyhow… nothing really exciting happened for breakfast, snacks and dinner. Just a lot of fruits and the delicious burger which I defrosted from the freezer from last week. I did try to change it up a bit by getting the Ezekiel 4:9 English muffin for the burger instead of using the toast. And wow.. it made a huge difference. The English muffins are a LOT more moist than the toast, and the crispness on the outside… it was heavenly! It does cost slightly more than the loaf and you'll need to watch the proportions, so I'll save it for special meals (like the burgers) haha.
For lunch, I tried a new recipe from Pinterest. It is a turmeric chicken + quinoa dish that reminded me of Indian food (I love curry & butter chicken & of course the naan). It was very flavorful and definitely a change from my usual Phase 1 dishes. For those who may be interested, you can find the recipe HERE. If you are following the FMD diet, just sub the fish sauce with coconut aminos, and I used canned diced tomato instead of fresh plum tomatoes (an upped the amount) and it still turned out perfectly!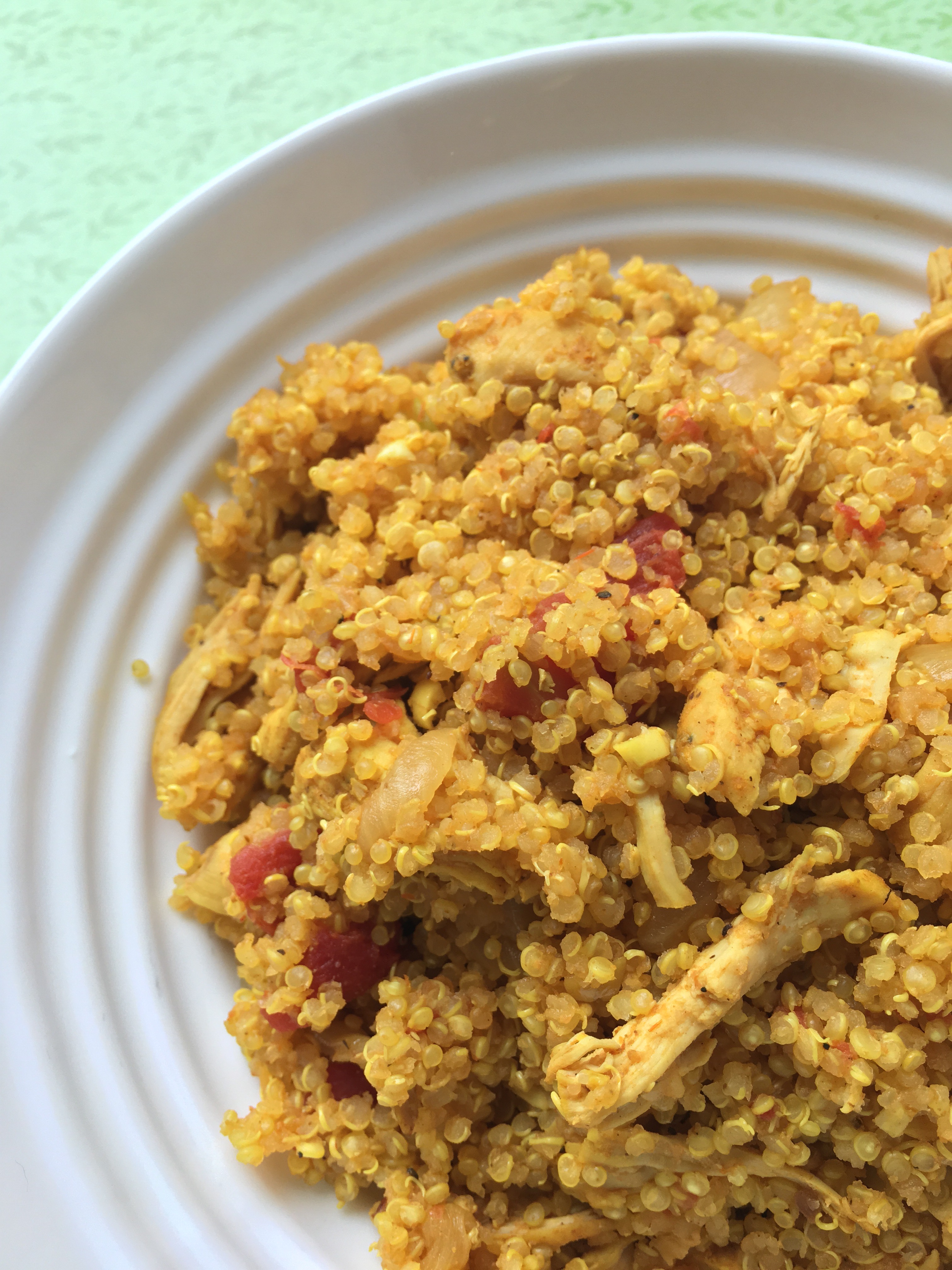 Day 16
Today went well 🙂 I went to the gym for some treadmill exercise and finished it off with the stair climber. I am not a runner but I enjoy watching my shows and exercising at the same time so treadmill and elliptical are my favorite cardio machines. For those who have a weak ankle and knee (or simple do not like the high impact on these joints when running), a trick one of my trainers taught me (when I was pregnant) is to really crank up the incline and just walk (like 10 incline and keeping a pace of at least 3.0 mph). Trust me, you'll be sweating buckets in 5 mins, your heart rate will be no less than running, and your hamstrings and glutes will be aching the next day.
For food, stuck with the simple stuff – sprouted grain bread and cantaloupe for breakfast, mango and oranges for snacks, defrosted a mediterranean turkey and wild rice for lunch and had the slow cooked meat sauce over brown rice pasta for dinner. Nothing new but nonetheless delicious. I did have a chip craving during the afternoon so I made my own sweet potato chips and seasoned it with sea salt and chili powder. It felt great satisfying my cravings with something I know is healthy and complies with the plan!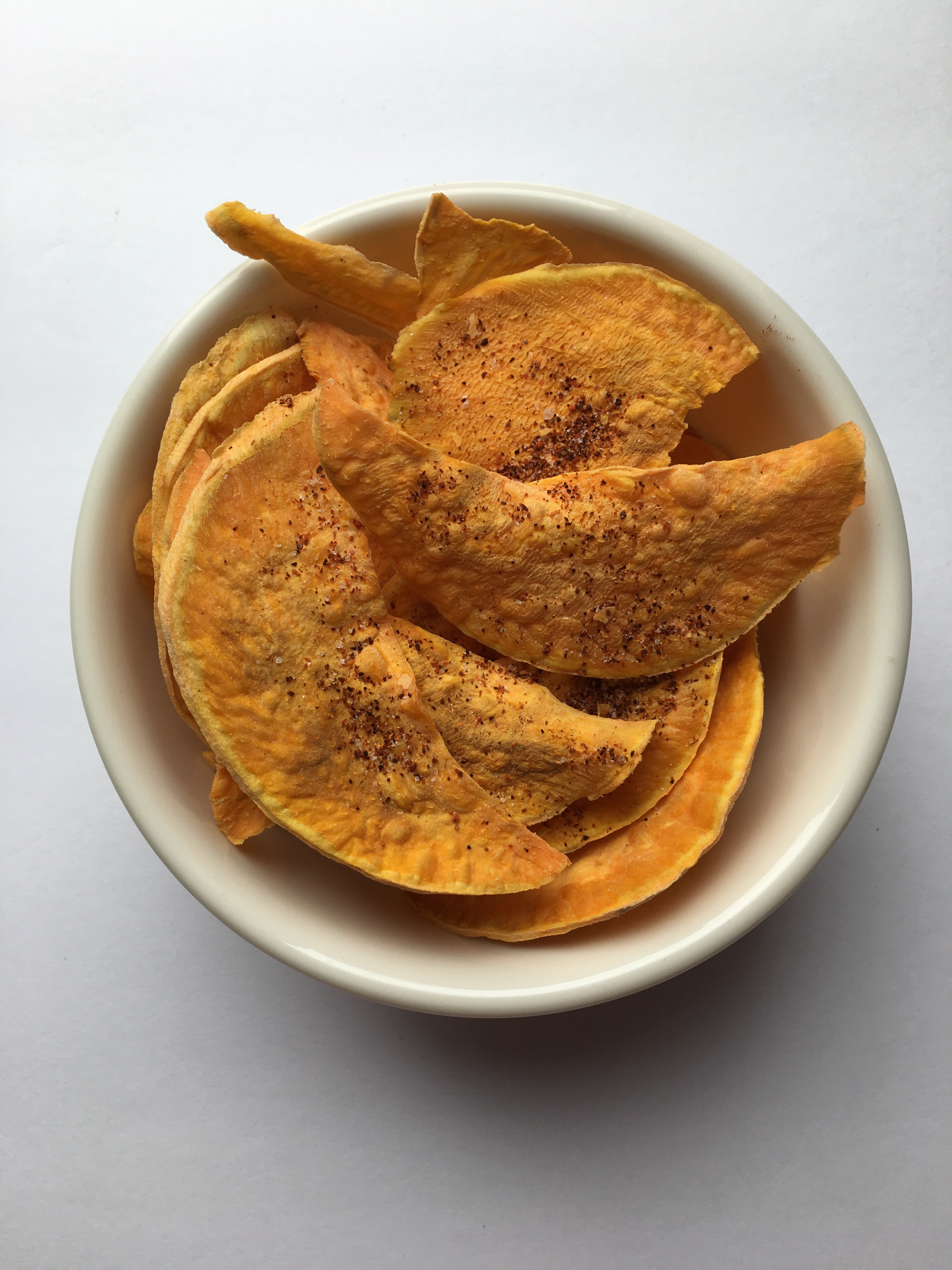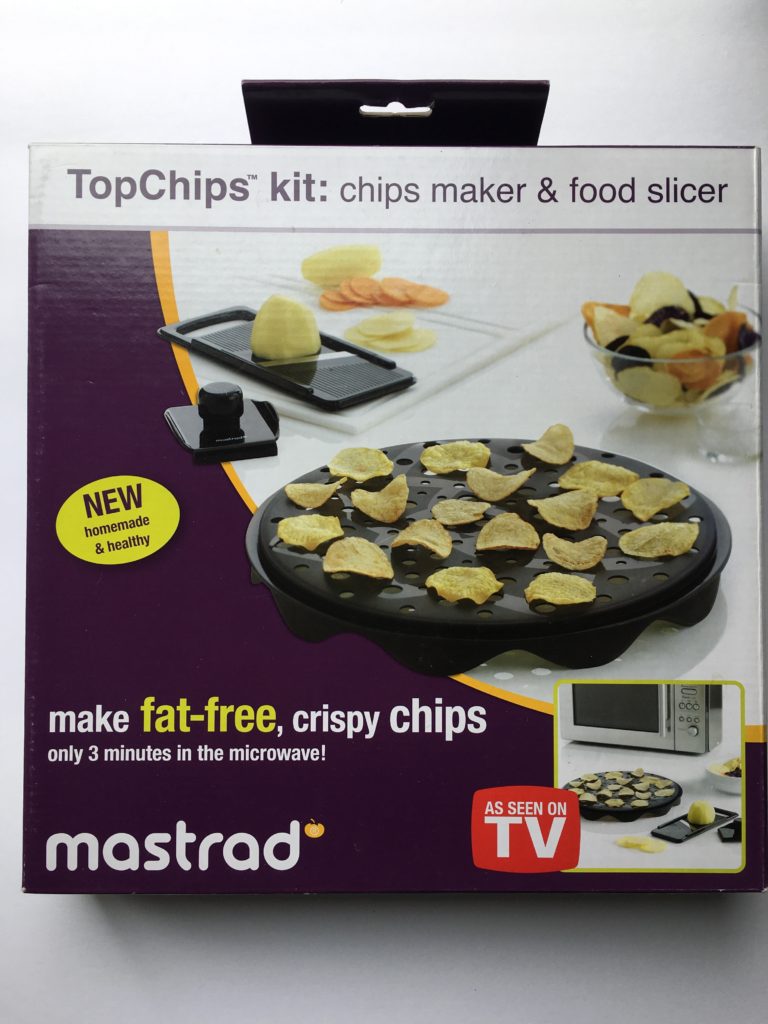 Day 17
It's Phase 2 again… which means lots and lots of protein 🙂 I love meat so it's not tough.. but the limited food selection does make this phase a little unbearable. To change things up a bit, I started exploring recipes outside the FMD cookbook. I tried to remember dishes that I enjoyed prior to being on diet, and figuring out how to make it diet compliant. For lunch, I made a lemongrass grilled chicken, following my homemade recipe and altering a few items (mainly subbing out the fish sauce and replacing it with coconut aminos. It's super easy and I marinated 3 large chicken breasts… enough for lunch and snacks for a few days 🙂 I still have to figure out the cooking part a little… trying to balance keeping the chicken breast juicy yet having the meat actually cooked and having it look pretty. Currently, I sear both sides, then cut it up in cubes and continue cooking. It is juicy and cooked… but the presentation lacks. Maybe I'll try using a tenderizer in the future to get the breast 'thinner'. Anyone have a better idea?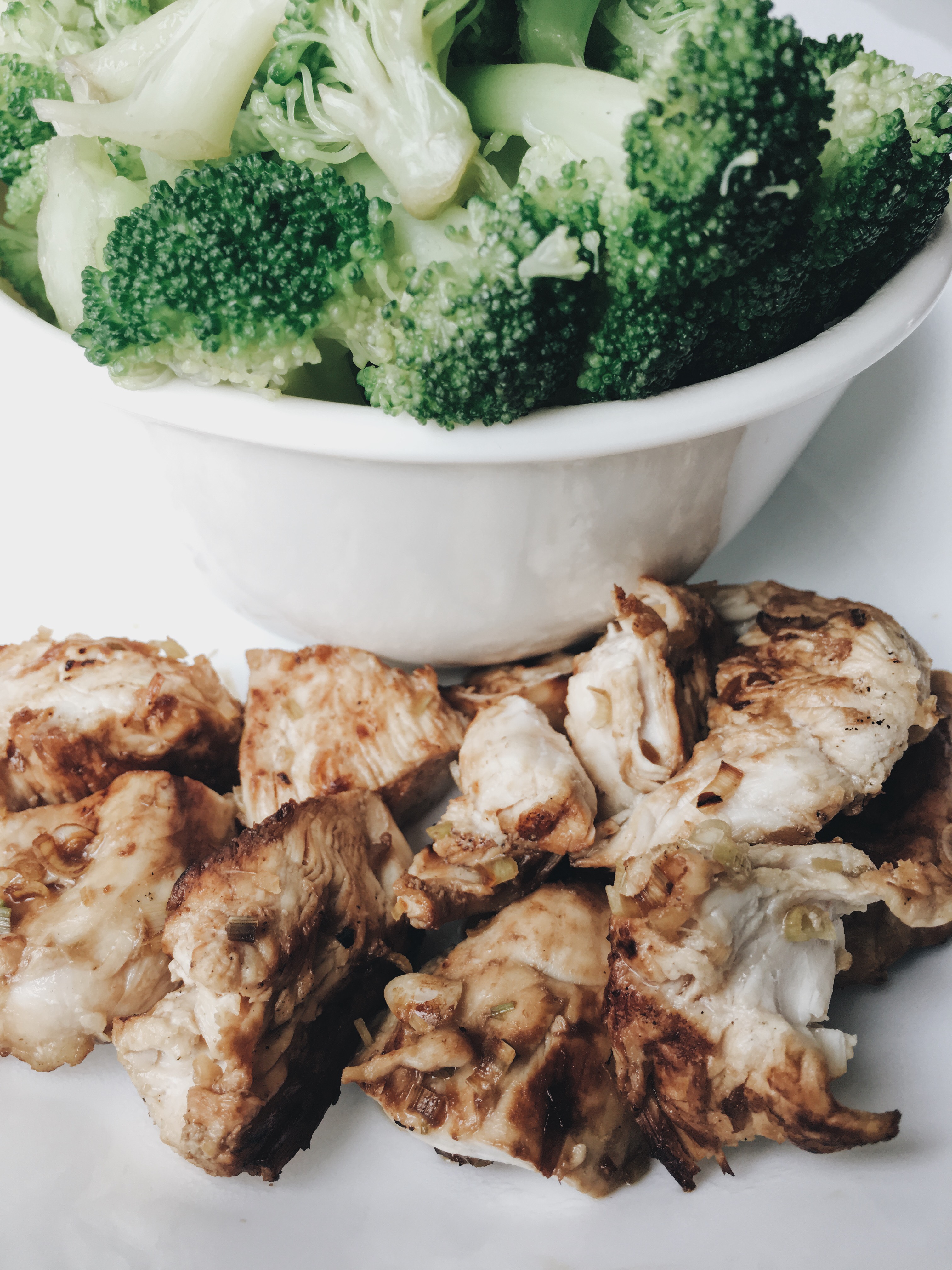 For dinner, I found a Korean Bulgogi recipe posted by another group member on the FMD Facebook group, and OMG… it was amazing! Thanks to our beloved Korean friend Chanel, we were taught the authentic way of eating Korean food. Lettuce wrap, some raw garlic, the protein (i.e. bulgogi), some chili paste/ sauce, and whatever side dishes are available or prefered (i.e. kimchi, picked radish, seaweed, black beans etc.). Since I am following FMD, I stuck to just the lettuce and protein, and it was delicious. O… and I also purchased some 'miracle rice' – shirataki rice, because I cannot have grain on Phase 2 and rice would go really well with this dish. This stuff is pretty amazing… it comes in many forms (like rice, angel hair, fettucine etc.) and the FMD allows it to be eaten in all Phases. If you are Chinese… its pretty much the yam noodle u use for hot pot haha. Anyways.. it does NOT resemble anything like pasta or rice.. but it absorbs sauce extremely well, and gives you a similar.. shape to chew on? Close to 0 calories, has fiber, and keeps me full so ya.. I'll eat it haha.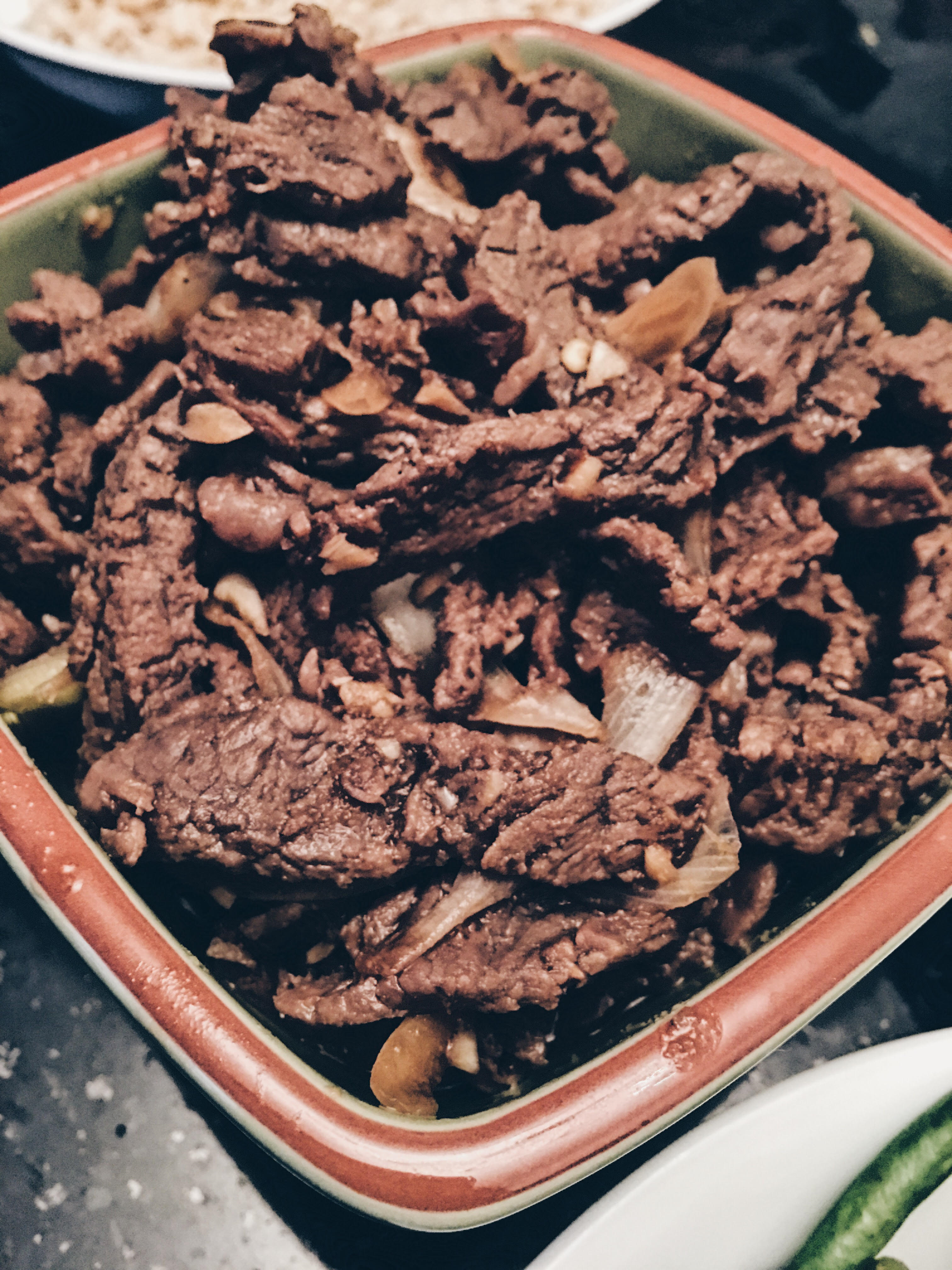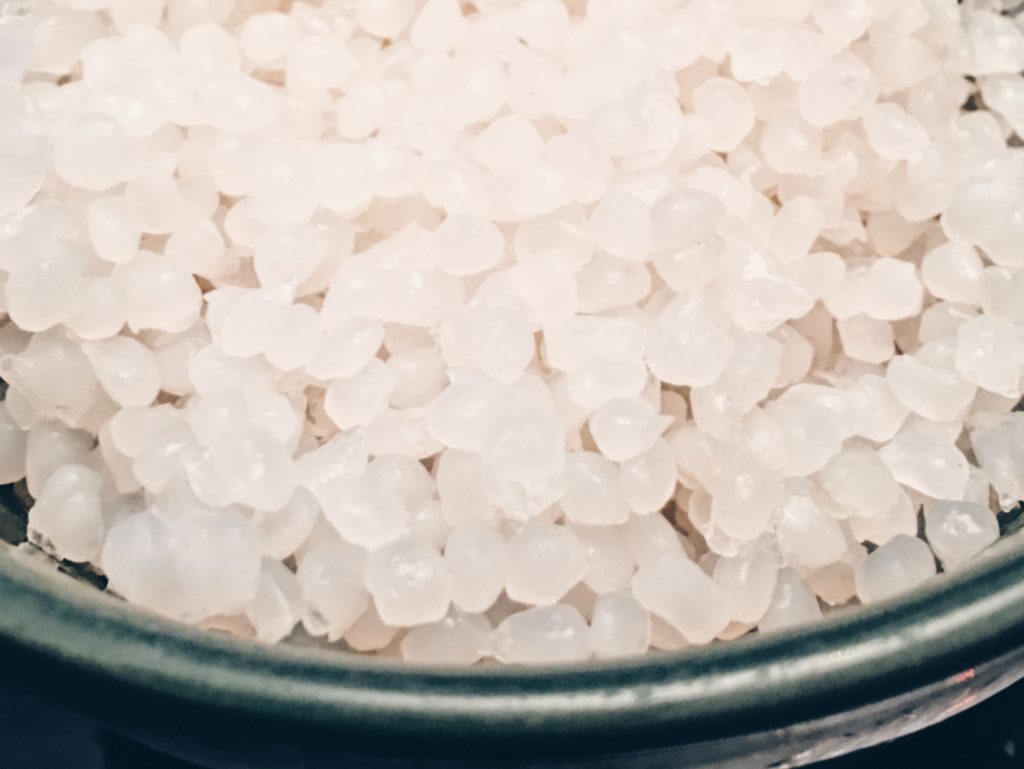 Day 18-21
OMG… I have been so lazy it isn't even funny. All I want to do is sit and crochet and watch TV all day or have a latte and read a book. I wish I could blame it all on the diet.. but nope… it's not the 'tiredness' I felt at the beginning of the diet.. just pure lazy. Yes.. it is to a point where I didn't even blog my progress nor create new dishes… only defrosting and put minimum effort sticking to the plan. Sorry.. I know it doesn't sound very motivational.. but I do want to be honest.
So high level summary… Day 18 was good. I had the lemongrass chicken again for lunch and my husband tried and loved that dish. For dinner, I went out to have steak with my friends, which I requested for a dry grill (no butter) and steamed asparagus as the side. My friends ordered 3 appetizers and dessert, which I was successful in rejected, but I did have some of the sourdough bread which was my little treat for not selecting the double baked potato for side, and not having appetizers and dessert. A girl's gotta enjoy a little right? For Day 19, I decided to continue Phase 2 (because it is easier and works better for me), where I had the meat loaf I defrosted for the previously night but didn't have because I went out, and at night.. I had a cheat meal which was at least very rich in protein :(. Saturday was a BAD day.. but I already knew that from the start. We had a family gathering at a dim sum place, and there's really no way I could stick to the diet. I did try to sticking to the steamed dishes and avoided the fried ones… but still.. I know they are loaded with oil and unhealthy stuff. I could feel the damage in my body because I got a heartburn after that meal. For dinner, we had a play date / dinner party, and it was relatively ok. My friend knows I am on the diet so she made me some guacamole, except she only had corn chips to eat it with. The meal also had a lot of meat (beef, pork and chicken kebobs), and a salad with a balsamic dressing. (Yes.. I should've told her balsamic vinegar.. not balsamic dressing…). But honestly.. I really did appreciate how much my friend attempted to help me stick to the diet.
Sunday was an so-so day also.. I stuck to the diet except for lunch where we met with a few of our friends at another Chinese restaurant. I realized Chinese don't really offer anything that's diet compliant 🙁 For dinner, I slightly modified a typical Chinese dish we usually make at home, steamed sea bass with ginger and green onion. Instead of the fish soya sauce, I used coconut amino instead. Next time, I'll use a blend of coconut amino and tamari sauce because coconut amino is too sweet on its own.
After wrapping my third week, I am down a total of 5 lbs (I only lost 1 lb this week…).
After reading this it might motivate you to try out a diet that suits you and your lifestyle. I have recently found a range of different diet plans that you may like to have a look through, check it out here!