Hi Everyone,
This post is LONG overdue. You can read my last post about packing for the trip here.
I am so glad we took our baby to Hawaii before she learns how to crawl, turn and move. Sure it would have been so much more fun bringing a baby that's moving and actually knows her surroundings. BUT. yes HUGE BUT. Right now at 7 months she's at the age where she literally knows how to climb out of her car seat! She also doesn't like to be in her car seat for too long. Compare to her when she was 4 months, She basically slept anywhere and everywhere! I still remember one of the dinners I went to, she slept through the ENTIRE dinner and she didn't even wake up until we gave her a shower. It was SUPER cute, I kinda really wished I taped it. It was one of those special moments where she didn't wake up until we put her in the water, after shower she pretty much went right bring back to sleep. It was super cute.
A little recap of our trip!
Get to know more of my trip and where to stay, check out this Lahaina Vacation Rentals: https://www.alltherooms.com/vacation-rentals-lahaina
We are ready for your 1st flight as a family! Super exciting, but nervous at the same time.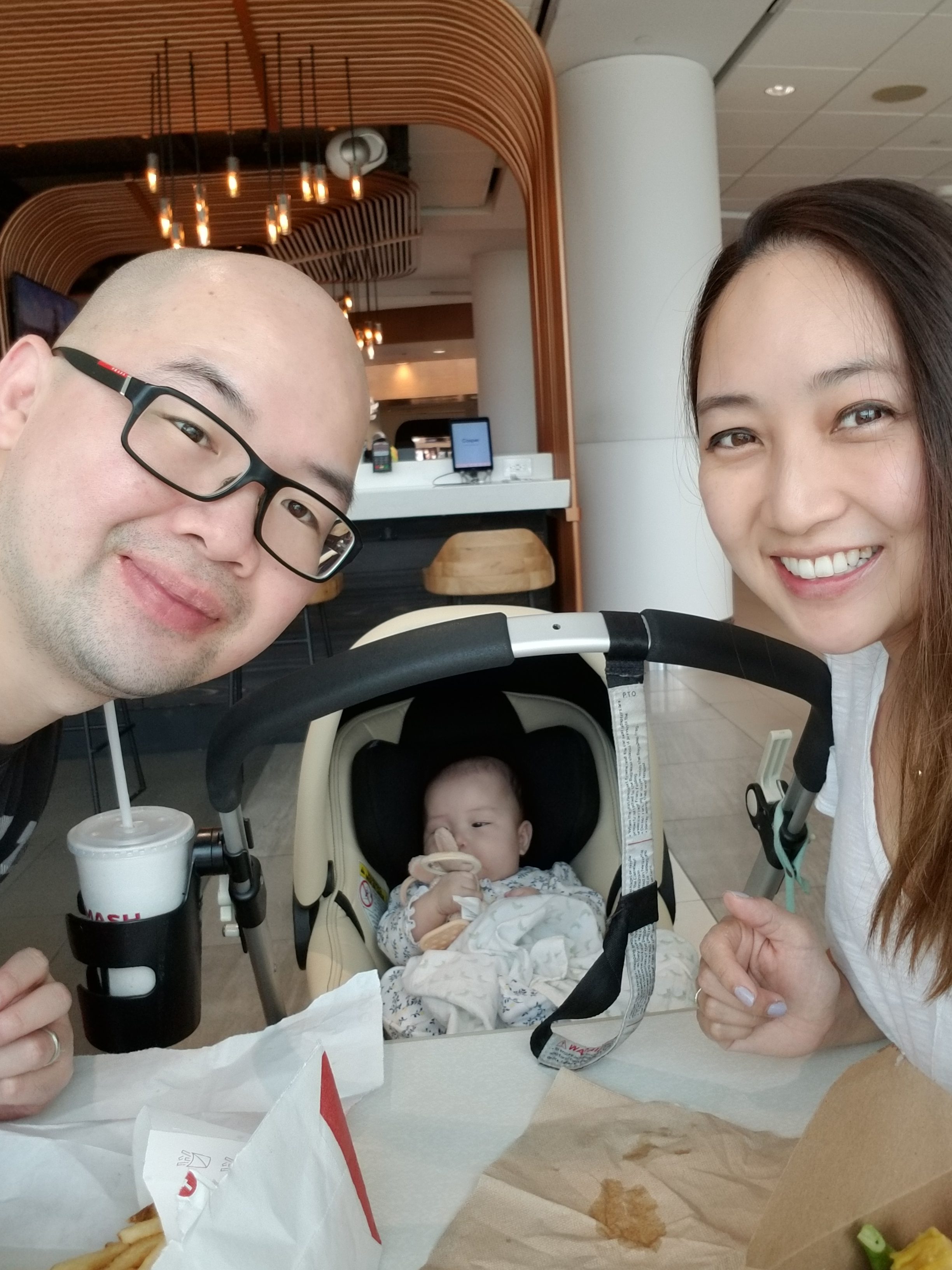 We stayed at the Village Towers at Hilton Hawaiian Village Waikiki Beach Resort I was doing so much research to make sure they have the following:
Beach that's close
Stroller friendly
Baby/children friendly
Close to malls, parks, food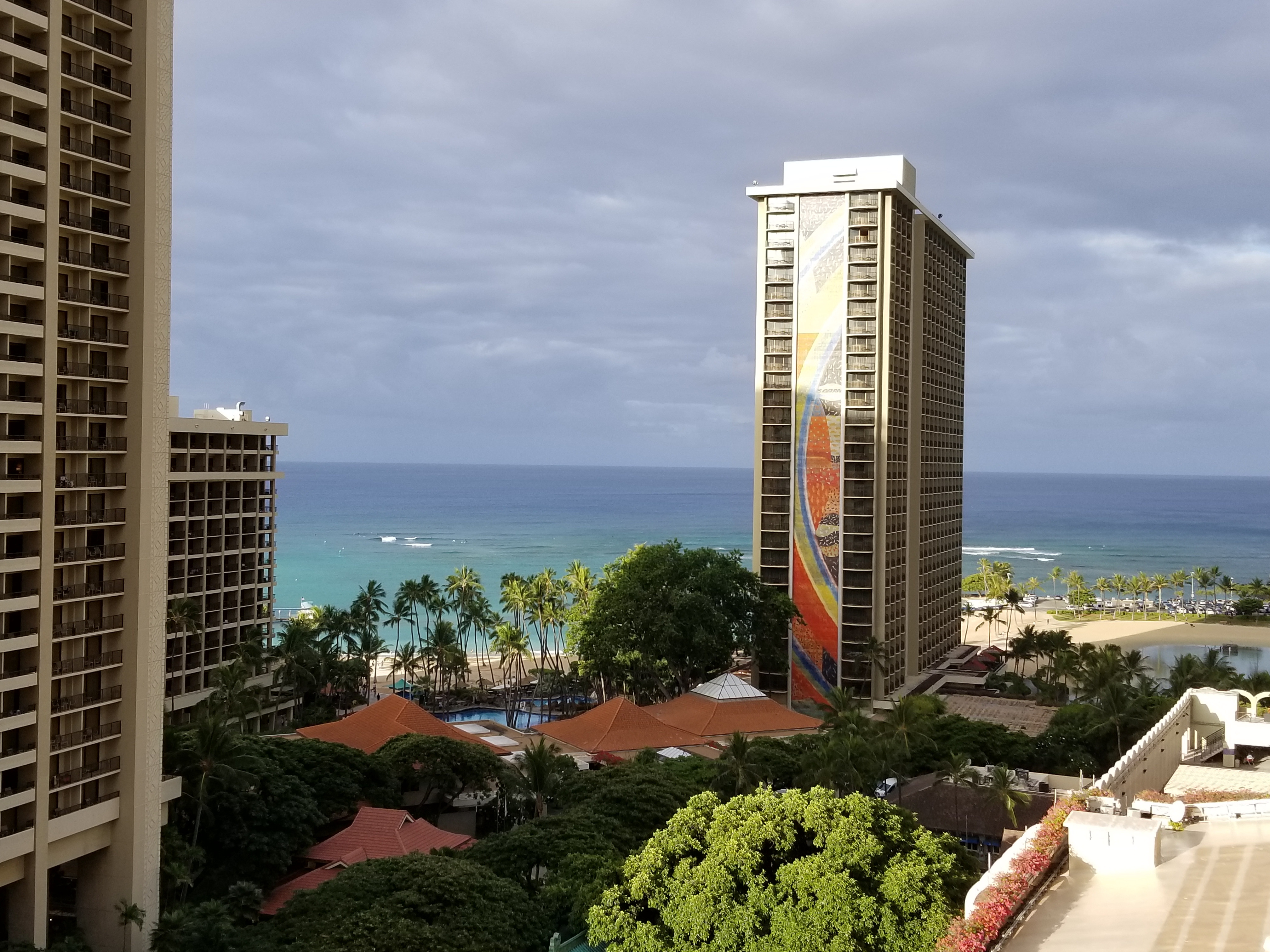 I decided to stayed in a resort because I wasn't sure how often we can go out and how my baby would be like when we were there. I'm pretty glad we decided to stay in the resort because I stuck to my schedule like a #tigermom sure we went out for dinner but we always head home before 10pm. I really didn't want to throw off her sleeping pattern, esp when she sleeps SO WELL. I didn't want to change it. I was just glad that our resort had everything we could possibly need to help make our stay truly one to remember. I wonder if you'd have the same experience if you lived here all the time? Hopefully my friend will be able to tell me soon, as she's recently started learning about moving to Hawaii to see if this is somewhere that they'd want to build a life. And this all started because she enjoyed her vacations here that much. Who'd have thought it? Although, I can see why, especially seeing what we could get up to in our resort. They even have a little parrot zoo in there. It made us really want to get a parrot and someone told us to check out name ideas for your parrot, just in case we decided to buy one!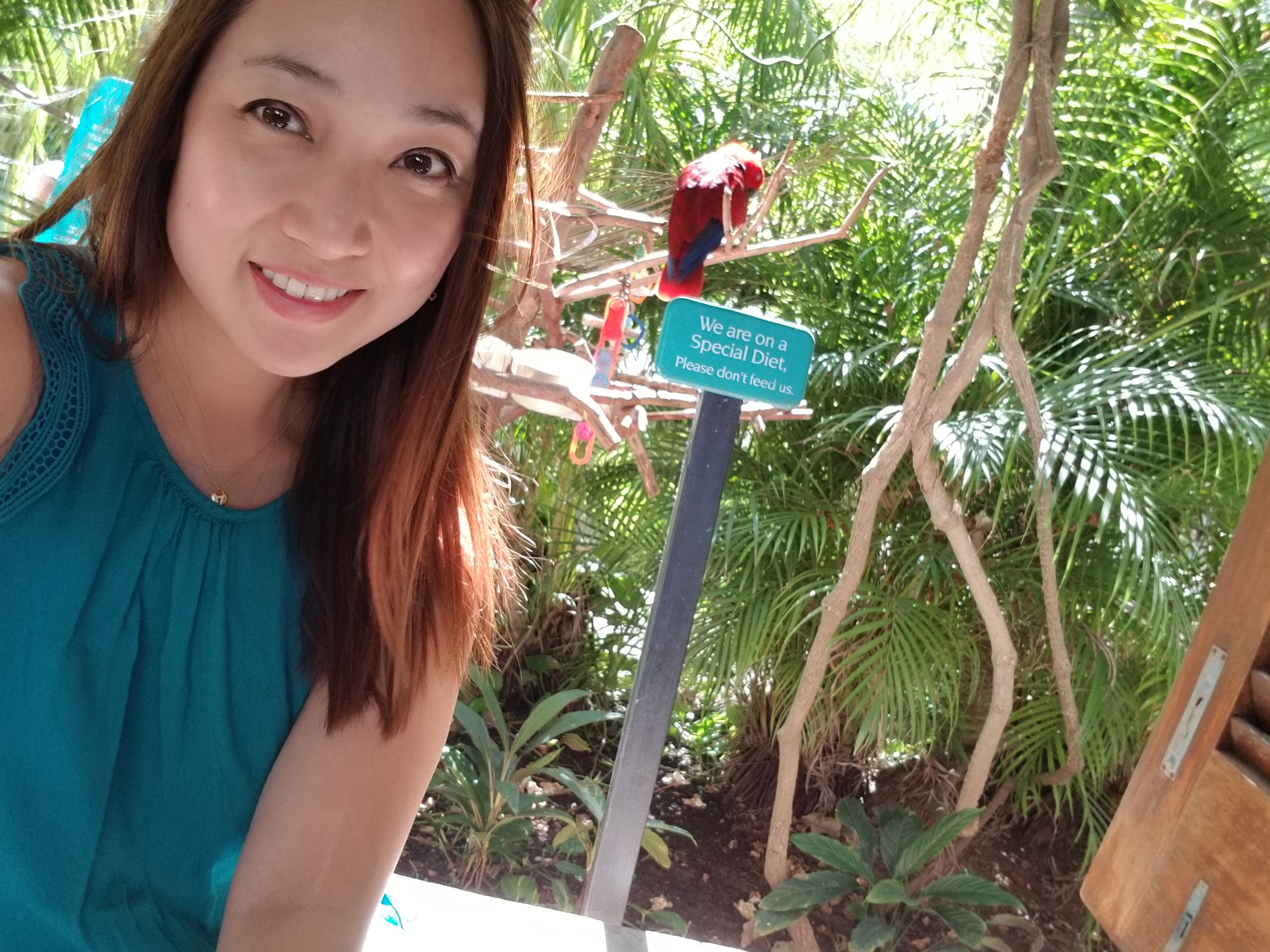 Here's a preview of what I did if we had to go out for late dinners and wedding!
After she wakes up from nap, change her diaper and get ready to go out!
Her feeding time is usually around 7-730PM (even now, this is the time we feed her) so if we're out, we'll just feed her outside
At 4 months, she was MUCH easier to put her down her a nap after she eats, so she will nap for maybe 30mins, she doesn't nap that long in her car seat
If she is still up, around 10ish, we would start heading out because we still need to give her a shower. Yes! Every night we give her shower time!
Once we are back at the hotel, bath her, feed her (sometimes she takes it, sometimes she doesn't) then we put her back to sleep. We found a really nice hotel and after our friend recently told us about monthly hotels by anyplace.com, we considered renting the room out so we could stay in Hawaii. Unfortunately, we had to go home!
Full sleep until 7am!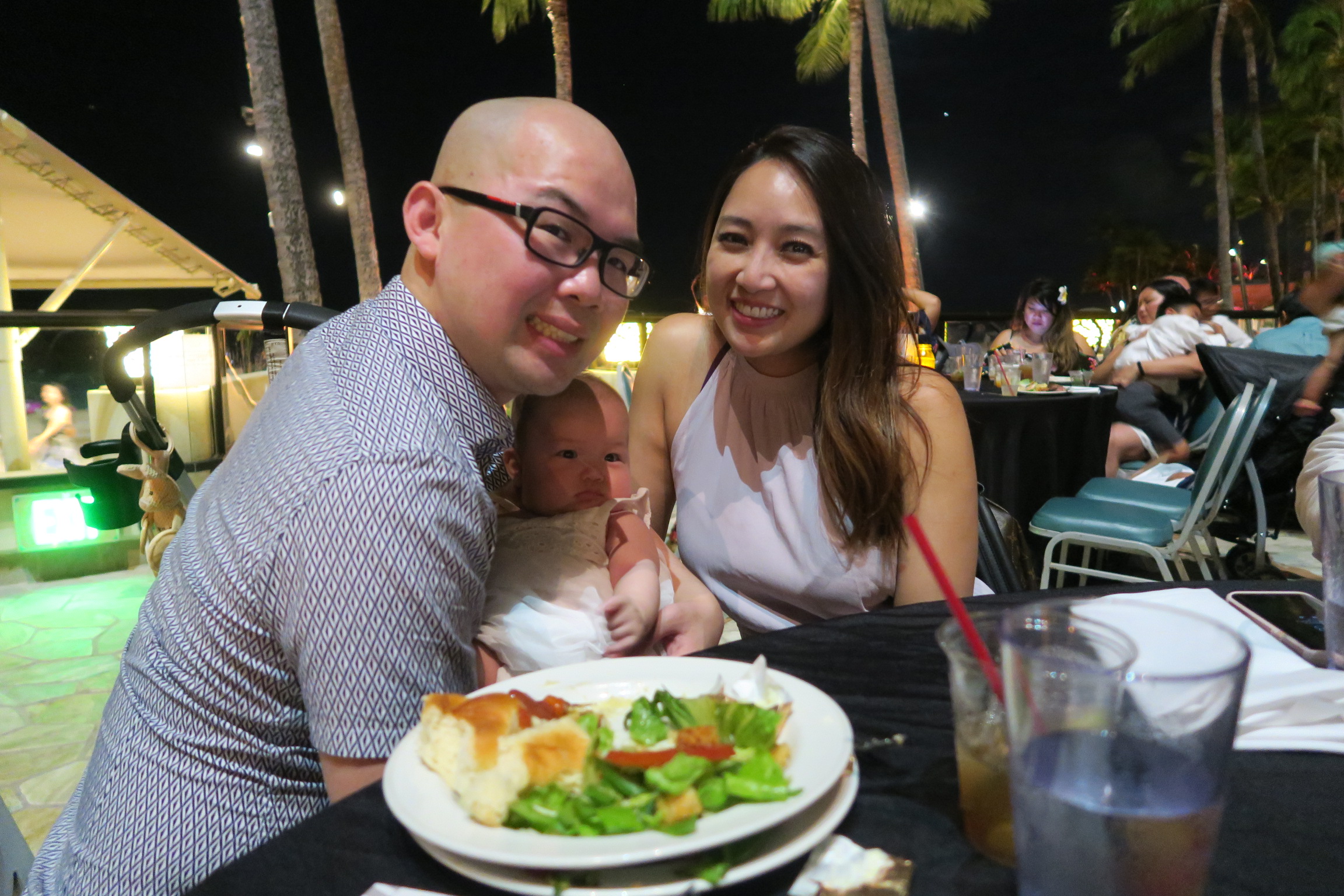 Us at the wedding around 10pm at night.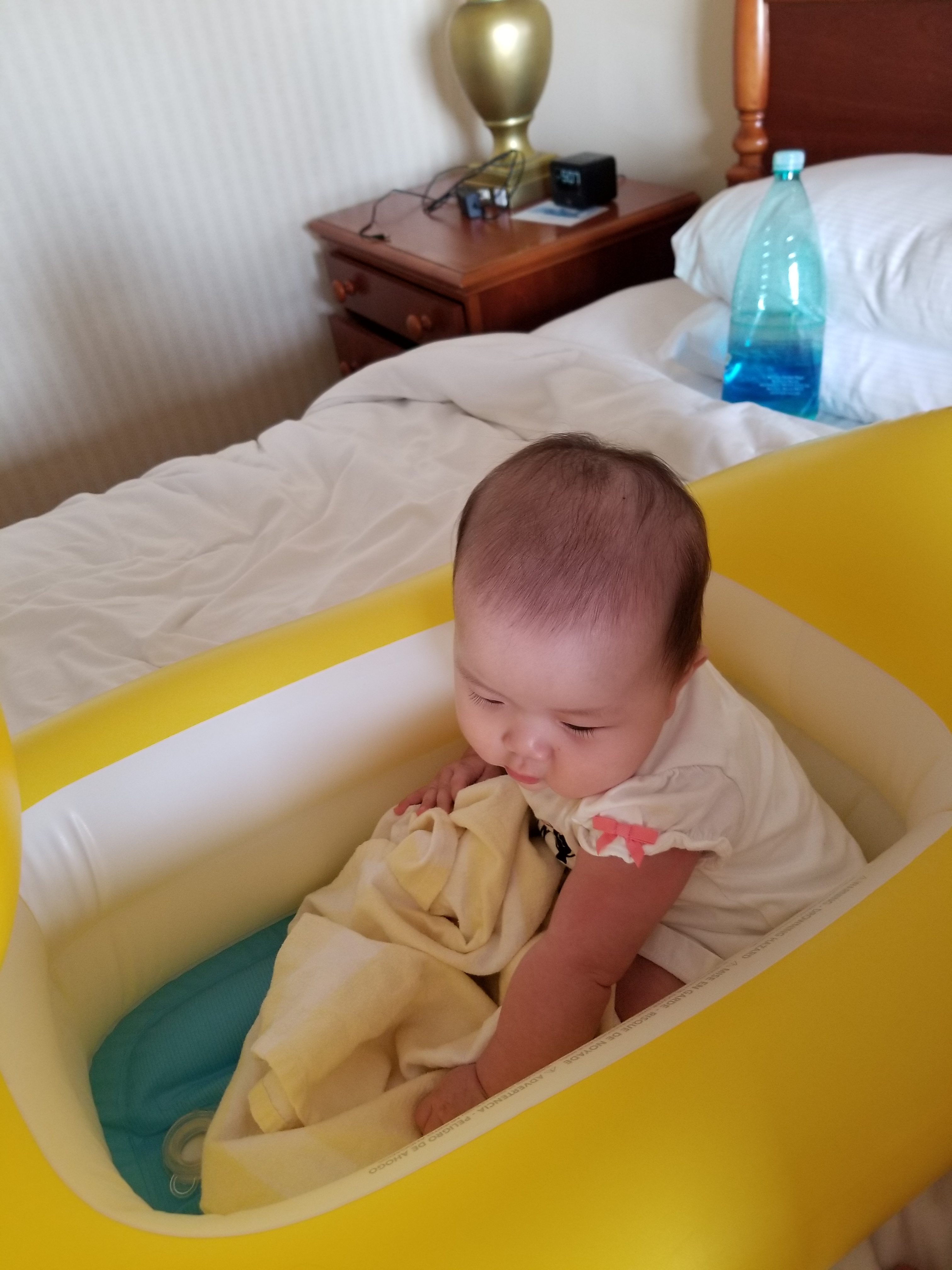 The little duckie bathtub was amazing! I'm so glad I got this! Makes her bathtime so much easier! Husband blew it up, took him a good 15 mins.
Goofy Cafe and Dine
I LOVE this place, wow! It was amazing, they had an amazing brunch menu and poke bowls! If you decide to come here, make sure you go there early!! There' always a lineup! Bonus, this is literally 2 min away from our resort!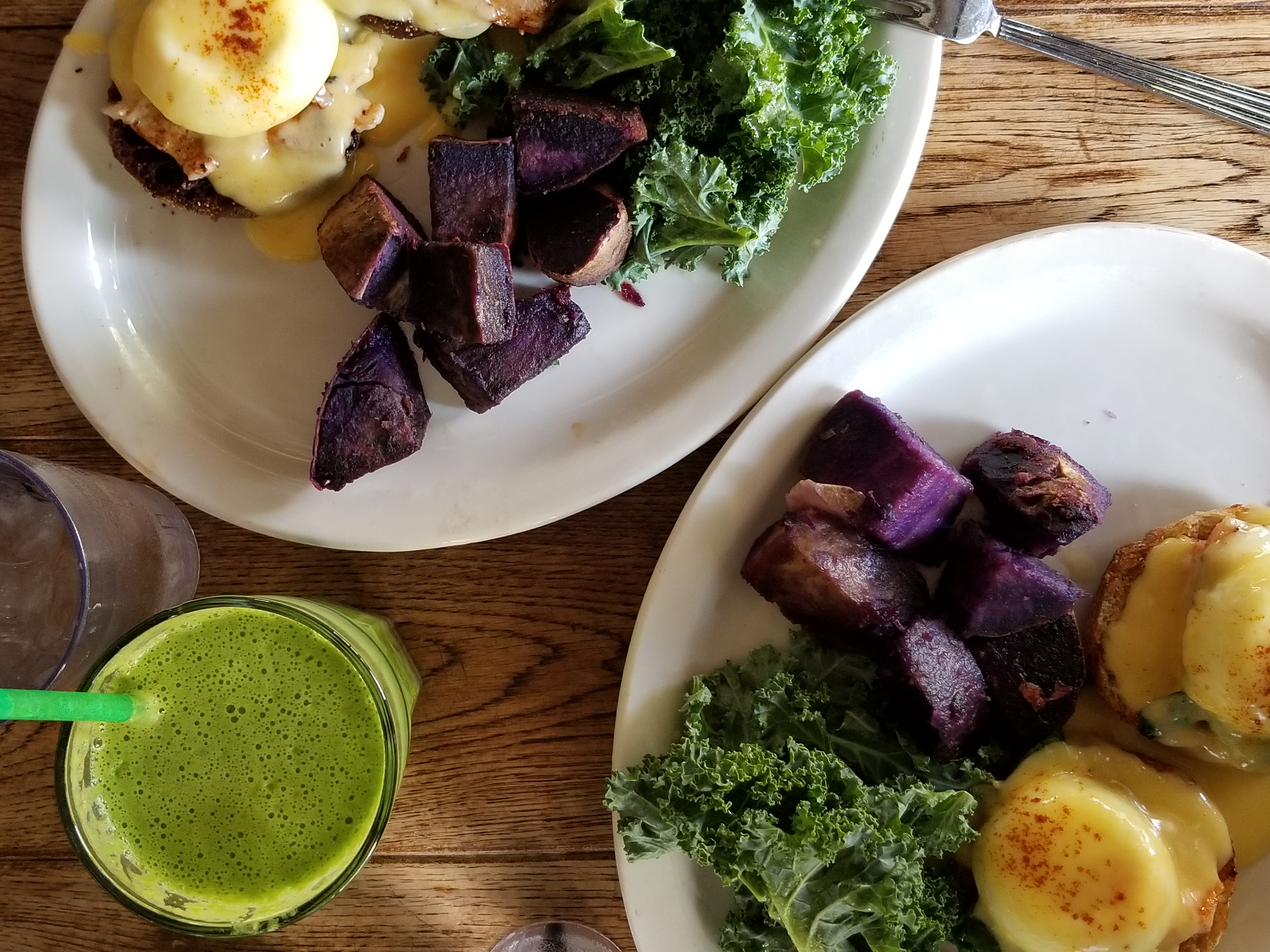 Food court food are the best and cheap!
Hawaii can get pretty expensive if you are eating out everyday, so it's nice to get a little "cheap" food when we can! And they are sooooo good. Not bad for food court food! Got this a this Ramen place for $9.99!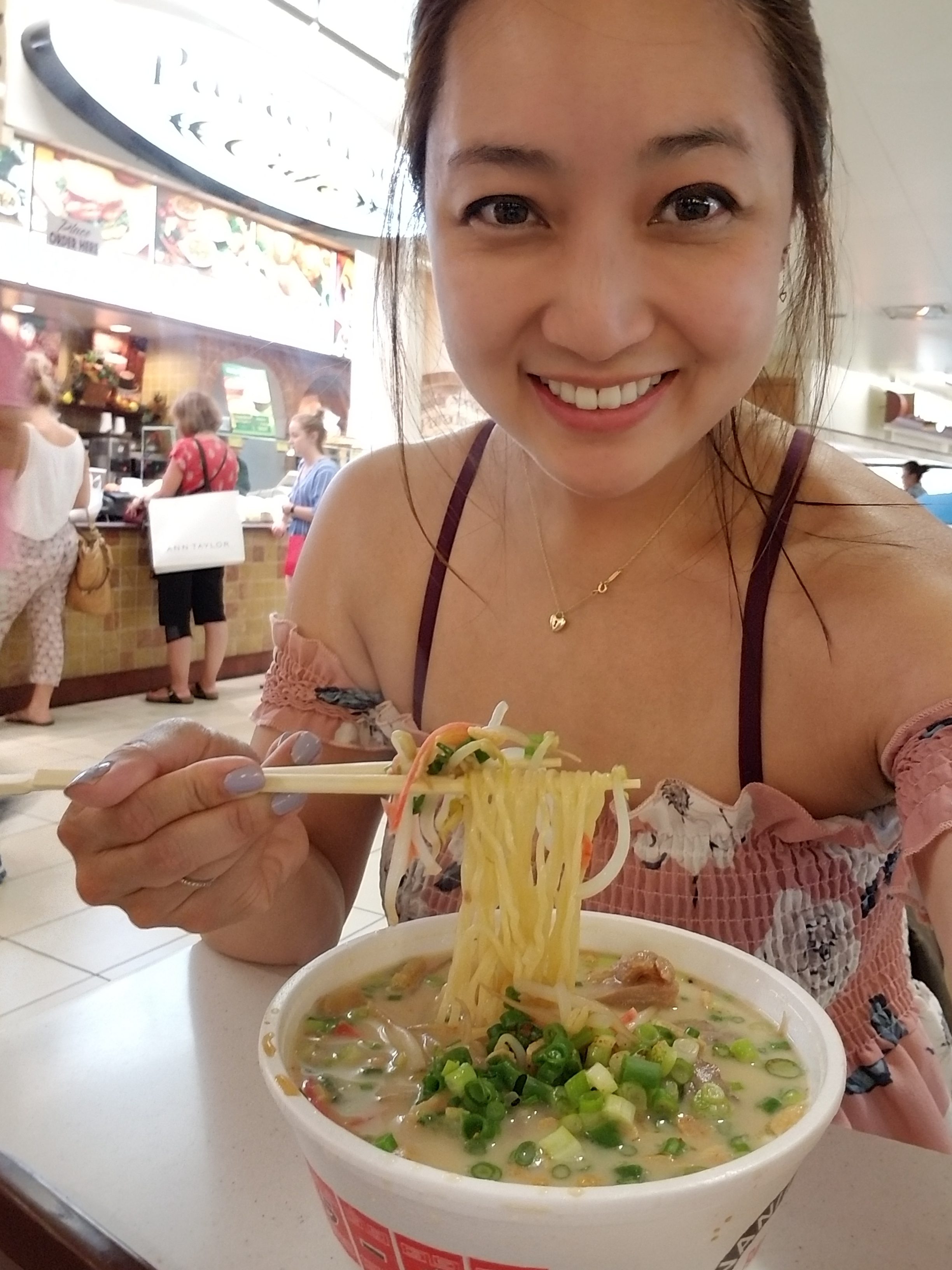 Beach time with a 4 month old
Oh what a change! I'm such a beach bunny. I can tan for hoursssssss. But my newborn can't. So our beach time is usually only 15 mins. My poor baby is prob thinking "why you do this to me mom, I want to be in the room with AC." They did have some great Hawaii turtle tours going on here, so if we come back when she's a bit older we will definitely have to go on them!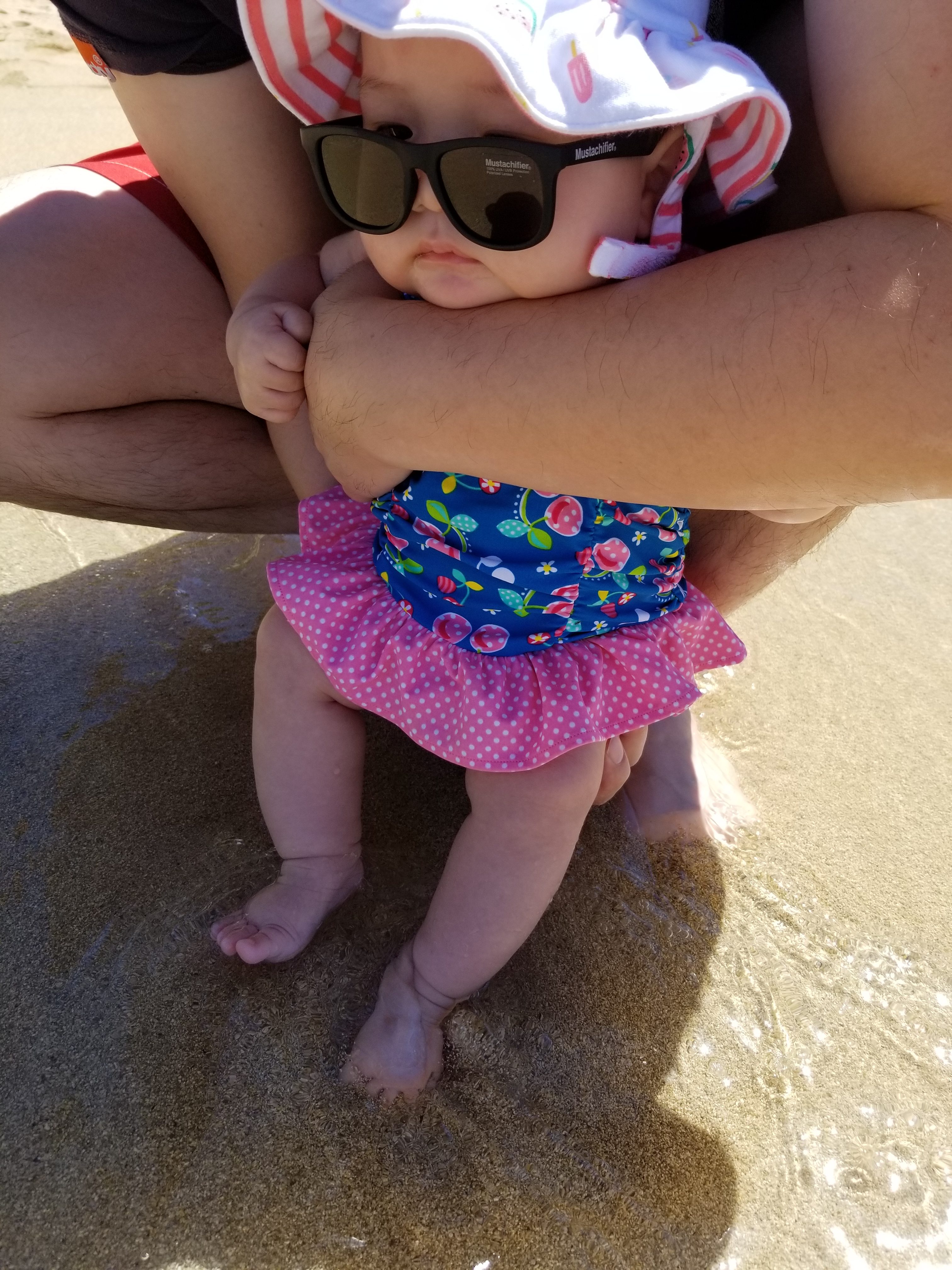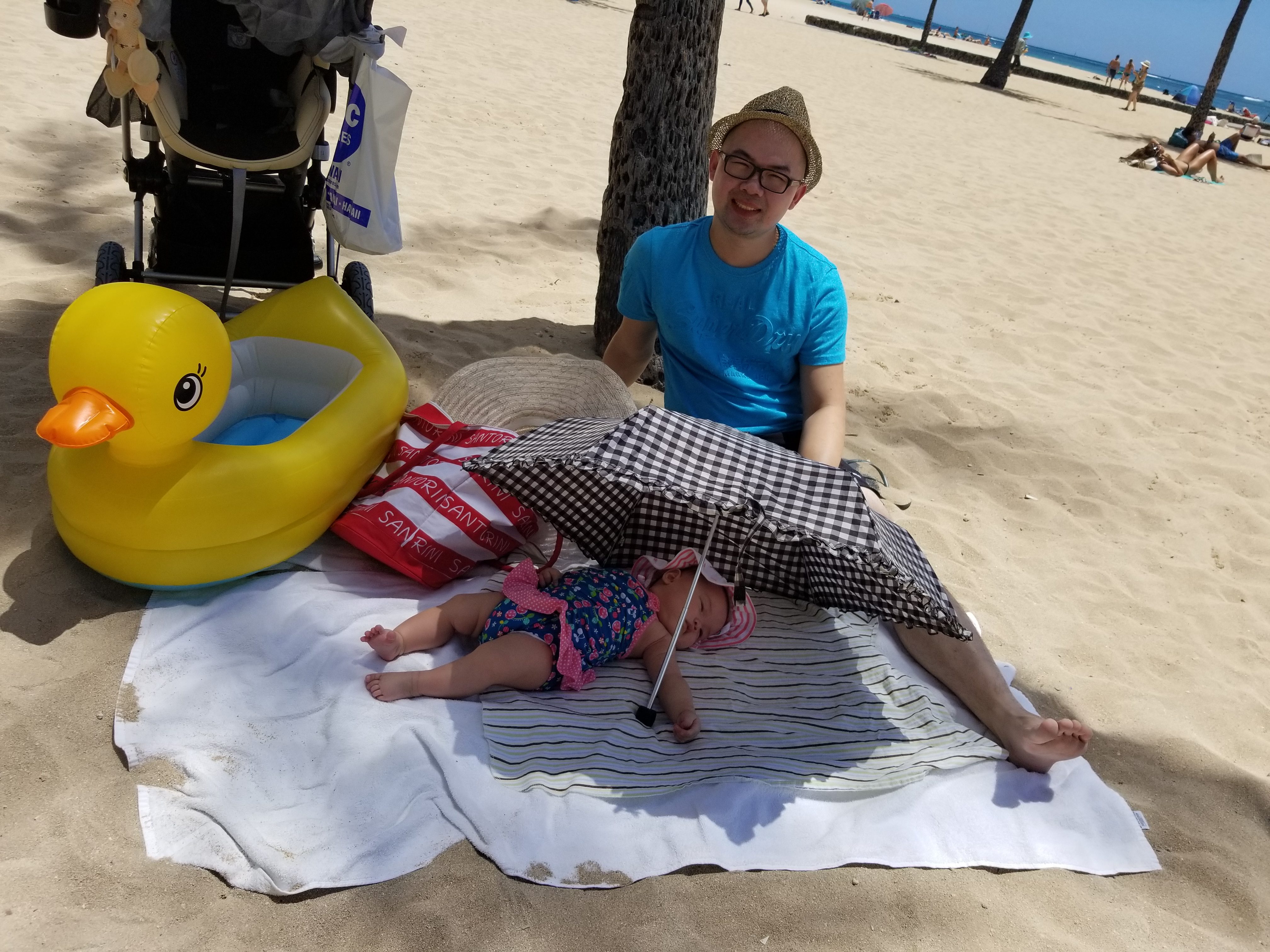 Meanwhile….. I'm drinking my margritas!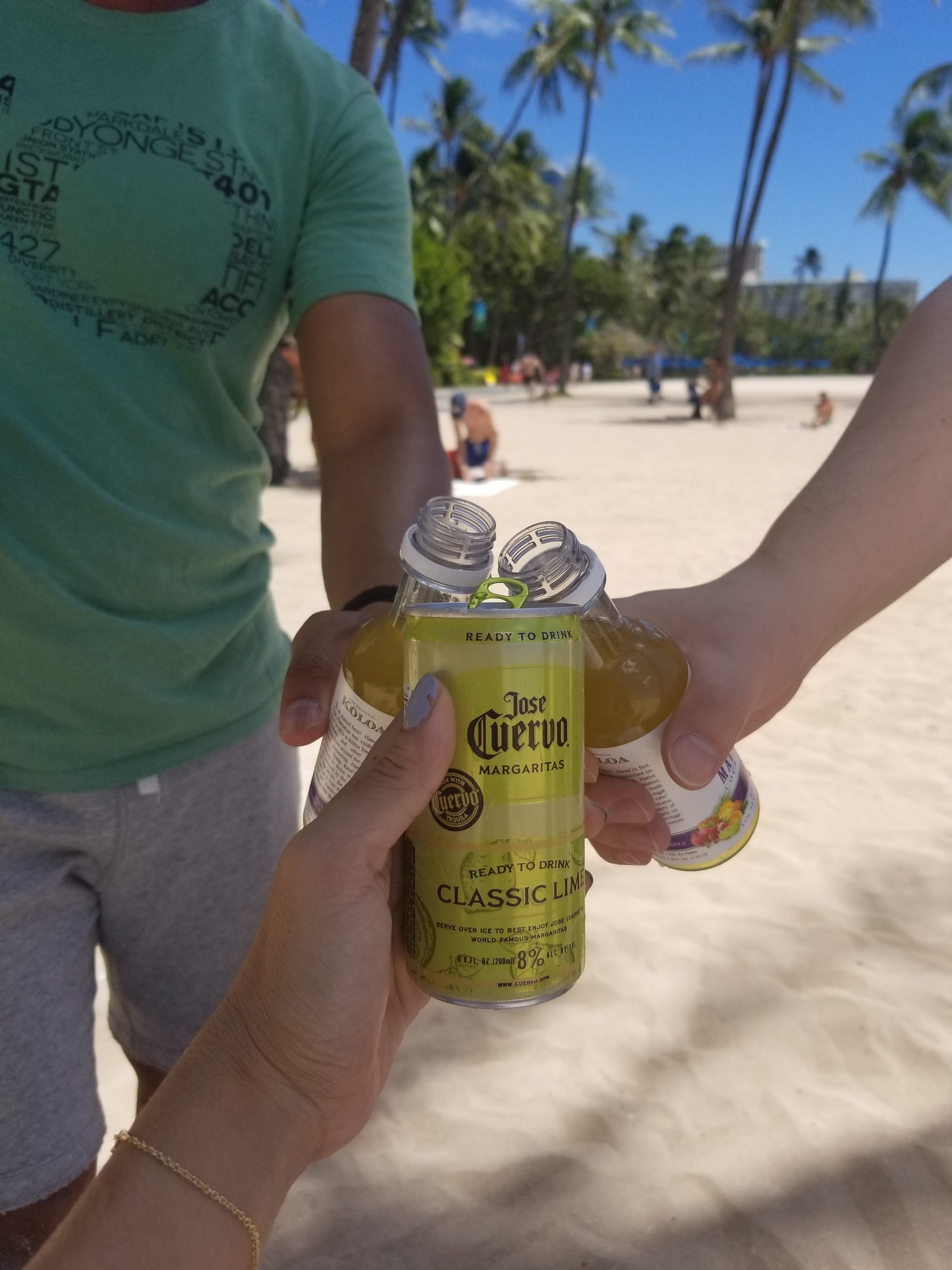 And tanning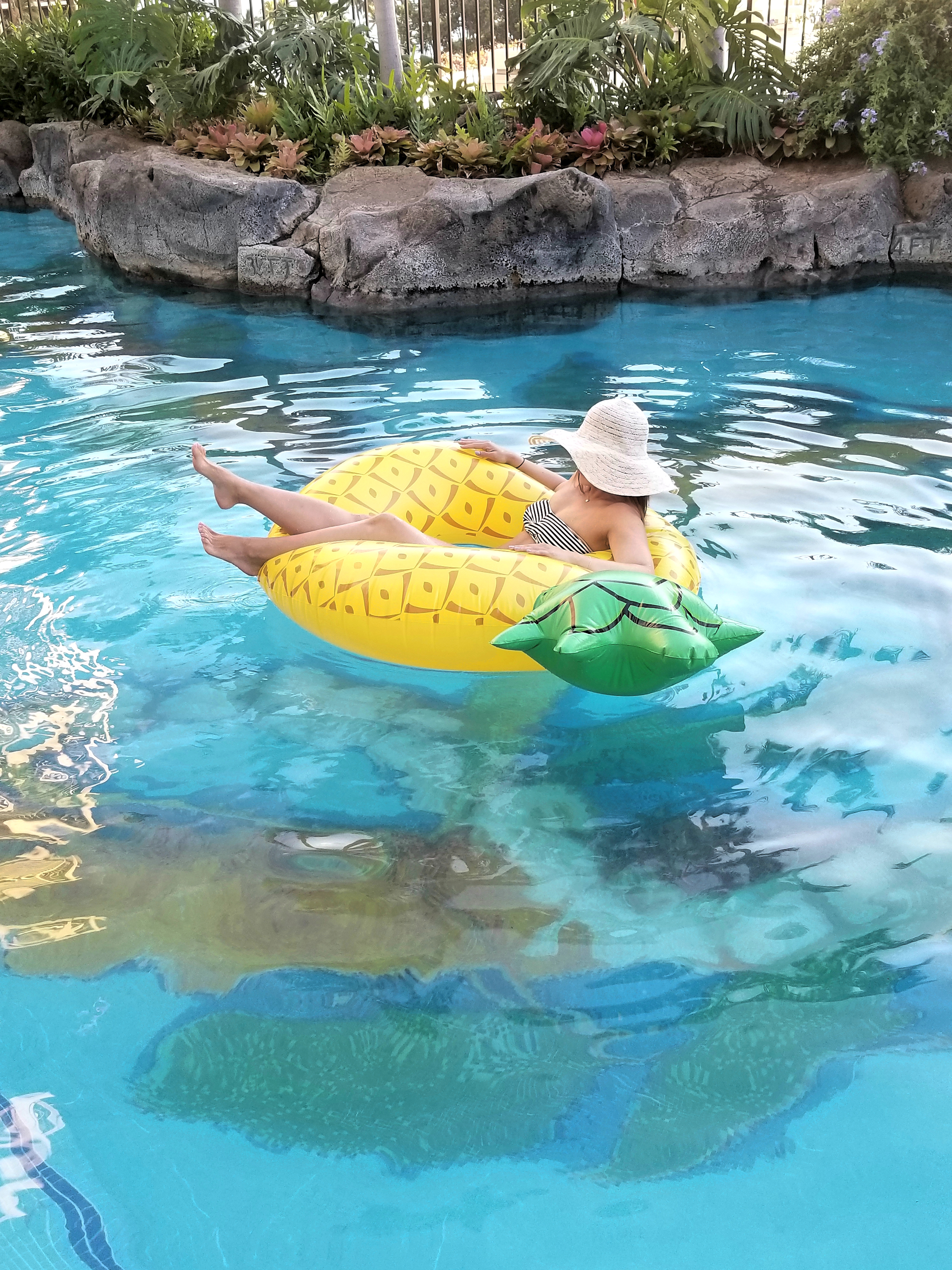 She has no idea what's going on!
Road trip to Lani Kai
We decided to take a road trip for the day, we rented a car – TIP. If you are going to rent a car, rent it BEFORE you leave, not while you are there. Holy $$$$$$$$$$$$ I didn't rent a car before we left because I wasn't sure how she was going to be, so everything was kinda play by ear. But I kinda wish I made a RSVP before we left, we would had saved money. I believe the car rental for the day was $180 USD. So, it was like $240 CCDN. SIGH!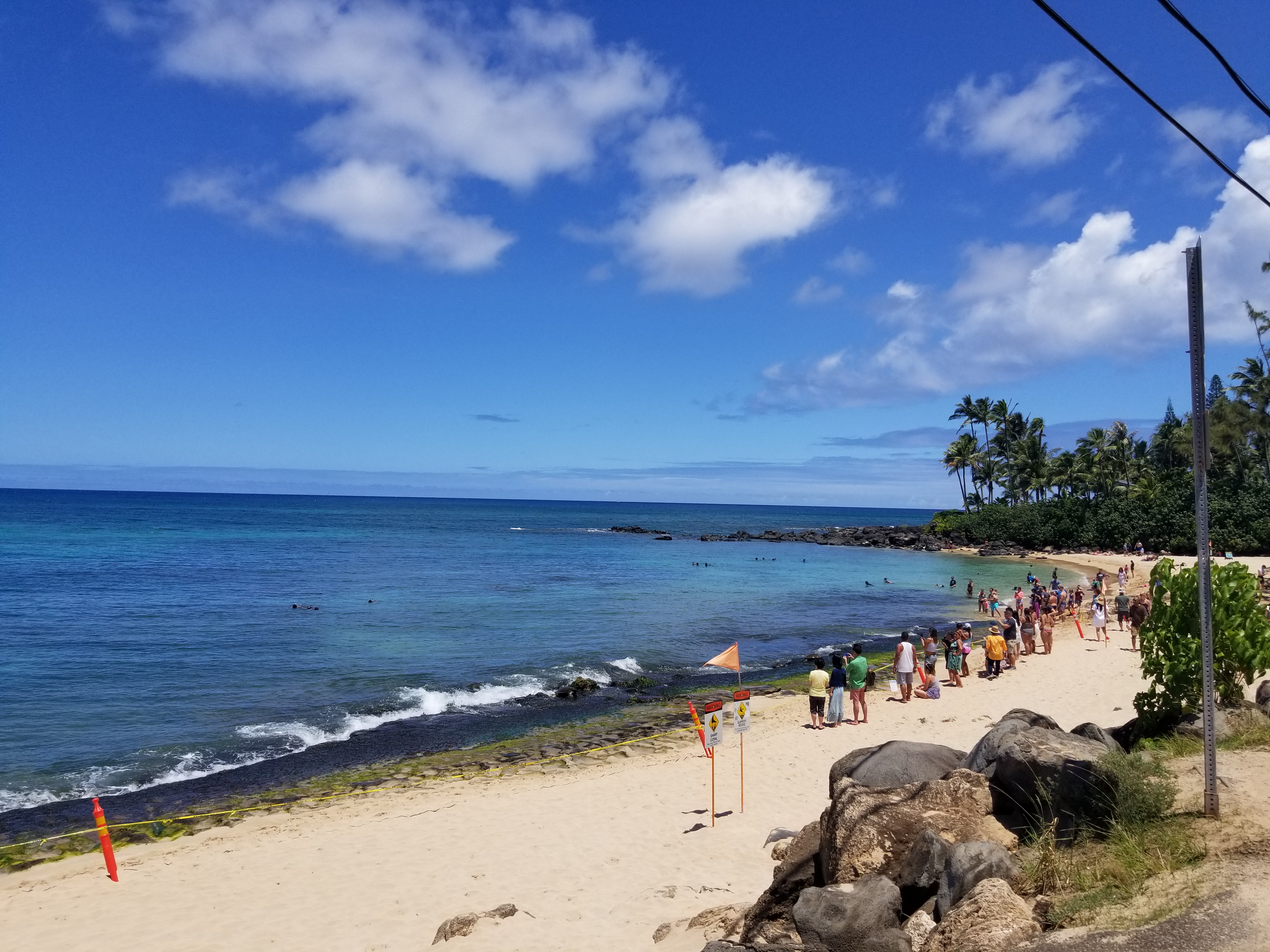 But worth it, it's so nice to be out of Oahu, it's such a different feel. My heart belows to Maui, Oahu was literally – shopping shopping shopping shopping, which is great! But I'm a beach bunny at heart and really just wanted beach. Maybe when my baby is older, we are going to head back to Maui, I really do love it there. You can read about my Maui post here.
Giovanni's Shrimp Truck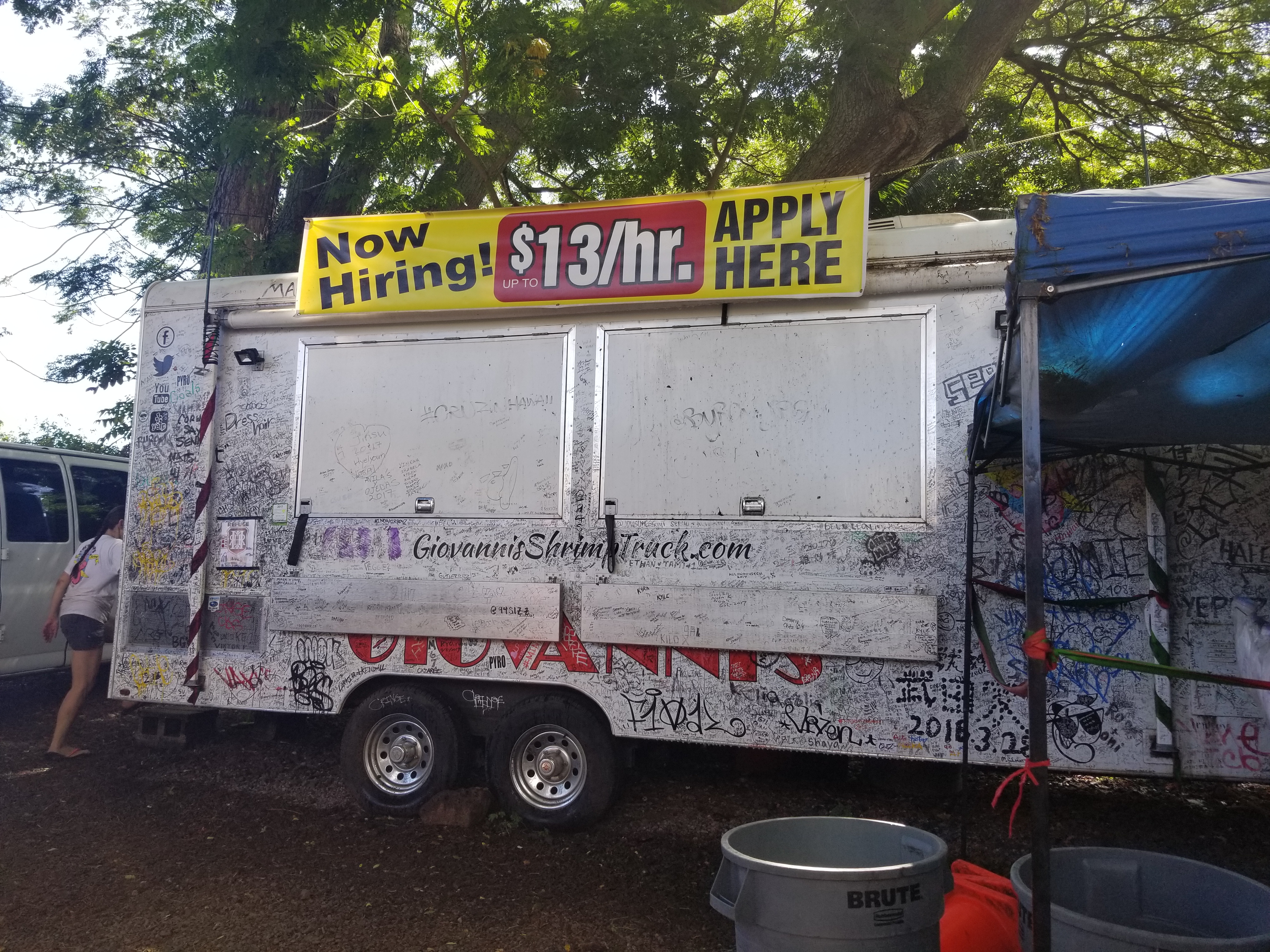 They were BUSYYYYYY. We got there before they open and man there was a line up already!!! I personally found it too salty, my husband on other hand – LOVEEEEDDDD IT.
TIP – GET TAKE OUT. Seriously, I regreted not getting take out. It's so damn good. My baby was getting fussy so I pretty much down it. I didn't really get to enjoy it, so maybe that's why I wasn't getting the "WOW" factor.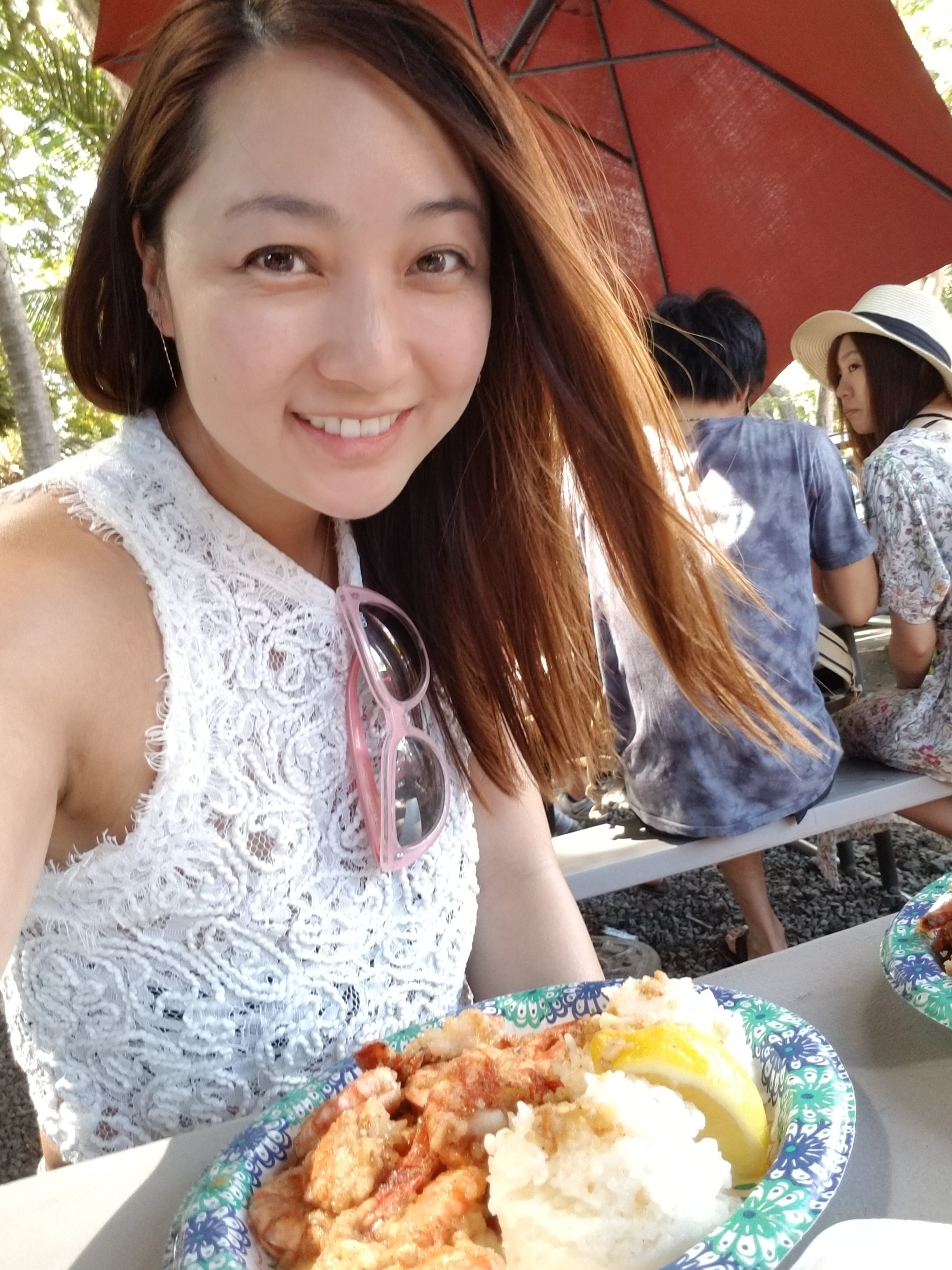 My not so happy baby. It was REALLY hot that day too, so she pretty much didn't want to leave the AC car.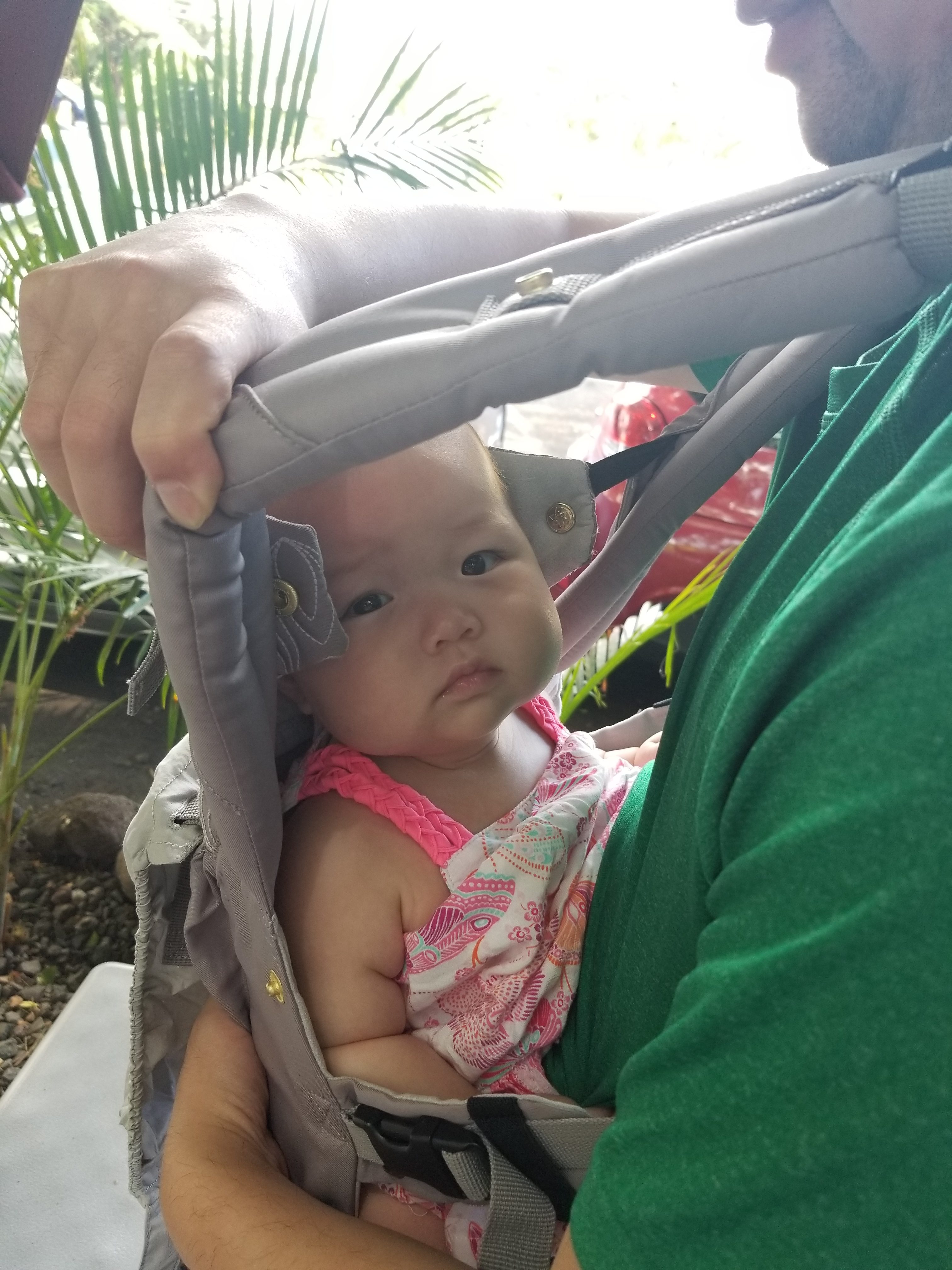 KAHUKU Store – Best Poke Bowl
This was recommended by my husband friend. Good recommendation!!! From the outside, you wouldn't think it was going to be anything good, but man! So glad we went in!!!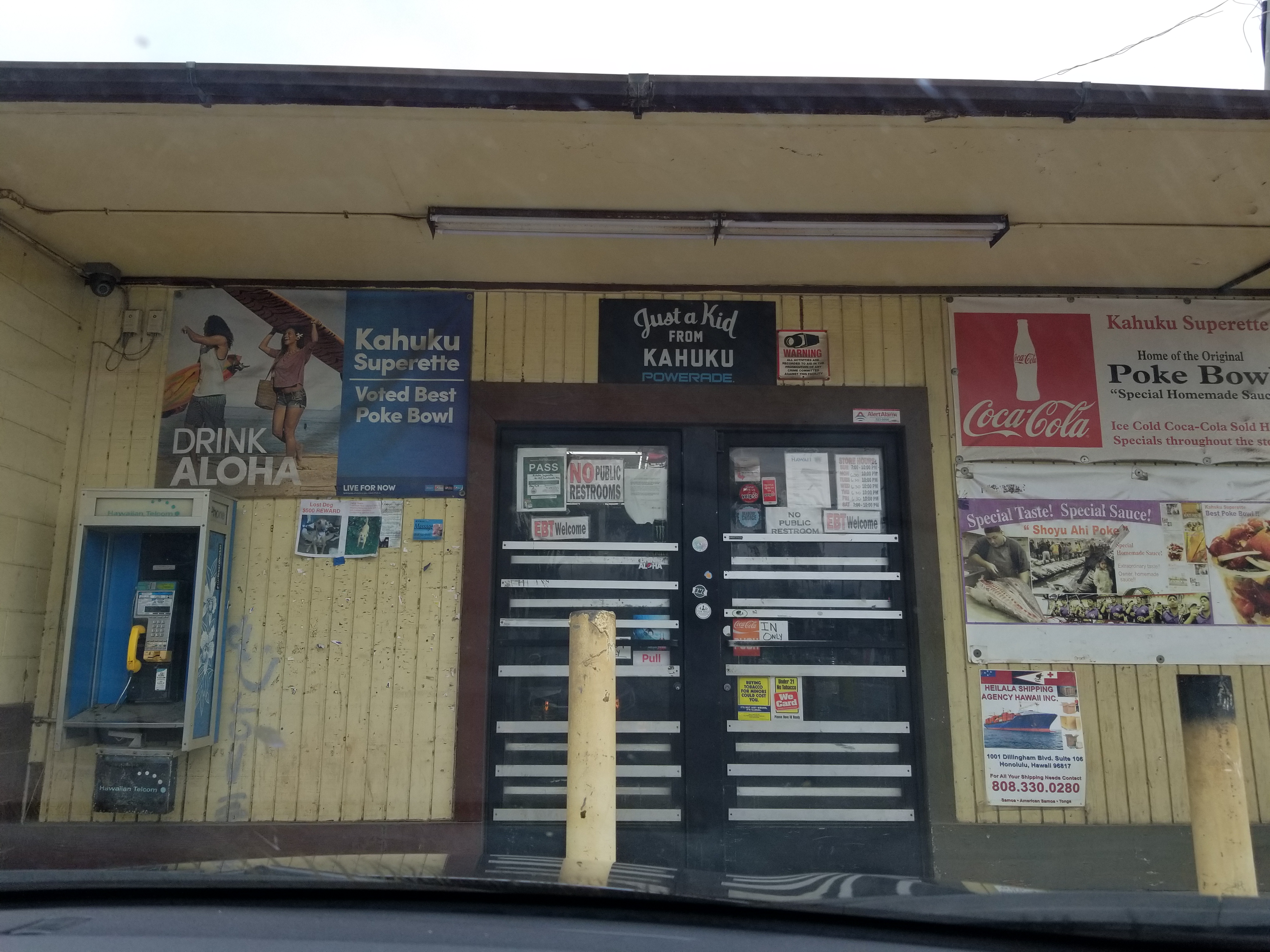 It's cheap and filling! My husband couldn't finisht he bowl!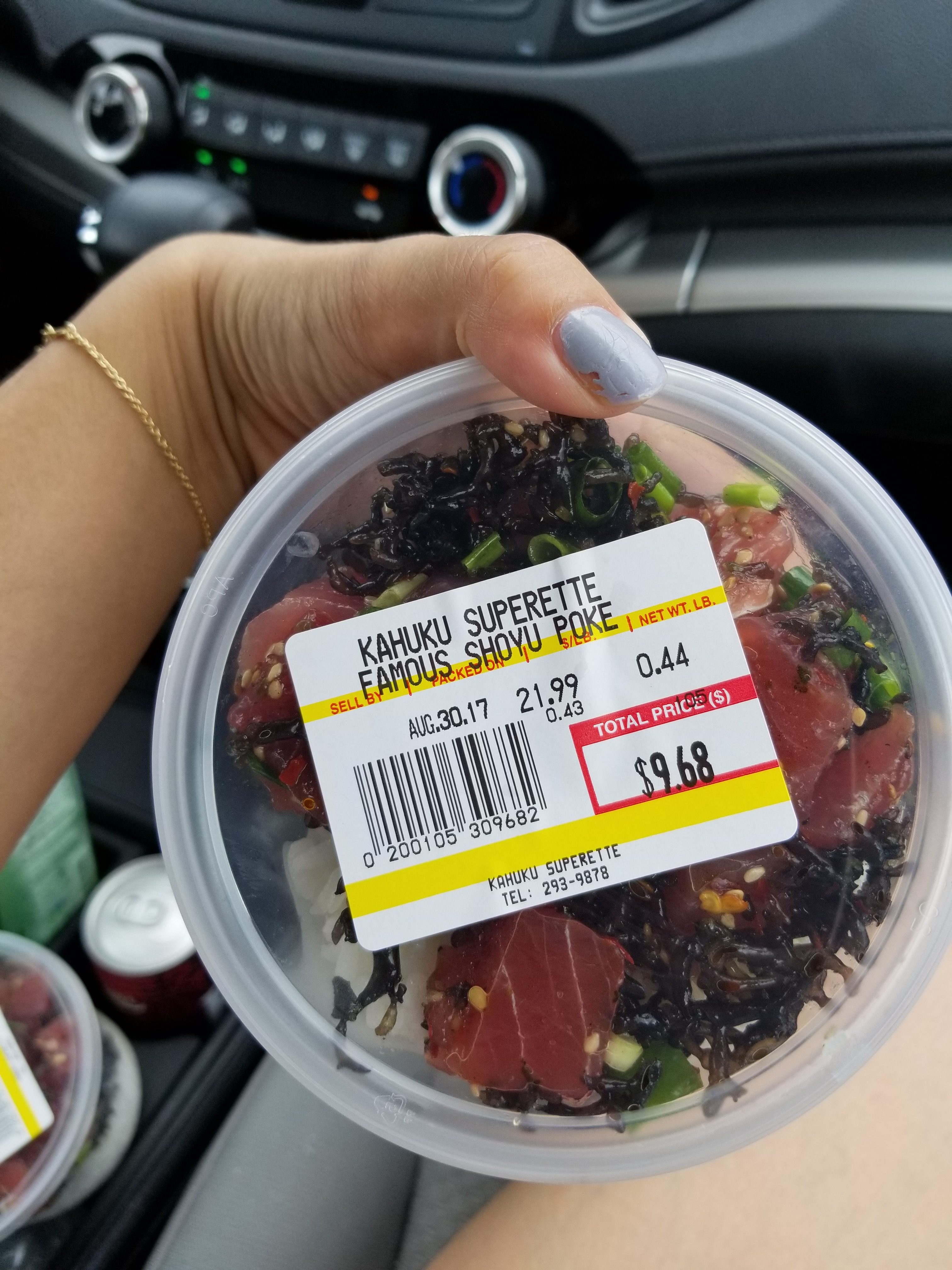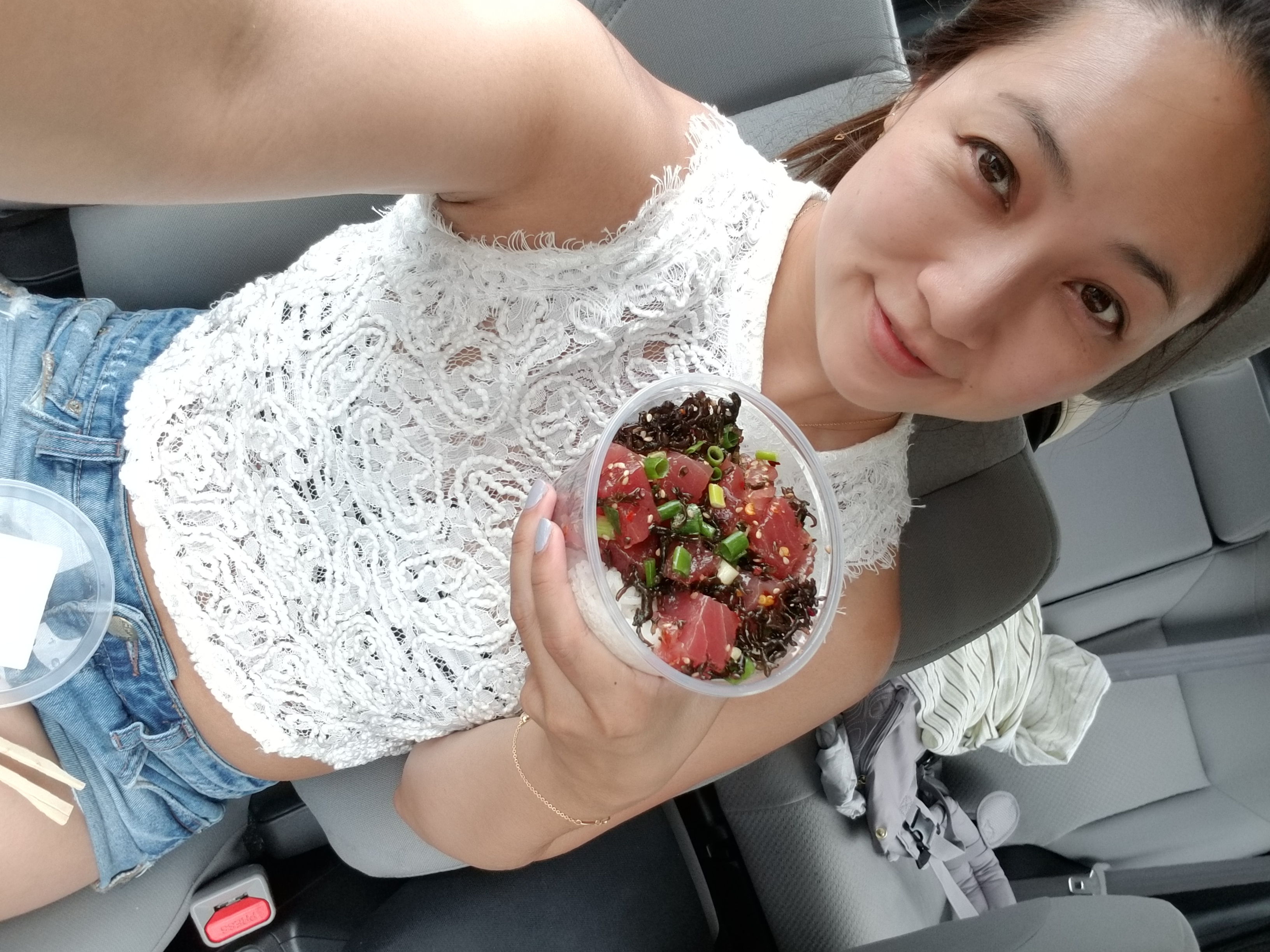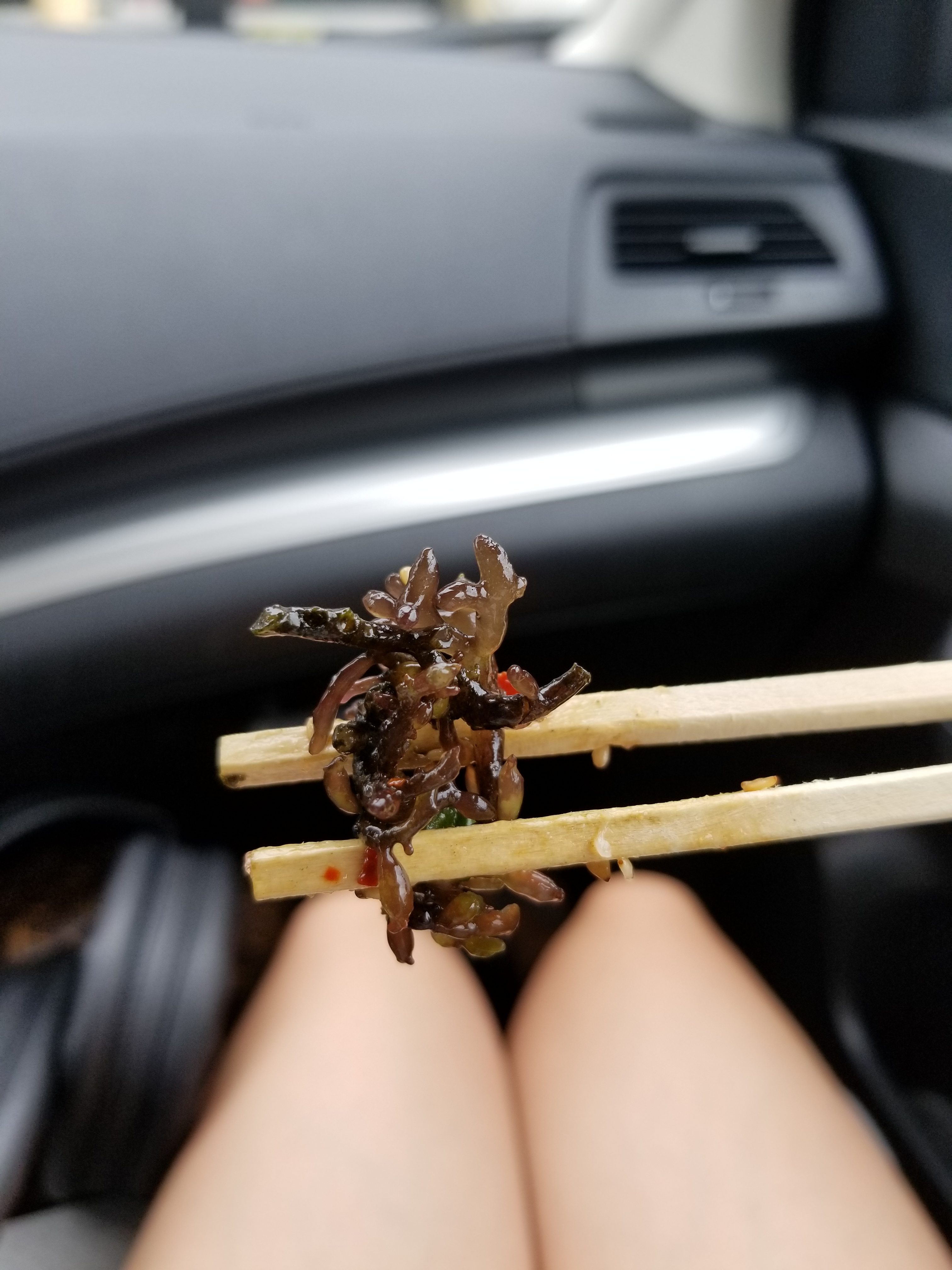 Island Vintage Coffee
Oh I love this place for breakfast, I can almost smell the delicious coffee they serve right now! Do go early! They get busy soooo fast. Please do get the Acai Bowl. OH, MY!!! YUMMMMMMMMMM It's the best thing ever.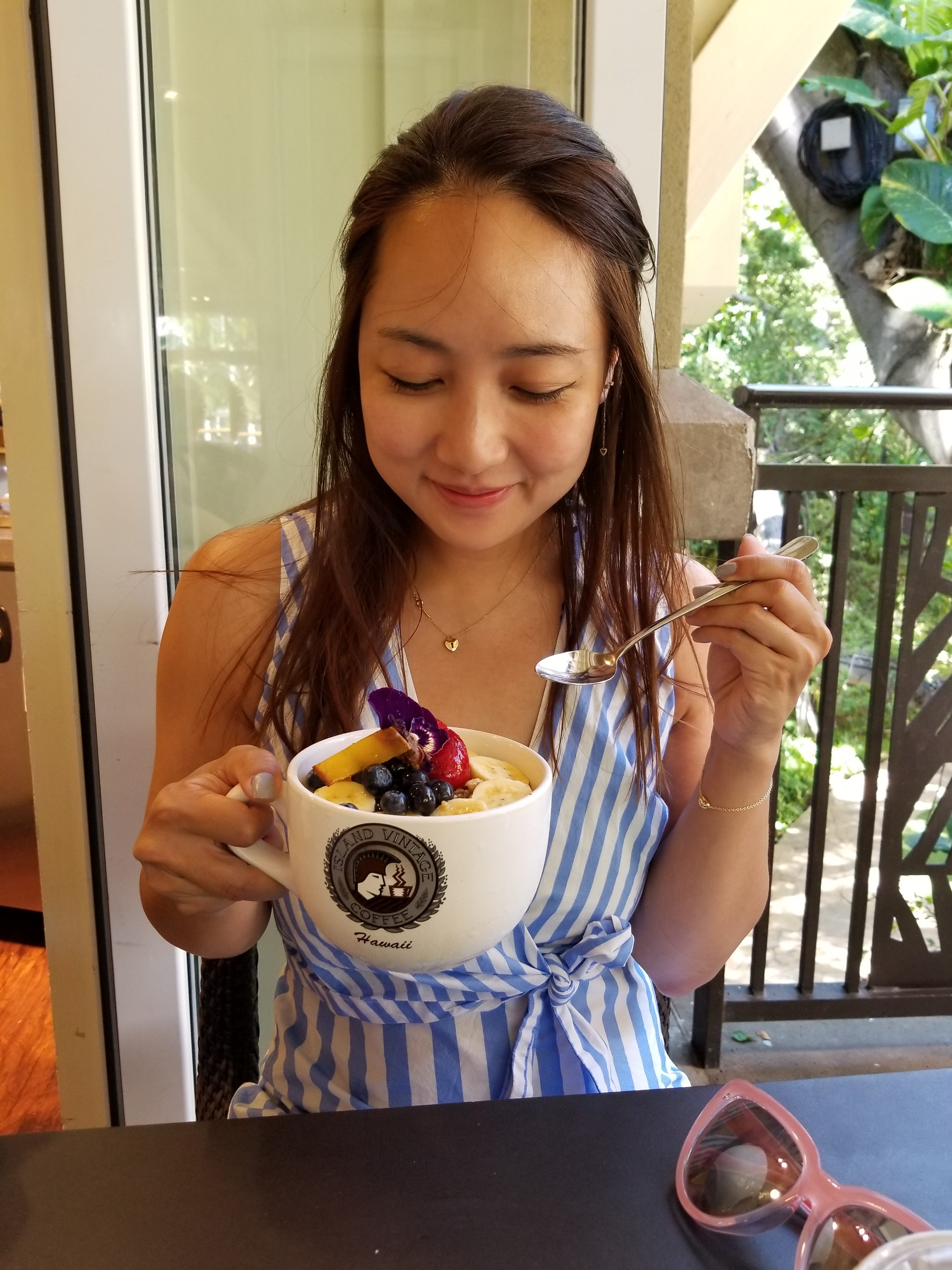 Pool for days
There are days we didn't move out of our hotel, so it was nice that we had our private pool. Of course, my baby was shaded the WHOLE time. I let no sun touch her skin.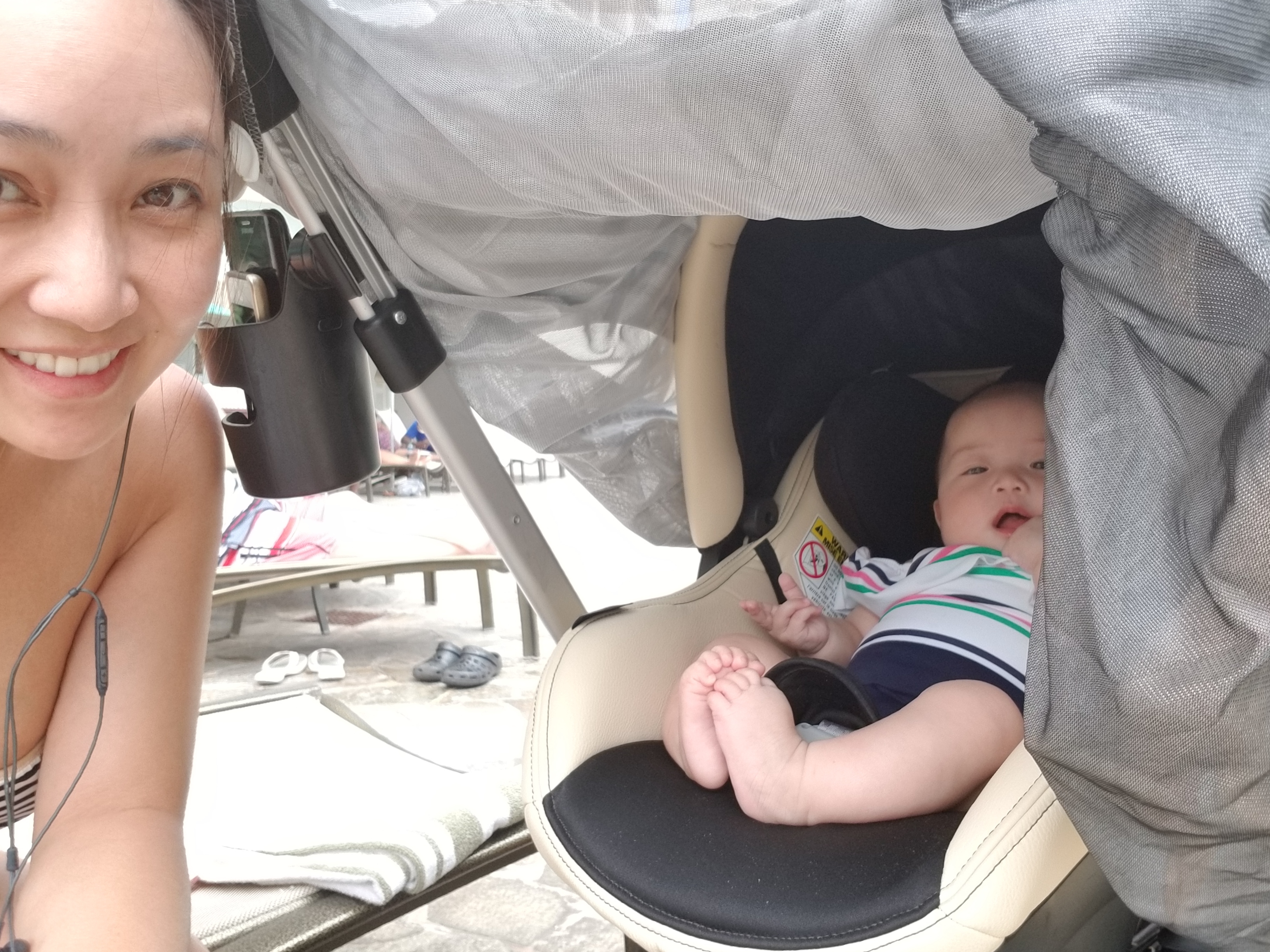 We also went around 4ish that's when the sun wasn't as strong so we get a nice shade too.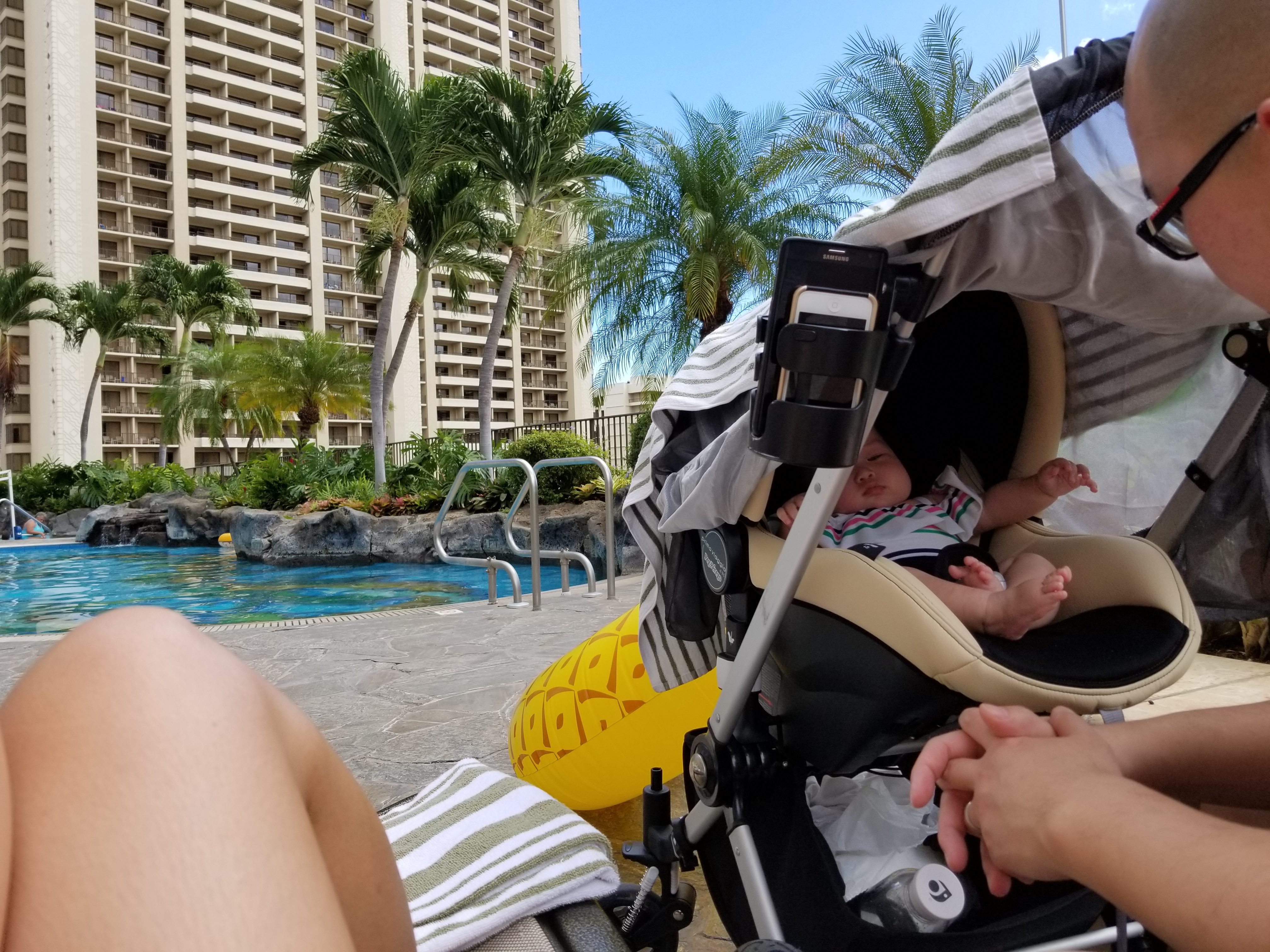 She wasn't too fond of going in the pool, the water was kinda cold.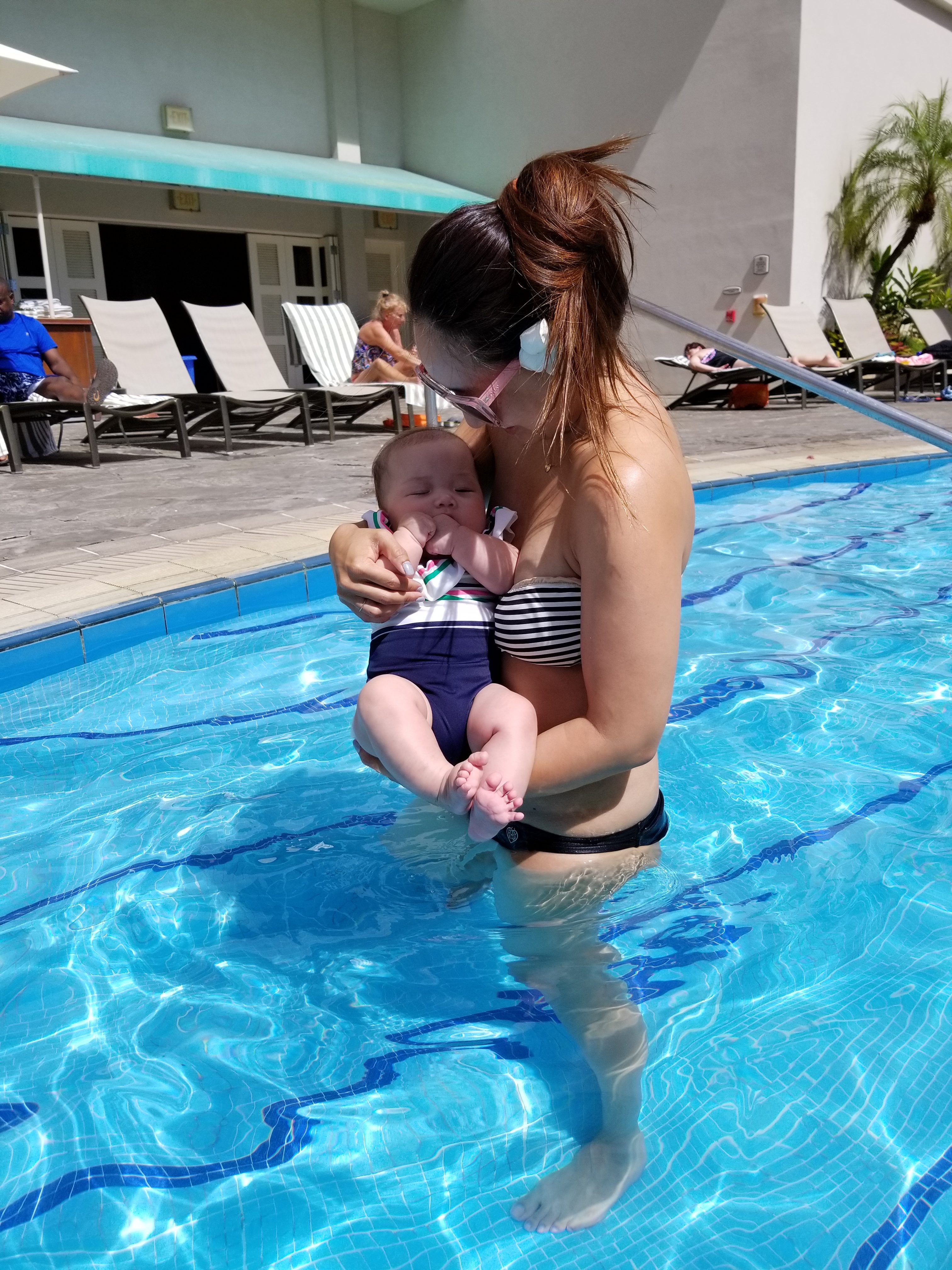 Lappert's Hawaii Ice cream
If you ever stay at the Hilton's Hawaii Resort, then you must try this place out! They have pretty decent priced breakfast (don't get it at Starbucks, they OVER CHARGE like CRAZYYYYYY. I remember paying $30 cdn for breakfast. It was painful) This place is cheap and good!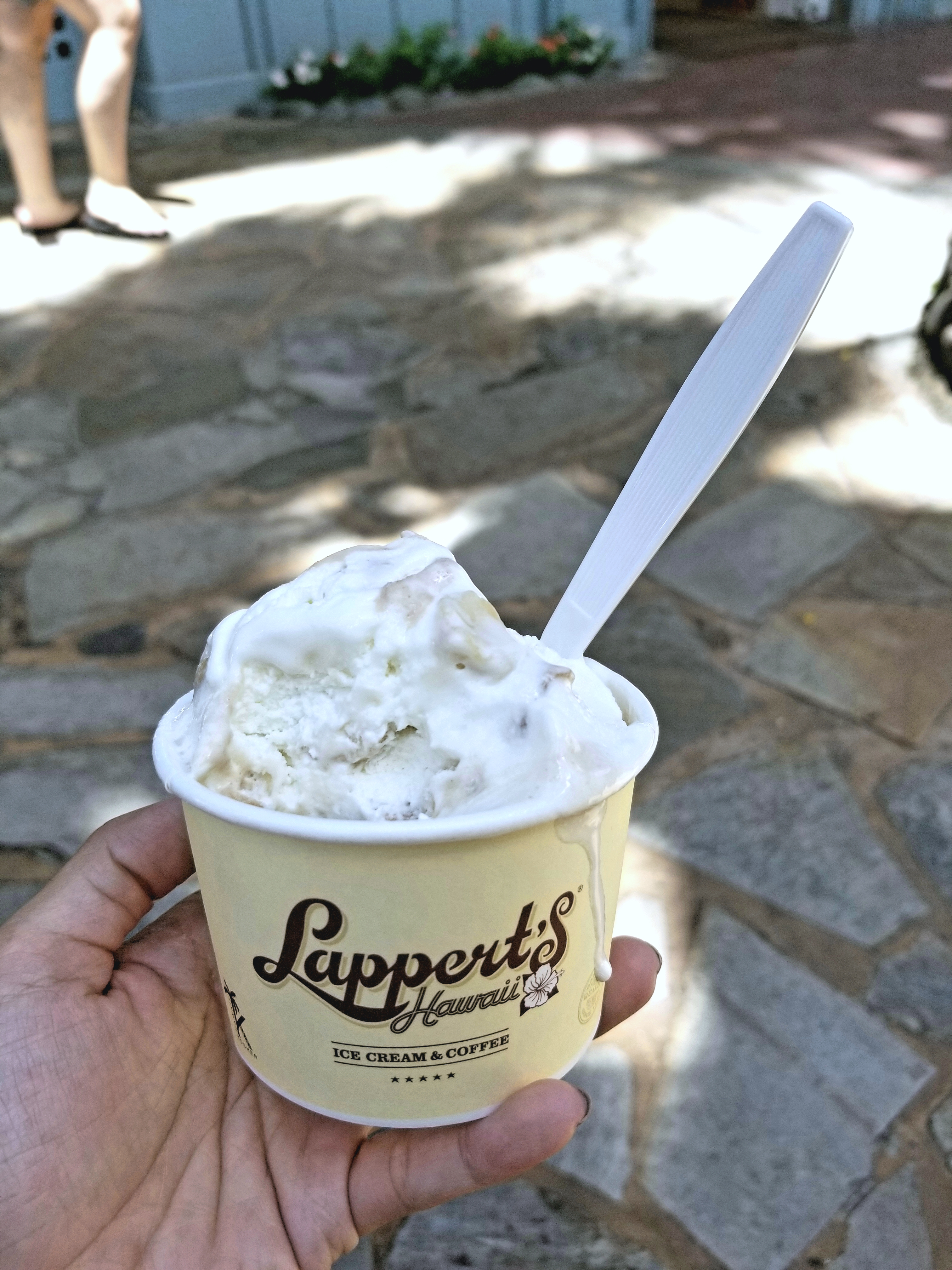 Flying back home 10 hours + delayed flight
I was super nervous flying back home because of the flight there she was a nightmare. Didn't like being in my arms, wouldn't sleep! We were super lucky that on our flight back they gave us an empty seat, we originally booked our plus seats, but because of our 2 hour delay, all the plus seats were all booked up. Should out to WestJet for still honoring our plus seats food menu and gave us our refund. They took care of us so well on the trip.
When we entered the flight, you always get these darting eyes at you because you are holding a baby. Because we ALL know that one screaming baby on the plane. Thank God mine didn't even make a peep! SHE WAS SOOOOOOOOOOO GOOD. I love her to death. She literally slept the ENTIRE flight.
I loveeeeeeee every single second with her. She was such a joy to be around, sure the trip traveling with a baby so very different, but I wouldn't change it for the world. Seriously thought travel before they can crawl, stand, walk. Makes your life easier, now I spend half my day chasing after her! I'm always wondering where she is or when she pulls herself up so she doesn't get hurt!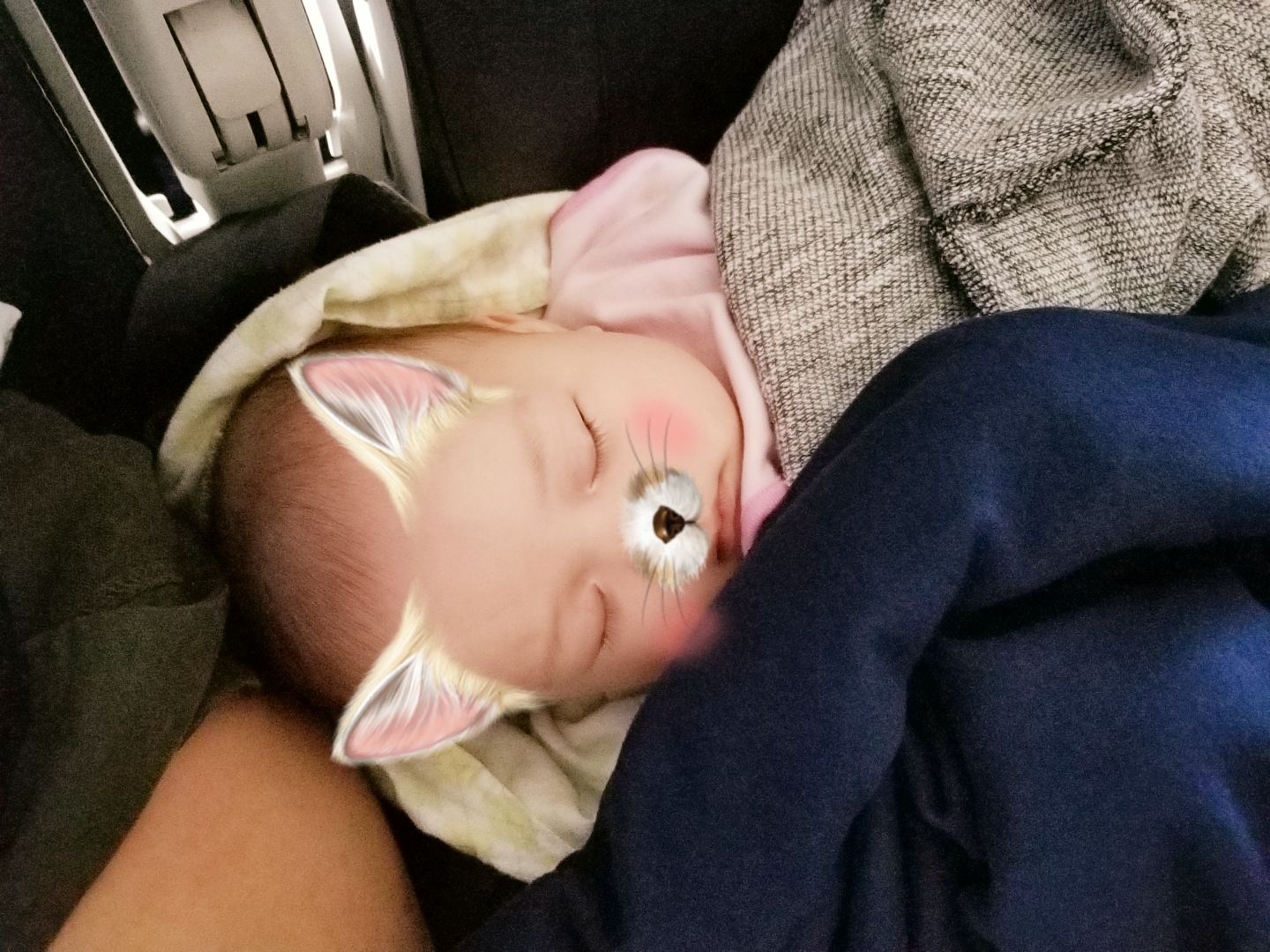 When we got off the plane. Everyone was like wow, she is such a good baby didn't even cry! Hehehe made me one proud mom. She was probably just super tired from Hawaii. When we got home, our first night sleep, she slept for 15 hours. LOL I was like WOWWWW. she slept as much as I did! I slept for a good 12 hours. She didn't even wake up. She must had been hella tired.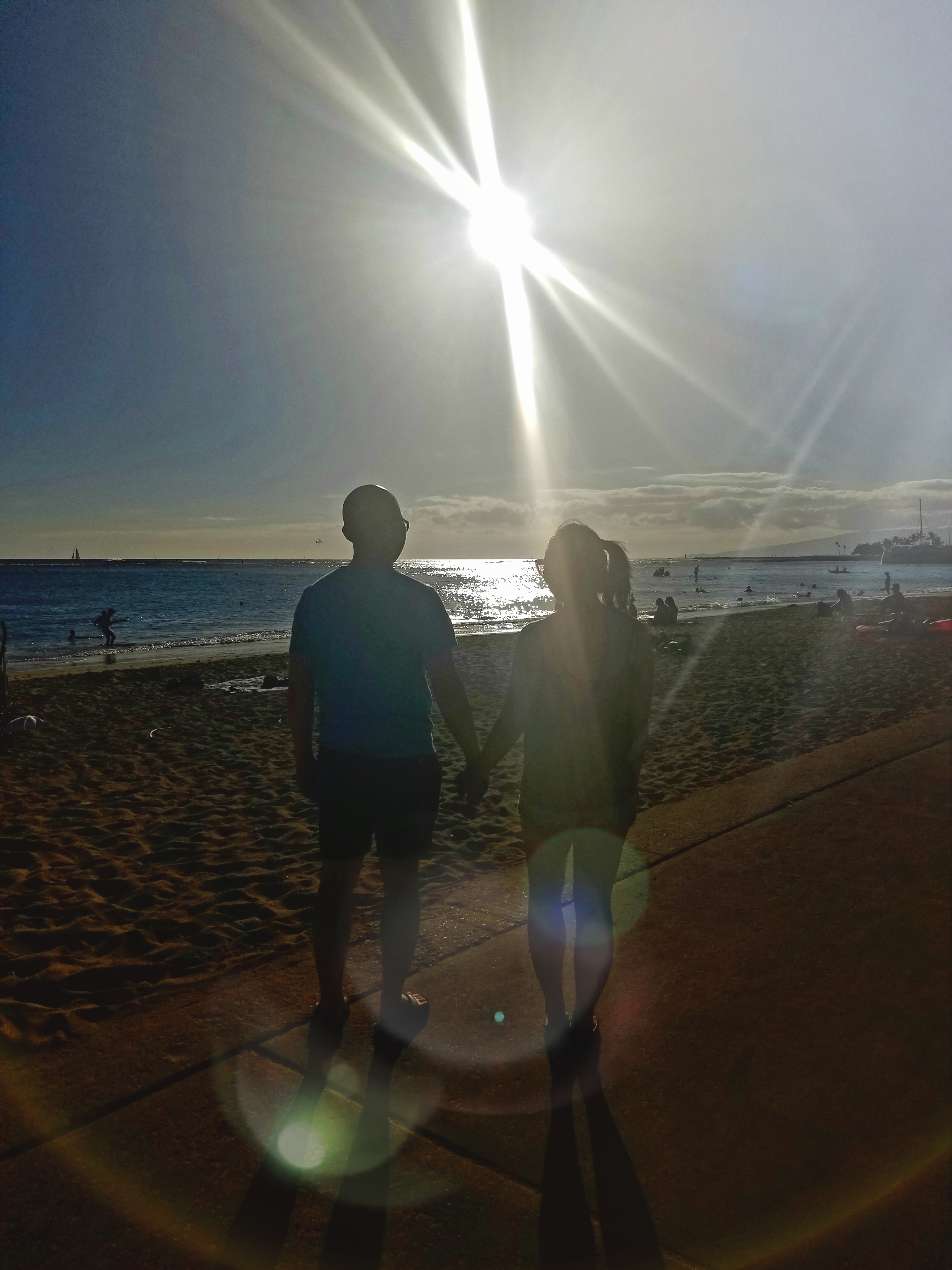 It has been such an amazing trip. I love every single moment of it and I would do it over and over again!
Thanks so much for reading,