Due to popular demand, we are excited to announce  another giveaway for the upcoming BabyTime show!! If you or know someone who is expecting or have toddlers, you don't want to miss out this show! It's only here for 3 days!! Read to the end of the post and leave us a comment for a chance to win free tickets (We have 2 pairs)!!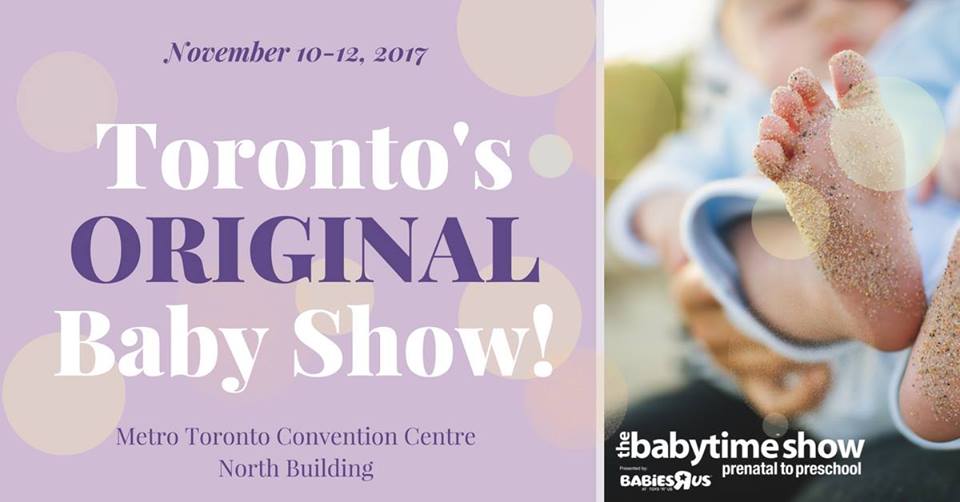 What are the BabyTime Shows?
The Spring and Fall BabyTime Shows are Toronto's  ORIGINAL BABY SHOWS.  There is no other baby show in the Toronto area that has the major brands, unique artisans, innovative products, important services, parenting experts, stellar education and top notch toddler entertainment all under one roof.
Learn!
Regardless of what stage you're at, BabyTime has something for you to learn. They've taken parents top questions and concerns and brought the experts in to answer them. From prenatal nutrition, birth and post- partum, toddler first aid, tantrums and sleeping- we have all the parenting topics covered! As well as a number of fun seminars to make parenting fun, like how to take better photos of your baby!
Shop!
It's amazing how many products are out there!  The BabyTime show brings the best to you, all in one place!  Baby Gear, Food, clothing and accessories! The show allows you to see and try all the newest products and talk directly with manufacturers and retailers, without driving from store to store! It's  a one-stop shopping extravaganza under one roof!
…And more! 
The BabyTime show is a magical place for your kids, where they can meet their favourite characters in person, watch TV characters sing and dance live on-stage. You'll have the chance to win prizes, ask experts sample new products.
Show Dates/Times:
Friday November 10, 10am – 6pm
Saturday November 11, 10am – 6pm
Sunday November 12, 10am – 6pm
Venue:
Metro Toronto Convention Centre, North Building, 255 Front Street West, Toronto
Cost:
Adults (13+) $17.00
Grandparents $10.00
Children 12 and under FREE
Parking:  
Parking is located off of Simcoe Street.
Stroller drop-off available on level 4A – look for the signs in the lot.
Giveaway!! Hurry contest ends Nov 7th! (Closed)
We are giving away 2 pairs of tickets.  Hurry contest ends Nov 7th!
Rules:
Please do email us at petiteandprettyco@gmail.com after leaving your comment
Like or Follow our Instagram or Facebook [PetiteandPretty]
That's it! We will enter you in the draw! Winners will be announced on Nov 9th!
WINNERS!
Congratulations to Cindy and Amanda!
We will be contacting you shortly with your pair of tickets!
Thank you everyone for entering.