Hi Everyone,
Have you guys ever been to Greece? It's such a romantic place! If you are deciding where to go for your honeymoon visit here. We went here for our honeymoon and I'm dying to go back, we are sitting at – 30 (with wind chill) in Toronto…. brrr!
We booked our honeymoon trip via SkyWayTours. It was a 15 day honeymoon trip in Greece. All transfers were taken care of. **perfect**! Perry was AMAZING. Trust me, he was so patience and quick with all my million of questions, I really have to give him credit for it! Everything was very organized and we really didn't have to worry about a thing!
We stayed at Hotel Royal Olympic(5 Stars) while we were in Athens, I love their stunning Roof Garden Restaurant – Bar opened recently offering the ultimate dinning and wining experience in front of the most spectacular view in Athens. It's also closed to many tourist attractions and you can see the temple of Zeus from the window of your hotel!
The Roof Garden Restaurant: It's an all you can eat buffet breakfast! Delicious!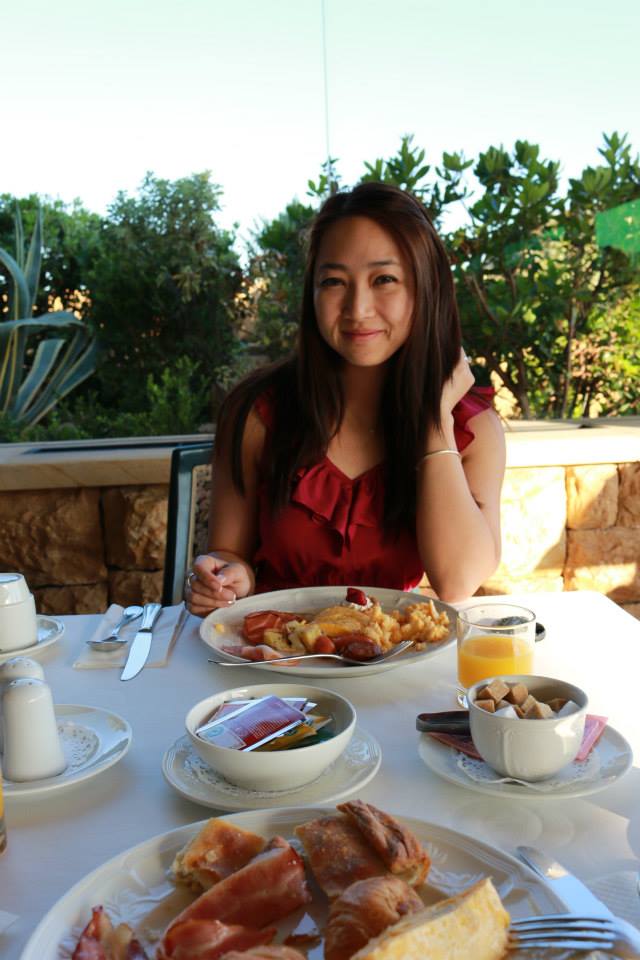 Seconds please? The image of the right is the hallway that leads up tot he roof garden restaurant.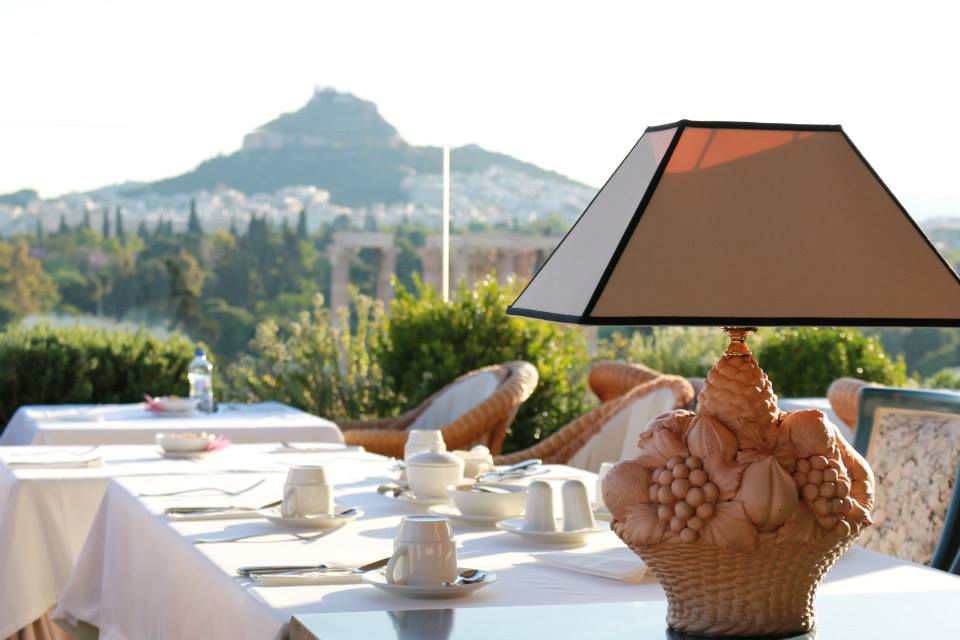 Getting ready to fly out! Can't you tell from my oh so excited face? (I actually had food in my mouth and my husband was so excited and wanted to capture every single moment)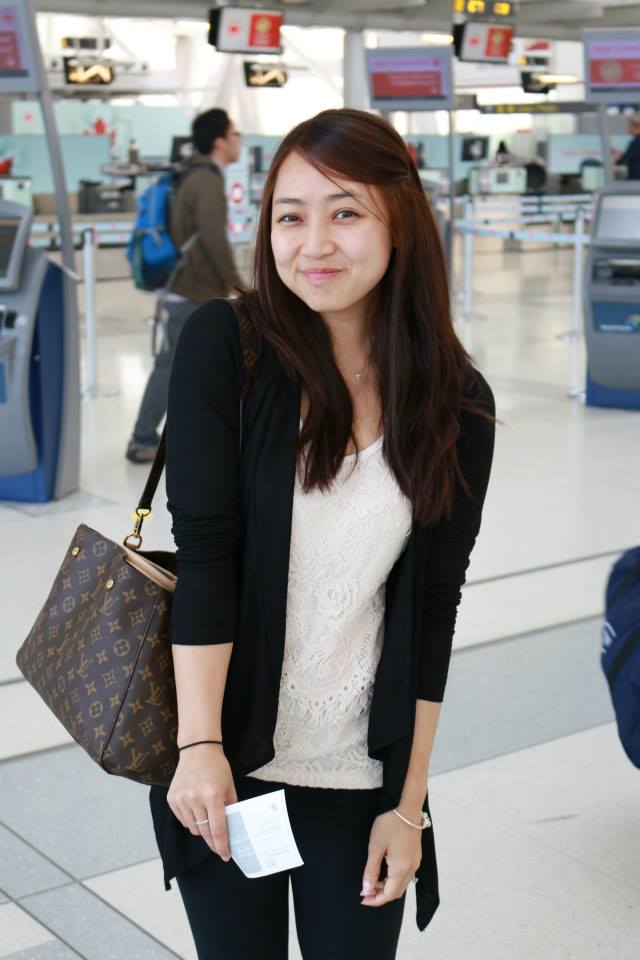 We arrived at the hotel and it was very spacious, although I had doubts if the luggage and I would fit inside the elevator.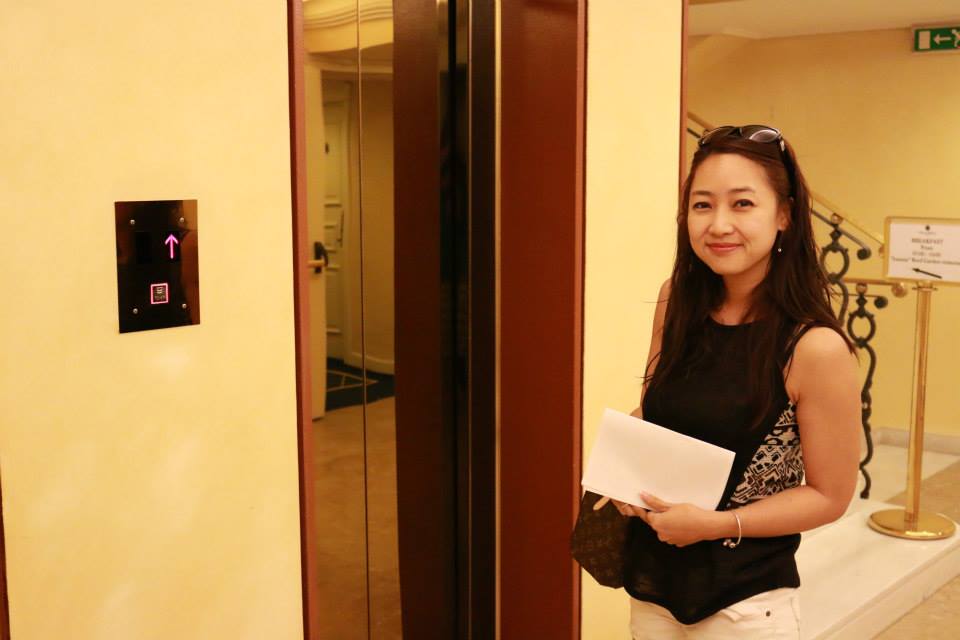 The outdoor pool in the hotel: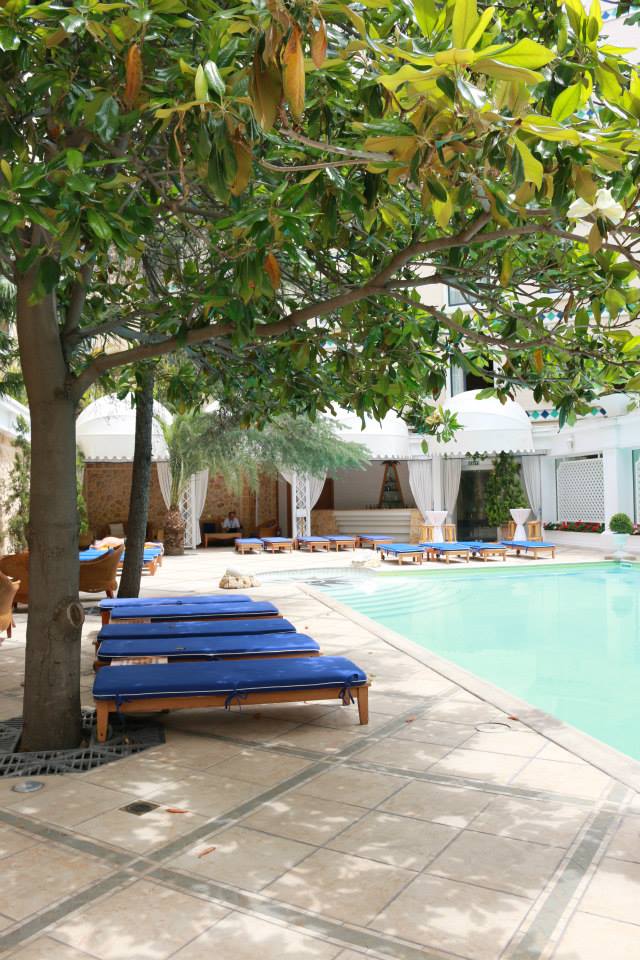 The ride: I am unsure if we got ripped off by the Taxi….(extra $10) for the following view. He drove us up the hill to see this view from above. But, I did noticed there were many taxis on top of the hill with lost tourists like myself looking at this view. I'm sure you can just tell the driver "no" but hey, we did got some pretty photos! Excuse my tired face, it was after a very long flight.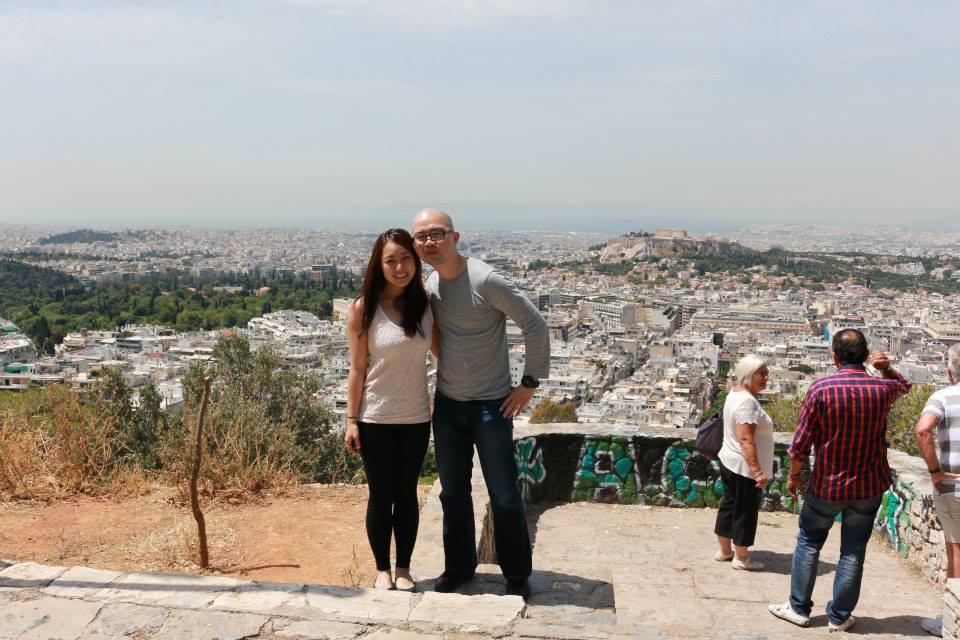 My very first meal! I was starving, I found this little gem just outside the hotel. 1.90 Euros, not bad! Spinach and Cheese.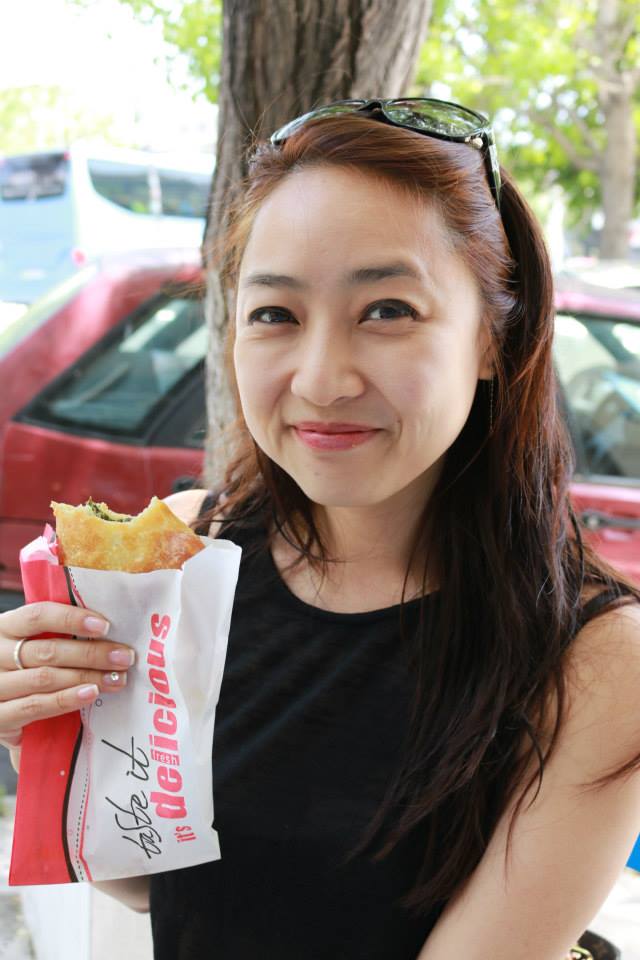 First stop? Temple of Zeus!
A little background: The Temple of the Olympian Zeus was the largest in Ancient Greece, even larger than the Parthenon. It was originally conceived as a temple of Doric Order, with a planned two rows of eight columns wide and two rows with twenty-one columns in the length.Cossutius significantly altered the original design. He added Corinthian capitals and planned three rows of eight columns at the fronts of the temple and two rows of twenty-one columns in the length. Hadrian mostly followed this design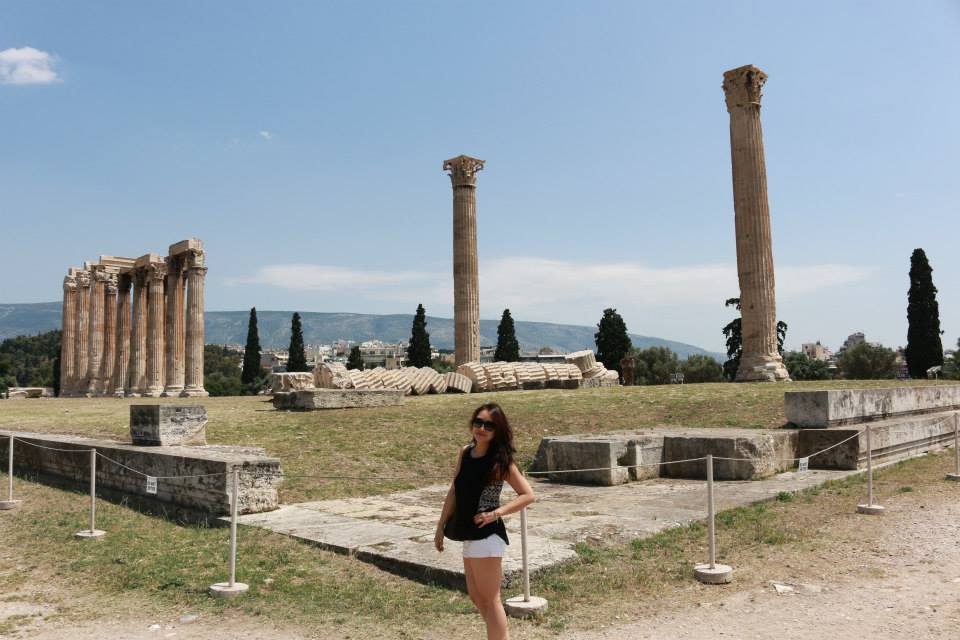 It was insane hot that day. So time to take a break under the shade.
Climbing up the Acropolis! Finally made it!
A little background: The Acropolis of Athens is an ancient citadel located on a high rocky outcrop above the city of Athens and contains the remains of several ancient buildings of great architectural and historic significance, the most famous being the Parthenon.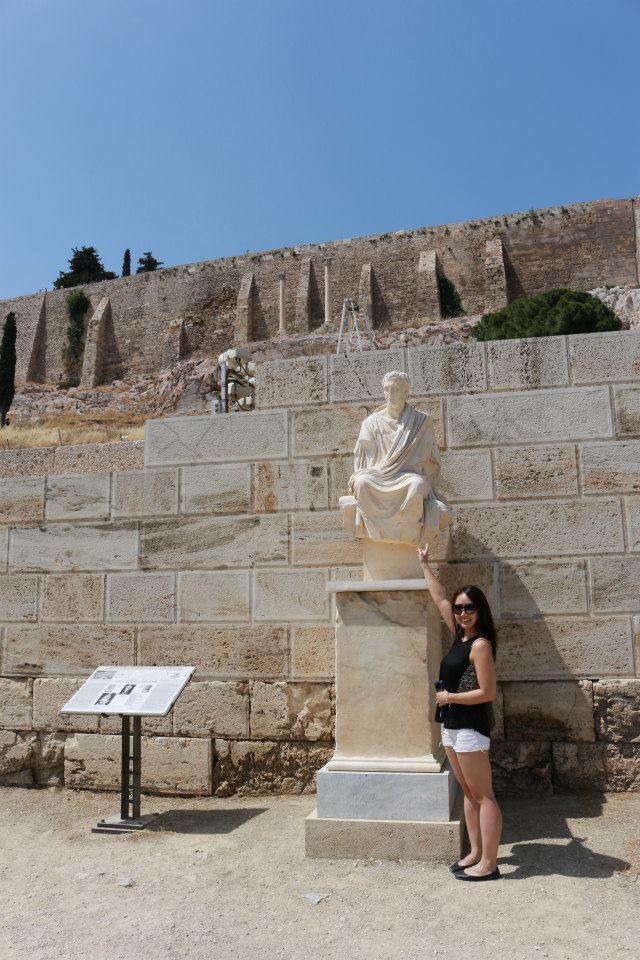 The view is breath taking. It's really amazing this place has so much history. Such beauty.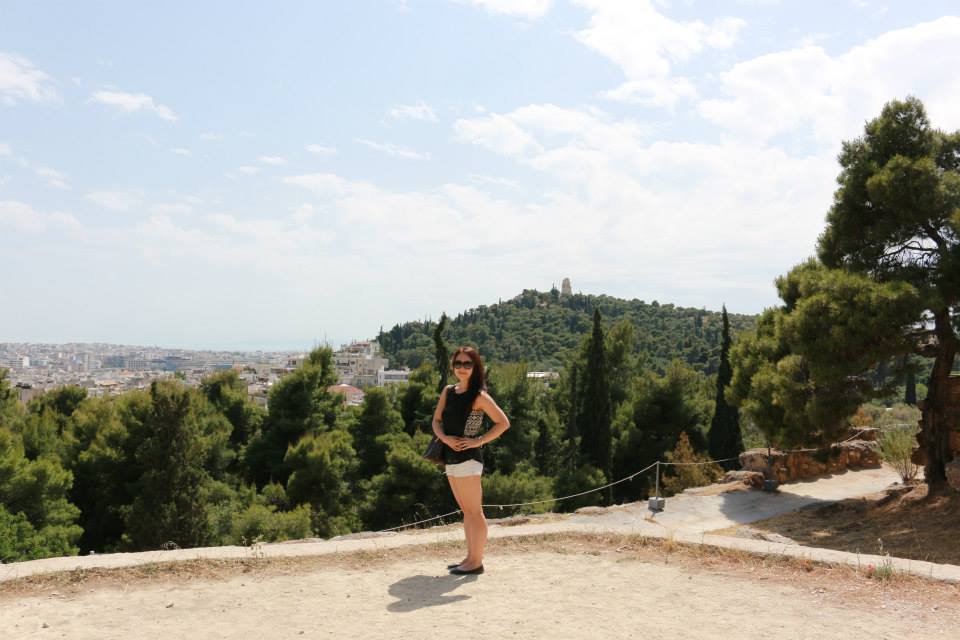 Many of the structures are under repair.
I love love love the structure of this.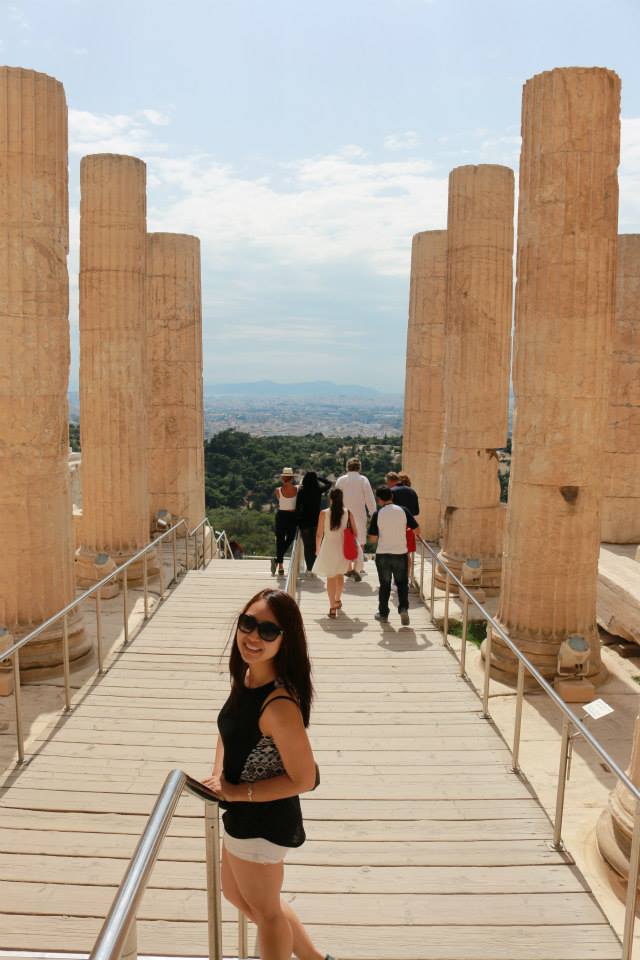 Time to say goodbye! Note: Remember to wear comfortable walking shoes and BRING WATER! Buying water anywhere near a tourist attraction will rob you.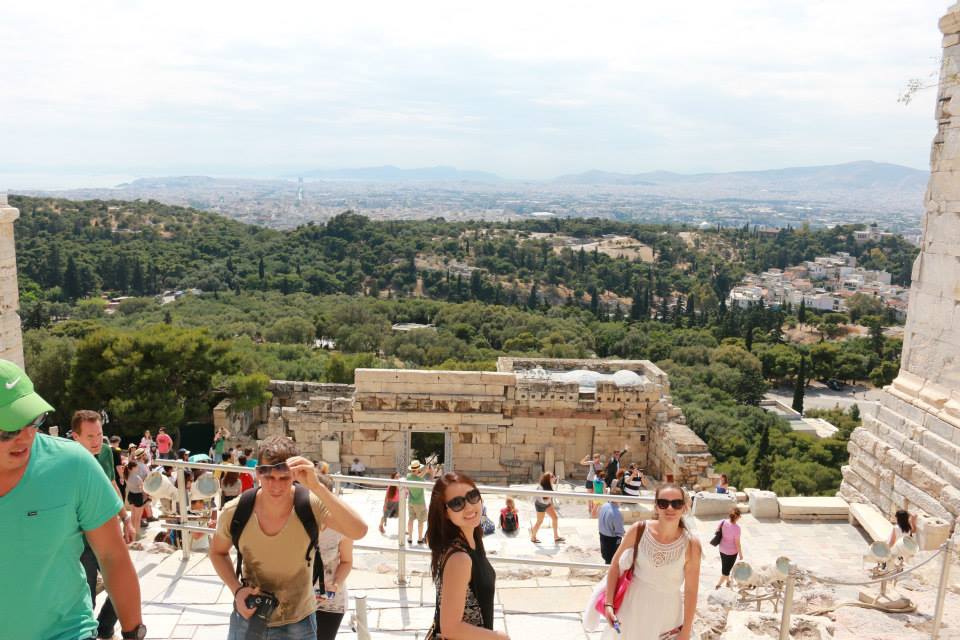 Thanks so much for reading,
Ev