Not a lot of people are familiar jackfruit or are often confused with durian because of their similar, spiky exterior. Just to clarify, they are completely different – in flavor, smell, texture, fruit classification, size, etc., and if you want to learn more about their similarities and differences, there's a great post HERE.
Jackfruit – a tropical fruit that is super popular in Asia, started gaining popularity in the North American market a few years ago – mainly in the vegan world because many believe they tasted like pulled-pork. However, only a small portion of people tried them fresh, and an even smaller portion actually opened a fresh jackfruit themselves.
Where Can You Buy Them?
They are available year-round in cans at most supermarkets, and you can buy fresh, prepackaged ones at T&T (pretty much year-round) at a very high cost (like $3 for 6-8 pieces). I've also seen frozen ones at T&T, which are a little cheaper, but can't recall the cost. Plus, as I recently discovered after watching a documentary about the history of supermarkets, not all grocery stores have the commercial refrigeration facilities to provide an endless supply of frozen fruits, so these can be hard to come by. During the spring/summer time, you can buy fresh, whole jackfruits at Chinese supermarkets. I was talking to a friend who owned a Chinese supermarket and he was telling me that to keep his prices on jackfruits competitive he makes sure he is never overspending on his energy bills. He will often go through price comparison websites like Usave to save the most money possible. But I digress. We've seen them once or twice at T&T (not always in stock or not at every location), and more often in stand-alone Chinese supermarkets. It is no secret that my husband LOVES jackfruit, and finally we've decided to buy a whole jackfruit and try opening it on our own. We bought ours at Centra Supermarket (in Aurora) for $0.99/lb. My husband claims he chose the 'smallest' one, which was about 20lb+.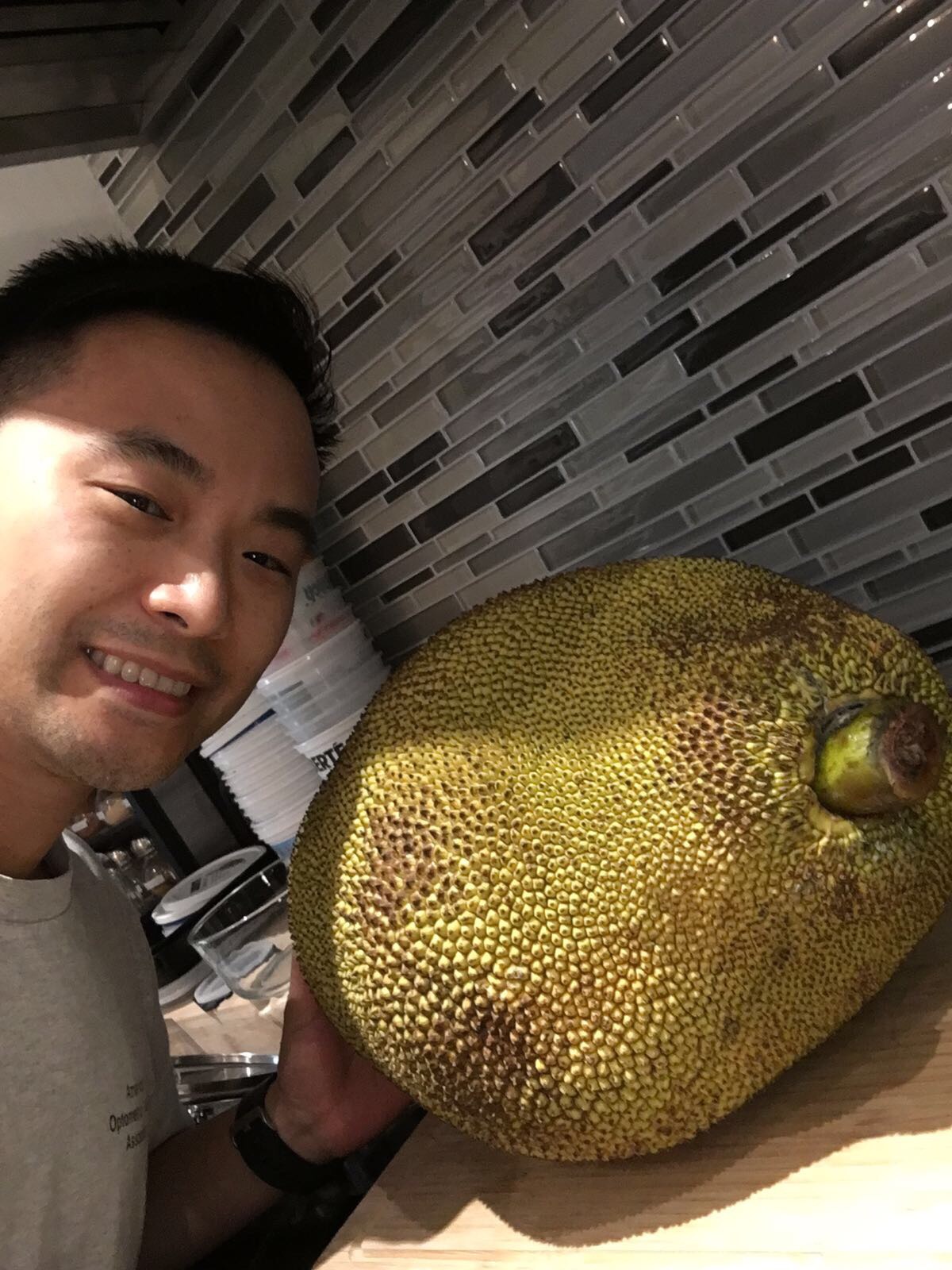 How to Open a Jackfruit
My husband found THIS on instructables, and watched several youtube videos before we started. Basically, you need grease your knives and your hands because the sap is SUPER sticky, and then just cut it open! Although jackfruits look super solid especially with the spikes, but we were surprised at how easily our knife went through the fruit. That being said, the process of getting all the meat out, removing the seeds and washing them took us almost an hour and a half (and another half hour for washing the knives because we didn't grease them enough). At the end of the night, I think we got about 12-14lbs of meat. We froze 3 treys and the rest we shared with the family.
Give Jackfruit a Try!
If you've never had jackfruit, it is a sweet and fragrant fruit which holds a very distinctive flavor. They are amazing on their own, but over the year's we've also used it for drinks, desserts (i.e. macaron & ice cream), and planning to try the famous jackfruit pulled-pork one day.
When we were travelling in Asia several years ago, my husband would often order the jackfruit juice which basically consisted condensed milk, jackfruit and ice. For those who want to give it a go, feel free to follow the recipe below:
Jackfruit Juice
Ingredients:
5-6 pieces of jackfruit
1-2 tbs of condensed milk
1/2 cup of ice
Instructions:
Blend all ingredients in a blender for 30 seconds – 1 minute and enjoy!
Thanks for Reading!