Hi Lovelies,
If you don't know by now, both Evanna and I love to eat… and high tea is one of the many things we have in common. We haven't had a chance to do that together yet, so we're definitely looking forward to the day when a hotel or establishment invites us over… and we can write, tweet and instagram about our experience. 🙂 In the meantime, I'll share with you my latest afternoon tea adventure at my favourite Toronto Hotel – Shanghri-La.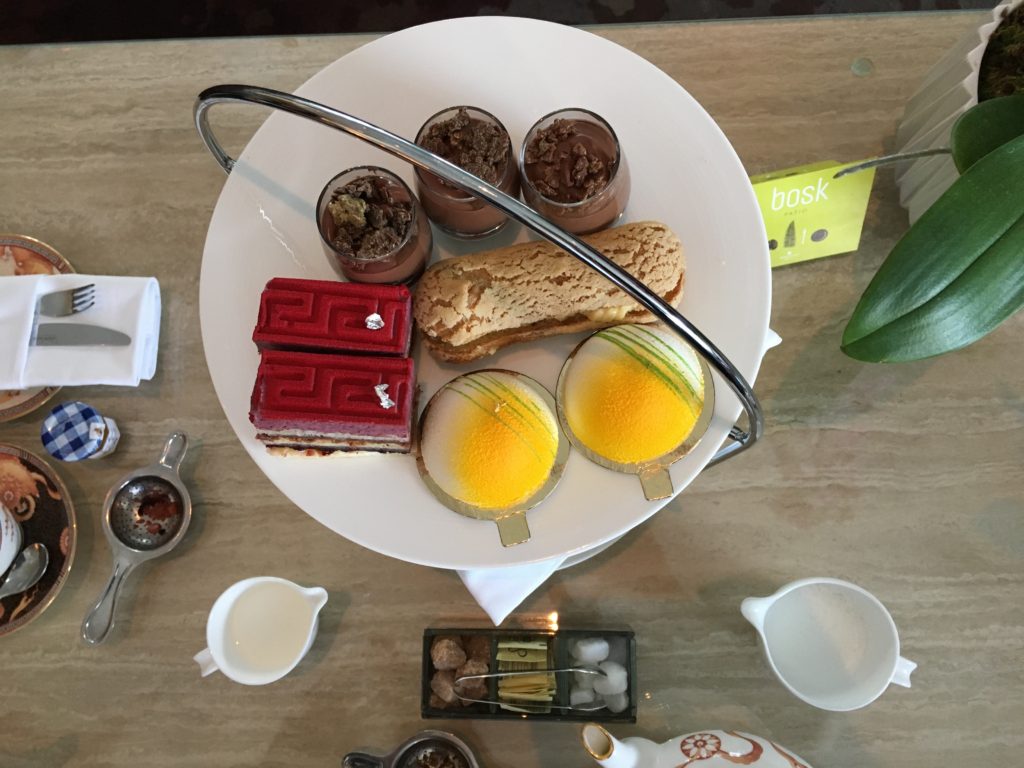 The lobby lounge is one of my favourite features of the hotel. It's bright and airy, welcoming and modern. I love it when live music is playing, and I love taking in the art adorning the walls and of course, its beautiful fireplace. The hotel is very zen-like and no detail was spared when designing and creating this space. If I am correct, there was a well-designed universal washroom that can be used by men, women, and even by a person with a disability. You can see what I mean when you make a trip to their washroom!!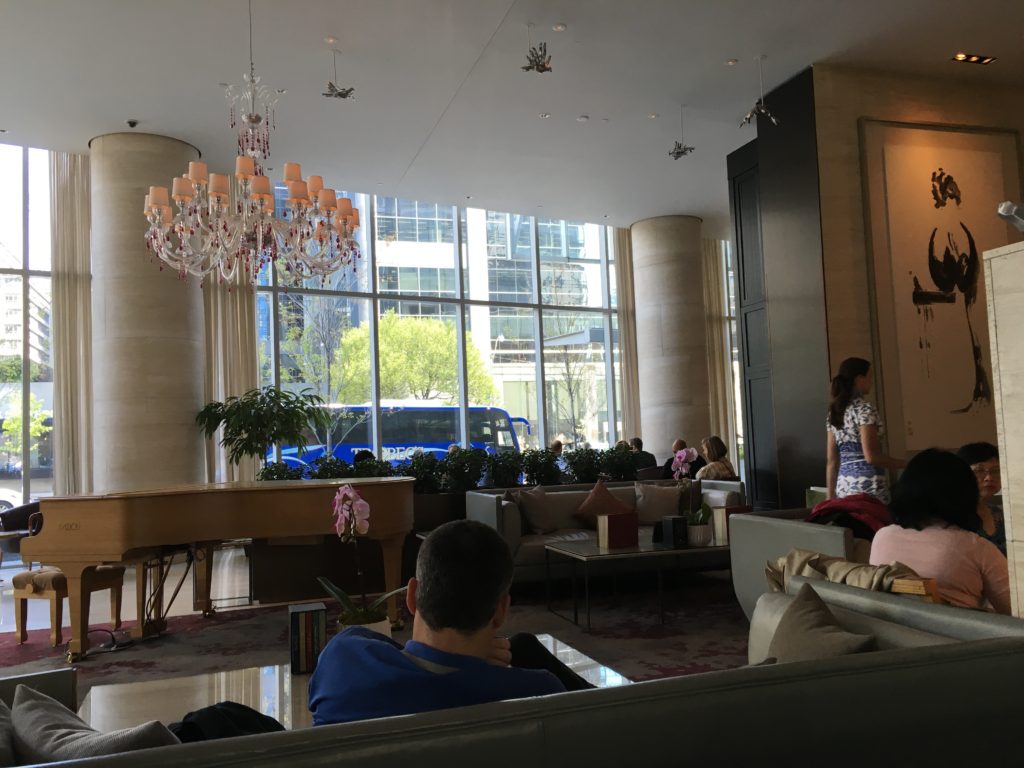 There was no compromise – I went for the couch. I needed to just sink myself into its cushiness and just let the time pass me by. A very famous poem is printed on the pillow – one that I remember from those Chinese dramas I used to watch!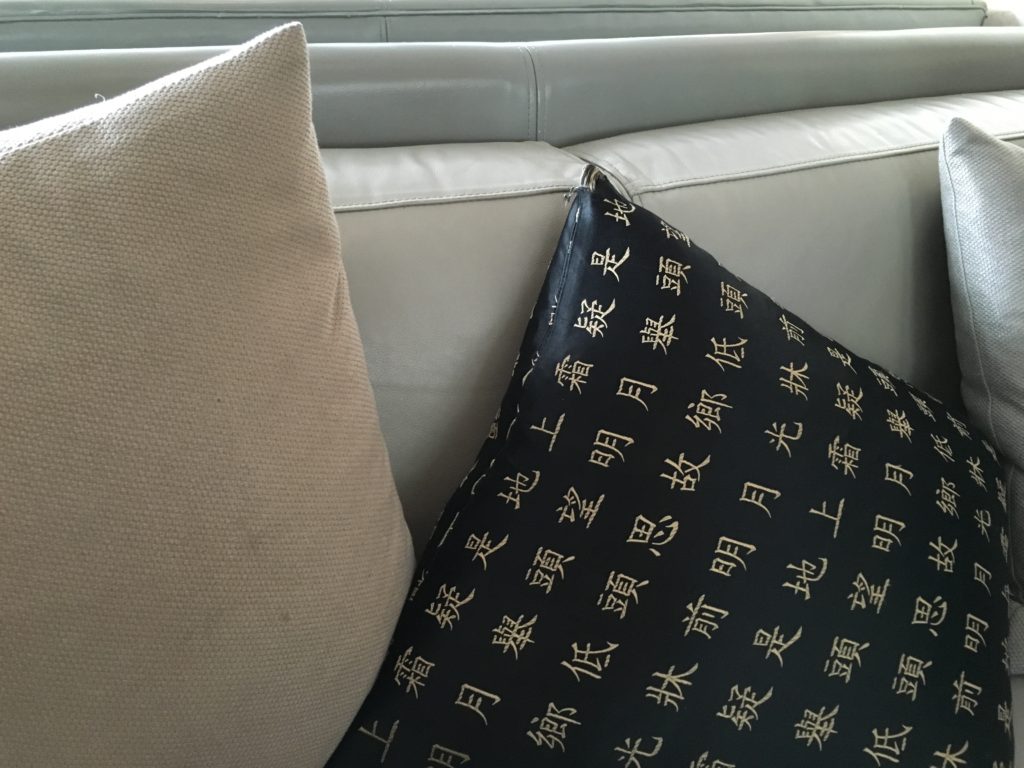 This is the tea menu that contains 68 or so different types of tea. Included in the regular service is any $15 tea, but you can choose to upgrade as you wish. There are many $20 teas to choose from and also as high as $70 I believe – one selection is from China and the other from Korea holds the highest ticket tea item on the Shang's tea service menu.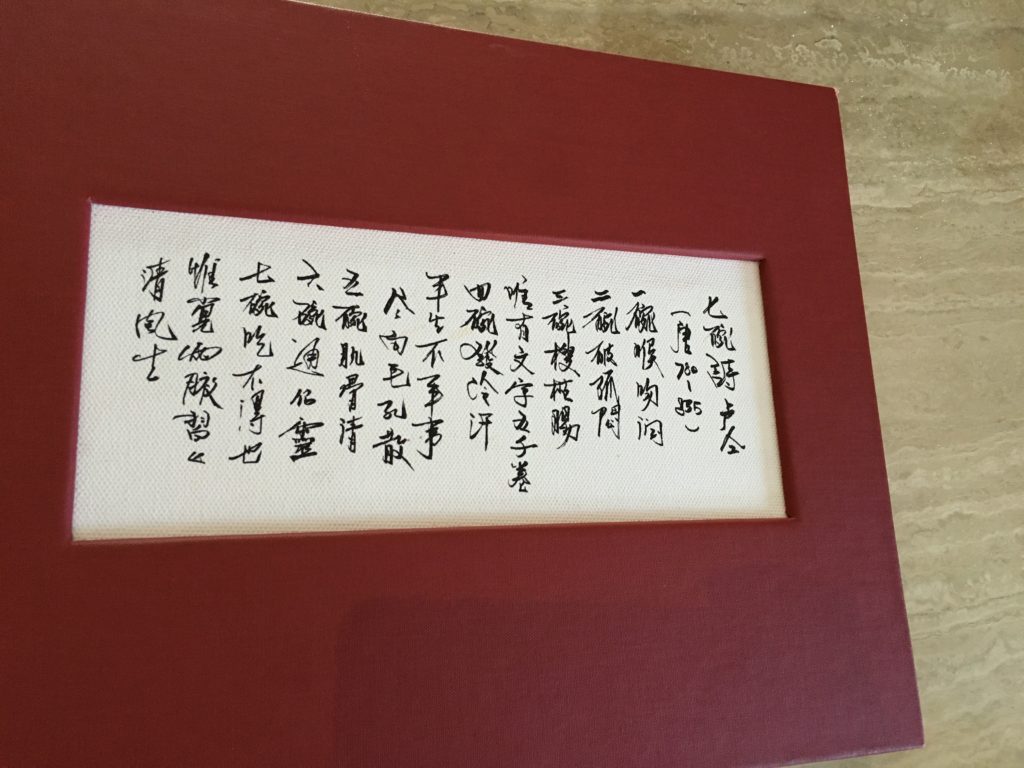 Here's us – Linda (Phoebe's friend beside me) and my childhood friend, Phoebe, whom I've known since the 2nd grade. We were next-street neighbours for about 6 years and have kept in touch for the most part throughout the years. Mostly thanks to Phoebe who is one of the few people that I can attest to that makes such beautiful effort. Thank you, dear, for teaching me the importance and value of long-term, "long-distance" friendships 🙂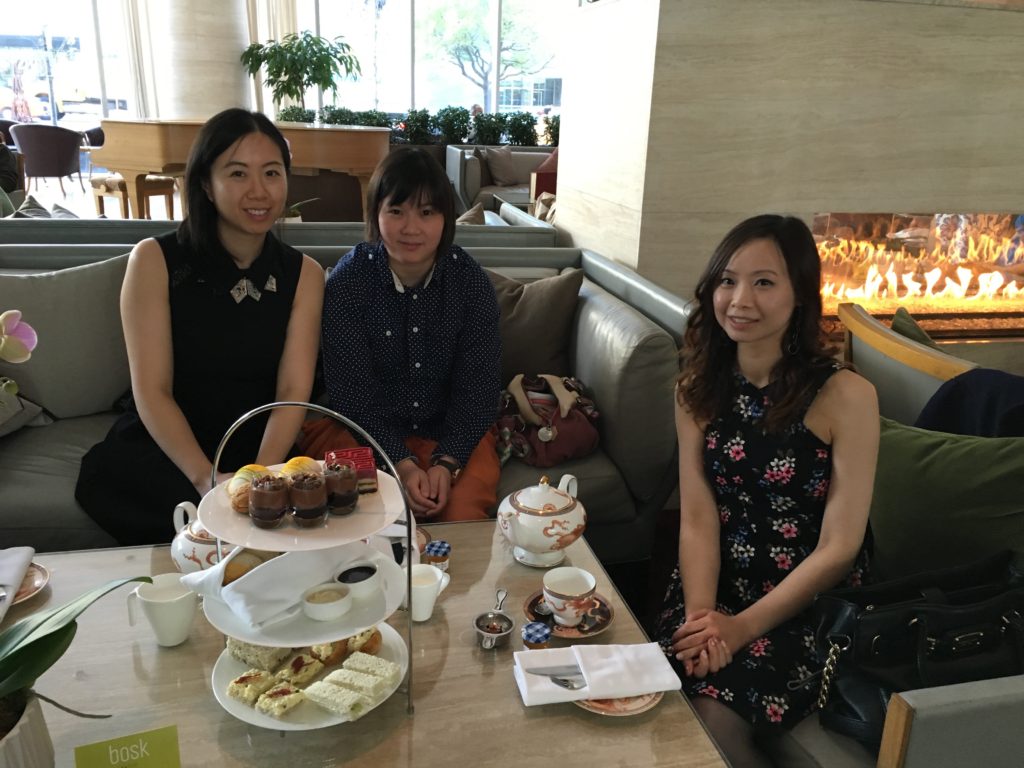 Our high tea service spread! Desserts on top, scones on the 2nd, and mini savoury sandwiches on the bottom (my fave!). We started from the bottom up.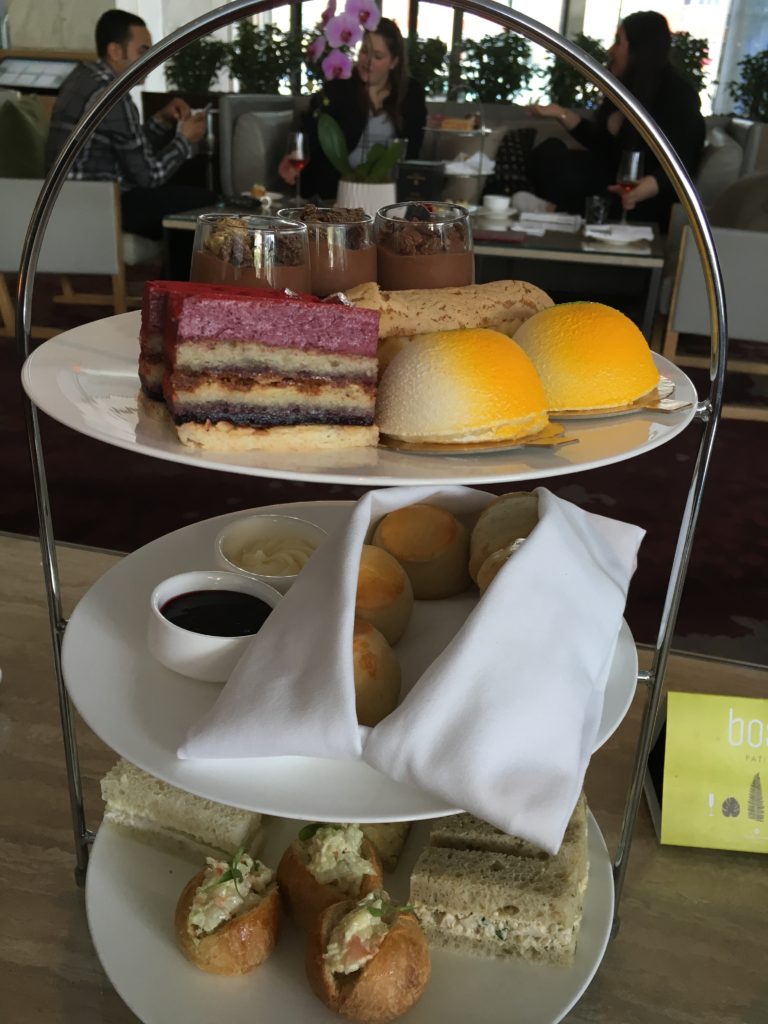 Here is what their tea set looks look. So far the nicest out of the places I have been. I ordered their "Royal Earl Grey" tea which was creamy, smooth, and just perfect for me. Has a hint of rose in it!
A close-up of a savoury mini and the delicate and intricate detailing of the plate.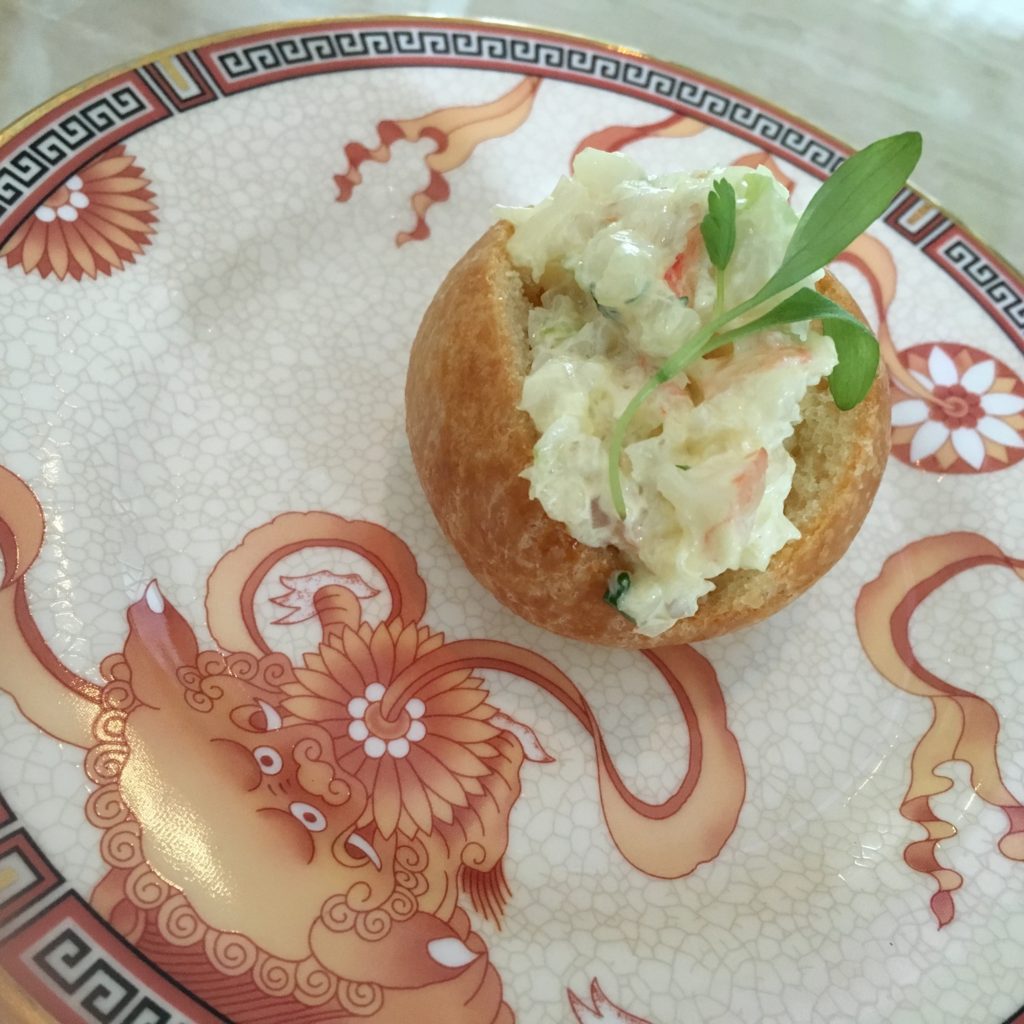 Le scone and the accompanying cutlery. Only the finest at The Shanghri-La!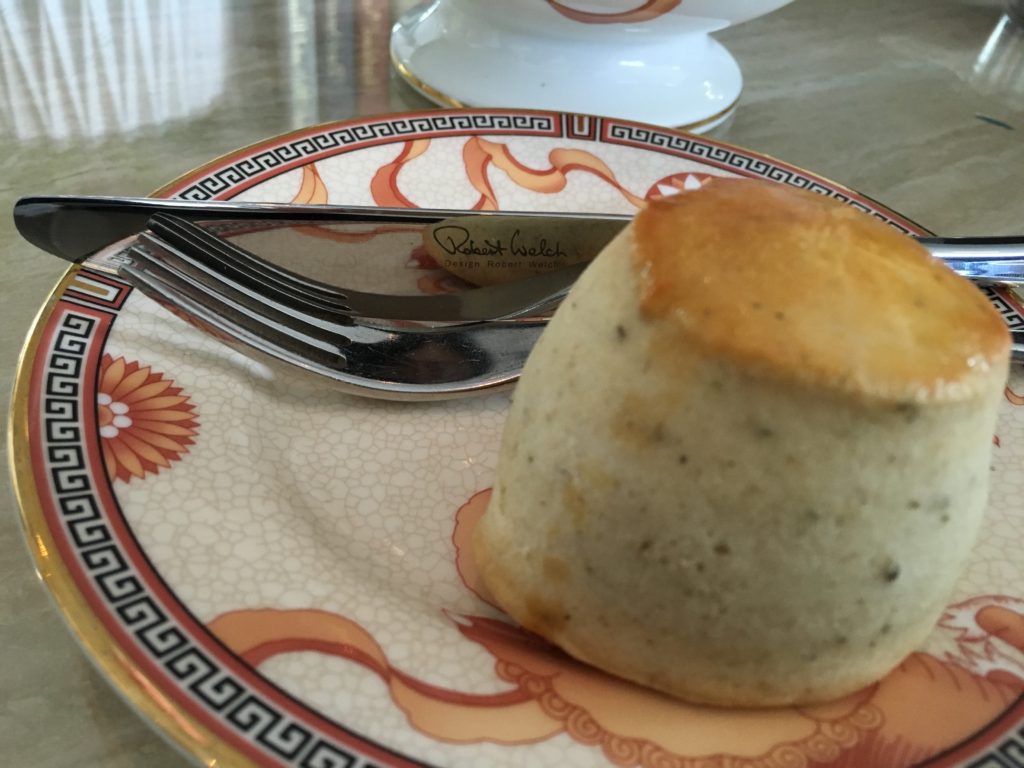 My blueberry compote and Devonshire cream on my half scone – had to take a pic as its shaped in a heart 😛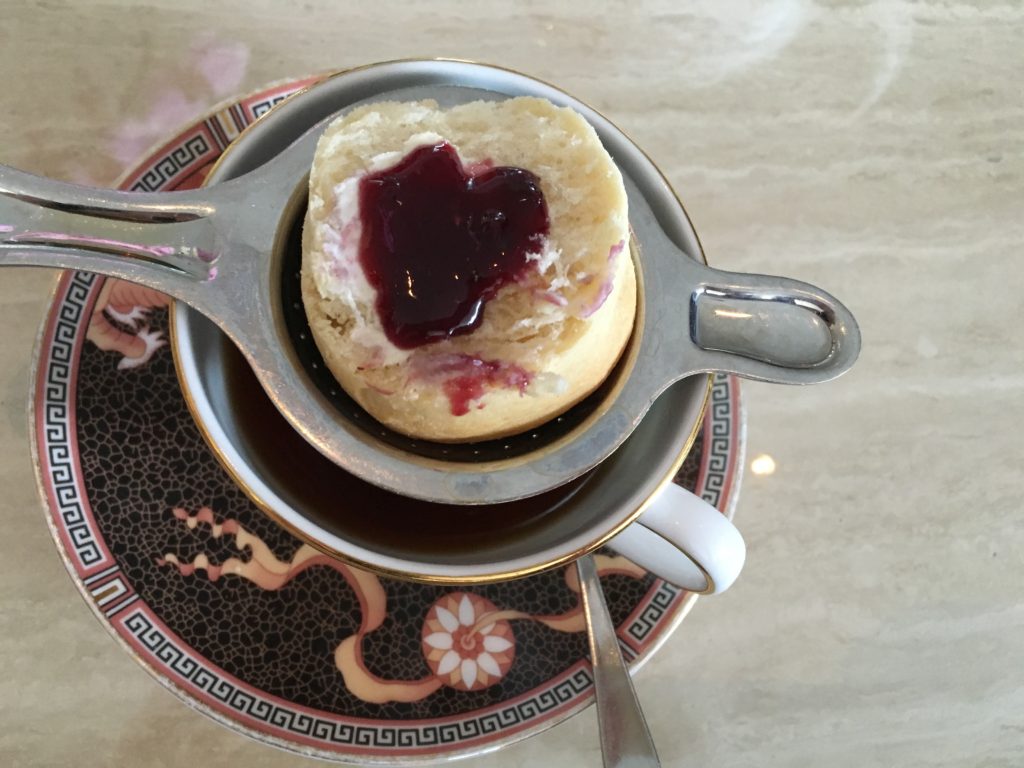 This was the last thing we put in our mouth – a sweet chocolate-y end to our high tea afternoon. It has a bit of berries at the bottom. I was a big fan of the crispy yumminess on top.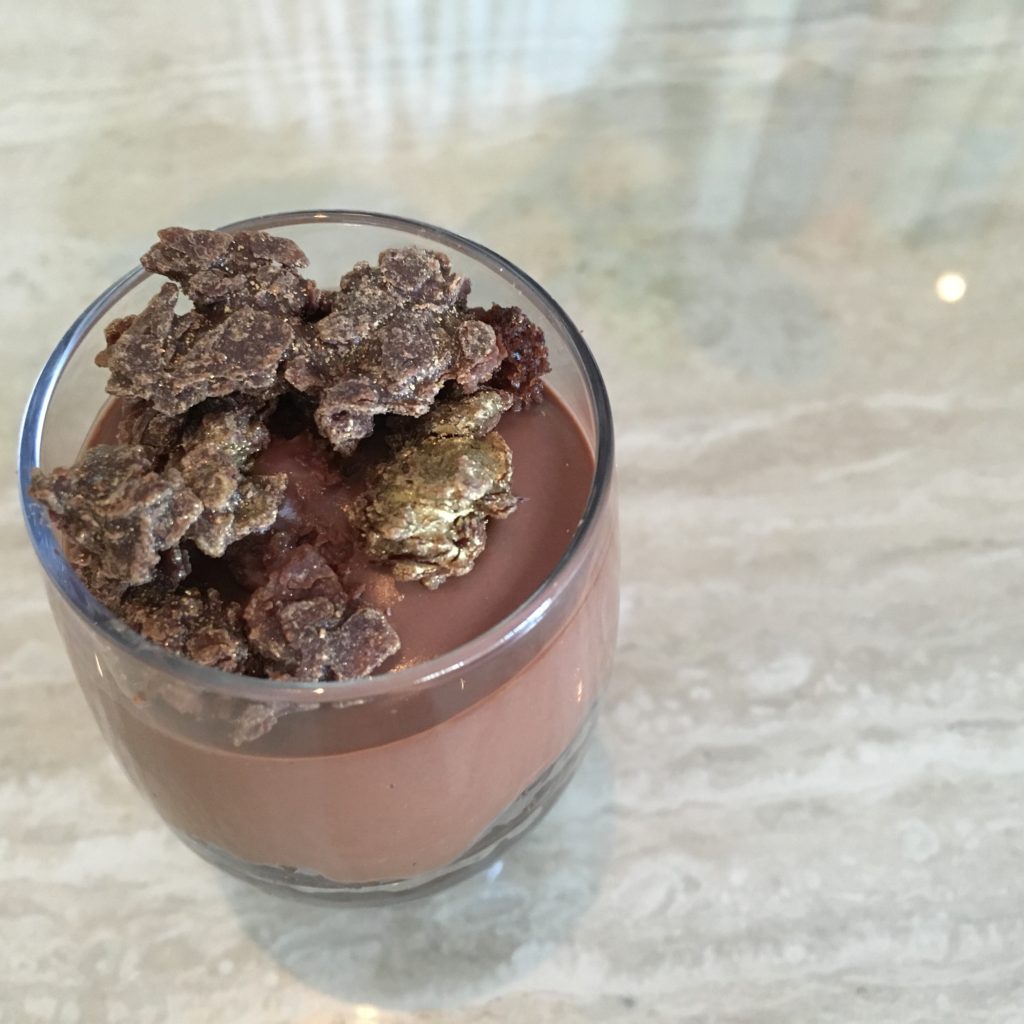 Overall, I had a great experience at the Afternoon Tea at Shangri-La. The ambiance was truly my favourite part, followed by the tea and some of the food items were spot-on. It was also nice that halfway through our experience, a live pianist started playing, which was very nice. I look forward to coming back in the future… and also trying out all the other high tea places I haven't gotten a chance to yet. Stay tuned for more updates! 🙂
Shangri-la Hotel, Toronto
Lobby Lounge
High tea service: 2-5pm; $42 per person
Reservations required; Business casual attire
(647) 788-8281
188 University Avenue, Toronto, Ontario, M5H 0A3, Canada
Website: http://www.shangri-la.com/toronto/shangrila/dining/bars-lounges/lobby-lounges/
Be sure to check out our other high tea/afternoon experiences in past posts, here, here, here and here!
Hope you enjoyed this one and we'll chat again soon!