We're introducing another series #strongisthenewsexy for our followers which focuses on health & fitness. For a very long time, people viewed 'skinny' as the definition of beauty. But after seeing the Wonder Woman, we gotta admit that strength and toned muscles do not reduce a women's femininity, in many cases enhances it. And, now, places like the Truth Gym Gallery even celebrate the strength and beauty of the body and how it is capable of doing so many incredible things as we exercise.
I've been going to the gym and working out for 5 or 6 years now. When I first started I didn't have a clue what I was doing, so I used to find specific workouts like these bicep workouts that I would follow for guidance. Then I started working with personal trainers and have tried many different one in the past 3-4 years. I work with them mainly for motivation and keeping me safe from injury (especially during pregnancy). Andrew Kacsor is one of the top trainers I've worked with due to his attention to good form and superb knowledge in stretching and the human anatomy. I remember during my pregnancy I told him my IT bands were hurting, and he asked me to roll on this lacrosse ball at a specific spot on my front hip to loosen the tension. I was skeptical at first because it was nowhere near where I was hurting, but after a minute or so, all my aches and pains disappeared. From that point forward, I never doubted him.
Good things are meant to be shared. PetiteVie has teamed up with Andrew Kacsor to produce a number of workout series for our readers! In the next few months, we'll cover the following topics:
Pregnancy Workout Series (1st, 2nd and 3rd Trimester)

Post Pregnancy Workout

Everyday Workout for Girls

Nutrition (When to eat, what to eat etc.)

Stretches
To kick off the #strongisthenewsexy series, we have a giveaway for 5 lucky winners. Please read to the end for more information!
As most of you may not be familiar with Andrew, we've conducted a short interview so you could learn more about him.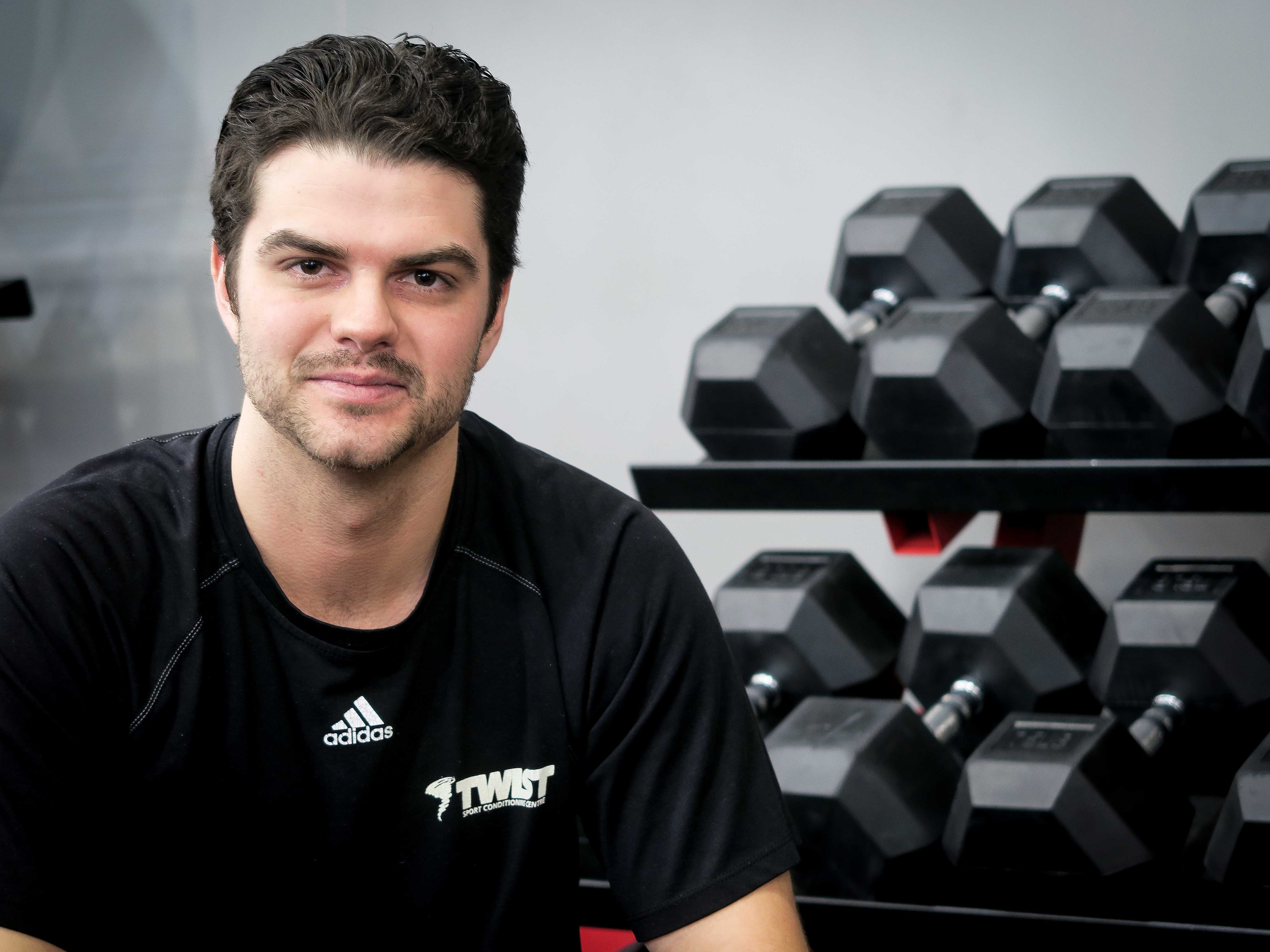 Hi Andrew, could you tell us a bit about your story and how you got involved in the fitness world?
My name is Andrew Kacsor I am a Certified Strength & Conditioning Specialist, Certified Functional Strength & Conditioning Coach and FMS (Functional Movement Screen) Certified. During my postgraduate degree, one of my professors, Brent Welsh, introduced me to the Strength & Conditioning world, training pro to elite amateur athletes. To be honest, I had no idea you could do this for a living! I dove right into it, soaked up everything I could. I actually googled "Strength & Conditioning Coaches Toronto" for our 400 hour internship we had to do. I came across a coach named Matt Nichol, his resume speaks for itself, founder of Biosteel Sports Supplements, former Head Strength Coach of the Toronto Maple Leafs and now runs his own gym out of St. Michaels College School Arena training NHL, NFL, NBA athletes. He hired me after my internship and to this day Matt is my mentor, he changed my life, taught me everything about professionalism with ANY client, form, technique, protocols, etc! Five years later I am now the Head Strength Coach of my own gym. My clientele ranges from Pro, Olympic, NCAA, OHL right down to adults and youth. I am proud of what I do and take great pride in teaching my clients about why they are doing things and how this is going to make them feel better, move better or even look better.
In your opinion, what is the most important thing to make a workout effective?
FORM! (Classic answer, I know). A quote by Mike Boyle, one of my other mentors in the S&C industry sums up form very clearly. "If it looks like shit, it's probably shit!" I preach this phrase to my coaches and my clients because there is nothing closer to the truth, if the movement looks great to the naked eye, it's probably pretty great! If not, fix it! Now, of course there is ALOT more to it then that (mobility/flexibility, regression of the movement/exercise, etc) but I have had much success when telling my clients this.
Can you share your typical workout routine? How many days do you workout in a week?
A good week for me is four times. Like my athletes, I do a Monday Lower and Tuesday Upper split and then repeat Thursday/Friday. A bad week is one or two times as I am generally very busy with clients especially in the summer months. April to August is my high time, I work 8-12 hour days. At the end of the day the last thing I want to do is lift a weight or for that matter, be in a gym.
What is your biggest accomplishment to date?
I've been fortunate to have many accomplishments to date. I've trained athletes who have won the Stanley Cup, athletes who have played in the NFL and NBA, but for me, I love the comeback stories and being apart of them. One of my current young athletes came to me with a terrible ACL tear and not knowing if she would ever play hockey again. After months of rehabbing and strengthening and working her bum off, she committed to a top CIS school here in Canada with a full ride and has made the U18 team Canada team.
Do you have any advice you could give to those who are just starting out in their career as a Strength & Conditioning Coach?
If you love it that much do whatever it takes. Go to talks, learn as much as you can by people that are smarter then you. Read books about other coaches and their experiences. Take a course and make yourself more marketable.
What is your advice to someone who is trying to lose weight?
"Food is King! Poor nutritional practices with the reliance on supplementation is like putting a band aid over a bullet wound." Ryan Horn
Your diet is the MAJOR contributor to losing weight. I think the biggest thing for someone trying to lose weight is that they do too much, too fast, too soon and try to take short cuts. MANY fail because of this. It has to be a slow lifestyle change. If I don't know something I always go to the experts first! I've been privileged to grow up with a mother who is Professional Home Economist, and over the years I have surrounded myself with many Registered Dieticians. They ALL keep coming back to the same point, "Eat more fruits and vegetables, drink more water, eat more complex carbohydrates and take out the simple carbohydrates and simple sugars." Seems like common sense, but common sense is not so common.
Conclusions? Everyone is biochemically engineered differently, so what works for me may not work for you, or the the person beside you, etc! Stick to the basics, at first don't ask yourself, what can I take out of my diet? Ask yourself, what can add to make it better?
What is the best way to reach you if our readers have any fitness related questions?
By email at: andrewkacsor@gmail.com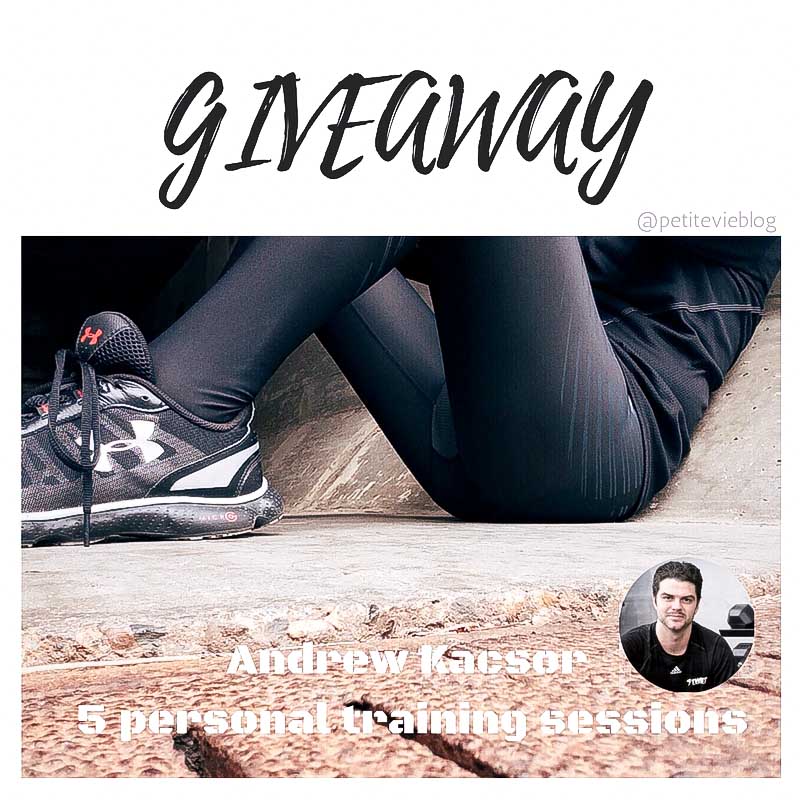 ??GIVEAWAY??
We are giving away 5 free 1-hour personal training sessions with Andrew Kacsor to our readers.
??To Enter:??
1. Follow Us on Instagram! @akacsor & @petitevieblog
2. Tag a friend who wants to get in shape for the summer! (Multiple entries okay, just use separate comments!) .
?
?Giveaway closes on Sunday May 20th. Winners will be chosen at random and will be announced on Monday May 21st. The winners of the giveaway will be announced on our blog and we will directly message you as well. Please do respond within 24 hours or we will move to the next winner! Thank you, and good luck to all!
Thanks so much for reading,
Ev & Tine