Hi lovelies,
We're very excited about this month's #GIRLBOSS – Rachelle Roy, Canadian Fashion designer of her own label RAW (Rachelle Anne Wear)! You might have seen Rachelle in one of our previous posts on the blog, where she was the featured model of the wedding style shoot I put together last year. Link: Enchanted Bohemian Style Shoot
We're positive that many of you have dreamed about becoming a fashion designer at some point or know somebody who is passionate about getting into the fashion industry. So we asked Rachelle how she got to where she is today, so quickly and with so much success, already having exhibited at Vancouver Fashion Week earlier this fall and having received amazing feedback on her work. Without further ado, let's get chatting!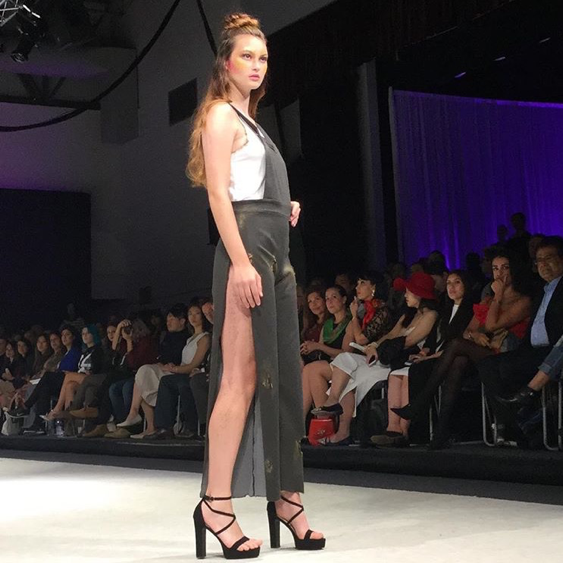 Rachelle, we love your unique, ready-to-wear pieces. Did you always know that you would become a Fashion designer? How did you get your start (i.e. school, training, mentor, etc.). What led you to this career?
I didn't always know I'd be a fashion designer but I have always loved fashion. Since I was a young girl I've had a creative side and loved all things art, including ripping up clothes and making new things out of the old. I first realized that I wanted to be a fashion designer in my grade 11 Fashion studies class at GDHS (Georgetown District High School). From there I followed my dreams at George Brown College for Fashion Design and Techniques. It was a 4-year program condensed into 2 years, so it was very demanding and definitely got me prepared for the fast-paced environment of the fashion industry. During school and continuing afterwards I had 2 internships working for a private designer and then a fashion company in mostly pattern drafting and some sample making. I knew I wanted to be a fashion designer but I wanted to learn hands-on what school couldn't teach me before starting my venture right after school.
How would you describe your style? Where do you find inspiration?
I would describe my style as luxurious urban street style. I like to think my style is unique and bold, but something that any woman could add to her wardrobe. I've combined art with my fashion to create unique finishes that are appealing to the eye and something that can't be seen anywhere else. I find a lot of my inspiration from many places, including the streets of Toronto and New York; being in the urban street style category, I think it's important to find inspiration within the streets themselves. I also find inspiration from Jeremy Scott for his bold, eye-catching collections in fashion and Chanel for her simplicity in style lines.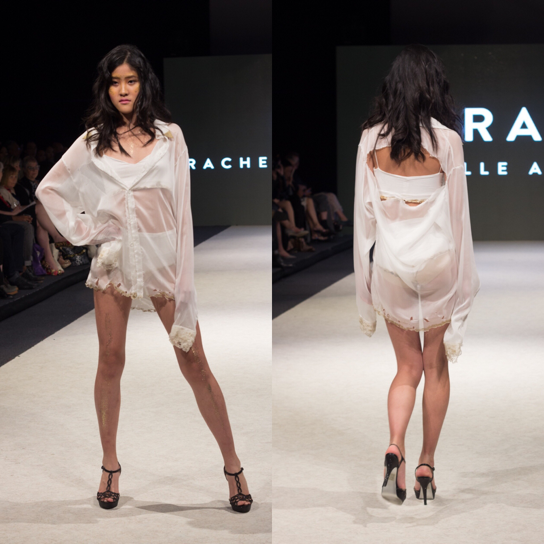 Some of our favourite pieces from your SS17 Fire Collection are the Oversized Dress Shirt and the Fitted Dress – how do you go about bringing your design to life? What is the time frame of each design piece?
Each garment from my first collection 'FIRE' takes about 6-10 hours depending on the paint and fire burning detailing's added. The fire and paint detailing's are really what bring my clothing to life, as it brings the art element of my clothing into play, and the fact that it's all done by hand makes the process much more intimate and unique, albeit longer.
Are all your pieces custom design or do you offer ready-to-wear as well?
All of my garments are currently custom made, but I am in the process of getting them made ready-to-wear for ordering season. In terms of custom requests, I'm willing to accommodate if someone wants one of my garments in a different fabric (provided that it's a fabric in my collection already, or they supply the fabric themselves). I also offer less rips/burns, no paint, or no burns. To make a request for custom work, you can send a message through the comments section of your order on my website.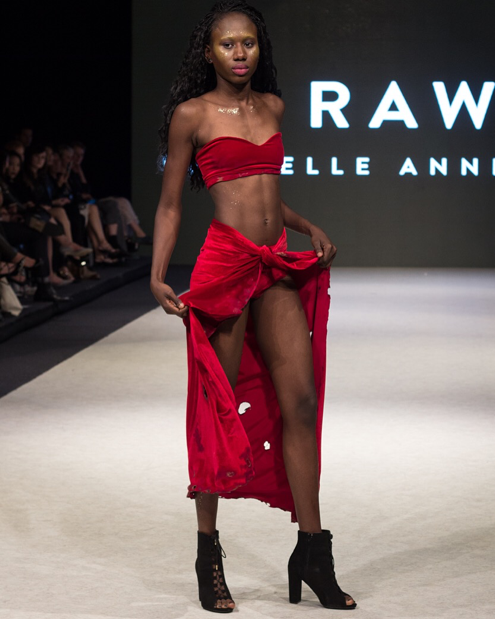 Who are your clients? Where are they mostly coming from (country, etc.)?
My clients are fashion-forward women in their 20's-40's, although I don't think fashion has an age. Most of my clients are coming from Canada, but I've had lots of interest coming from the United States, Europe, and other countries as well.
Where do your clients find you? What marketing or advertising has worked for you?
My clients find me generally on my website or on my social media accounts. The best marketing that I've had is the exposure that Vancouver Fashion Week gave me, as a lot of different media sources have done smaller or larger write-ups on my collection presentation like Elle Canada, Vogue UK, local newspapers and more. I've also had success from word-of-mouth and social media — just a few weeks ago I actually met someone on the street who knew about my brand RAW, which was very cool!
That's super cool – what an awesome feeling that must have been. What was the experience like at Vancouver Fashion Week?
Vancouver Fashion Week was an absolutely amazing experience! It was very different from Toronto Fashion Week and was more focused on emerging designers like myself all around the world. I met many different people from Canada, the United States, and Europe, which was great networking. Having my first collection go down the runway for the first time ever was very nerve-wracking but definitely very exciting at the same time. There is actually footage of me nervously pacing back and forth backstage as they were out there because I so badly hoped everyone would enjoy it, especially the buyers and potential customers. After the show, I was backstage gathering my things and the owner of Vancouver Fashion Week, Jamal Abdourahman, came up to me and personally said how my show and the others like it reminded him why he does this. It was so great to hear this coming from such a great man in the industry, and the fact he went out of his way to say something like that was very touching.
That's amazing. I'm sure there's many girls out there who are interested to know how to go about launching their own line. Can you describe the steps you took to launch your brand and business?
The steps I took in launching my business were to first do all the registration required for getting a business number and certain licenses that apply when starting a business. Then I started on my business plan, which I must have written it 3 or 4 times by now because it's something that constantly needs updating, especially when applying for grants and loans from the government or a bank. In the process of creating my first business plan I was searching up government grants, and I'm very proud to say that I'm now in the process of receiving my approved $5,000 grant from the region of Halton Ontario for my machinery and production costs. After registrations and grant research I started drafting the garments I had envisioned and started looking for fabrics. After samples were made I set up a photo shoot to start building my business and started marketing through social media and other networking events. Now, with all the very generous and prestigious media coverage (Including being featured in Elle Canada and Vogue), I'm hoping I'll be able to get my clothes into some retail locations in Canada while continuing to sell online at my website.
Did you have mentors to look up to, or any key people that helped you along the way?
I haven't had major help from anyone in the designing aspect, other than some advice a few times on collection development from my former boss Stephanie McNeil. Other than that I have a volunteer, Kimberley, who helps with the business development of my brand and most business-related matters, which helps a lot as I am currently a one-person company, so I am always busy!

What's a "day-in-a-life" for you as a Full-time Fashion designer?
A "day-in-a-life" for me as a full-time designer and a one-woman operation is answering a lot of emails and confirming and shipping any orders through my website! Other than that I'm usually scheduling business meetings or running to my next one whether it's regarding production, finances, sales, or next steps for RAW. I usually try to do some designing every day if I can find the time, but even if I'm not fully designing in a day, I am always writing down ideas for future and present collections.
What is your biggest accomplishment to date? What are some of the challenges you've overcome to get to where you are today?
My biggest accomplishment to date would be getting into Vancouver Fashion Week for my first ever collection and it being successful so far. It was a very difficult challenge doing the entire designing process in only 4 months, including the photo shoot and getting things all ready for fashion week. The fabric order I received was wrong, resulting in a huge set back as I had minimal time for everything to begin with, and then my machine was having problems with the fabrics which just made it a lot more stressful. But ultimately I overcame these bumps in the road and have learned for the future how much time to leave myself, as well as how far I can push myself. The poet T.S. Eliot once said that if you're not in over your head, how do you know how tall you are? After this experience, I definitely have an idea!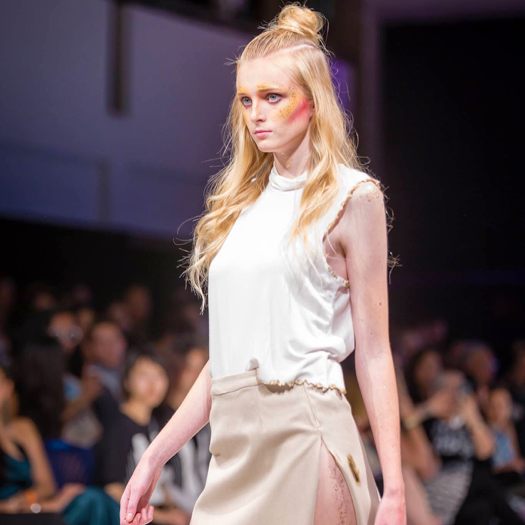 Do you have any advice you could give to fashion designers who are just starting out? (Should they freelance for someone first or dive right into their own business? What are the best resources you could recommend to them?)
The advice I could give to fashion designers just starting out is to definitely do some freelance work (Ex. sewing jobs for friends and family, working for small companies, etc.) to build skillsets and work experience, and also internships! Internships are so valuable as you will learn hands-on how it is in the industry and things that you just can't learn in school! I've had 2 internships, 1 paid seamstress/pattern drafter job and 2 contract sewing jobs before starting my venture of having my own business, and I definitely appreciate all of it. Not only do you gain more skills and knowledge through this, but also you gain friends and contacts for when you need help in the development stage of your business.
Besides your work as a Fashion Designer, what are your other hobbies?
Other hobbies I have besides my work are yoga, baking, exploring Toronto and making Halloween costumes for friends and myself around this time of year! 
Any exciting news you would like to share about RAW for 2017?
RAW is excited to announce its early enrollment into Vancouver Fashion Weeks Fall/Winter showcasing event this upcoming March. The collection will be another 8 looks and is called 'ICE'!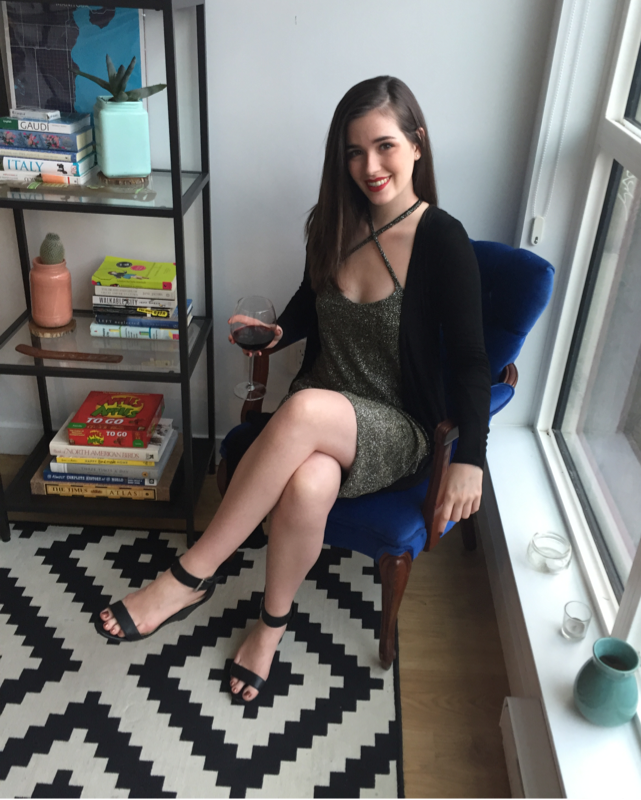 Quick 5 – Q&A:

a) How would you describe your personal style?
Urban street chic

b) Share with us your favourite clothing/shoes/accessories brands, places to shop

Top shop, Zara, Spring Shoes, and I usually get my jewelry from small boutiques or at vintage shops
c) What is your makeup routine like? (i.e. product & brands you swear by/like to us)

Routine favourites:
'Peaches' sheer tone blush by MAC
'Kinda sexy' lipstick by MAC
'Mittens' and 'To-A-T' eye shadows by CoulourPop
I also really like:
All ColourPop liquid matte lipsticks (which is the same thing as Kylie Jenner's product, just without her name on it and a lot cheaper)
d) Favourite restaurants to dine and what to order

'Hey Lucy's' Italian restaurant. I always order their grilled calamari, goat cheese and pear salad and either the brie and chicken pizza or the prosciutto pizza
'Queen Mother' Their hummus and taro chips are always a good appetizer that's consistent. The menu changes somewhat often but their Thai fusion food is always a hit.
e) Favourite travel destinations and why
California – never a dull moment, so many exciting things to do and see
Scotland – the buildings are so beautiful and their deep-fried mars bars are way more delicious than they look
Get Social! Follow RAW for the latest news and fashion updates on:
Instagram: rachelleannewear
Twitter: _R__A__W_
Facebook: RAW – Rachelle Anne Wear
Thanks Rachelle for taking the time to ask our million questions 🙂 I personally had thought about fashion design when I was younger and it's so refreshing to know somebody who really went for it!! You can do it too, if it is something you are still passionate about – it's never too late to create and live the life of your dreams 🙂
Until next time!