Change Table
1 change table in the accessible stall in the women's washroom.  Not sure about the men's washroom.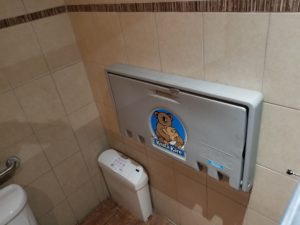 Children Entertainment
The restaurant provided wax crayons and a paper place mat (with mazes, cross word etc.) for kids to play.  My kids were too young to really enjoy the games, so we just drew on it.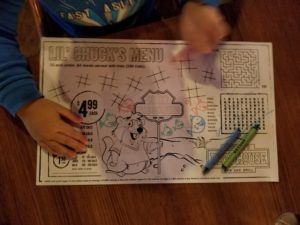 Children Utensils
There were no plastic utensils for children.  They had a smaller plastic cup for them for water but with no lid.
Cleanliness
The place was fairly clean.
High Chairs
High chairs and booster seats were available (refer to photo below for type) and seemed quite abundant.  The restaurant consists of booths and tables with chairs which makes is great for families of all sizes and kids of all ages.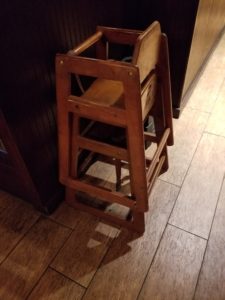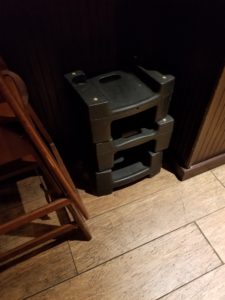 Kid-Friendly Food Selection
I really like how the kid's menu is only the food and the drinks are add-ons.  This help keep the prices low and for those who are prepared and packs their own milk or juice, you could definitely save some money!  We've tried the burgers (which are more like sliders) and the chicken fingers, and we love the chicken fingers (3 large strips and lightly battered).  The fries are also delicious.

Spaciousness
The restaurant was very spacious – a wide hallway and tables were well separated.

Stroller Accessibility
There's a ramp to the sidewalk and automatic doors.  The vestibule and waiting area is quite spacious in case you have to wait for a table (we've never had to wait for a table, even on weekends).
Overall Experience
We love Chuck's Roadhouse because the price is amazing and the portions are generous.  The food also comes fairly quick and the chicken fingers from the kids menu is amazing.  This place is always filled but never packed so getting a table has never been an issue for us.
Been to Chuck's Roadhouse in Aurora and want to share your experience with us?  Please leave us a comment!
Thank you for reading.