Hi everyone,
As promised, this week I'm going to tell you all about our wild bachelorette weekend in Montreal. We took Megabus (https://www.megabus.com/) and paid around $125 per person round-trip. Once we arrived, we checked into an Airbnb (https://www.airbnb.ca) apartment – we were pretty desperate with our booking, and ended up staying at a student housing apartment…. lived in by all guys… and to cut the story short, there was a strange smell throughout, and a couple of us opted to sleep on the sofa instead, while another 3 booked a hotel after checking that place out. Don't let the pictures deceive you!! They won't show you the cracks on the wall and dirty bathtub!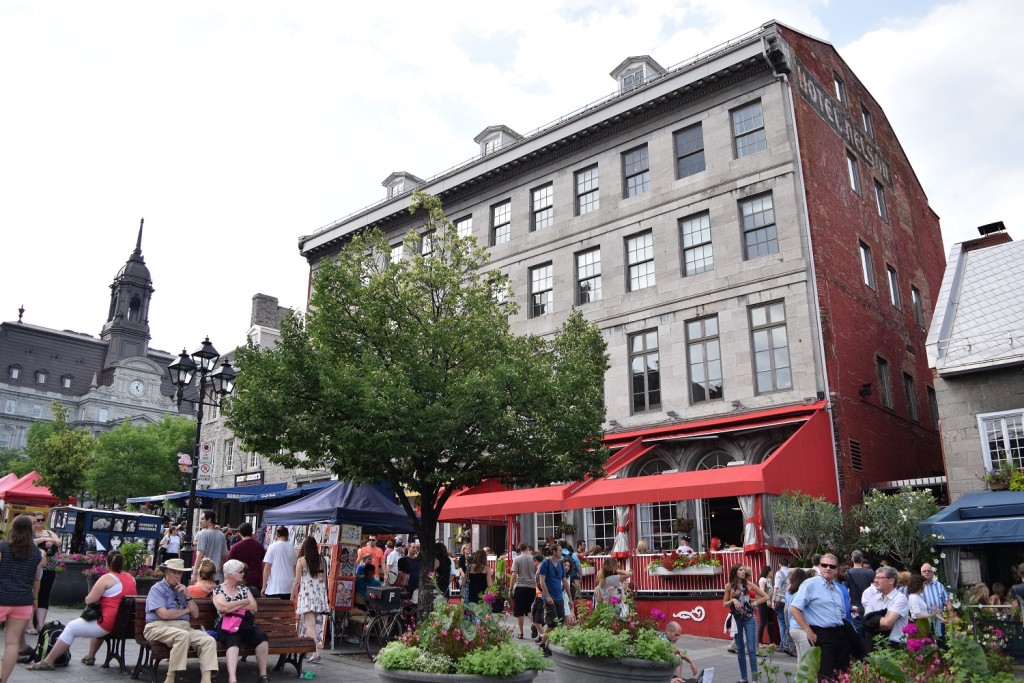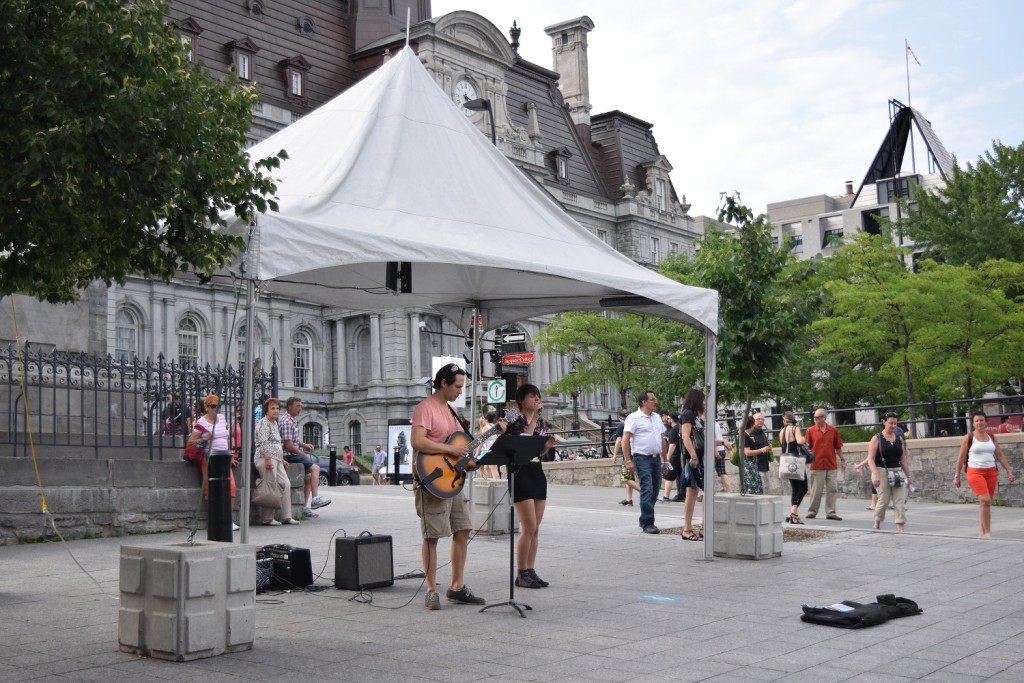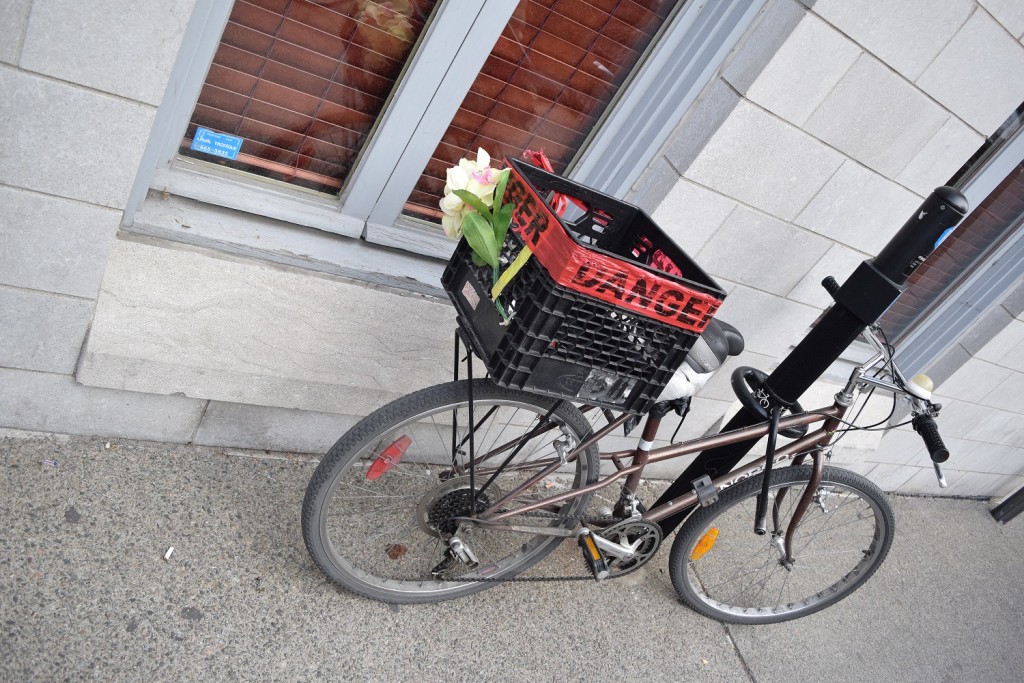 Anyway, Jazz Festival was happening that weekend, and there were a ton of people on the street. I loved the busy-ness, noise and laughter. We went to the Poutine Festival that was happening and tried out 3 different poutine:
1. General Tao
2. Butter Chicken
3. Pulled Pork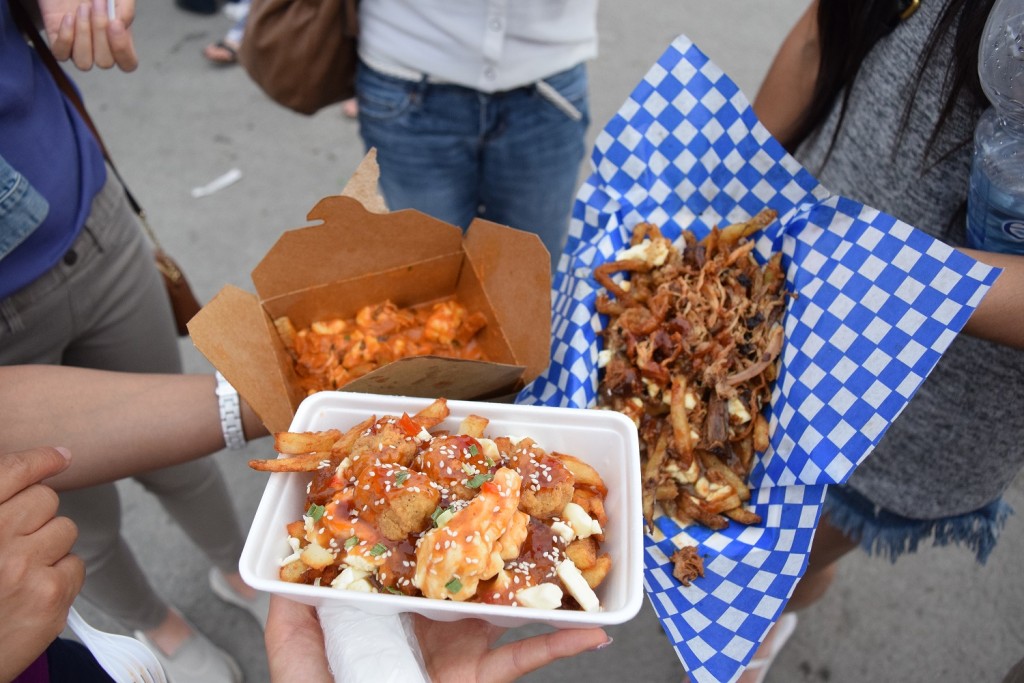 We then roamed the streets of Old Montreal, making a mental note to come out early for dinner, as some places did not take reservations.
Went into Schwartz Deli (http://schwartzsdeli.com/ca/en/) and ordered a sandwich to go to split with my sis. It was good – I'm not sure what was wrong with my taste buds a few years ago as I didn't find smoked meat to be anything special when I first had it. But this time, I definitely appreciated the flavours… the price was a bit high though
Strolled around some shops…
Got some dessert takeaway from Juliette and Chocolate (http://www.julietteetchocolat.com/fr/) which Evanna wrote about in her Montreal trip here.
Before we knew it – it was time to head back to our respective hotels/apartments to get ready for dinner. We freshened up and took a few pre-dinner pics. Here's our bride-to-be!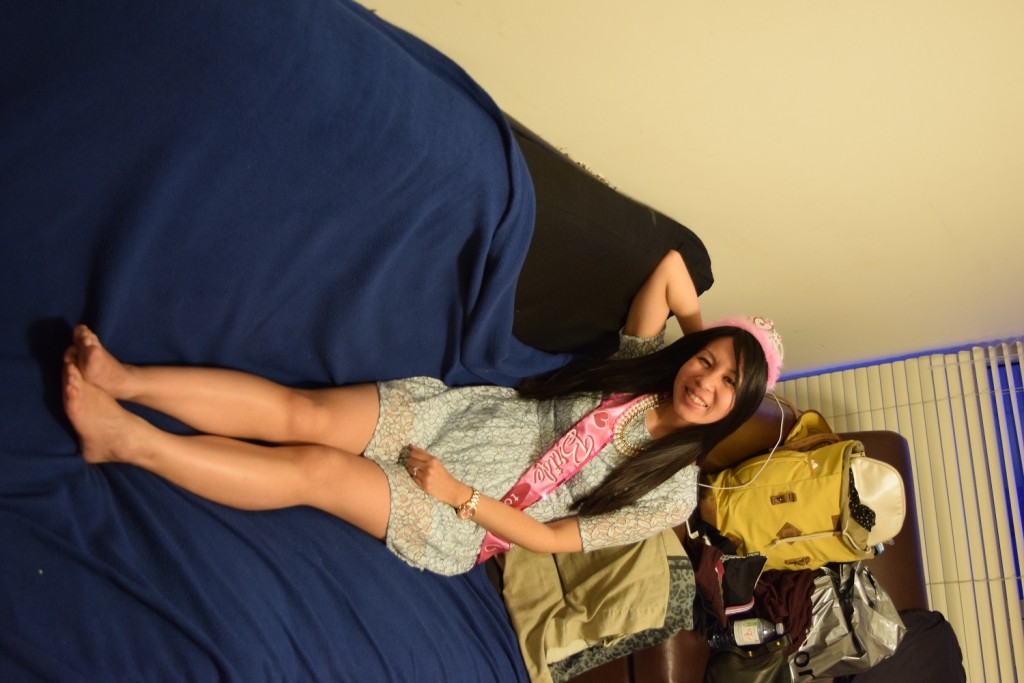 It was so crowded by 9:30pm – we just popped into St-Hubert (Rotisserie Chicken) (http://www.st-hubert.com/rotisserie/recherche.en.html) which is 10x better than Swiss Chalet. Had a few cocktails with our dinner – you must order the Strawberry Mojito – super yum! And for your main, the quarter chicken dinner is the way to go.
The highlight for our bride-to-be was the strip club, hehe! We waited for almost an hour to get into Le 281 (http://www.281.ca/). There were at least 6 other bride-to-be in line with their groups and we will likely the tamest ones, lol. Girls would come out and tell us that 'it is sooo worth it.' The guys are definitely fit and overall good looking. But overall, I think I would rather watch Magic Mike! lol
The next morning, we brunched at Cacao 70 (http://cacao70.ca/en/) – I love how my order came with fruits and melted chocolate (mini fondue), yum!
Strolled around the city some more and stumbled upon a cute clothing shop, Boutique 1861 (http://1861.ca/) – I could live in there! Bought a summer hat, woot!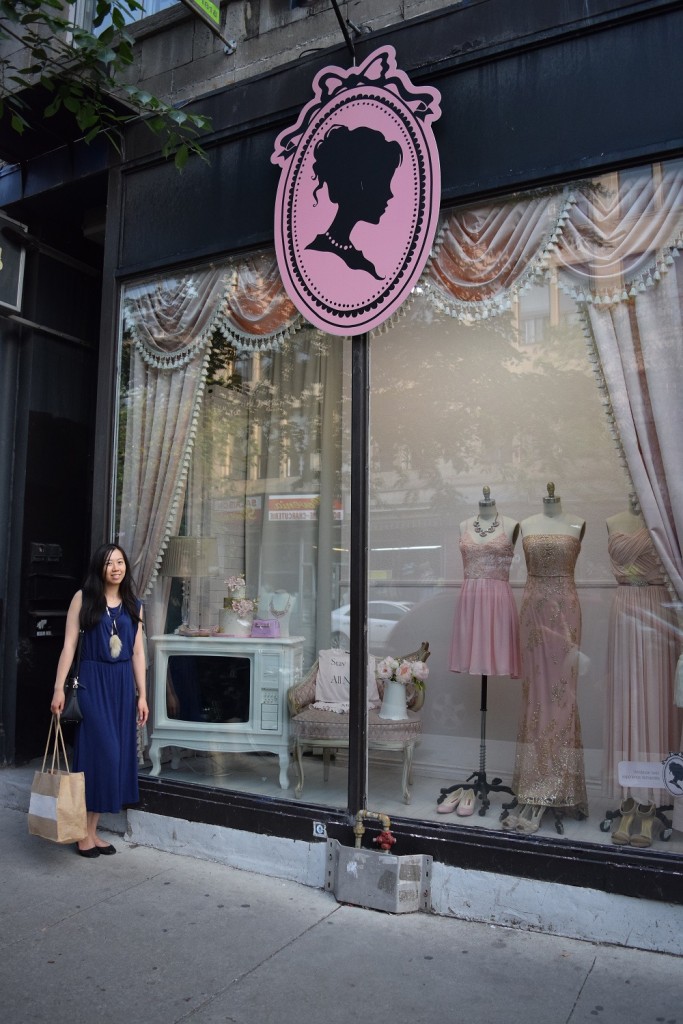 Picked up some macaron along the way at Patisserie A La Folie (http://patisseriealafolie.com/) – Macaron Perfection. Love the fillings, so yummy. I think the macaron in Montreal tended to be on the crunchy side (I usually prefer mine a bit chewy) but the filling was soo good I didn't mind. Wish I got these delivered to me once a week. Will find the Toronto supplier of these and hunt them down!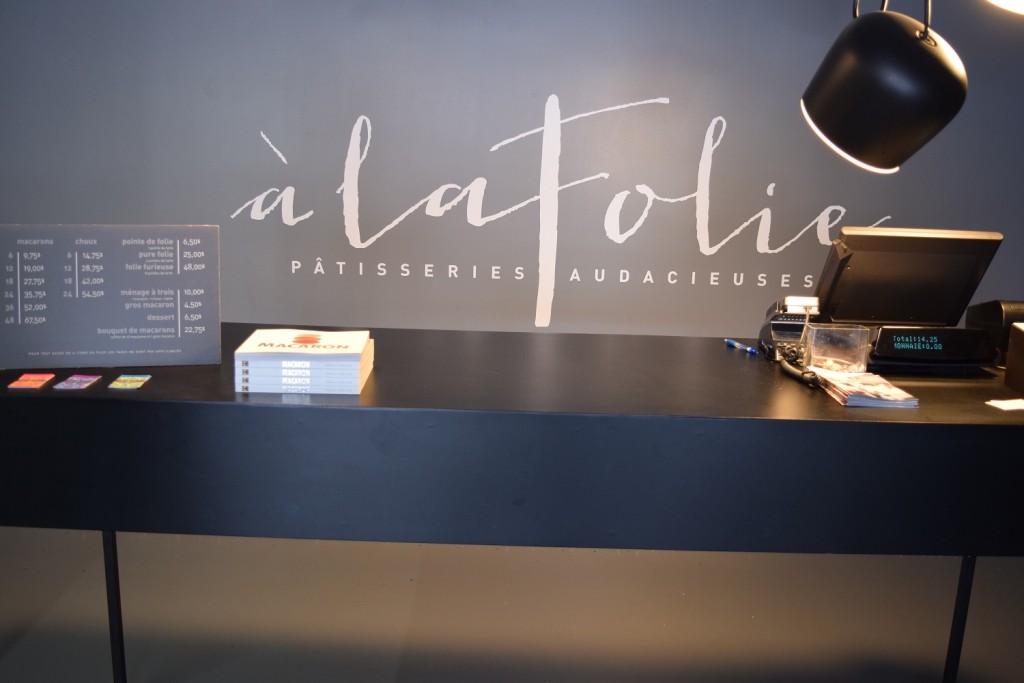 Tried out Point G (http://boutiquepointg.com/) as well. It has higher Google ratings that A La Folie, but I enjoyed the macaron taste, product packaging, customer service and shop ambiance at A La Folie more. Guess it's more my style! Point G has better bulk deal pricing and an extensive variety of macaron flavours that I haven't found anywhere else, such as mojito and apricot chocolate, if you are adventurous!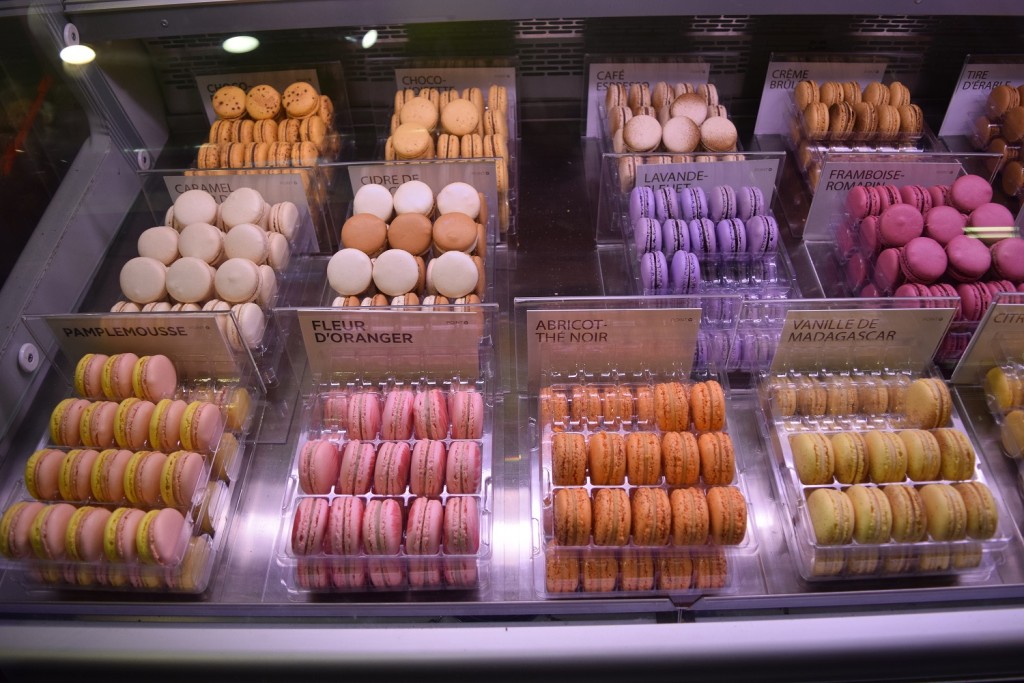 I almost forgot to mention I had the fluffiest almond croissant at Patisserie Kouign-Amann (http://www.yelp.ca/biz/au-kouign-amann-montr%C3%A9al-2) … mmm I want one now!
By that time, it was pretty much time to head to the bus station to go back to Toronto. I am finding it harder and harder for me to sit on long bus rides, or long rides for any matter. But the trip was definitely worth it, our bride-to-be was really happy, and I'm so excited for her wedding in 2 weeks. Has anyone else went away for a bachelorette weekend? What kind of things did you end up doing, eating, etc.? Would love to hear about your adventures!
Have a great week, and party on! Summer's just begun 😛 Until next time!
XO,
Cindy