Hi all,
Hope you had a lovely weekend!
Has anyone been in the kitchen lately, cooking, baking, trying new recipes?
I know I haven't… but if it's one thing I want to make (well, more like eat right about now), it's the crepe cake, or known as "Mille Crêpes" in French. It is a decedent, classic French cake consisting of 20 layers of paper thin crepes, each separated with a brush of French pastry cream… it's delicious. I didn't think it at first, but I found myself craving for it after I had it the first time. This cake is the signature dessert at Lady Mendl's Tea Salon in New York and you will find the recipe for it at the end of this post.
For Canadian fans, you can order it and have it shipped to you: http://lady-m-canada.myshopify.com/
It's worth it! I've tried the mille crepe at various places around the GTA, but it still doesn't compare to that of Lady M's.
Recently. I tried a sweet potato one with homemade black sesame ice cream at: Green Tea Lounge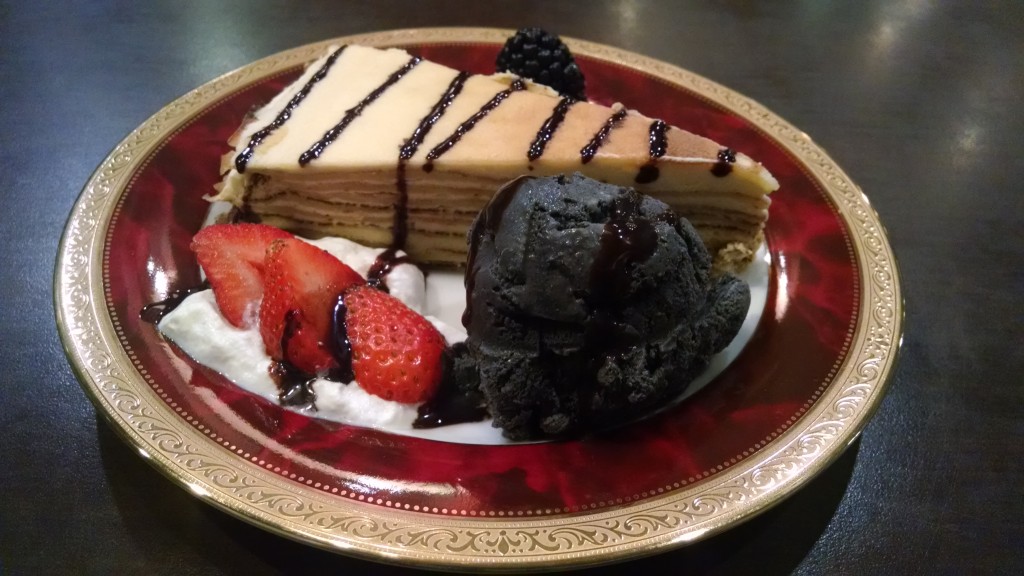 If you go to Millie's Creperie at Kensington Market (Toronto), they have it too, available in two flavours: original (vanilla) and green tea.
I had also written about a mango one I had at Zen Cafe.
There's a "Matcha Red Bean" version at one of my favourite bubble tea places. Green Grotto. Didn't have a chance to try it out yet because I only saw it advertised as I was leaving. But will likely give it a go next time!
Here's the recipe for the Mille Crepe if you're eager to make it yourself:
Layer Crepe Cake – Mille Crêpes Cake Recipe:
Recipe Type: Cake, Afternoon Tea and High Tea
Yields: one 20-Layer Crepe Cake
Prep time: 60 min
Ingredients:
Crepe Batter (see recipe below)
Pastry Crème Filling (see recipe below)
2 cups heavy cream
1 tablespoon granulated sugar
Powdered (confectioners') sugar

Preparation:
The day before making and assembling the cake, make the Crepe Batter and the Pastry Crème Filling (see recipes below); refrigerate.
Remove the prepared Crepe Batter from the refrigerator and bring to room temperature:
Line baking sheets with parchment paper.
Using a nonstick or lightly-oiled crepe pan over medium-low heat. Evenly distribute approximately 3 tablespoons Crepe Batter; swirl to cover the surface of the pan. Cook approximately 1 minute or just until the bottom of the crepe becomes lightly browned. Using your clean fingers, gently and carefully turn the crepe over and continue cooking for a few minutes longer. Cook on the other side of the crepe for no longer than 5 seconds. Remove the cooked crepe onto a prepared baking sheet (do not stack the crepes on top of each other).
Repeat this process until you have 20 perfect crepes. NOTE: You might need to prepare a few practice crepes in the beginning.

Remove the prepared Pastry Crème Filling from the refrigerator:
Whip the 2 cups of heavy cream with the 1 tablespoon sugar. Gently fold the whipped cream into the prepared chilled and thickened Pastry Crème Filling.
Assembly of 20-Layer Crepe Cake: 
Place one (1) prepared crepe on a large cake plate.
With a small spatula or wide blade knife, completely cover the crepe with a thin layer of the pastry cream mixture (approximately 1/4 cup).
Cover with another dry crepe and repeat covering with the Pastry Crème until you have reached 20 layers.
The 20th crepe will be the last or top layer.
Refrigerate the prepared cake for a minimum of 2 hours. Allow to stand at room temperature for 15 to 30 minutes before serving. Dust with powdered (confectioners' sugar).
When ready to serve, slice into individual servings. Garnish the plate with fresh berries.
Makes one (1) 20-Layer Cake
Crepe Batter:
6 tablespoons butter
3 cups milk
6 eggs
1 1/2 cups all-purpose flour
7 tablespoons granulated sugar
Pinch salt
In a small pan, melt the butter until lightly browned; remove from heat and set aside.
In a separate, small pan, warm the milk until steaming; remove from heat and set aside to allow to cool slightly.
In a large bowl using your electric mixer at a low speed, mix together the eggs, flour, sugar, and salt. Slowly add in the warm milk and browned butter. Pour the batter into a tightly-sealed container to refrigerate for several hours or overnight.

Pastry Crème Filling:
1 egg
1 tablespoon all-purpose flour
2 tablespoons granulated sugar
1 tablespoon cornstarch
1 cup milk
1 teaspoon pure vanilla extract
1 teaspoon hot water
2 tablespoons heavy cream, whipped
In a small bowl, add egg, flour, sugar, and cornstarch; beat until smooth.
In a saucepan over low heat, bring milk almost to a boil (simmer). Immediately remove from heat and slowly whisk the milk into the egg mixture. Return all ingredients to the saucepan, while constantly stirring, for about 5 minutes, until thickened and just comes to a boil.
Remove from the heat. Add vanilla extract and hot water; stir until dissolved into the mixture. Set aside to cool until firm.
When the Pastry Crème has cooled, fold in the whipped cream.
Refrigerate mixture until thick (best if refrigerated overnight).
Source: What's Cooking America
Have a great week everyone! I can't wait to hear about your holiday plans and see how you're all putting together your holiday looks. I have a pink tutu and felt that Art in the Find gave a lot of helpful ideas of how to style an outfit with it among many other holiday party outfits. Thanks Art in the Find! 🙂