Congratulations, you have found the one and it's time to sweep her off her feet with the proposal she has always dreamed about. Many guys like to make the entire thing a surprise – it's thoughtful, romantic, and makes for a magical moment. But, there are a few practicalities to consider first. Will she love the ring you choose? Will it fit her? And, she will want to wear it for the rest of her life, won't she?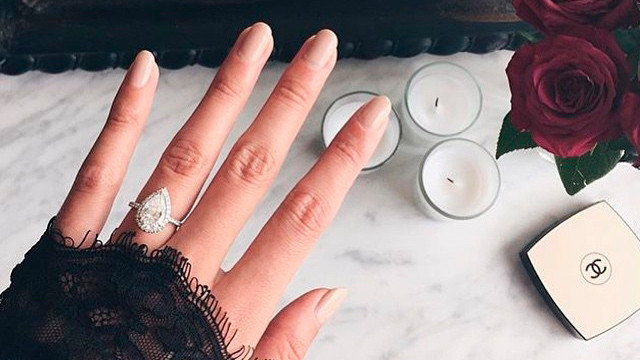 So, before deciding on a ring, you need to do some investigative work. You can go through her jewellery box to figure out exactly what style she loves, you've taken note of what she likes to wear every day, and when going out on the town, and you've found out whether or not she has a nickel allergy. Great! Now, how do you find out her ring size without spoiling everything?
Going Undercover
If you are able to get to her jewellery box, take note! Also, notice if she takes off her rings when she sleeps or showers. Find a ring she likes to wear regularly and trace around it on a plain piece of paper. You could also try sliding it onto your finger using a pen to draw line on your finger. An online ring sizer or a jeweller can then help you figure out her ring size. For something a little different, try pressing the ring into a bar of soap to make an impression of it. This usually works well with rings that don't have filigree or set stones that will get soap stuck in them. Better yet, if she is a heavy sleeper, measure around her finger while she is sleeping, using a piece of string. You can start picking out rings. Diamond Brokers Queensland offer the best diamond rings in Brisbane so make sure to check out what they have on offer.
Get Her to Talk to You
This is another sneaky way to find her ring size. For instance, if you are planning to propose way in advance, why not get her a promise ring in a larger size, take it (and her) to the jeweller and then get it resized so the jeweller will then measure her for the perfect fit!
Another plan is to, in a guise of picking out a ring for a relative, ask her to help and have her try a few rings on. Or, if you happen to be attending a craft fair, you could head over to the vendors selling rings and check out sizes!
Enlist the Help of Others
If all else fails, pick someone that she is close to, like a friend or sister, that could steer her towards a jewellery store when they are next out shopping, to try on rings for themselves. This is a useful way to gather information, too, if you have yet to pick out a ring.
Finally, to be super-sure of her size, find an email survey that asks about the favourites, and insert the question about her ring size. You can then enlist the help of a mutual friend to fill out and send it off to her and a few others so it doesn't seem out of character.