Bangles are great accessories, providing, of course, that they fit you as intended, and bangles are measured using the inner diameter through the centre of the bangle. When looking for the right size bangles, it isn't only your wrist size that counts, as you also need to measure your hand at its widest point. Buying bangles that are too small will mean you cannot slide them over your hand, and if you opt for a large size, it might slip right off your hand while being worn.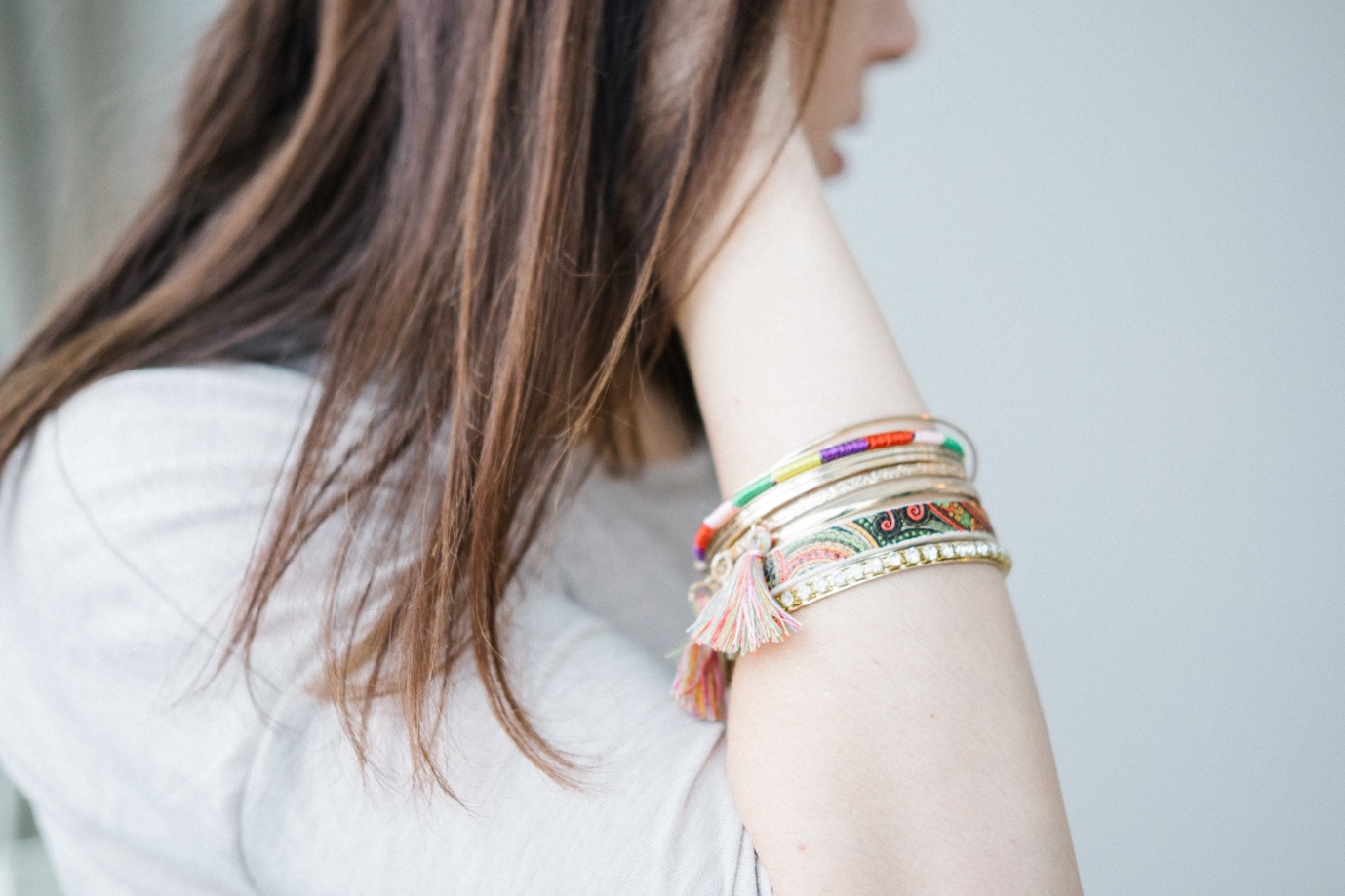 One Size Bigger – Once you know the circumference of your hand with thumb and little finger touching, you should buy the next size up, as this will be a perfect fit. Whether you use a piece of string, or a tape measure, you do need to keep it tight when measuring, as this will give you the minimum diameter of your hand. If you would like a few tips on accessorising with bangles and earrings, there is an informative article on the subject.
The String Measurement – Using a piece of string, put it around your hand at the widest point, with your thumb and little finger touching, which will give you the circumference of your hand. Any bangle that is smaller than this will not fit over your hand, and by measuring the string, then dividing that in half, you will have the right size bangle for you. Search the online jewellers for chunky silver bangles for women, and you can view a wide range of styles, which will help you to select the right accessories.
The Dot Method – Many women use the dot method when measuring for bangles, which is a very accurate way to determine the best size bangles to buy. First clench your fist tightly until your knuckles are white, then, using a pen, put a dot in the middle of your pinky knuckle, then put another dot on the centre of your index finger knuckle, which will give you the width of your hand. Then place your hand flat on a table and using a ruler or fabric tape measure, you can measure from dot to dot, which will give you the right size bangle. If, for example, the distance between the two dots is 60mm, then you should buy a bangle of this size.
Using Existing Bangles – If you happen to have some bangles that are a perfect fit, simply measure the inner circumference with a ruler and you have the right size. In the event you do not have a bangle that is a perfect fit, use either of the above methods, which will help you to choose a suitable size.
If you have some bangles that are a little tight, you could try using some skin cream, which can act as a lubricant and that might be all you need to slip the bangle over your hand. Another tip is to put a plastic bag over your hand and twist the bangle until it fits over the widest point of your hand.
If you are looking for suitable bangles to purchase, the online jeweller has a wide range of bangles, and once you know your size, all it takes to order is a secure online payment, and the items will be dispatched to your home address.