Hi everyone,
It's no secret that I love to dress up on every occasion there is out there. But when you gained a good 20 lbs, it gets a little hard to dress your body, especially if you've got family photos Austin booked that day! You've all heard me complain how I don't fit into any of my old clothes and I really just rotate 5 to 6 different outfits throughout the week. It's actually really depressing. I've been searching for the perfect baby shower dress for over the last few weeks. And…it's been a struggle.
Week 33 – 35 update
But before I get into the outfits and baby shower, I know many of you have been waiting for a pregnancy update! So, here it is!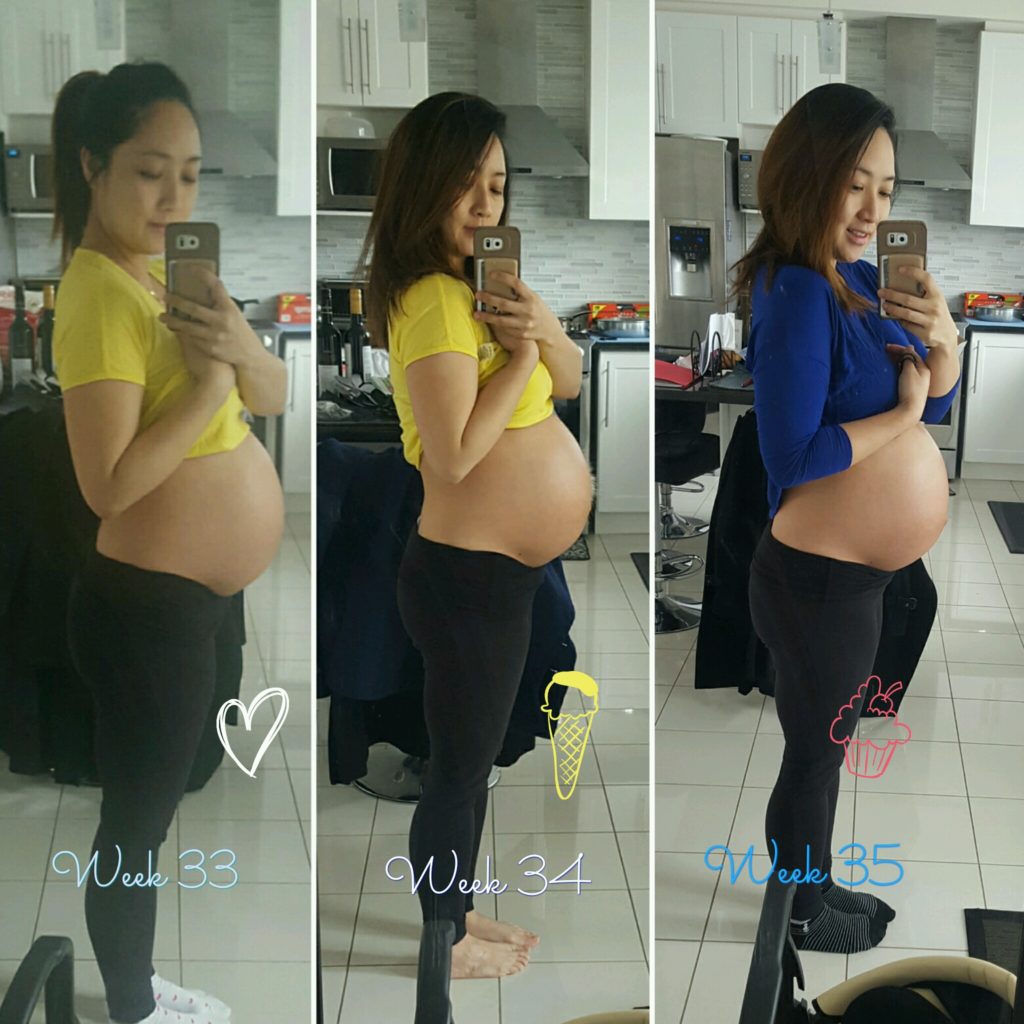 Tummy got huge
I can pretty much feel my skin being stretched, and my belly button is becoming an outie!
I inhale food like it's the end of the world
Bubble tea is my life, so it the Chinese Lai Chai
I pee every night around 2am, it's like my bladder can't take more than 4 hours of me sleeping
I pretty much feel like a large whale everyday
Everything I do is a struggle, getting up, moving, putting on shoes
I bump into everything and I stain every single shirt I wear
I'm tired from moving, yes not mentally tired, but physically tired from carrying the extra weight
I can't breath
I can't sit for long, watching "John Wick" was a torture in those seats. I was SOOOOOOO not comfortable. We then upgraded it to VIP for LOGAN. So much better!
I gave up on exercises, I barely want to move, let alone working out
From my last OB appointment, I was told I've gained 0 pounds again. He got concerned and scheduled me for an ultrasound this week. But since that last OB appointment (as I'm writing this on my week 36 now) I gained 5lbs in a week. Yes, FIVE. WHO DOES THAT.
I semi gave up on shopping, because I can't fit into anything. So I've been shopping for make up and bags.
I feel like my chest are still growing. *SIGH* Make them stop. You've gained enough 2 whole sizes is more than enough.
That's all the updates I have!! For those who are also preggo, I'm sure you can relate.
Searching for the Baby Shower Outfit
I've searched on ASOS. I did buy a few dress from them but all their dresses were made for like 5″10 women or something, when I received them, they were insane long – so I had to get them hemmed which added on the cost of the dress. I pretty much hemmed a good 4 inches off this dress. I guess I'm just that short. You can purchase this dress here: ASOS Maternity Double Layer Lace Column Dress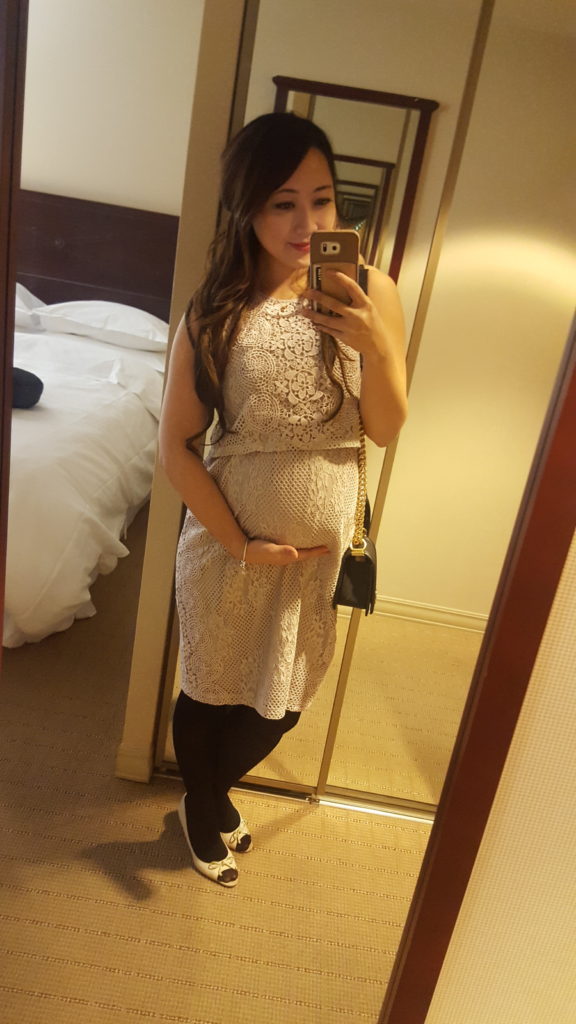 I'm so that person who wears a dress once or twice and would probably never wear again because I'm too busy looking for another new dress to wear!
I bought the following dress from Pink Blush. I originally wanted to wear this for my baby shower and my maternity photoshoot. But of course, I had to come across another dress which I wanted to wear more so…. I ended up just wearing this for my maternity photoshoot. I'm still trying to find another occasion to wear to dress again! But the good thing is that I can wear this after I'm done pregnancy as well! So I guess it's no rush for me to wear this dress again. I also need to hem a good 4 inches off this dress as well. You can purchase the dress here: Ivory Lace Dress.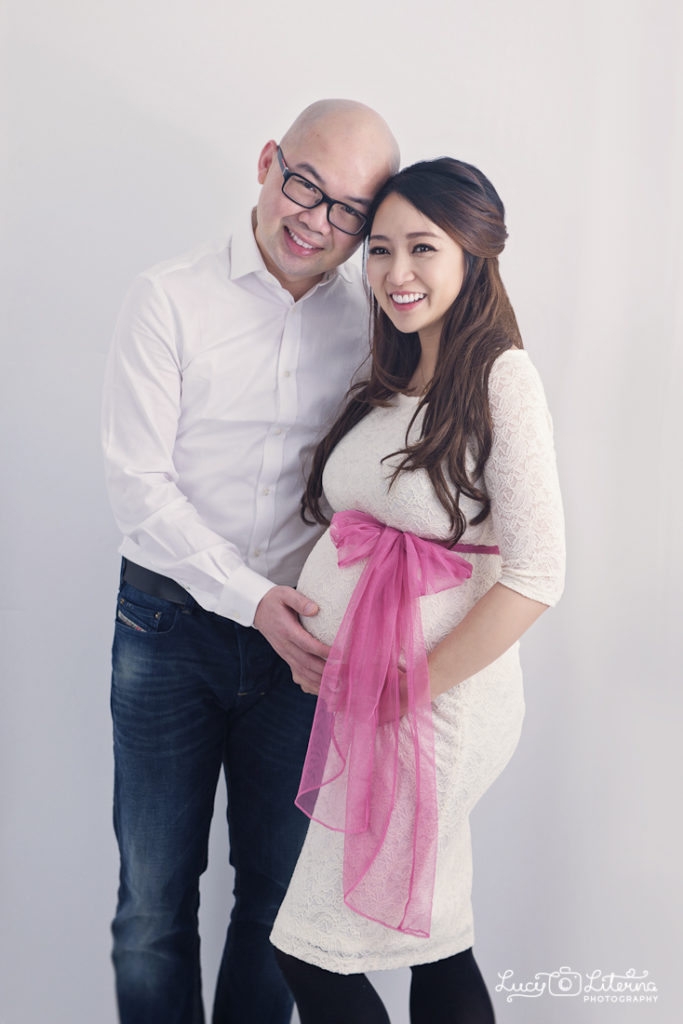 I was actually thinking of returning this dress after my maternity photoshoot, but being super lazy and Canada just sucks at returning anything because there's always a cost. So I decided to keep this dress, I'm pretty sure I'll wear this dress again when I'm on vacation, I didn't end up hemming this dress – but if I were to wear this dress again…. this dress needs major hemming! You can get the full dress here : Mamalicious Maternity Lace Maxi Dress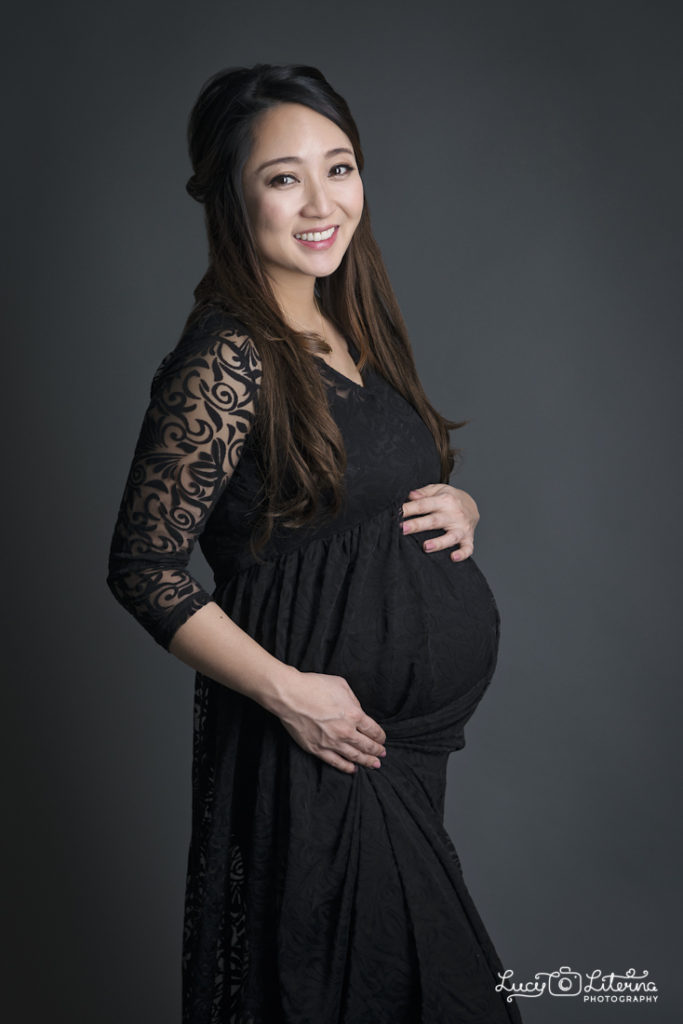 This is such a beautiful maxi, I plan to go on vacation in a few months after my baby is born – so this dress would be perfect for that occasion!! ohhhh I can't wait.
The Baby Shower
My dear friends threw me the most amazing baby shower. My friend told me she found some baby shower gifts here and she got me a beautiful gift, I'm so grategul!
I actually really wanted to plan the baby shower, but I was kicked out because well – because I'm a control and planner freak. But honestly, they did an amazing job, it was so sweet and I really appreciated how much effort they put into the baby shower and really know what I love! I actually wasn't planning on getting another dress, but I decided to walked into Le Chateau and found this dress on sale and it was stretchy!!! I got it in SMALL, I was really hoping I would still fit into when I have my baby shower. The dress is so much more purple in real life that in the website. You can purchase the dress here: Sparkle Lace Off-the-Shoulder Dress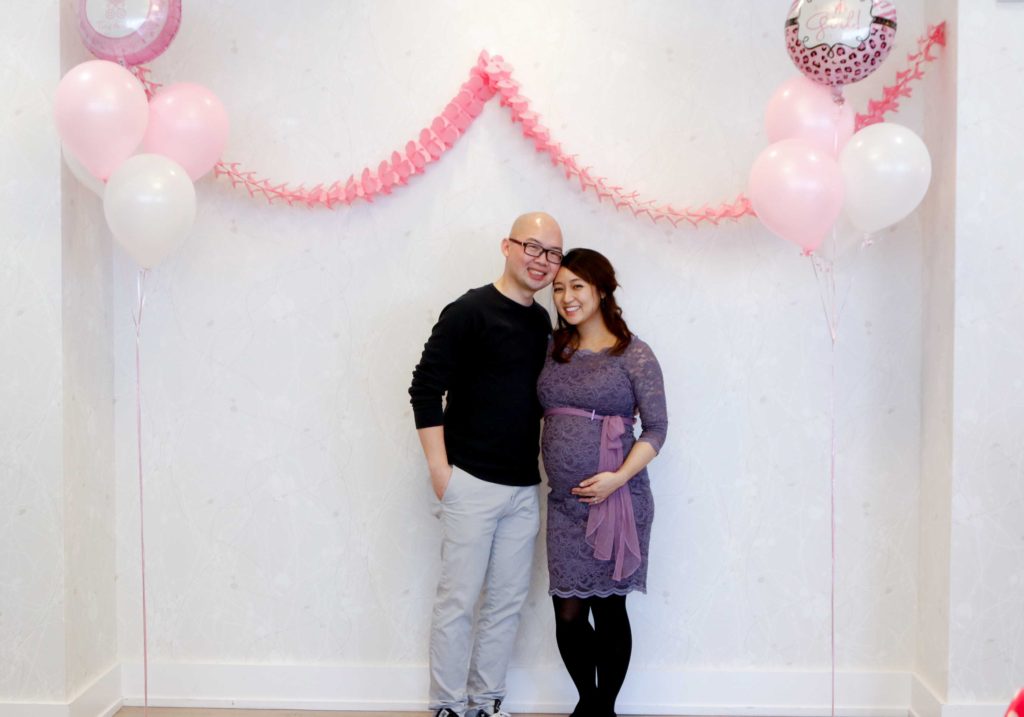 The two girls that made it happen!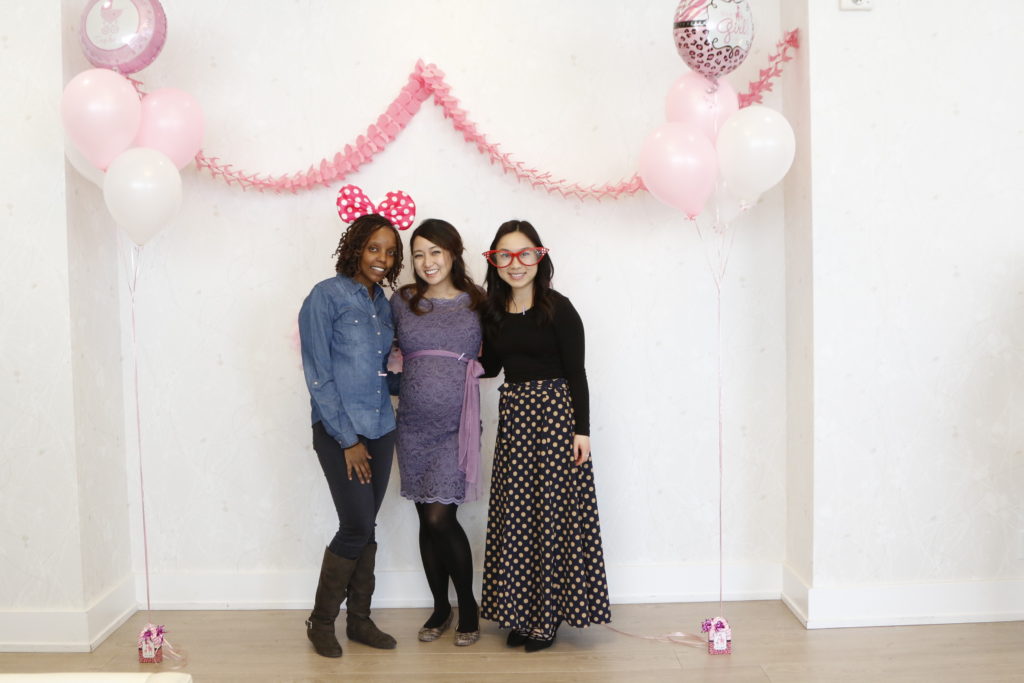 Some of the amazing decor, everything is pink and rabbit of course!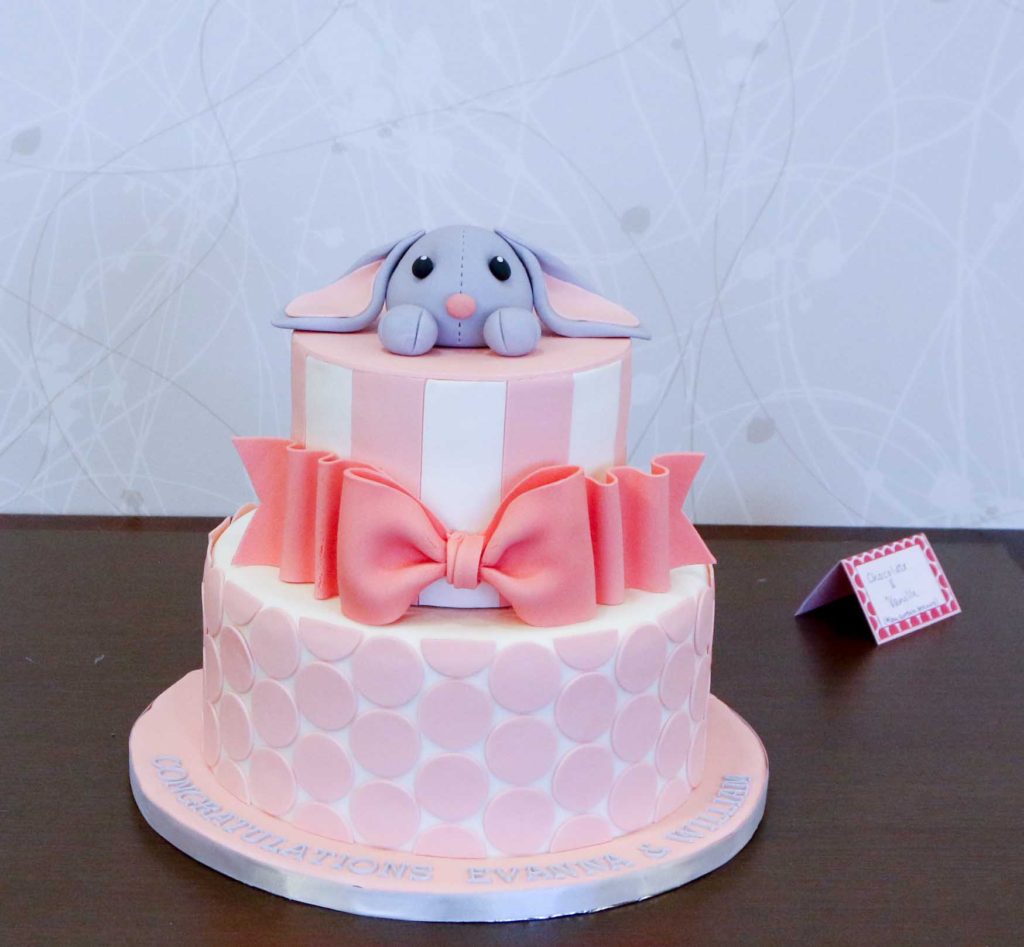 This cake is seriously amazing. I would never have thought this would be possible. There's a RABBIT on it!!!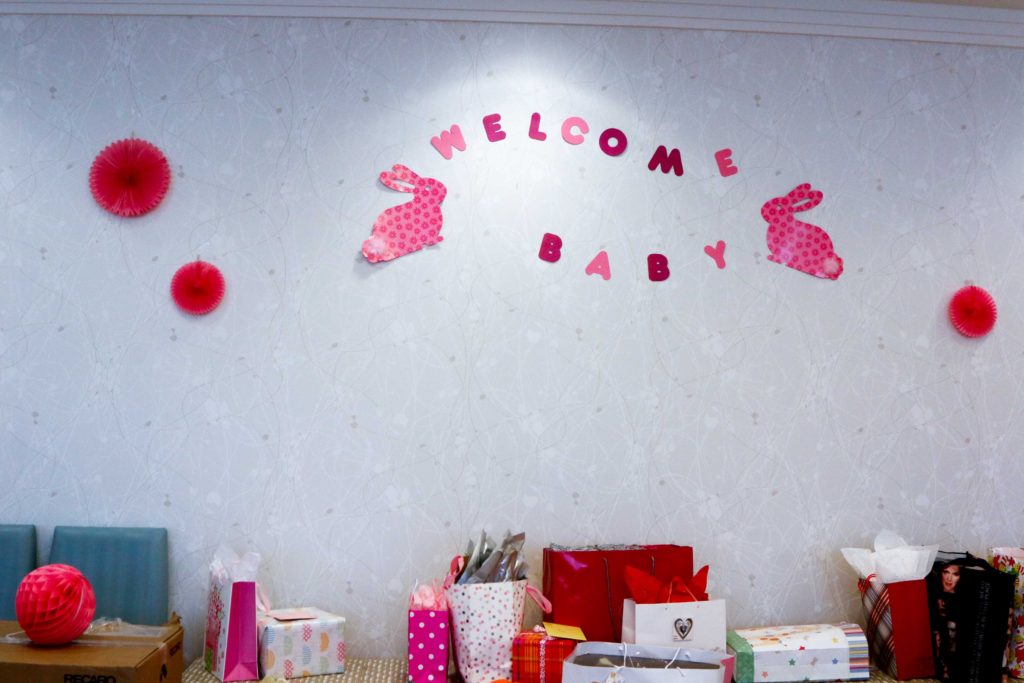 The decor in the room 🙂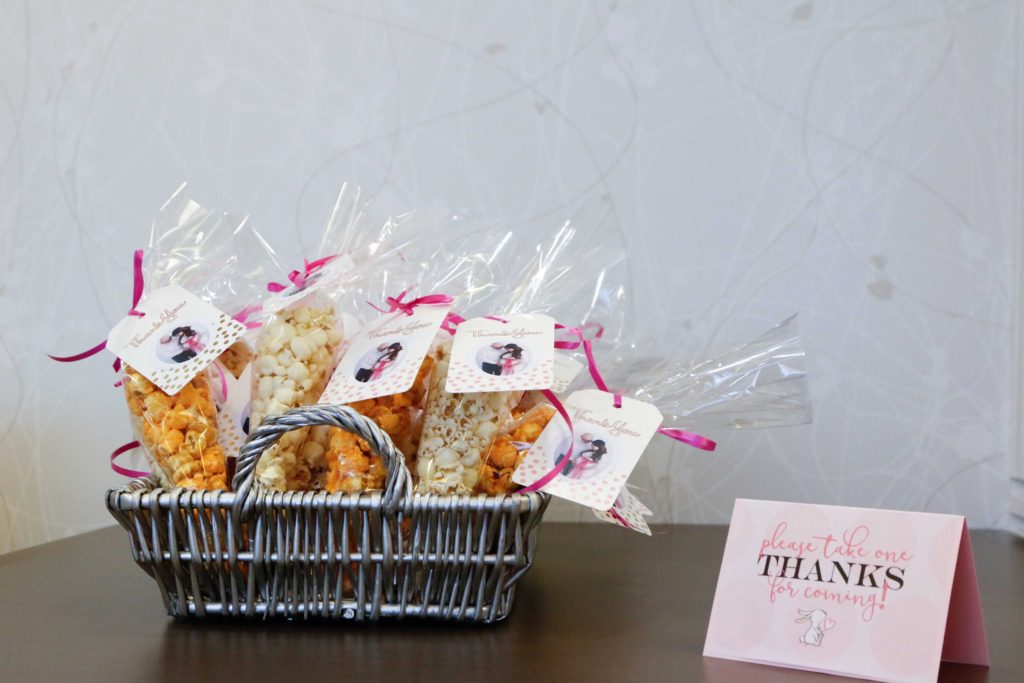 Even the little card is super cute! I will be doing a tutorial on the labels and how I made the cute little thank you cards soon!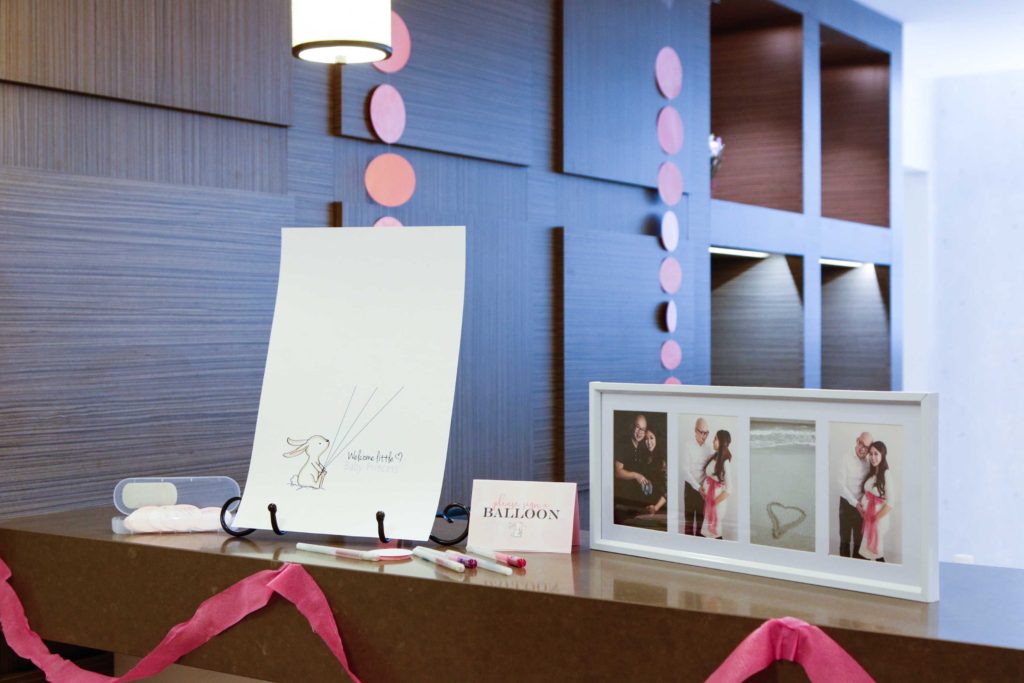 What na amazing idea, they asked the guests to sign each of the balloon when the came in, so then later it can be framed.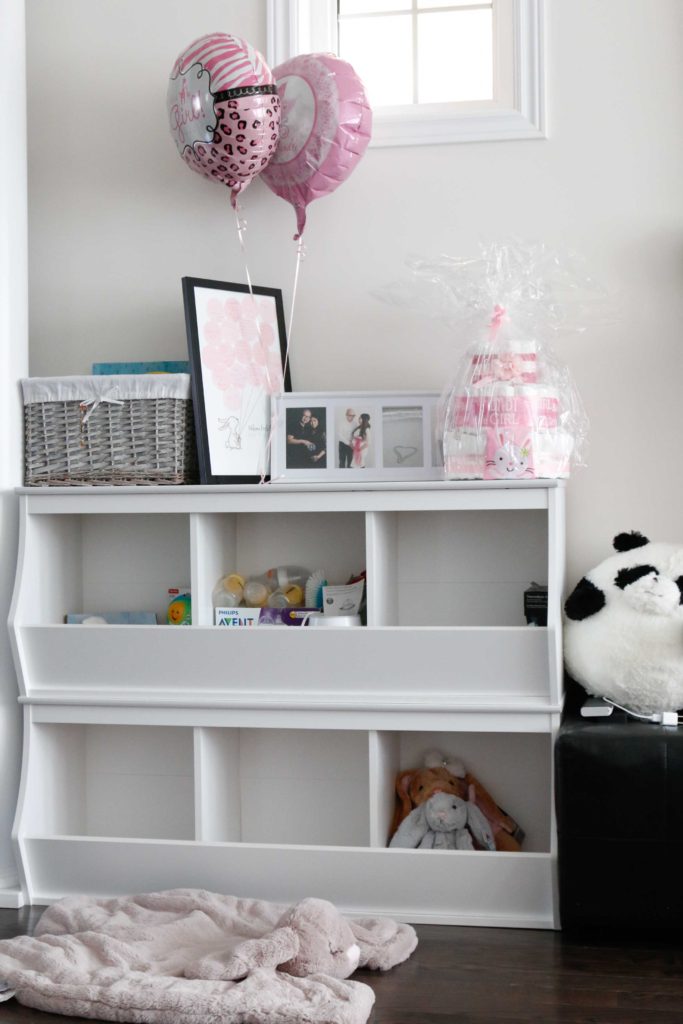 See the theme? Everything is pink and bunnies! Some of the stuff I got from the baby shower – the diaper cake – It's made by Rana! She's so talented! Make sure you check out her ETSY shop (ReverieDesignsCanada) too! , the rabbit balloon and the bunny carpet! I did end up moving some of the stuff upstairs to the baby room and I will be doing a post about that later! The cubby is from Wayfair.com I highly recommended ordering from them, it came super fast.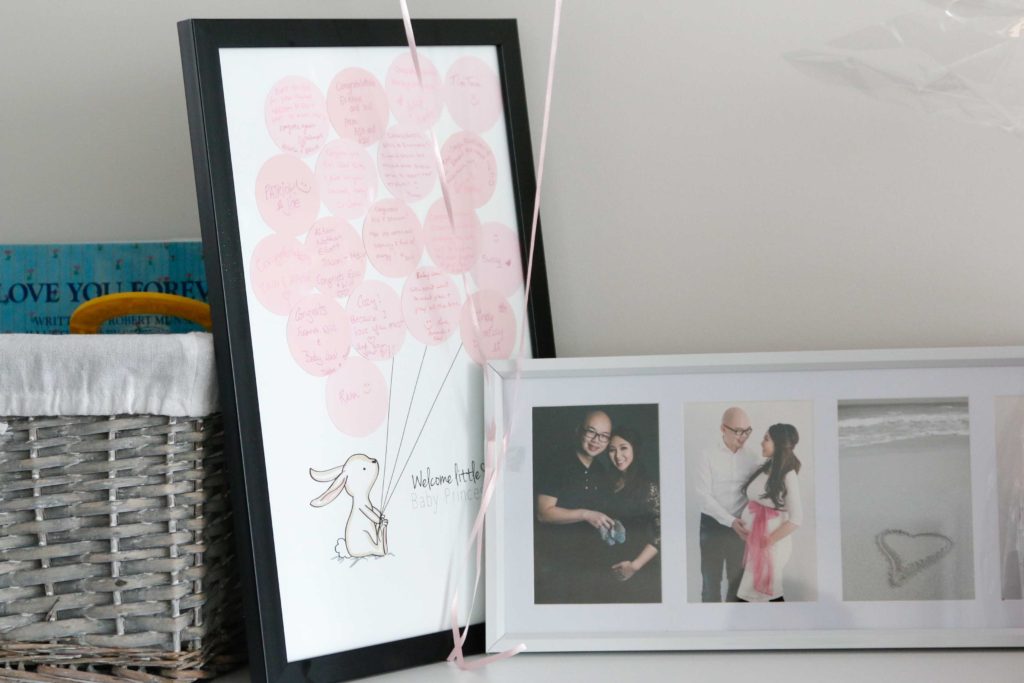 Thanks so much for reading!