Ok, seriously really? For someone who literally goes to the gym 4-5 times a week her entire life and to get slapped with a gestational diabetes is pretty annoying. I know I was borderline last pregnancy but this time? Well. They didn't even have to let me go through round 2 of the Gestational Diabetes testing, they just said you are over the limit so we are sending you straight to the dietician.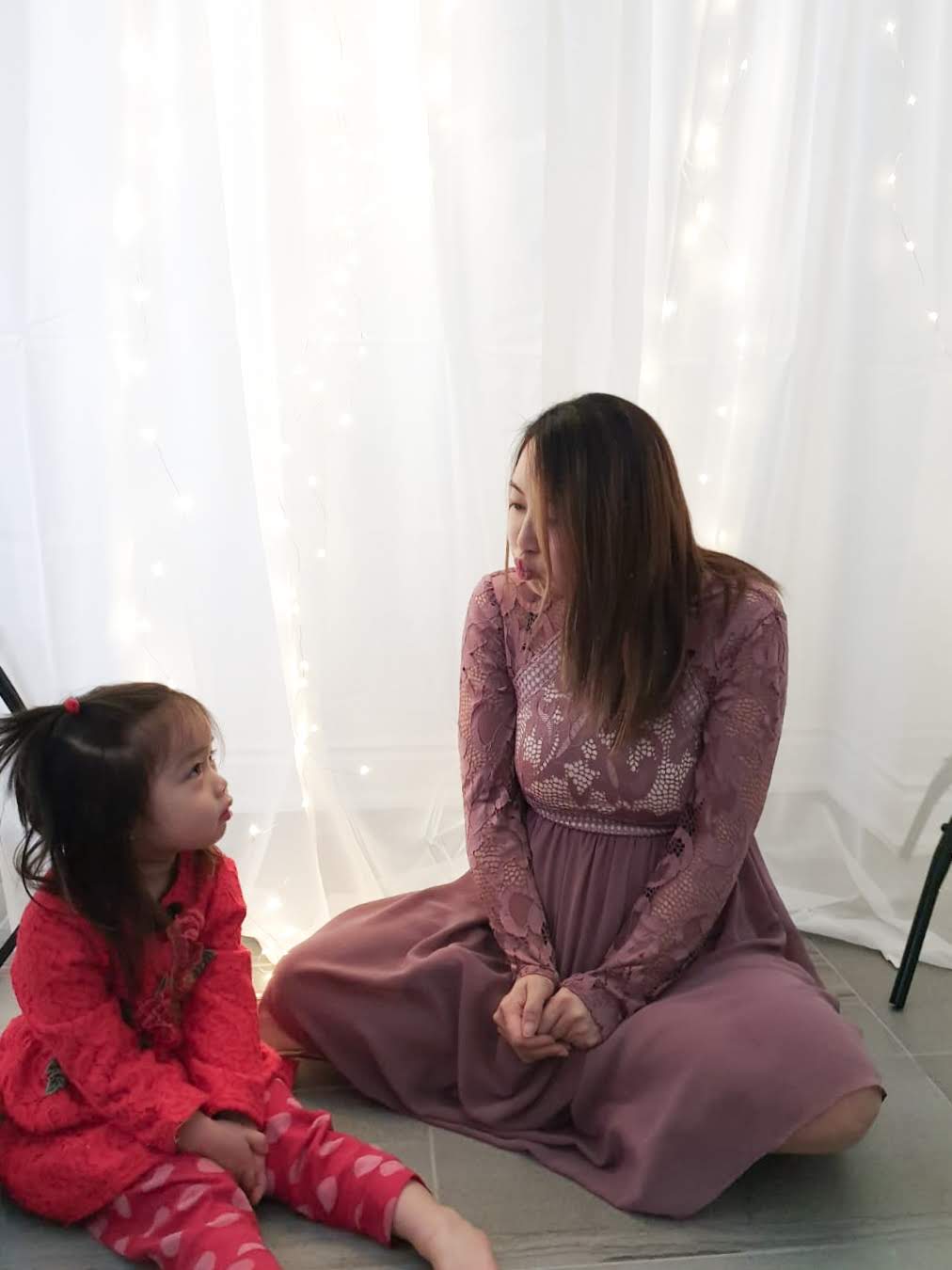 FACT – I HAVE NEVER BEEN ON A DIET MY ENTIRE LIFE. I legit have no self control so I eat whatever I want (well you know within limits) and I maintain my weight by just going to the gym and not eat cake 3 times a day.  But I never been on a straight diet where I have cut out something or have to count how much I'm eating.
So, this is going to be massive struggle for me.
I wanted to keep myself accountable hence I'm going to start a series of my daily food intake, and YOU can help me be on track and not have a 9 lb baby.
Ok so if you just found out you have gestational diabetes as well, then you can read on and find out more and follow my journey! (at least for the next 15 weeks) and…. I'm going back to cake. CAKE ALL DAY.
Follow me on @petitevieblog for my 15 week journey.
What is gestational diabetes?
Gestational diabetes is a condition where your body doesn't properly regulate the level of glucose (sugar) in your blood. It affects between 2% and 10% of pregnancies each year. If you have gestational diabetes, it most likely was brought on by the weight gain and/or hormones released by the placenta and will most likely go away after delivery.
For most women, the sign they have gestational diabetes is having an elevated blood sugar level in a glucose tolerance and/or glucose challenge tests that you'll take between 24 weeks pregnant and 28 weeks pregnant. After a gestational diabetes diagnosis, the doctor will likely talk with you on how to check your blood sugar levels, and recommend you discuss a personalized eating plan with a registered dietician.
Eating according to a gestational diabetes meal plan will help protect your baby from potential complications of gestational diabetes, which include high birth weight and preterm birth. But don't stress: smart eating can help you and baby stay healthy. Totally worth it.
In general, a diet women with gestational diabetes should aim for should include:
Balanced meals and snacks: "Every time you eat, make sure you have a fat, a carb and a protein," says Leigh Tracy, RD, CDE, LDN, and a dietitian and diabetes educator at the Center for Endocrinology at Mercy Medical Center in Baltimore.
Lean protein: Fish, poultry, tofu and beans are healthful protein choices for women with gestational diabetes. "Protein will help you feel full and satisfied and may help you think more clearly when it is time to choose your next meal or snack!" Tracy says. Protein also helps balance your blood sugar level when you eat it alongside carbs.
Healthy fats: Choose unsaturated fats like avocados, olive oil, salmon, tuna and chia seeds. "Carbohydrates give you quick energy but may raise your blood sugar too quickly," Tracy says. "Fat acts as a speed bump by slowing your body's absorption of the carbohydrate."
Veggies: "Non-starchy vegetables like greens, tomatoes, carrots, zucchini, mushrooms and peppers are low in carbohydrates and full of fiber and nutrients," Tracy adds.
Lots of water: Dehydration can cause blood sugar levels to rise, so keep drinking up. Plain ol' H2O is best.
Fiber-rich foods: "Fiber is useful because it slows the absorption of food and can help prevent a spike in blood sugar," says Beth Auguste M.S. R.D. registered dietitian, nutritionist and founder of Be Well with Beth. "For example, choose breads and crackers that have at least 3 grams of fiber per serving."
Also consider taking a walk after a meal, since even a little bit of exercise after eating can lower blood sugar levels and help you manage your gestational diabetes.
Foods to avoid with gestational diabetes
Contrary to popular belief, you don't have to completely cut out a whole bunch of foods because you have gestational diabetes. It's all about balance and not going too crazy with the carbs, especially sugar.
But, in general, if you have gestational diabetes, try to avoid:
Sugary drinks: Skip the soda and fruit juice. "Even all natural, organic, no-sugar-added juice contains carbs and will raise your blood sugar. Try water with lemon or water flavoring packets like True Lemon," Tracy suggests. Sparkling water like LaCroix can also be refreshing and satisfying.
Sweets: Got a sweet craving? Candy, cakes and a lot of fruit are no-gos when you have gestational diabetes because of their sugar and carbohydrates. But, says Auguste, you can have a little full-fat ice cream every now and then.
Super-starchy foods: We're not saying pregnant women with gestational diabetes should skip carbs like potatoes, pasta, white rice and white bread completely, but you should definitely limit them, pair them with carbs and fats, and try to choose whole grain and/or fiber-rich versions instead.
No-carb dieting: Do not try to cut carbs completely because you have gestational diabetes. Your body needs them, and you'll feel too deprived without them.
Meal Planning
Ok so here are a few ideas I'm planning to make over the next couple of weeks and pretty much just eat the same thing
Farro, Almond & Blueberry Breakfast Cereal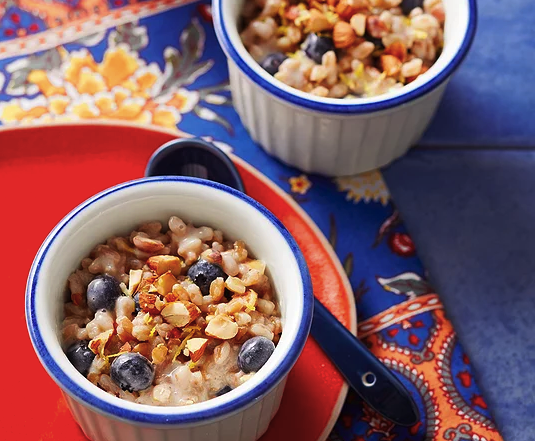 Directions
In a small bowl, combine farro and enough water to cover. Soak in the refrigerator overnight. Drain off excess water.
In a small saucepan, combine milk, salt, vanilla and cinnamon. Bring to boiling. Stir in farro; reduce heat. Simmer, covered, 20 minutes or until farro is tender.
Stir in blueberries, 2 tablespoons of the almonds, the maple syrup and lemon peel. Cover and let stand 5 minutes or until blueberries are warmed. Spoon cereal into serving dishes. Sprinkle with the remaining 2 tablespoons almonds.
Grain Free Chocolate Granola (Paleo) Link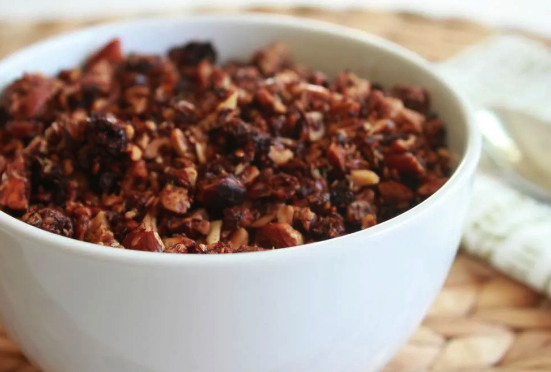 What you will need:
1 cup of pecans
1 cup of hazelnuts
1 cup of raw almonds
1/4 cup of roasted flax seeds
1 cup of coconut oil (measure it out while it is in solid form not melted)
2 tbs of honey
1/2 tsp of salt
1 tbs of cacao powder
1 tsp of vanilla
1 tsp of cinnamon
1/2 cup + 1 tbs of unsweetened shredded coconut
Directions:
Preheat oven to 300 degrees *
Place all your nuts in a food processor and pulse a few times until you have a granola like consistency.  If you over process you will end up with nut flour or nut butter.  So keep an eye on it.
In a small pot melt and mix together the coconut oil, honey, vanilla, cacao powder, salt and cinnamon.  Stir in the shredded coconut.
Add the mixed nuts to the melted mixture and coat your "granola" really well.
Place granola on a parchment lined baking sheet and bake for 10 minutes.
Let cool and eat just like you would eat any other granola!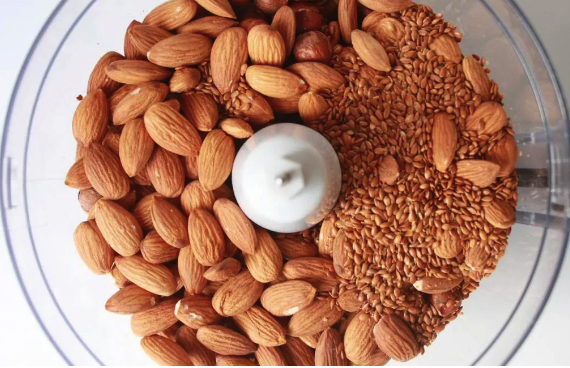 Keep granola in an airtight container in your fridge.
Zucchini Noodle Caprese Lasagna (Link)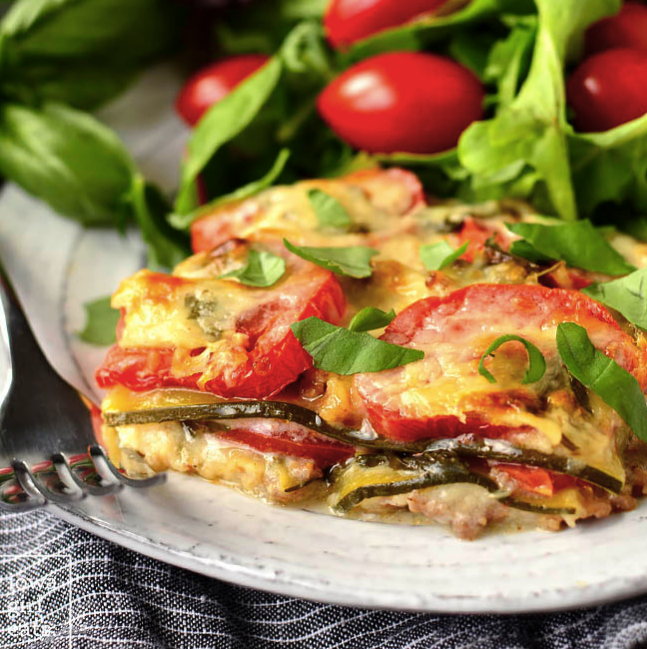 Directions
Preheat oven to 350 degrees. Using a mandoline, slice zucchini 1/8" thick (a little thicker is fine if you're hand-slicing) then arrange slices on cooling racks set atop two half sheet pans. Lightly salt slices then let sit for 15 minutes to draw out moisture from the zucchini. After 15 minutes, use paper towels or a kitchen towel to wipe or blot the excess moisture away. Bake zucchini for 10-12 minutes or until the slices appear dry but aren't turning brown. Set aside then turn heat up to 375 degrees. NOTE: do not place zucchini slices directly on the baking sheet, or even on foil, as they will stick after baking.
Meanwhile, brown sausage in a large skillet over medium-high heat then drain and set aside. Carefully wipe out skillet with paper towels then let cool off the heat for a few minutes.
Turn heat down to medium then return skillet back to heat and melt butter inside. Add garlic then saute until light golden brown and very fragrant, 1 minute. Sprinkle in gluten-free flour then whisk until smooth and cook for one minute. Add splashes of chicken broth while whisking to create a smooth sauce. Once sauce is smooth, add remaining broth and milk then season with salt and pepper. Turn heat up just a touch to bring the sauce to a bubble then turn heat down to medium and simmer until thick and bubbly, 10 minutes, stirring frequently. Pour into a bowl (with a lip/spout if you have it) then set aside.
Spray a 9×13" baking dish with nonstick spray then spread 1/3 cup sauce in the bottom. Layer in 9-10 zucchini slices then top with 1/3 of the cooked sausage, 1/3 of the tomatoes, 1/3 of basil, 3/4 cup sauce, and 1/3 of the cheese. Repeat layers two more times for a total of three layers. Cover lasagna with nonstick-sprayed foil then bake at 375 degrees for 25 minutes. Carefully remove foil then bake for 23-25 more minutes or until cheese is golden brown on top. Let lasagna sit and cool for at least 20 minutes before slicing and serving.
Ingredients
3 medium-sized zucchini
1lb mild Italian sausage
3 Tablespoons butter
2 garlic cloves, pressed or minced
3 Tablespoons gluten-free flour OR all-purpose flour (dish will not be GF if using AP flour)
1-1/2 cups chicken broth
1-1/2 cups whole or 2% milk
6-7 roma tomatoes, thinly sliced then placed inside a colander to drain
1 cup packed fresh basil leaves, torn or chopped into pieces
2 cups shredded mozzarella cheese
Skillet-Roasted Citrus Salmon with Grilled Vegetables (Link)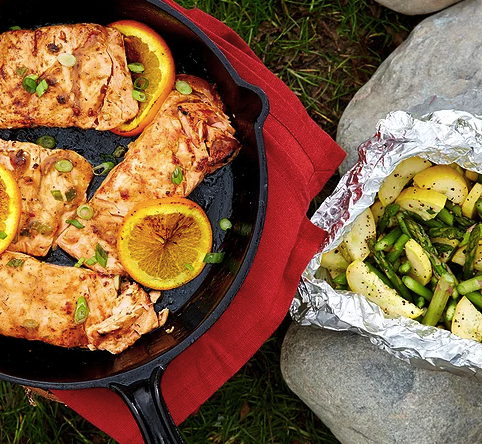 Directions
Rinse salmon; pat dry. Place salmon in a resealable plastic bag set in a shallow dish. For marinade, in a small bowl stir together herb and garlic marinade, 2 Tablespoons of the green onions, the orange juice, and 1/4 teaspoon of the salt. Pour marinade over salmon. Seal bag; turn to coat salmon. Marinate in the refrigerator 1 hour, turning bag occasionally.
Light firewood or charcoal and let campfire burn down to medium-hot embers or coals. Top with a grill rack.
Fold a 36×18-inch piece of heavy foil in half to make an 18-inch square; coat with cooking spray. Place asparagus, squash, and 2 Tablespoons of the green onions in center of foil. Sprinkle with pepper and remaining 1/2 teaspoon salt; drizzle with 2 teaspoons of the oil. Bring up two opposite edges of foil; seal with a double fold. Fold remaining edges to enclose vegetables, leaving space for steam to build.
Cook vegetable packet over campfire 10 minutes, turning once. Meanwhile, drain salmon, discarding marinade. In a 10-inch cast iron skillet, heat remaining 2 teaspoons oil over campfire. Place salmon, skin side down, in skillet. Cook 4 to 6 minutes per 1/2-inch thickness or just until salmon flakes, turning once.
Top salmon with remaining 2 Tablespoons green onions and, if desired, orange slices. Serve with vegetables.
SPRING CHICKEN SAUTÉ (Link)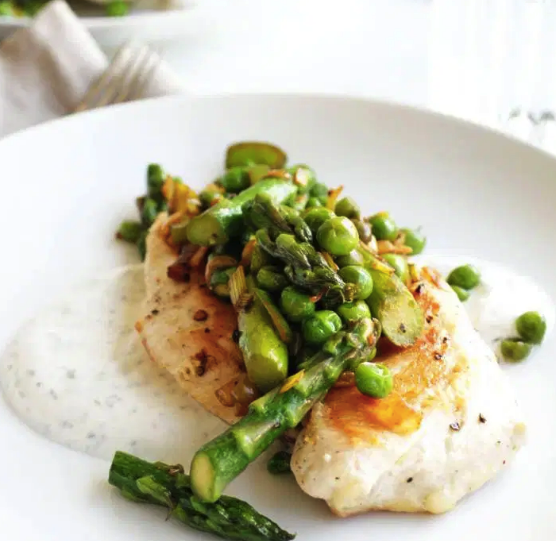 1 1/2

 pounds thinly sliced chicken breast (or you can pound it thin yourself!)

1 tsp

. salt, divided

1/4 tsp

. pepper, divided

1 cup

 plain greek yogurt

2 teaspoon

s herbs de provence

1 Tablespoon

 + 

1

–

2

 teaspoons olive oil

3/4

 pound asparagus, trimmed and cut into 1″ pieces (about 

2

–

3

 cups)

1

 medium leek, thinly sliced (about 

1 cup

)

1 cup

 peas (I used frozen)
---
INSTRUCTIONS
Heat large skillet over medium-high heat and season chicken with 1/2 teaspoon salt and 1/8 teaspoon pepper.
Add 1 Tablespoon olive oil and when oil is hot, add chicken to pan.
Cook chicken for about 3-4 minutes per side, until cooked through.
While chicken is cooking, mix together yogurt, herbs de provence, 1 teaspoon olive oil and a pinch of salt and pepper to taste. Set aside.
Remove chicken from pan and set aside. Add another teaspoon of olive oil to pan if it's dry.
Add leeks to pan and cook for 1 minute.
Add asparagus and peas and cook for about 5 minutes, stirring occasionally and until vegetables are tender.
Season with remaining 1/2 teaspoon salt and 1/8 teaspoon pepper.
Divide yogurt mixture onto 4 plates and slightly spread yogurt over plate.
Top with chicken and 1/4 of the vegetable mix.
Lily's Sweets Chocolates – And if you're craving some chocolate and cacao nibs aren't cutting it, Lily's Sweets has some delicious options. They come in a variety of flavors and are all sweetened with Stevia – low carb and perfect for all the sweet tooths out there.
365 natural almonds – In addition to their bulk section, Whole Foods has a large variety of nuts and seeds. 365 Everyday Value is Whole Foods personal line and it's usually cheaper than other brands!
Guacamole – Avocado is my #1 keto snack of choice. It's full of healthy fats and the perfect way to get fiber and potassium into your diet. And if you don't feel like making your own guacamole – Whole Foods has a ton of guacamole with no added sugars.
Chicken Breast
Greek Yogurt
Aspragus
Salmon
Italian Sausage
Zucchini (3)
Peacans
Hazlenut
Almond Nuts
Blueberries
Almond Milk
Let's hope I can stick to this for the next 15 weeks!