Hello Everyone,
Breastfeeding/pumping sucks. It's been three weeks since I started breast pumping. Yes, I am exclusively breast pumping, and I know it's not very common but this works for me. I've been freezing my milk supply ever since I had enough. It's been 3 weeks and so far I have roughly 22 frozen milk in my deep freezer. My goal is to have over 1000 oz of milk so I can stop breastfeeding at 6 months. But who knows!
The first two days… nope it's been three weeks with my newborn and breast pumping still sucks.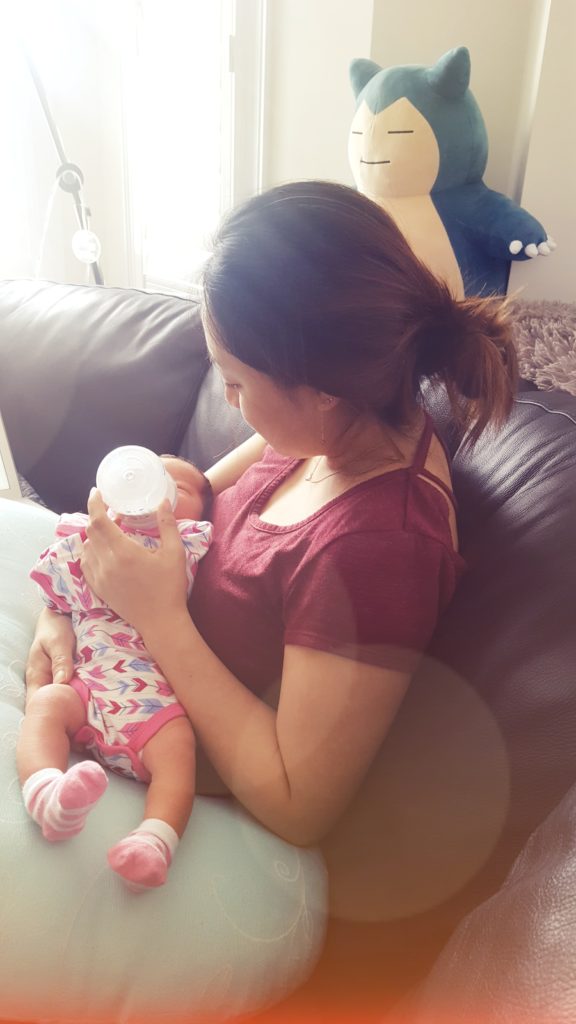 Those weren't exactly the words I'd expected to come out of my mouth as a first-time mom. I thought breastfeed/pump to be easy and certainly NOT painful. Throughout pregnancy, I've never gave it too much thought about breastfeeding/pumping. I know I wanted to breastfeed my daughter for the whole year. What I didn't expect was just how hard it is. Mentally and physically. My milk didn't come in until the 5th day. I was actually getting really worried my milk would never come. ** considering my boobs grew two sizes, I would be really angry if there was nothing. It's like they grew for no reason** When it came, man I was nearly in tears just how painful my boobs become. They were solid hard with so many lumps.
Some days it hurts so much it's hard to cuddle with my baby. I have to place her in between my breasts so I can get her close to me. You know all those happy and peaceful images you see on the internet… well. Not in my case. Lies.. all lies!
Everyone tells you, it will stop being so engorged after a few days.
Yes, that is true, but what they don't tell you is that feeling of engorgement comes back every now and then. It's been three weeks, and there are numerous of times where one or both of my boobs felt like rocks with lumps all over my breasts. It was so painful to touch, it was really hard to even "massage" them. Or maybe I just have really low pain tolerance.
What worked for me was a nice long hot shower and massaging my boobs for a good 30 mins before and during pumping.
That seems to really release the lumps on my breasts. I'm pretty sure I've spent most of my day massaging my boobs. I also noticed I am one cranky hormonal person when my boobs are hard as rocks. I was actually not hormonal at all during 9 months of pregnancy, but man… breastfeeding/pumping has turned me into one cranky unhappy person for three weeks.
I had my day of crying. Yes all day and night crying for no reason. Since I'm home all day, everyday – I also eat all day. No, I don't eat all the salads and fruits. I down myself with instant anything.  Noodles..pho.. chocolate.. ice cream..chips.. cookies.
Get Dr. Newman's All Purpose Nipple Cream 
This was recommended by Christine. Man, this saved my nipples. It doesn't take all the pain away, but anything helps at this point.
As of three weeks right now, I really hope breastfeeding/pumping will get easier….
Motherhood is challenging
Between the diaper changing, feeding, pumping every 3 hours. Oh, and healing, yes I'm still healing to be 100%…. but as much as I complain, looking at my daughter's face sleeping soundly makes it all worth it.  I don't know if I will breastfeed/pump for 12 months, but as for now, my goal is to get to 6 months. Baby steps…. being a mother is all about baby steps….
For those who are in the same boat as I am, here are some tips for treating engorgement
Gentle breast massage from the chest wall toward the nipple area before nursing.
Cool compresses for up to 20 minutes before nursing.
Moist warmth for a few minutes before nursing may help the milk begin to flow (but will not help with the edema/swelling of engorgement). Some suggest standing in a warm shower right before nursing (with shower hitting back rather than breasts) and hand expressing some milk, or immersing the breasts in a bowl or sink filled with warm water. Avoid using warmth for more than a few minutes as the warmth can increase swelling and inflammation.
Thanks so much for reading,