Yes!!! It's that time of the year again! Who doesn't love the Baby Time Show?! If you missed last year, you def don't want to miss this time around.
We are giving away 2 pairs of tickets!! All you have to do is the following:
COMMENT BELOW WHY YOU WANT TO ATTEND
THAT'S IT!!! We will be announcing the winner Thursday, April 19!!! Make sure you enter before then!! Don't worry if you don't win, we are also giving all our readers a promo code! (see the end of the post)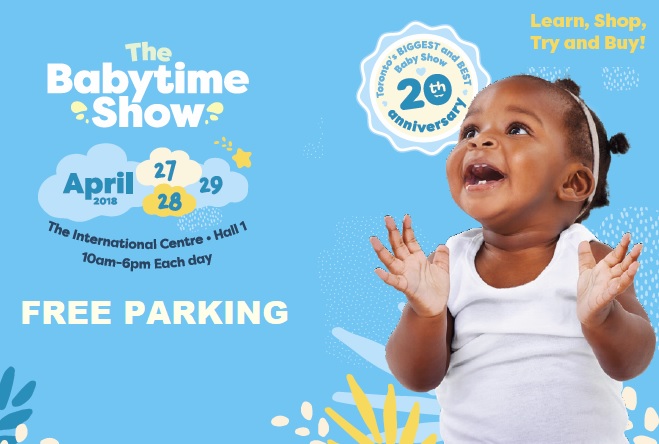 The Babytime Show: Where Parents GO, to stay in the KNOW!
20 Years of Bringing Parents the BEST in Prenatal to Preschool
APRIL 2018 – TORONTO – From Friday, April 27 to Sunday, April 29 Toronto's original baby show is back at The International Centre, Hall 1.
There is NO other baby show in the Toronto area offering leading parenting experts, major brands, unique artisans, stellar education and top-notch toddler entertainment, all under one roof. Whether you're expecting, just delivered, or are in the midst of managing the schedule of a little one, there is something for everyone.
Check out the show features, including:
Lisa Canning, mom of six (soon to be seven) children is on a mission to help moms conquer their calendar and balance it all. In a one-hour, exclusive pre-show presentation coach, interior designer and lifestyle expert Lisa Canning will walk you through her 6-step framework for designing a life you love. By the end of the program, you will be well on your way to having more clarity on what matters most to you, what should go into your schedule as a result of your unique priorities, and strategies and habits to make it all stick. She will also have two group sessions on Sunday, April 29, followed by one-on-one coaching sessions. Please register on-line to save your spot – see our website for details about how you can order a special 20th Anniversary ticket including Lisa's pre-show coaching session.
Jaclyn Colville, mom and interior stylist, will share tips and tricks on how to create a nursery that will last from newborn to toddler stage, with a few simple tweaks. One lucky winner will also walk away with a complete nursery makeover, compliments of Bouclair, valued at $500.
Taylor Kaye, a popular host on CHUM FM, red carpet reporter, and mom of three is not scared of the kitchen (well, not too scared!). She has learned all the secrets to creating everyday meals that work. From the perspective of a real (and busy) mom, join Taylor for her tips on how to make meal prep a cinch.
Join Kristi Clements, resident Pregnancy and Birth Expert, RMT and Doula, for this interactive, UNCENSORED discussion of all things Belly, Birth and Baby related. Becoming a parent is a journey that comes with many unexpected experiences – Kristi, and her team from Helping Hands Doula, will be onsite to answer all your questions.
The Diaper Bank will once again be in attendance, collecting donations and/or diapers for those in need. Did you know in North America it costs over $3,000 for one child's disposable diaper requirements? To help cover those costs, we have an incentive: If you're looking to return for a second show day free of charge, stop by The Babytime Show customer service desk to pick up a re-admit pass in exchange for a minimum $2 donation to The Diaper Bank.
The Babytime Show is a proud supporter of Green Propeller Recycling! New this spring, The Babytime Show will be the exclusive host of an official child car seat drop-off depot, in partnership with Green Propeller Recycling. Bring in your car seat to have it recycled and help keep the over ¼ million car seats out of Ontario landfills.
Top Notch Toddler Entertainment – Laugh with your kids at live daily shows. With some help from our friends Thomas the Tank Engine and Barney, we are sure to get you up and moving with the interactive performances on our Toddler Time Stage! The little ones will also get a chance to "Meet and Greet" popular characters like Marshall from Paw Patrol, Masha and the Bear and the Teenage Mutant Ninja Turtles
So, what are you waiting for? Head to www.babytimeshows.ca and buy your tickets now. Save $3 when you use the promo code C. Come learn all about having the best pregnancy ever, how to balance parenthood with the rest of your life, try out popular brands, find exciting new products, be surrounded by other new and soon-to-be parents, and get ready for the parenting ride at The Babytime Show!
Show Dates/Times
Friday, April 27: 10am – 6pm
Saturday, April 28: 10am – 6pm
Sunday, April 29: 10am – 6pm
Venue
International Centre, Hall 1
6900 Airport Road, Mississauga
L4V 1E8
Cost
Parents and friends (13+): $17
Grandparents: $10
Children 12 and under: Free
Special 20th Anniversary Ticket: $20 (includes Lisa Canning Coaching Session on Friday, April 27 from 8:30am – 10:00am + 1 Adult Admission, ages 13+)
Parking: FREE