Hi Everyone,
We've all been there. Leg by the door while cooking trying to prevent your infant pulling out ALL your pots and pans out of the cupboard. I've purchased other safety locks but they don't seen to work or they break after a few uses. When Tine and I was introduced to Dreambaby products we were SO THRILLED that we get to try it in different parts of our homes. Make sure you read to the very end for details on how to win your very own Dreambaby product too!
Today we are going to provide you a full review on three products we've been LOVING.
NO TOOLS, NO SCREWS, SAFETY VALUE PK 35PC
This safety pack has EVERYTHING I need. From the kitchen to the bathroom and our living room.  To be honest, I am really bad at assembling anything. I am so glad this pack was so easy to use. Seriously, I can do it, so can you! I am known to break everything I try to assemble… just ask my husband. I'm not even joking, I wish I was. This pack comes with 35 pieces! In this post, I will show you a few of my favourite pieces from the pack.
Corner Protectors
My daughter is getting taller and this has been a huge life saver. She keeps banging her head on the corner of my table. What's with kids and crawling underneath the table!? Or she would walk right into the corner of it. These corner protectors are super sturdy and the best part? THEY ARE CLEAR. I have to mention that because I had used other ones before they were coloured and guess what? My daughter would constantly pull them off! These clear corner protectors – she doesn't even noticed it's there! Brilliant!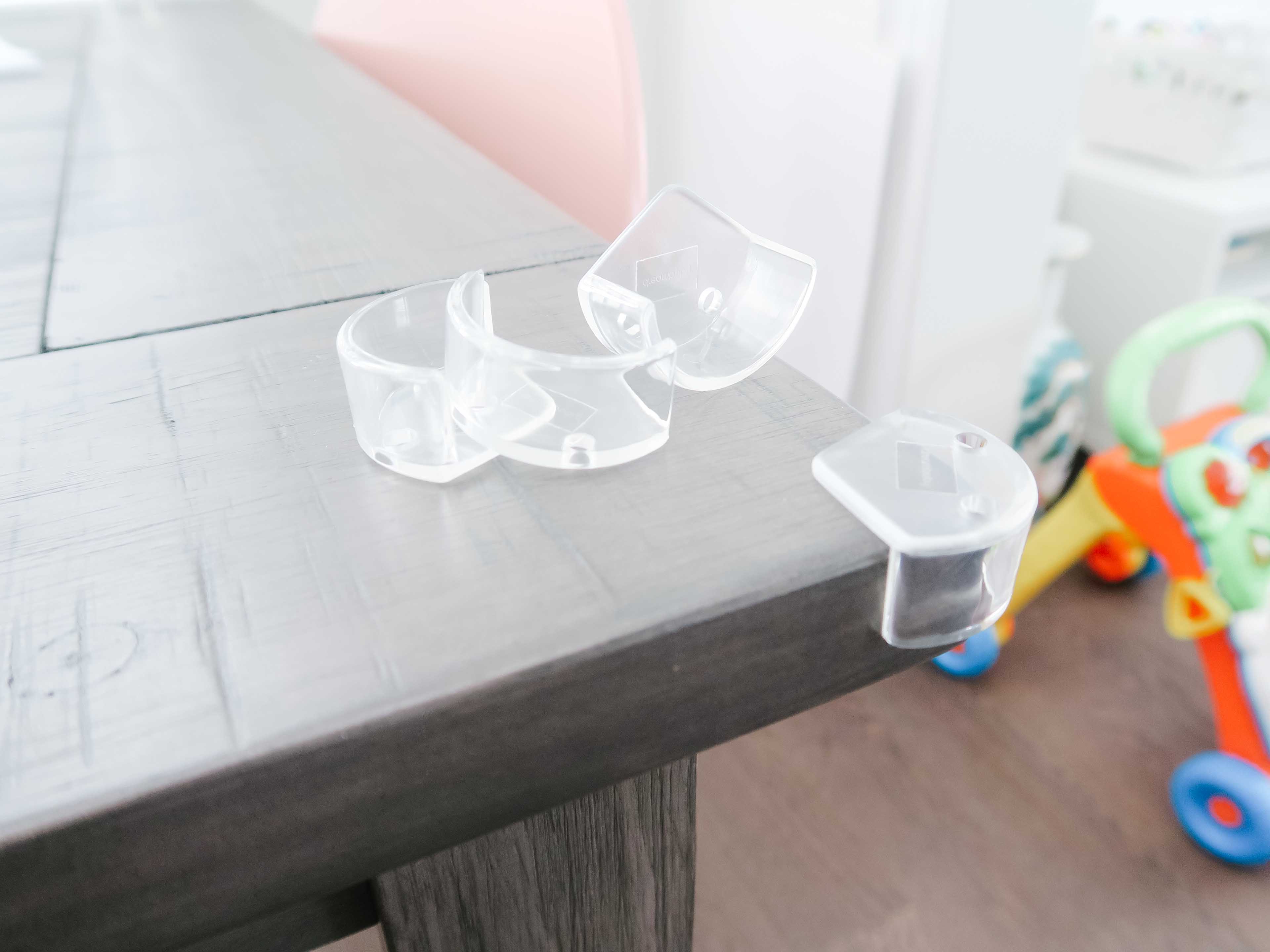 Outlet Plugs
These are amazing high quality and like all toddlers, they love sticking their fingers into electrical holes. I've also used other outlet plugs brands and she ended up pulling them out of every single outlet. But these Dreambaby outlet plugs – once you put them in, they STAY in. She couldn't peel them off. It was frustrating for her, but it's perfect for the parents!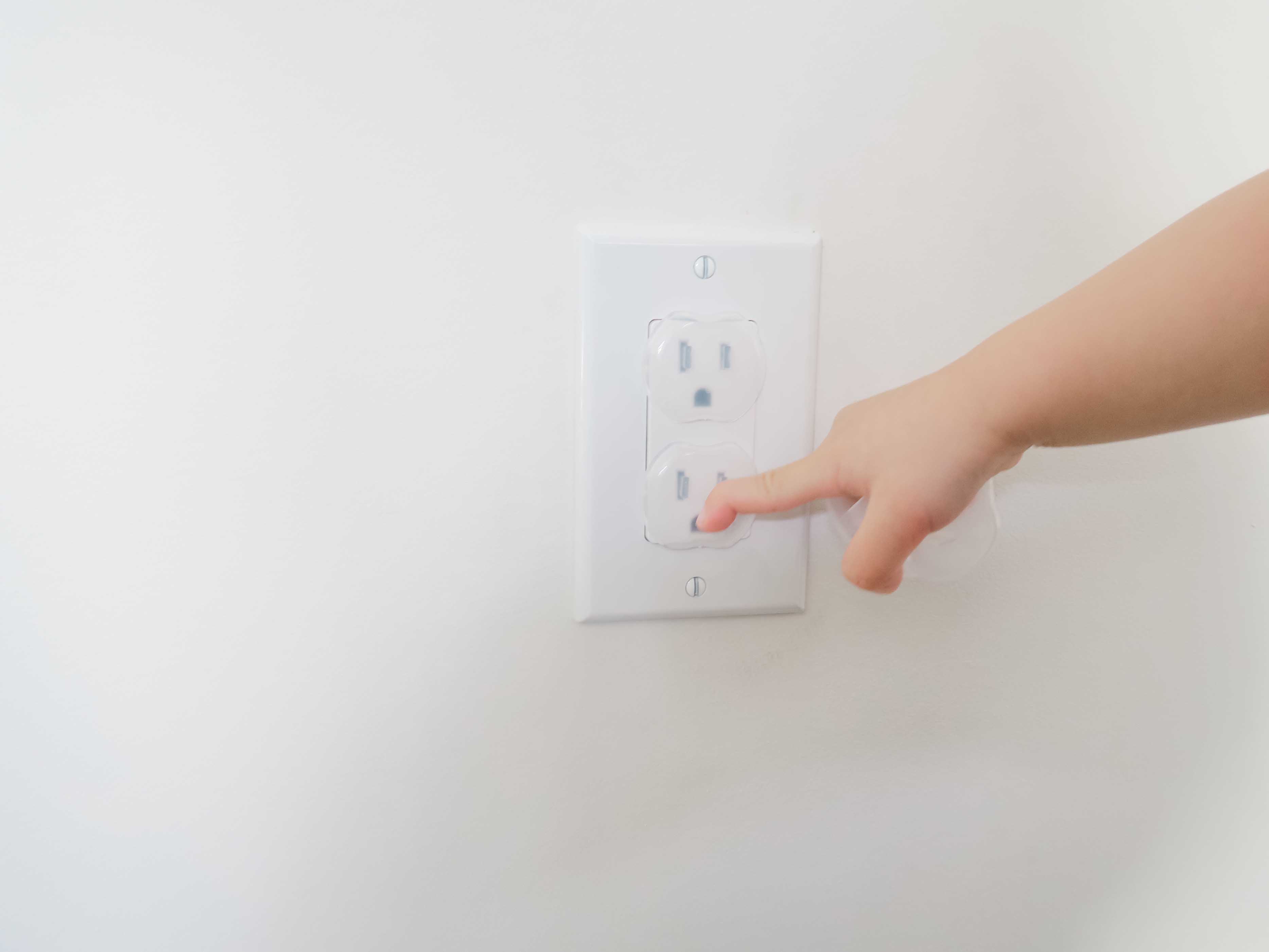 Angle Lock
There is this ONE drawer she just keeps opening. It was beyond annoying every time I try to cook, she would keep opening up the drawer and pull everything out. I've been trying to find a solution for it but didn't have any lock until I used this Angle Lock, which solved the problem of her opening the drawer. As soon as I put them, she tried opening the drawer, and she couldn't! She was a little confused but eventually she gave up and walked away from the drawer. Thank goodness!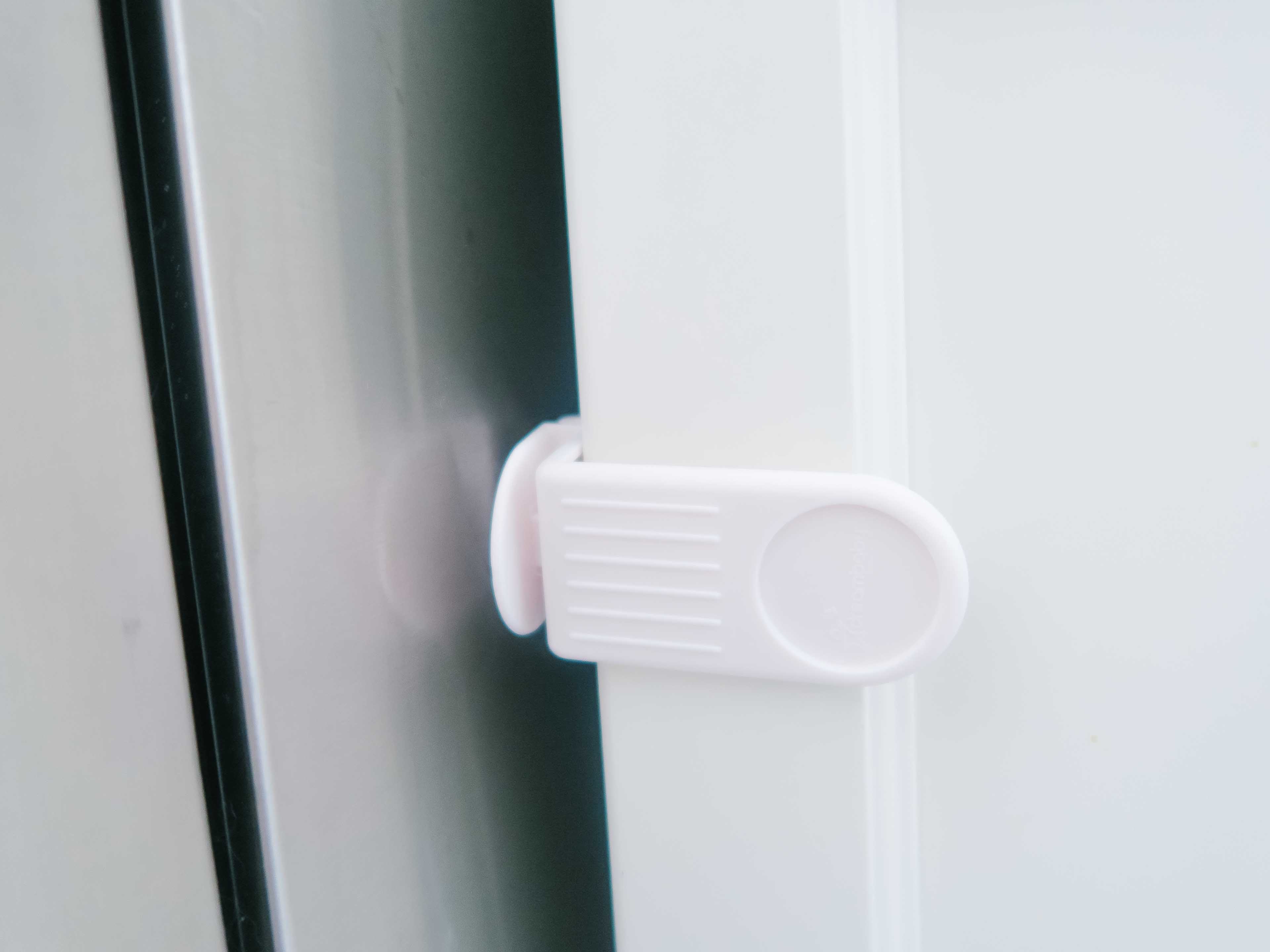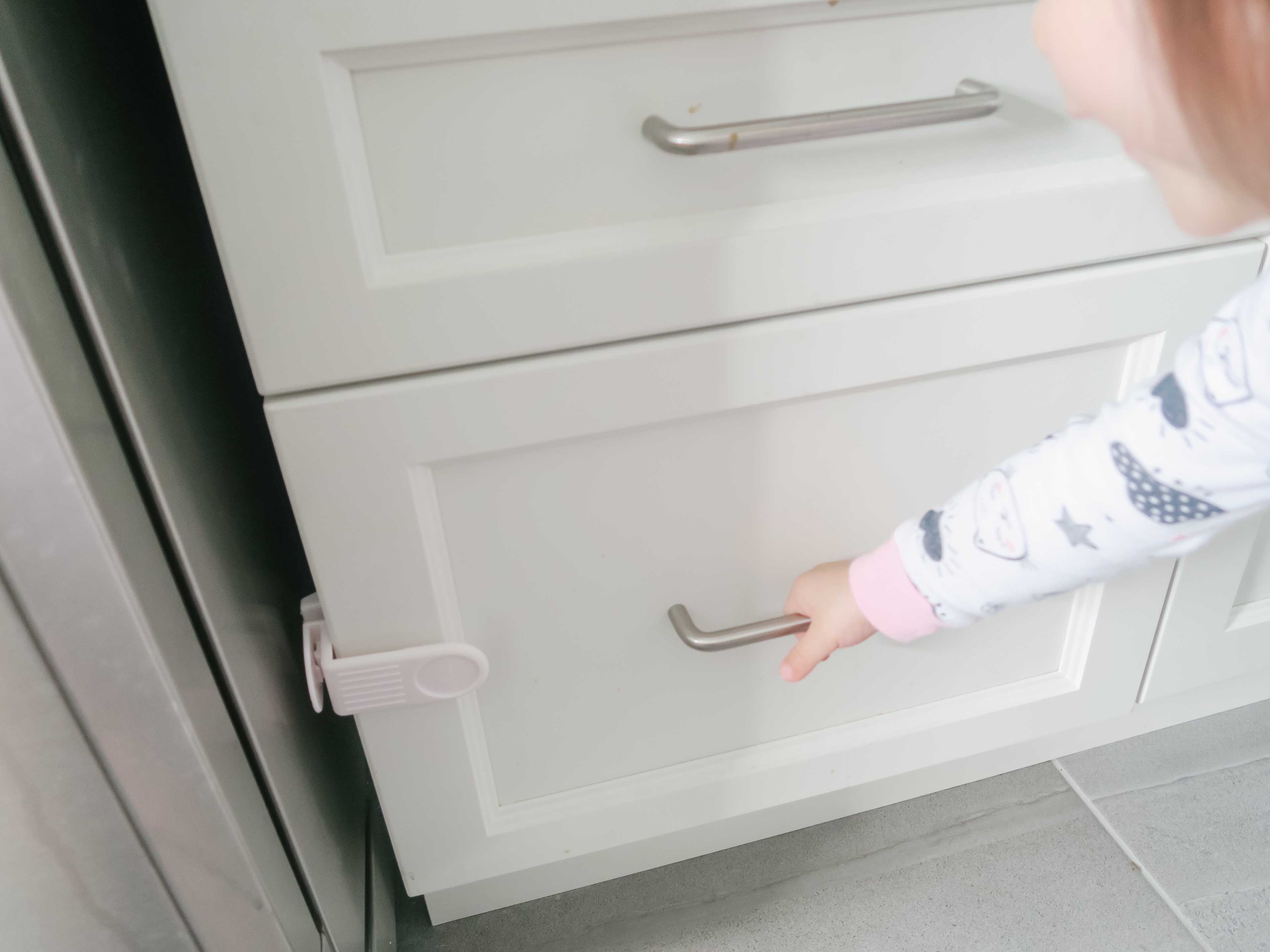 Fish Door Stopper
This is by far my favourite, only because it's SO cute! She's known to opening the bathroom doors and closing them on her fingers all the time. So I decided to put this on the bathroom door. I am sacrificing some privacy… but we are all mothers, who actually pees along anymore?


The Lever Lock
Finding an effective child-proofing door lock for French lever door handles could be challenging. So when Dreambaby introduced us to their Lever Lock, Ev and I were super excited because we both have the levers in our houses. Based on my understanding, there are two types of locks – the adhesive types (super easy installation but durability is questionable), and the installation type (where you take apart the door knob to add an extra piece). I personally prefer the latter because when my kids really go at something, they could be unexpectedly strong!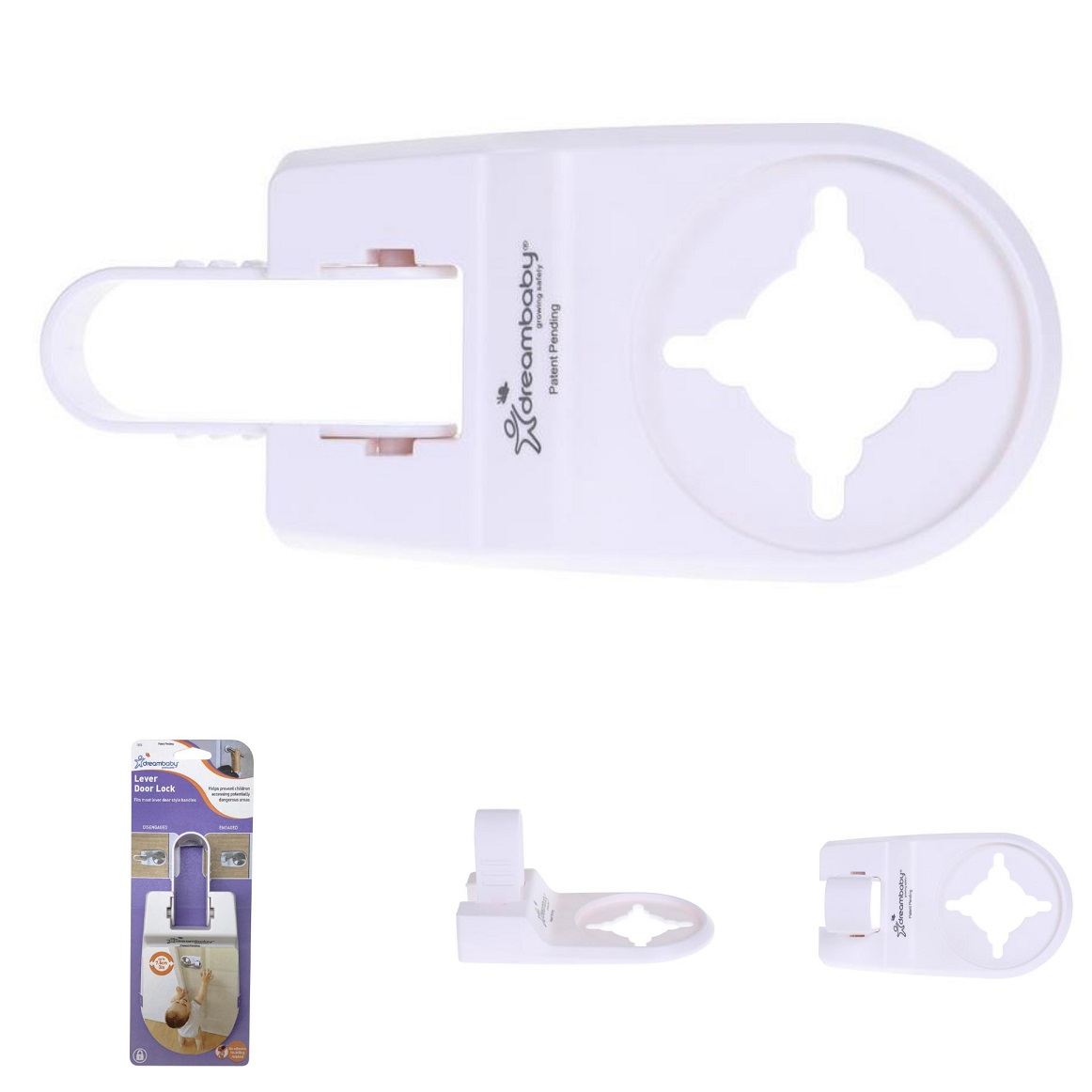 The Dreambaby Lever Lock is pretty easy to install (the instructions are pretty thorough) and the concept is simple. When you need the door locked, you swing the 'lock' forward to hold the lever in place. When you need to open, squeeze the locking mechanism to release and push it back so the door lever is free. If you want to learn more on how the product works, there's a video on their website you could check out https://www.dream-baby.com/lever-door-lock.html.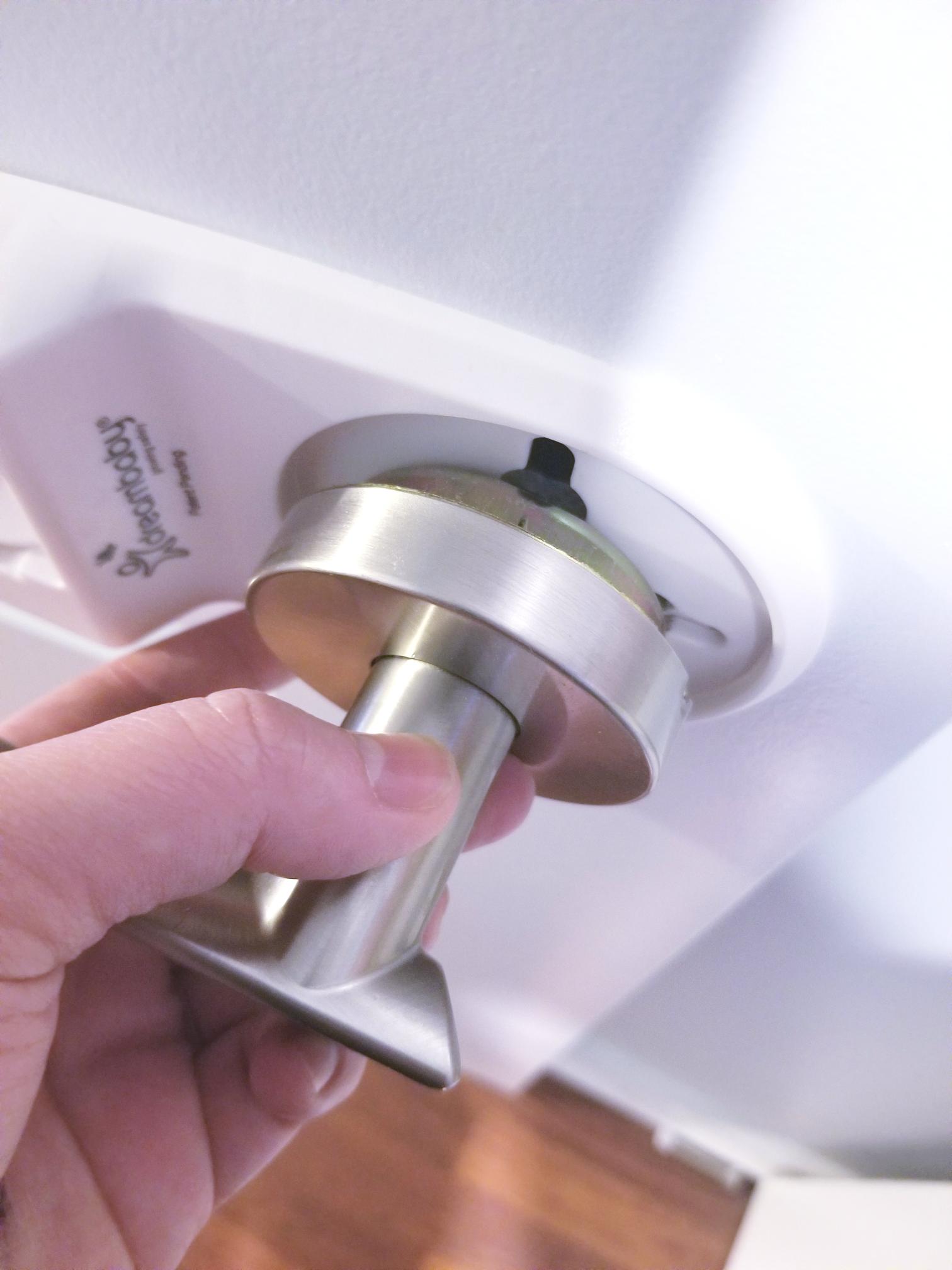 When I tried installing the device, I realized it only worked on one side and not the other because the door knob has a protruding piece on one side (see photo above). I am not very experienced with doorknobs so I am not sure if there was a way to flip the whole system. I needed the lock to be on the outside so I could lock my child inside at night when they are out of the cribs. As a result, I was unable to fully test out the product.
The Pouch Pal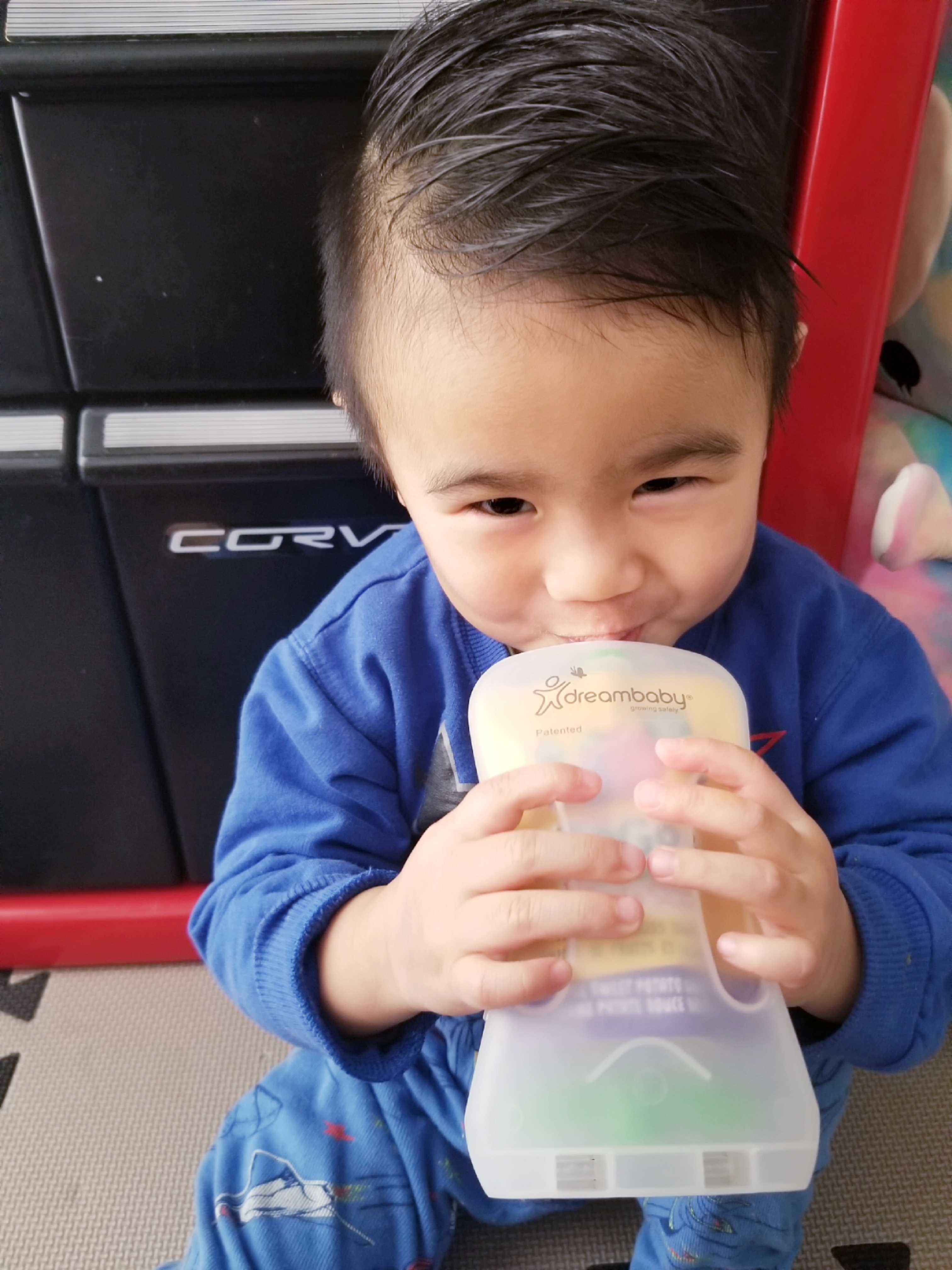 I am sure all parents who used pouches before experienced the pouch-spill one time or another when you pass a newly opened pouch to your child and they squeezed before they have the straw in their mouths. Both Tristan and Amber are HANGRY children with AGREESSIVE grabs so the pouch-spill happens almost every time. The Pouch Pal definitely saved a lot of my kid's clothes, and the little added feature to store the cap was an added plus especially for kids who don't finish their pouches in one sitting (definitely not my kids!). That being said, the Pouch Pal does make it harder to push the last few squeezes to the top, so I find it most effective when your child is learning how to use a straw and experimenting with their grips, but not so much when they are older.

GIVEAWAY – March 4 – March 10, 11:59 EST
Dreambaby and Petitevieblog has teamed up to give one lucky winner a package of Dreambaby products!
HOW TO ENTER:
Follow @dreambabysafety and @petitevieblog
Tag a friend on Instagram (multiple entries are ok!)
Only open to Canada and US
GOOD LUCK!
Thanks so much for reading!