Hi Everyone,
Man! I feel like I JUST did my Baby Month 7 update! You read about it here. Time is flying!! Someone make it stop? I've been very diligent with my Montessori learning with my daughter (Tang Tang). So what have I been doing this past month?
Christmas 2017
That has been the highlight! It's her first Christmas and it has been SO MUCH fun! Even though she had no idea what is going on, but she was so tired from all the parties and people surrounding her she pretty much slept REALLY well throughout the Christmas break!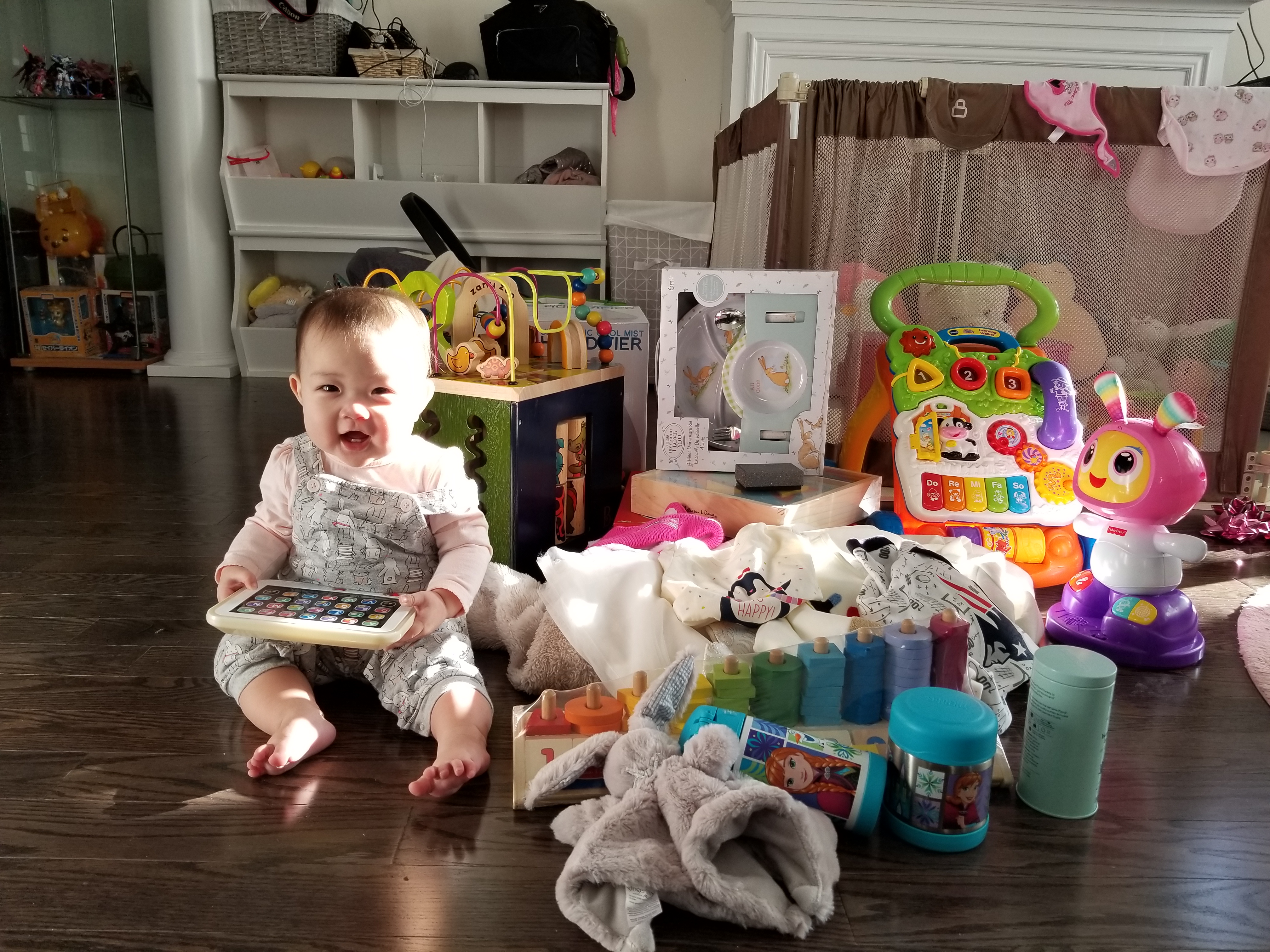 Just look at ALL her toys! Who wouldn't be happy?!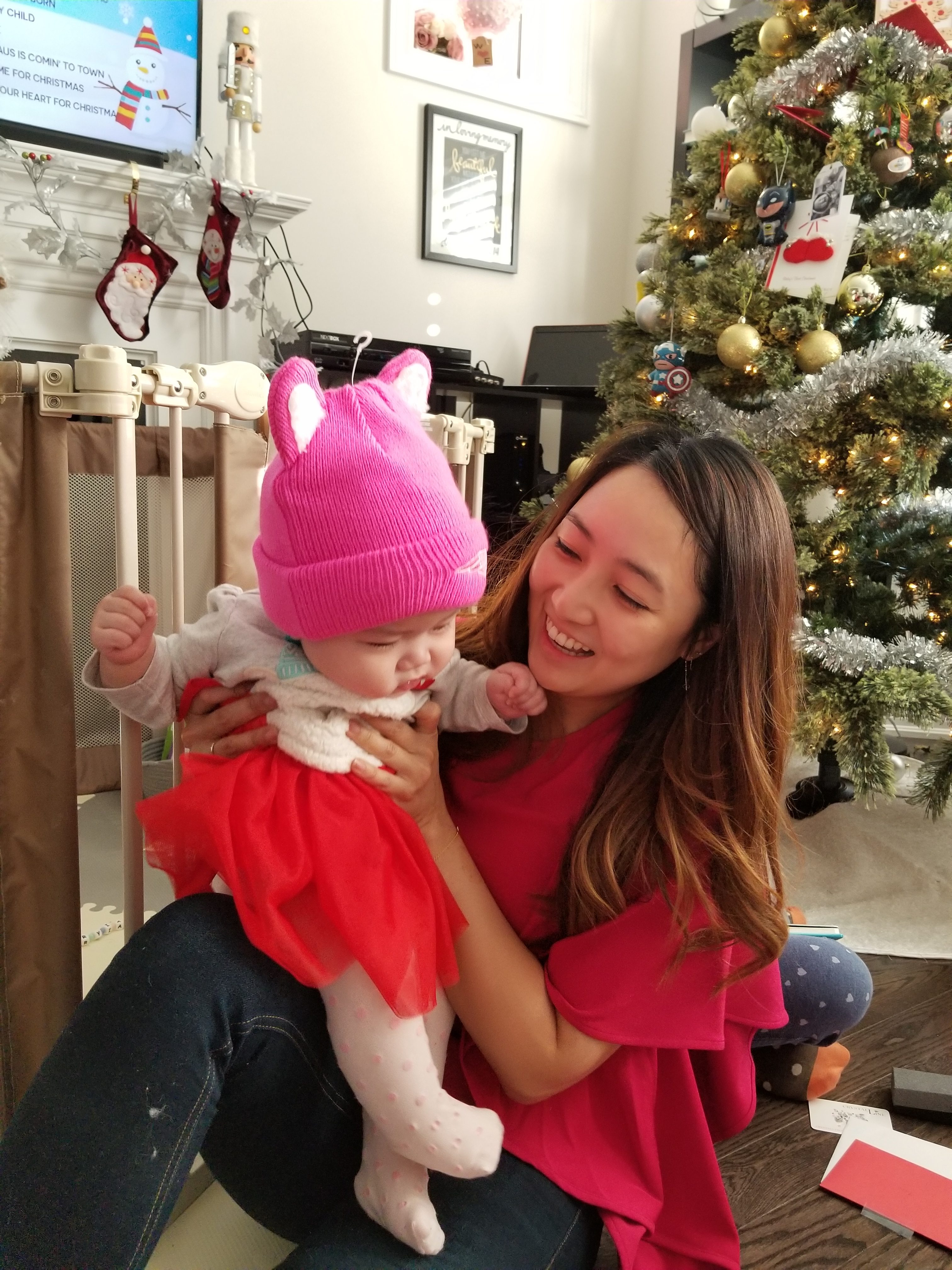 Christmas came and gone so fast. I'm so sad it's over, we had so much fun.
Sick Baby
She was sick for a good week, then I got sick, then my husband got sick. You can read the blog post here about how we survived! I didn't know it then, but when I took her 7 month photoshoot, that was the start of her being sick! She woke up with SUPER rosy cheeks…. so for those new parents, that's a sign!!!! I thought she was just having an allergic reaction -,-.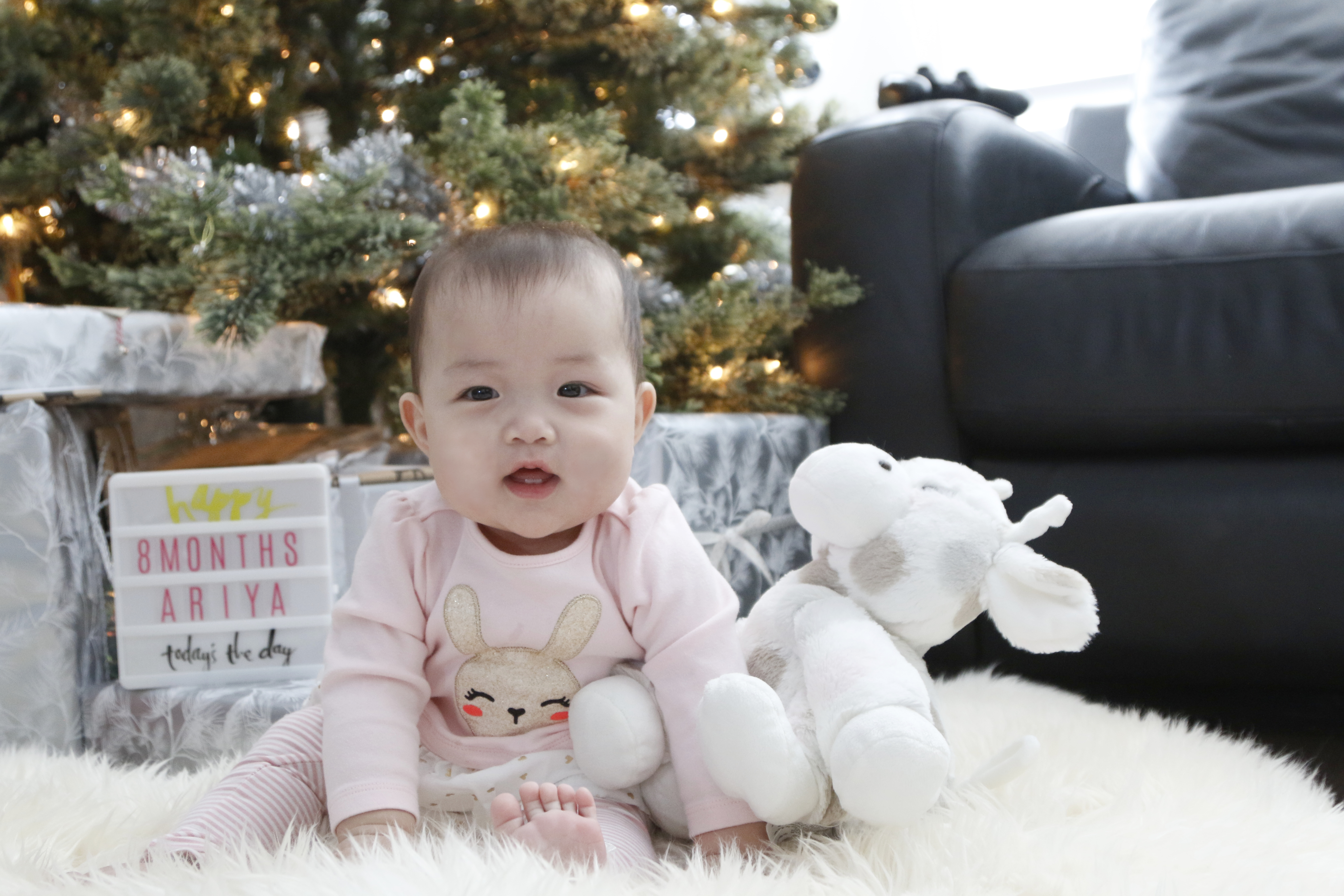 Total of THREE teeth
It's actually REALLY exciting and SUPER cute when she smiles, her three little teeth are just so precious! I'm going to make sure we take great care of them when all of her beautiful teeth have come through by going to a dentist like Dentist Houston, so I know they will be well looked after! They are so white and so perfect! I want to kiss her all day long. A lot of people don't take good enough care of babies milk teeth because they think they are just going to lose them anyway. Actually, it's really important that you take them to surgeries like this Dentist in Framingham to make sure they are developing properly! So many of you asked me how can you tell when she's teething? Oh, you will know!! When she's pretty much cranky the whole day and not her usual self. She's always been a good sleep and pretty on routine. But when she's teething, takes me 30 mins to 45 mins to put her to sleep because her poor tooth is coming out. The camilia seems to work really well for me, I usually would just give her one before she sleeps and she will eventually sleep through the night. It's putting her to sleep that takes a long time. It's no wonder that some women really push on sleep training for babies, if you can get them to go to sleep straight away, then that's great for you! You don't have to spend hours trying to get them to sleep.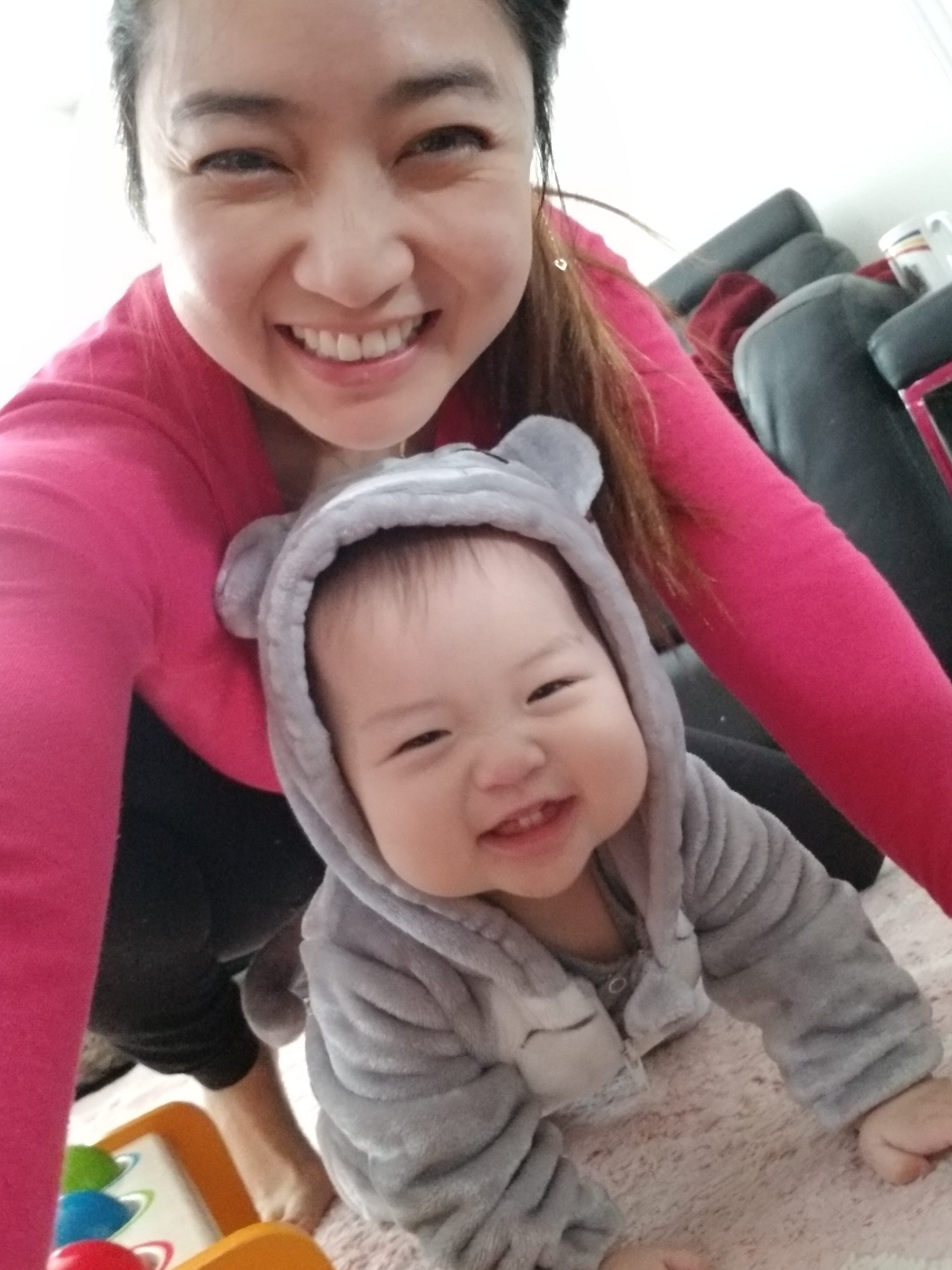 For those want a no teeth smile, here it is! (Well, you can see the little teeth starting to come out, this was at month 6). What a gorgeous Gummy smile she has!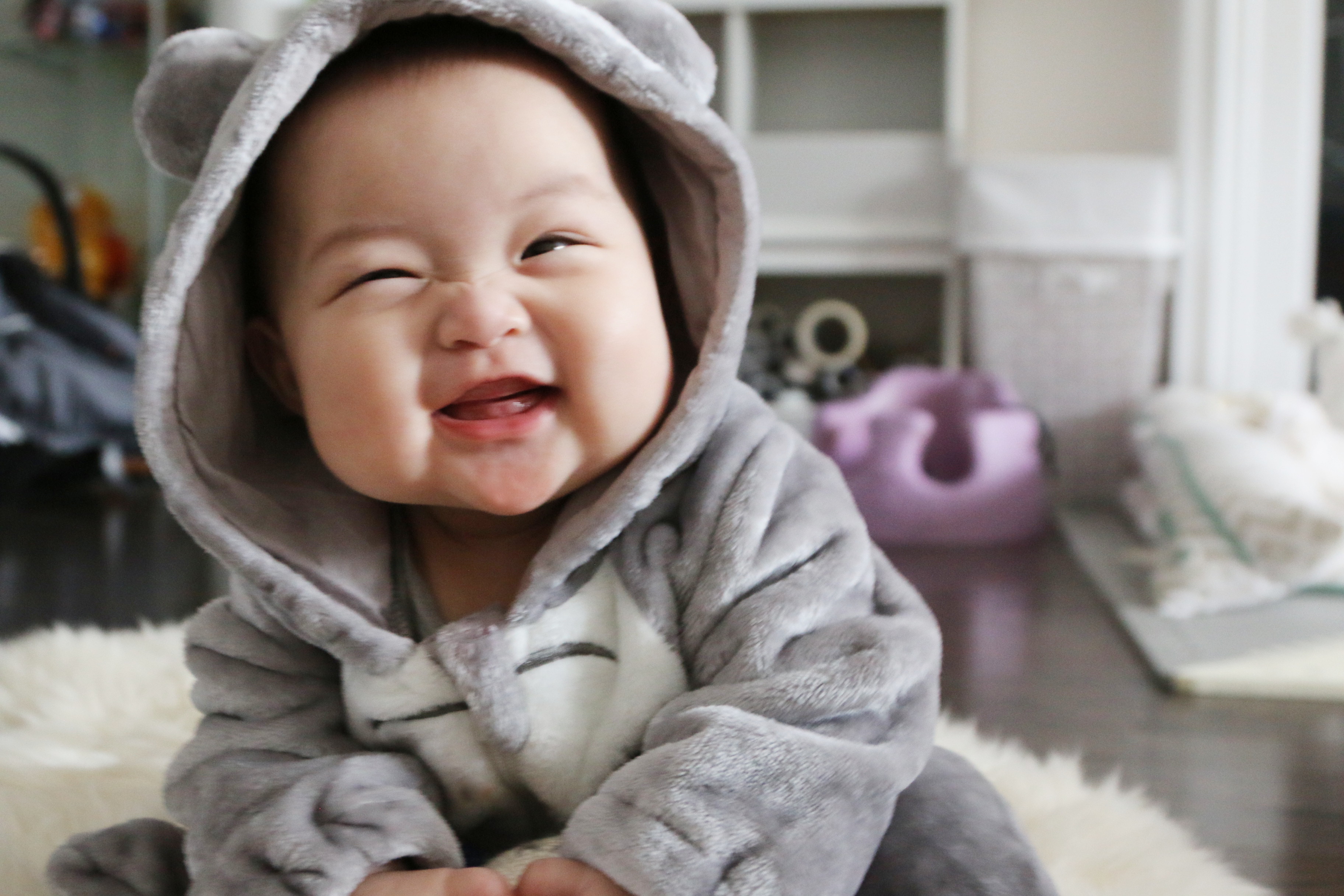 Montessori Learning
I know! I've been hinting that I'll be blogging about this since month 4. I WILL! I promise I will leave that for my next post! I promise!!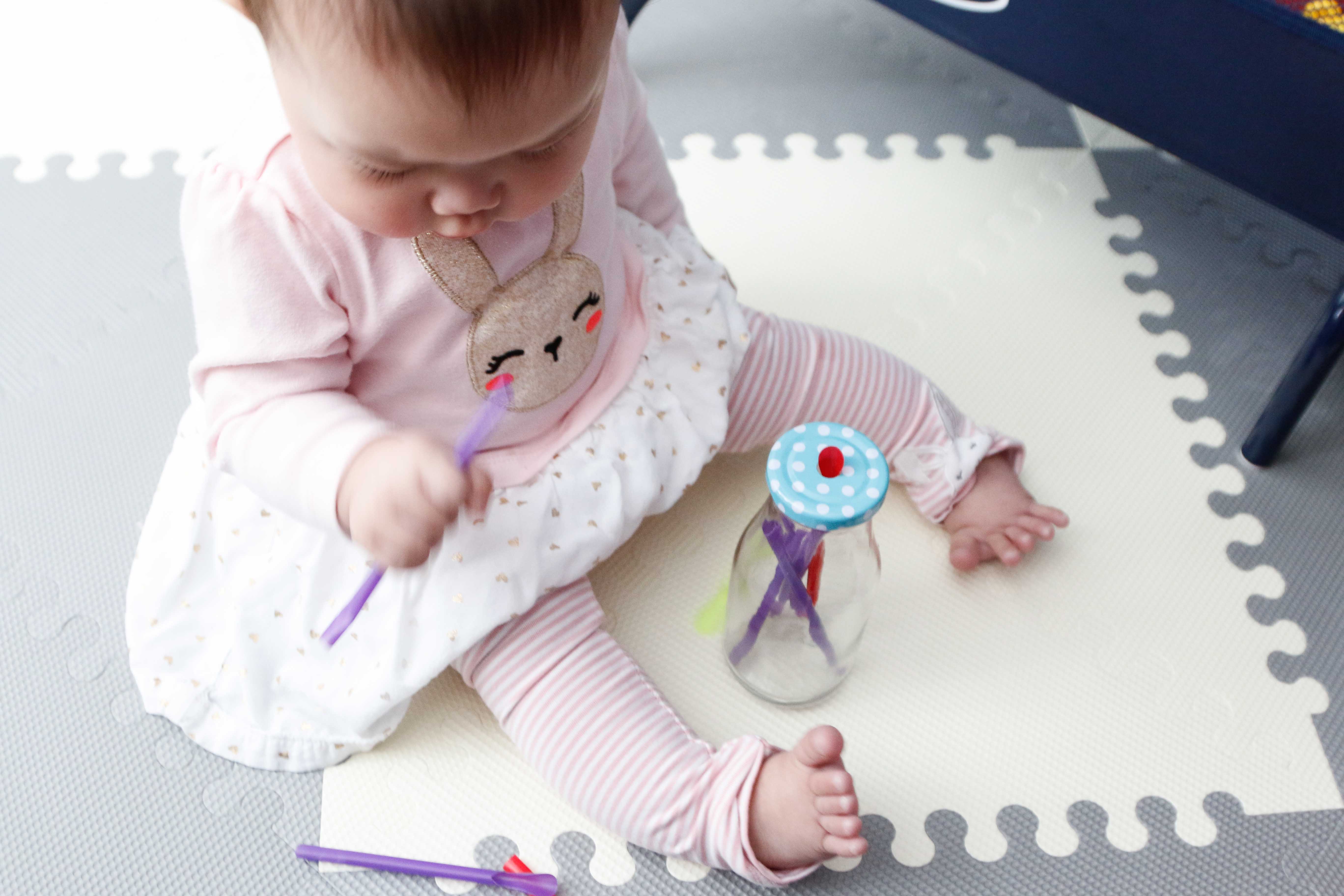 Baby Led Weaning Update – Eating by Herself
Every since month 1, I've been training her to hold her own bottle – by month 4 she can hold her own bottle (trust me, makes your life easier!) I also started with Baby Led Weaning at month 5, you can read the post here.
At 8 months, she currently had the following :
Tomatoes
Avacado
Carrots
Whole Wheat Organic Bread
Banana
Pears
Strawberries
Chicken Breast
Beef
Turkey
Ghee
Yam
Broccoli
Sweet Potatoes
Squash
Rice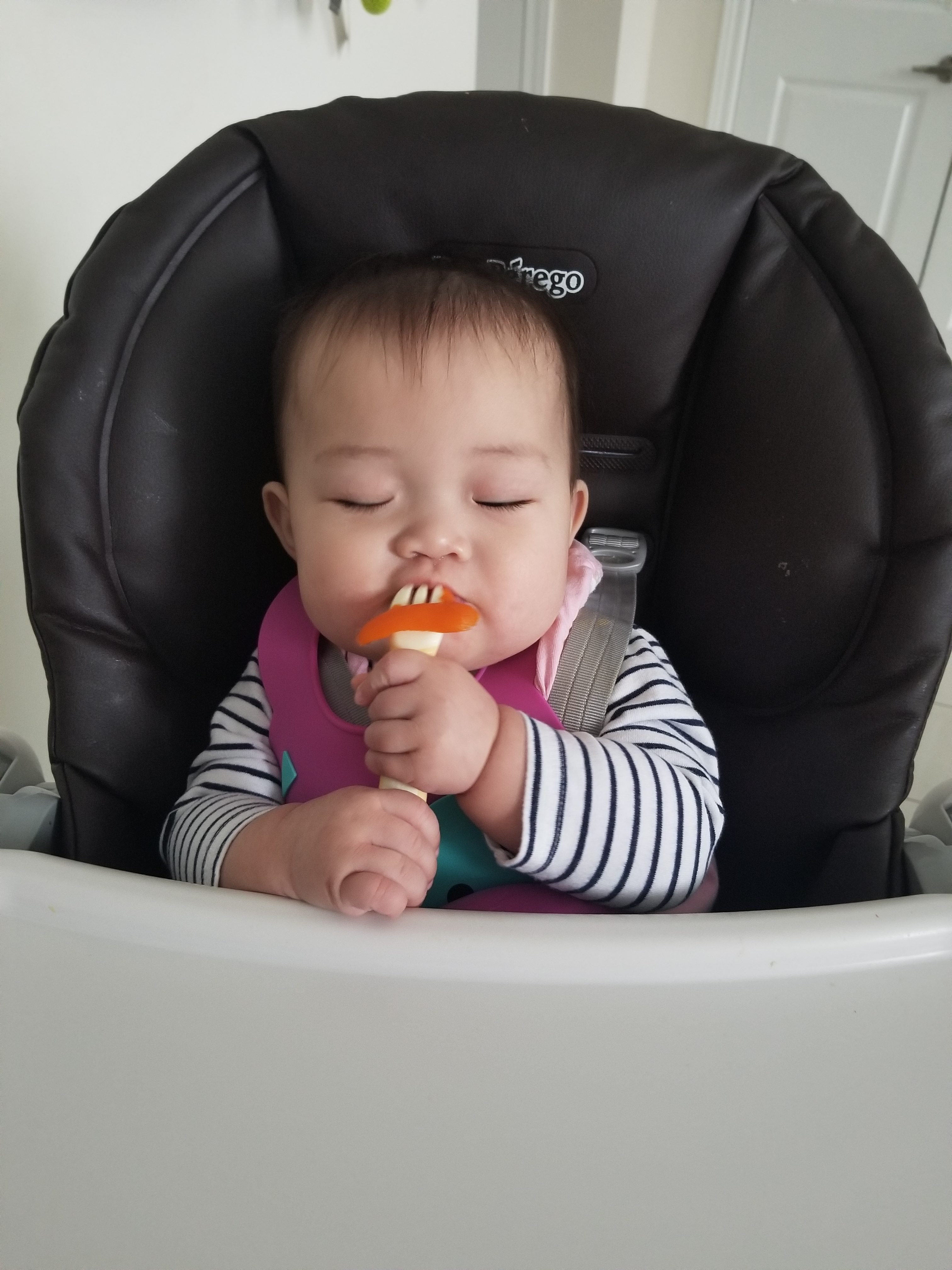 Yes, at 8 months I finally got her to hold a fork!!! I am so proud of her. Of course, she can't poke the food yet, but she is learning to not eat with her hands anymore (and yes LESS cleaning for me!) I would poke the food for her, and hand it to her, she then will grab the fork from my hand and put it in her mouth.
I am also in the progress of her drinking from a cup. Yes, an actual cup. I have a sippy cup, but she actually hates that thing, I have no idea why. But when I give her a cup. She is starting to hold it and drink it by herself. I'm still in the process of mastering this without changing her entire outfit because she pours it on herself. Hahah yes! This happened a few times.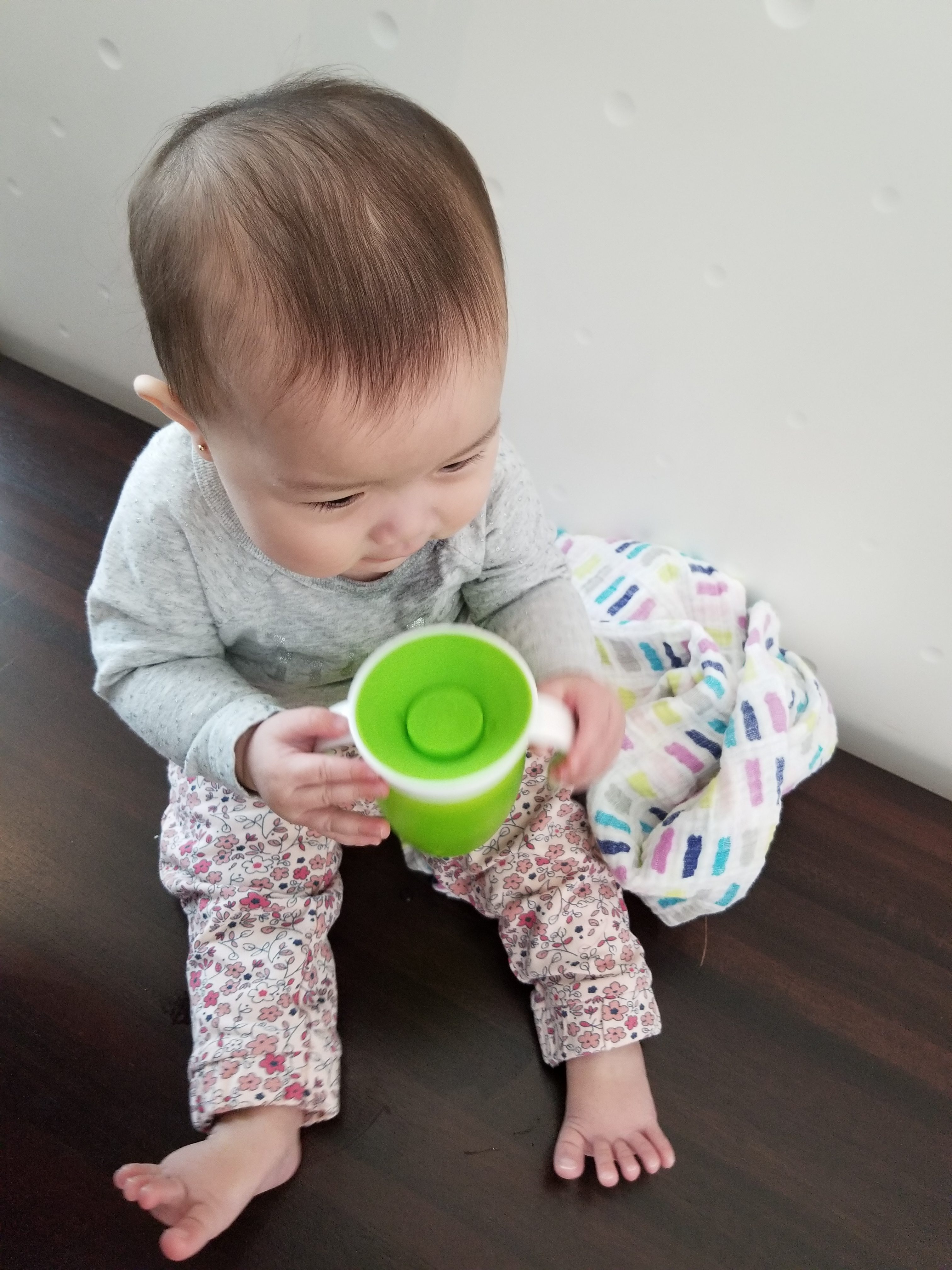 I don't have a picture of her with an actual cup, so I dug out this old one. I started her with this, and she hated the cup, or she hated the green. Who knows?! But she likes an actual cup so much better.
Self Care
WELL. Remember how she got sick, and I got sick, and my husband got sick? There was ZERO self care. I was just trying to survive. I'm now trying to get back into my routine. Oh, it's so hard. I was doing my ab work out for a good 3 weeks then since the sickness. Everything stopped. So, here I am trying to get back it again….. after I recover from my second cold….
So I guess the message is that, don't give up! I'm still trying to get back to my pre-preggo size. Without the extra layer of flab. It's funny because I am STILL not wearing an actual bra…. It's just so uncomfortable for me now!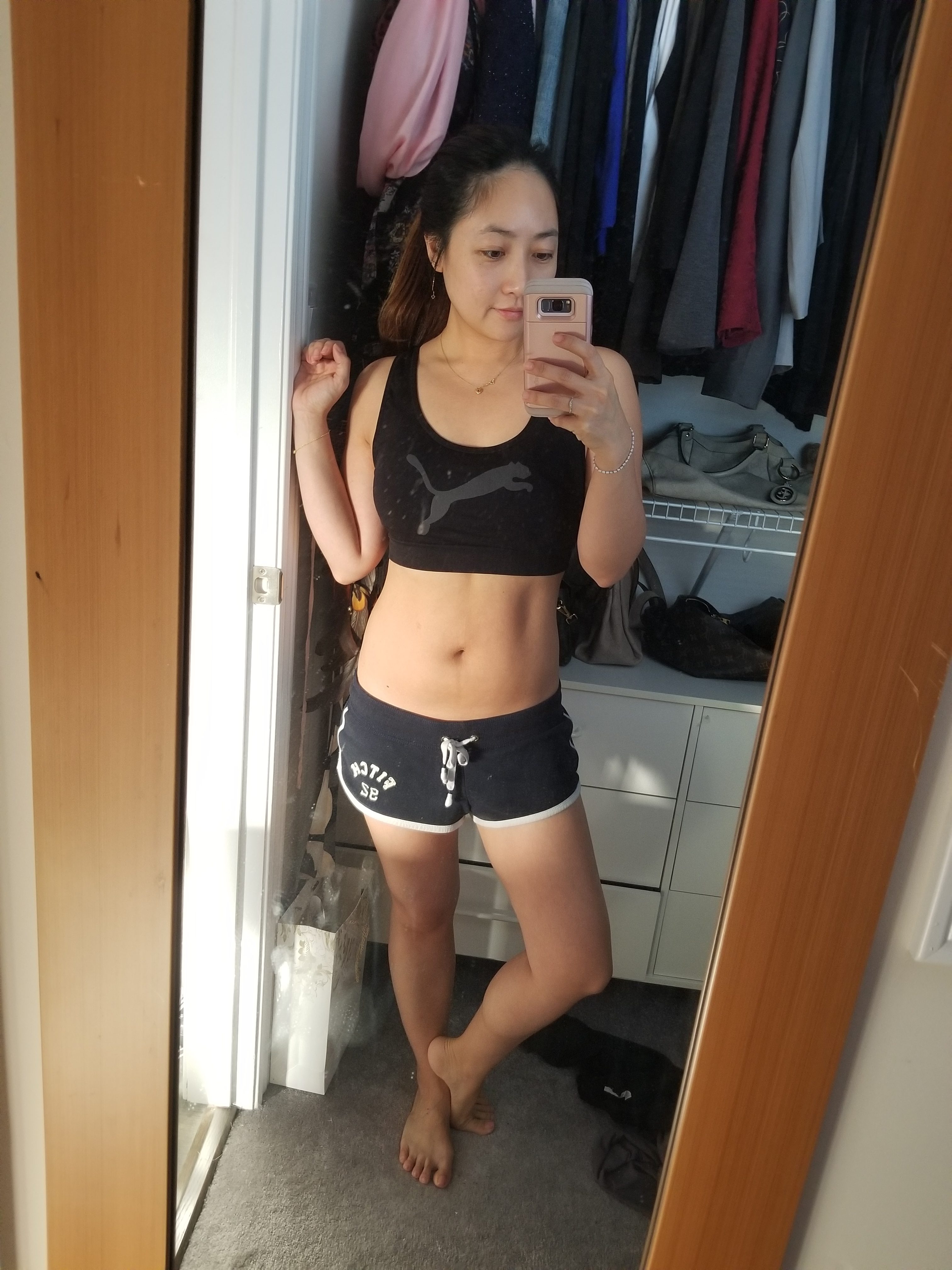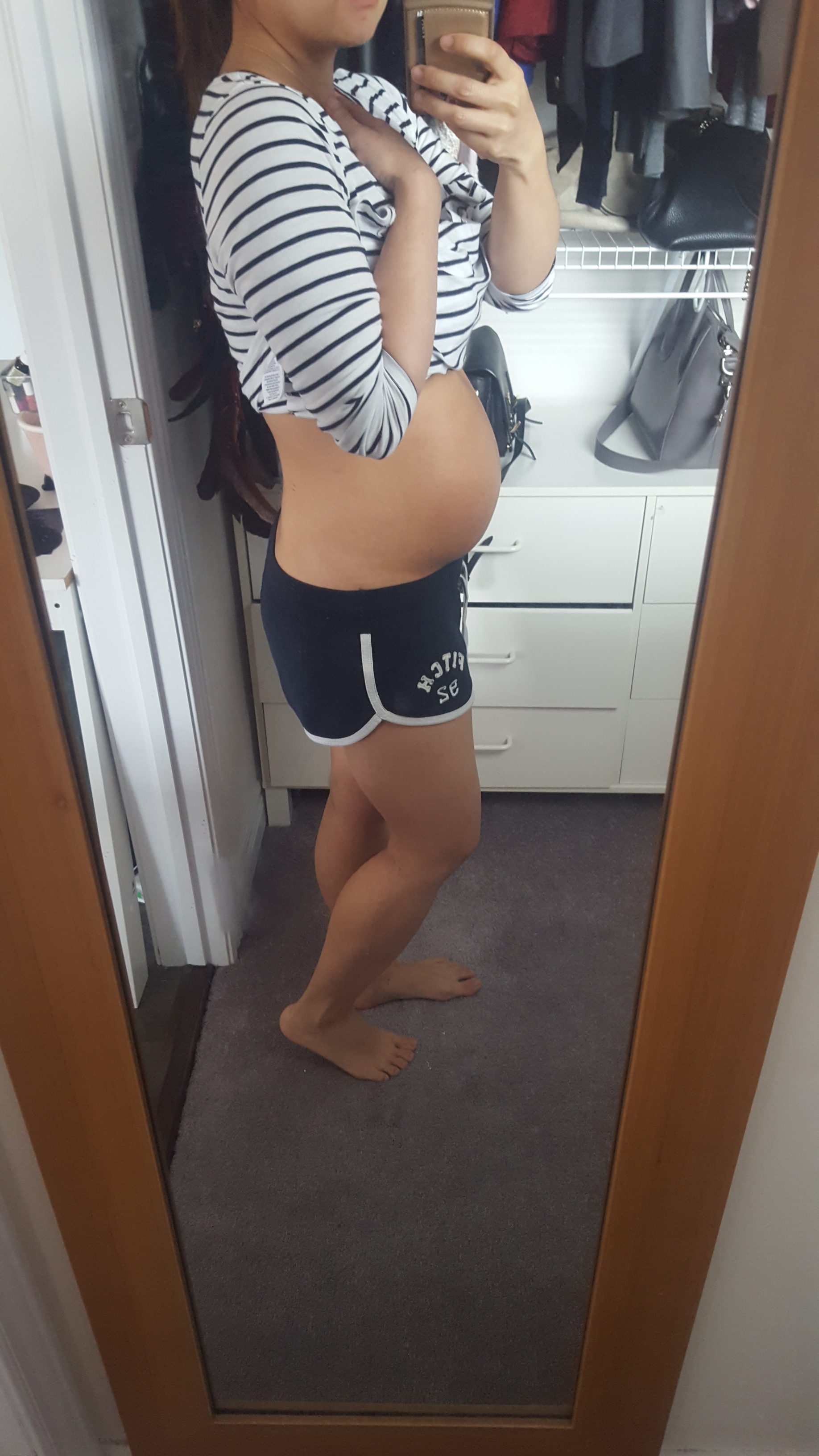 Compare to 1 day after postpartum. It amazes me how the body can really readjust. I thought my stomach will never go back to the way it was. I still have that extra layer of fat that seem to want to stay! But, then again i'm not working out as hard I used to when I was working. Time to get my motivation up again!! It's just soooooo hard.
Well, that's all the update I have for the 8 month update! Hope everyone is doing well and I will be back for a Montessori Update!!!
Thanks so much for reading,