Hi Everyone,
I almost forgot to do a month 4 update and skip right to month 5! I'm usually a month behind on baby updates and my baby is going to be 5 months in a few days! But first, let me update on month 4.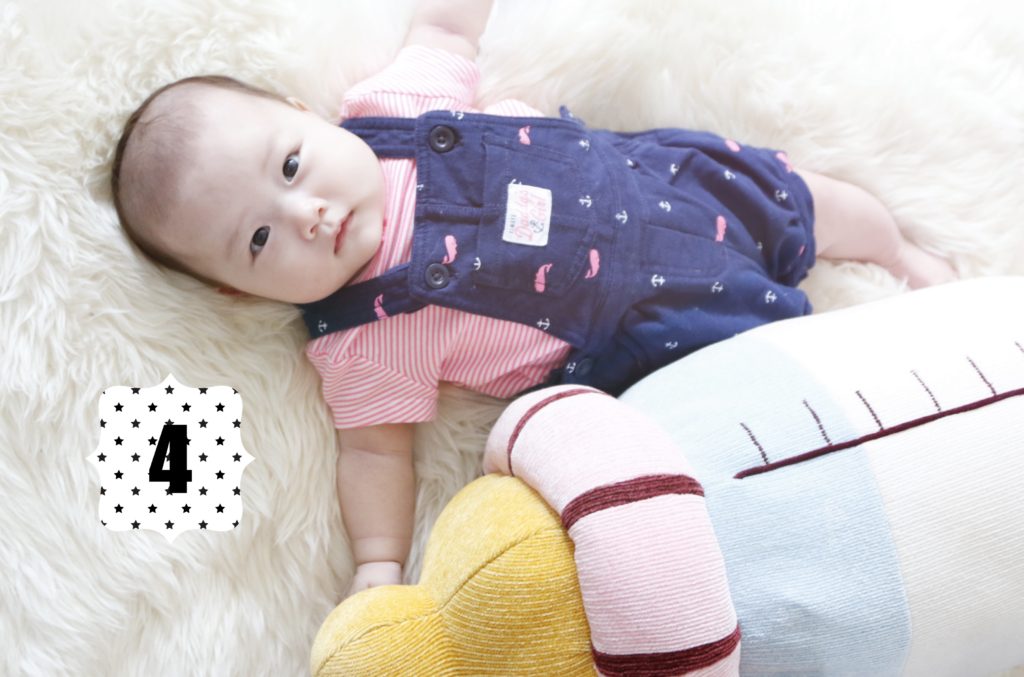 I was really really terrified of this month because EVERYONE keeps telling me this is the 4-month sleep regression. So I embraced myself and prepare for the worse….. and month 4 came and gone. She slept rather normal her usual 12-13 hours a sleep and 3 naps a day (they are shorter)… then BAM month 5 she just turned into a little monster that won't sleep (I will get in this on my next update).
We decided a few months ago that we were going to take her to our first family trip to Hawaii for a wedding. I was SUPER nervous. Even though she's a really good sleeper and eater, but you just never know about these things! The temperature, the environment… I pretty much wanted to wrap her up in a bubble and board the plane.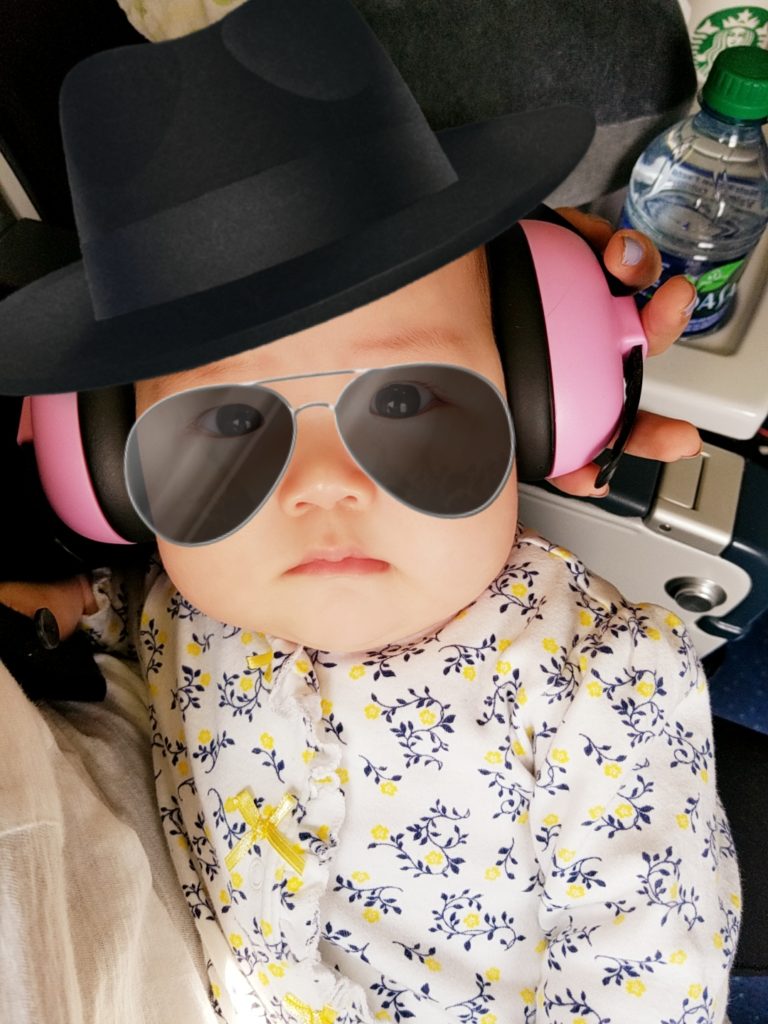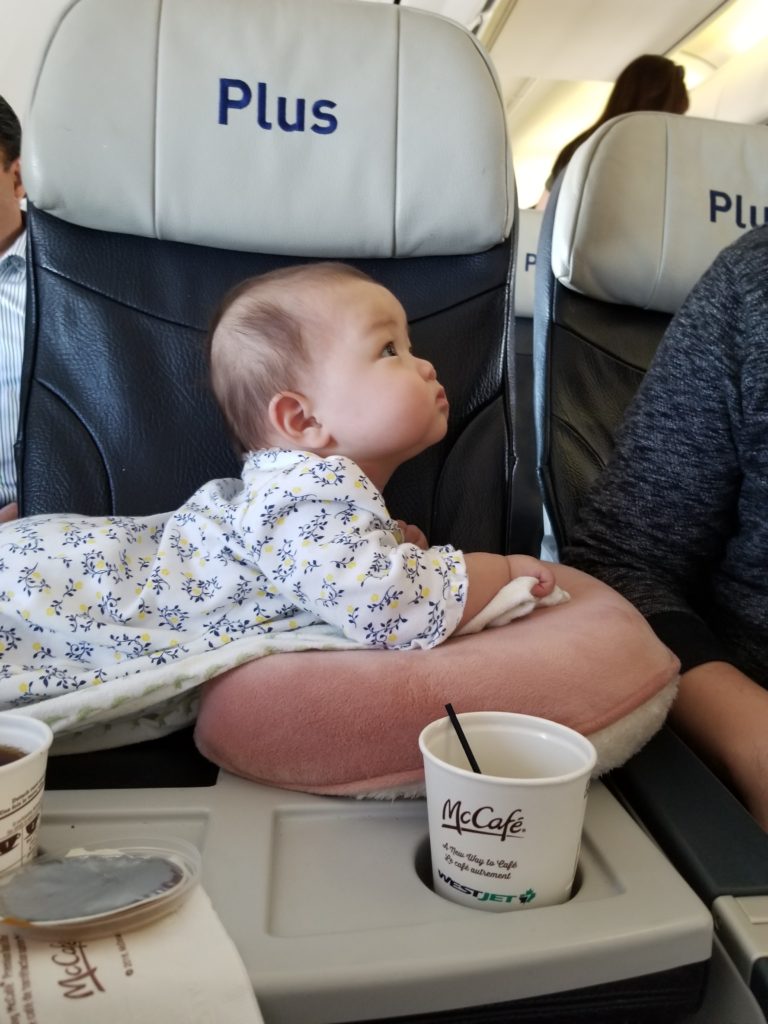 I ended up putting her in a sleeper which covered almost all of her skin. I did eventually put a hat on her as well.
What I packed for our 10 days trip
So, I started packing for this trip a month in advance. Yes, I was that paranoid. I was scared something will go wrong and I won't be prepared. I was googling online how other mothers took their infant on their first plane ride and how they survived. Here's a list of what I packed for our 10 days trip. Note: I am OCD and need to overpack, but I will clarify what I actually used.
Carry-on Suitcase 
Our carry on (I was scared the luggage might get lost or delayed and didn't want to stress if we don't get our luggage, so I packed ALL her stuff onto the carry on)
6 sleepers onesies
5 bodysuits
11 outfits
2 swim bathing suits
1 blanket
4 Swaddlers
1 full sleeve of diapers
2 sweaters
2 sunglasses (ok, really 1 was enough – but the other one was too cute!)
2 sun hats (again, 1 was enough… but the other was also too cute!!)
5 bibs
6 face towels
2 bath towels
12 bottles of formula
2 empty bottles
50 bottle liners
4 bottle nipples
Emergency Kit (Nose nasal kit, baby Tylenol, q-tips, baby shampoo, baby body wash, baby powder, baby lotion, temperature reader, A&D cream)
Bottle soap
Inflatable bathtub
1 pack of baby wipes
**Keep in mind, I breast pump so for those mothers who breastfeed, you won't need to worry about bottles, liners, nipples, formula, or bottle soap.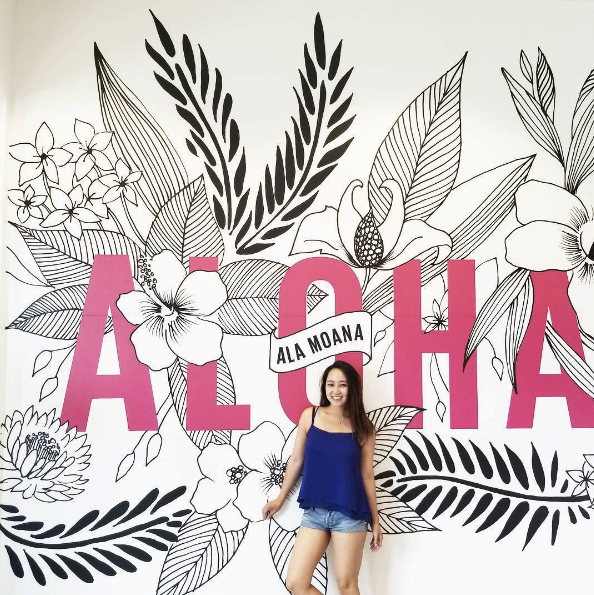 BackPack/Diaper Bag 
Oh yes, I had an emergency supply in my backpack as well! It was going to be a LONG flight! (11 hours + 2 hours layover)
1 bottle
10 liners
1 outfit change for baby
1 outfit change for me (just in case)
baby noise canceling headphones
2 bottles of formula (just in case I can't pump)
1 bib
1 hat
1 face towel
15 diapers
1 pack of baby wipes
** I would STRONGLY suggest pack more than 1 bib and 1 face towel. My baby drooled like there's no tomorrow, she began to have milk rash on her face!
** Also pack a blanket on the plane. It was so cold! Even when my baby was in our sleepers.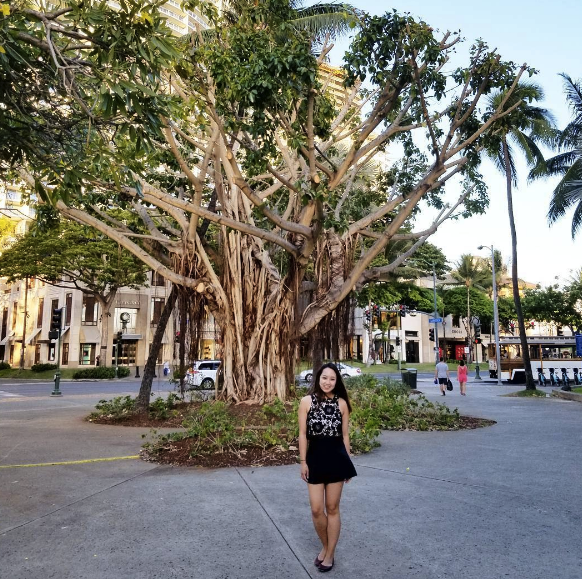 What I purchased before going on the trip (SO WORTH IT!!!)
Sun cover for the stroller.
Oh this was a life saver. Hawaii was SUN SUN SUN SUN. I didn't want her skin to touch sun AT ALL. So I purchased this just to cover her stroller when we were out. This was worth EVERY penny. It kept her shaded and it was breathable too.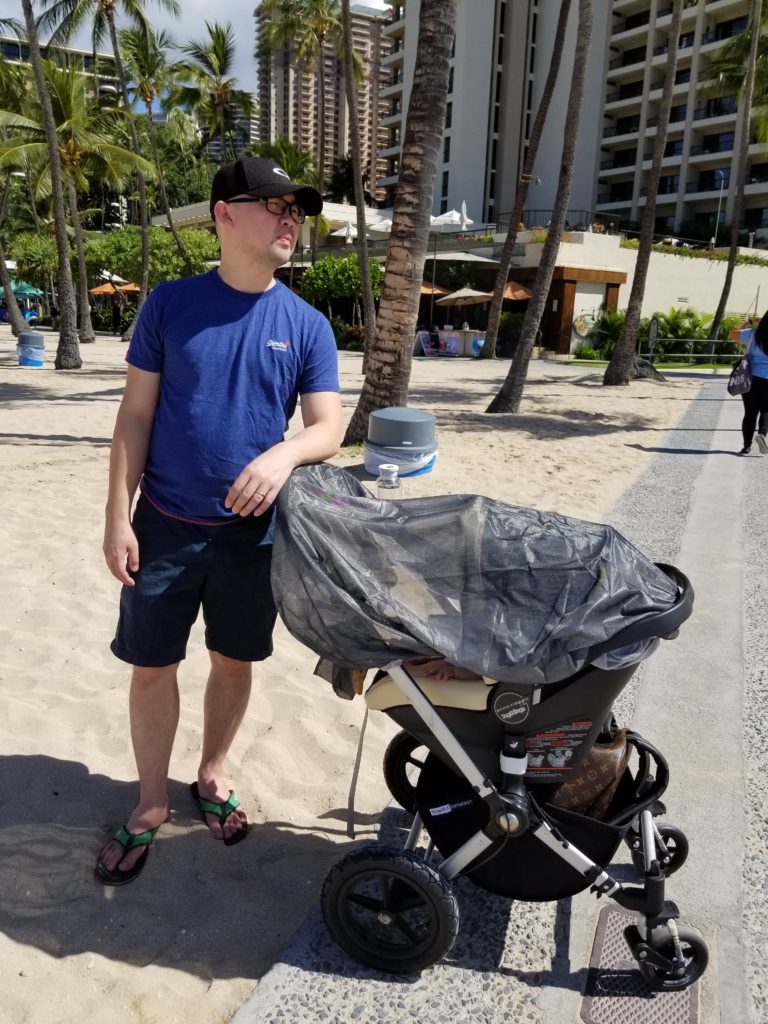 You can purchase it here
Baby inflatable bathtub 
I didn't want her to bath in the hotel bathtub, so I purchased the inflatable duckie tub. SO SO SO worth it. She loved being in it and it was clean!! We even brought this to the beach on the last day too!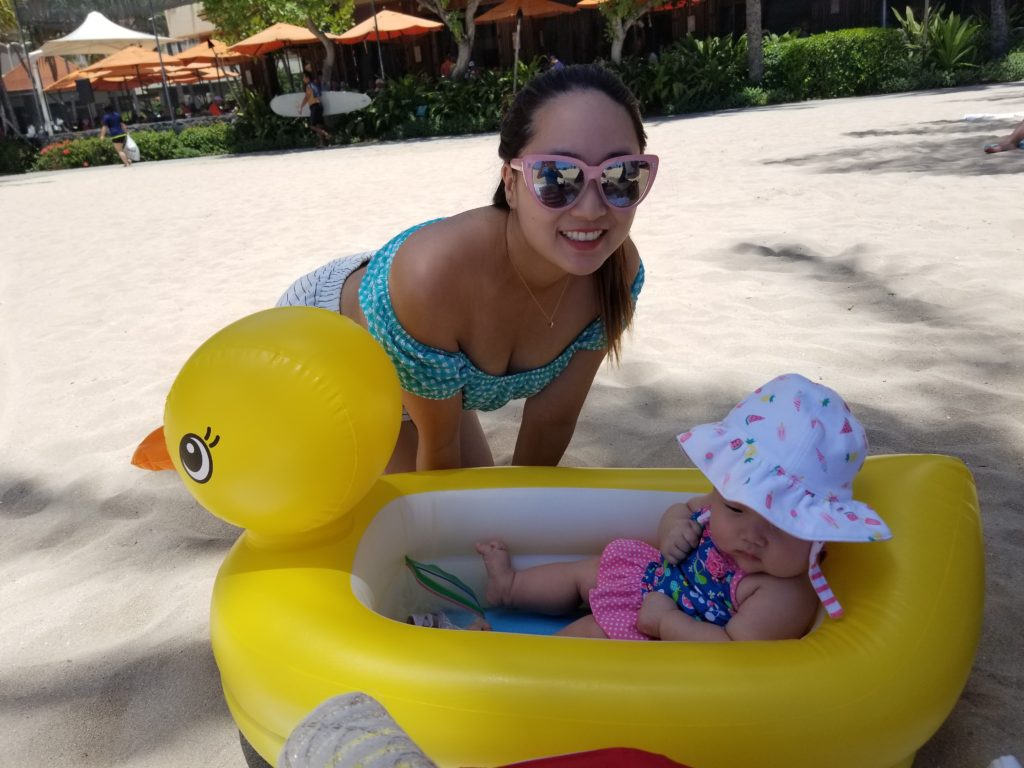 You can purchase it here
Baby Banz Noise canceling headphones
Her godfather bought these for her on the trip. They worked really well on the flight. I didn't want her to listen to the rumbling noise for 10 hours. We were lucky enough to be at the front of the plane, so it wasn't that noisy compare the back of the plane.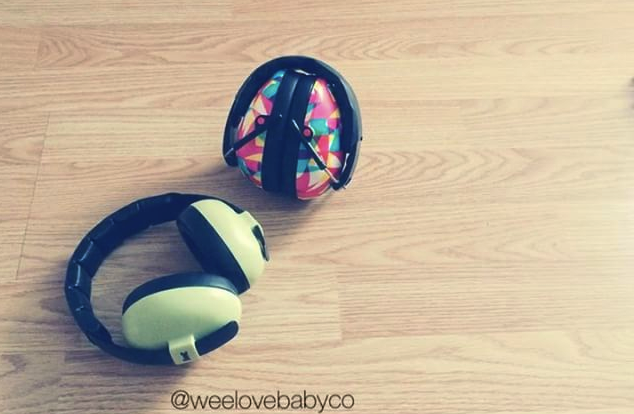 You can purchase them here
Dresses, dressess, dressess
Ok, this is really just for me. I wanted her to be in dresses in Hawaii – so I purchased enough outfit for the entire 10 days trip. And I'm glad I did!! Because now I have pictures of her in every single outfit I bought her. This is of course just for me and my photography albums (which by the way I have 4 already). Baby girl clothing are just too cute!!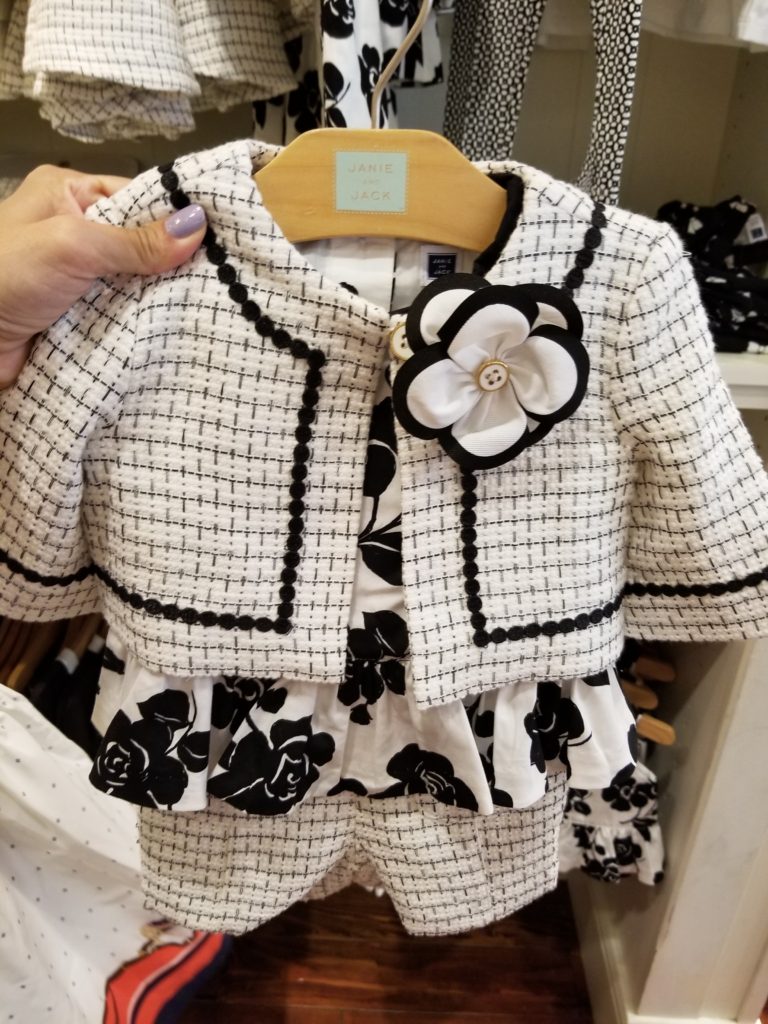 We actually packed just enough for the trip! My husband was paranoid because we were running out of formula (I didn't pump as often because we were out all the time) and diapers so we went to wallgreens to purchase some more. But to be honest, we actually didn't need it because my calculation was right! Just enough to last us home.
Bottle Liners 
This was recommended by Christine and I'm SO glad I bought these. I didn't want to bring so many bottles with me and these liners are such a great help. Simply pour the milk in, after you are done just throw them out! I brought extra nipples with me so I just changed them after each feed. Ta da! Brand new bottle!
You can purchase them here
Some tips for flying with your infant.
Try to check in early! We arrived 3 hours prior to take off (I just didn't want to stress, I rather be early than late) I really wanted to pack light…. but it just wasn't possible because of the formula and I knew I'm going to want to shop (which I'm GLAD we ended up bringing two check in suitcases. So here's what we brought:
Car Seat
Stroller
2 checked bags
1 carry on
2 backpacks
1 Dockatot (stuffed inside the checked bag)
I was scared we wouldn't be able to carry so much stuff with us, but it turned out fine. That's what cars are for. We requested a van from the airport to the hotel.
2. Board when they announce travelers with infants under age of 5 to board first. We had a stroller and car seat which needs to be folded and bagged at the gate, so we really could use that extra 10 minutes.
3. Take the window seat! My baby was so distracted when she was at the aisle she could't stop looking around and won't sleep!! Once we faced her towards the window, she was a much better sleeper.
4. We were REALLY lucky there was no big poo poo. I was prepared!!!! But she didn't poo at all, just pee pee. Changing in the bathroom was no joke. If you were any bigger it's soooooo tight in there. It works, but it was SUPER tight in there and the pressure at the back of the plane was no joke, you can really tell the difference with the noise level at the front of the plane compare to the back of the plane.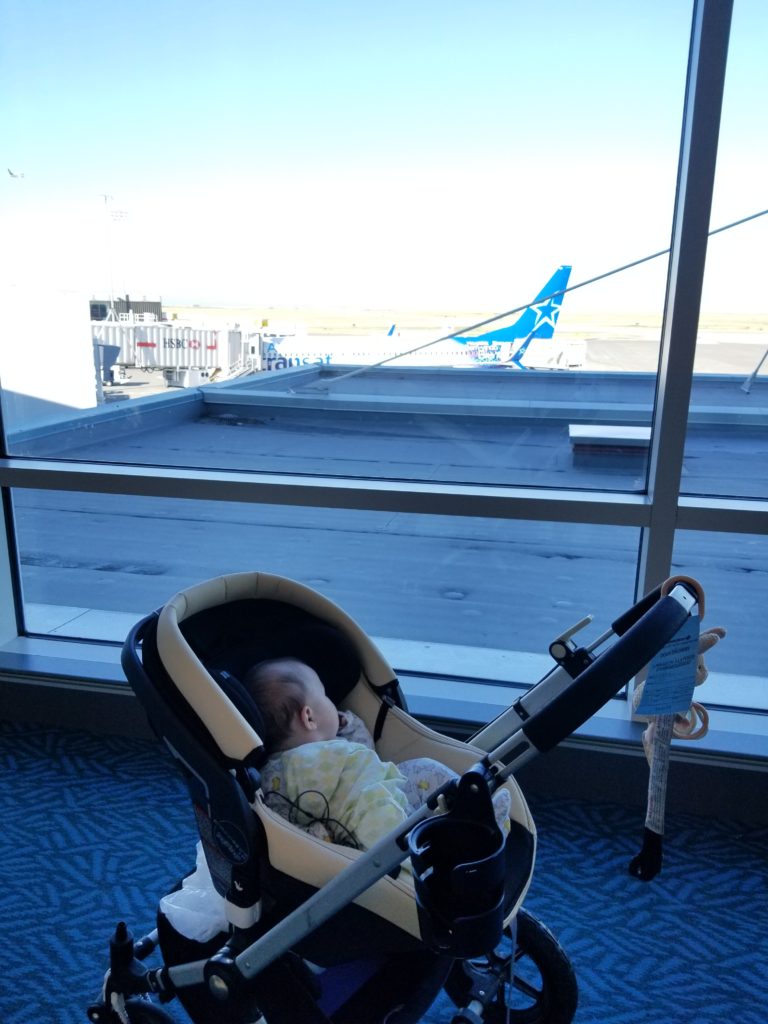 We survived our first family trip and I'll do it again! We had soooooooooooo much fun with her. It was different from just traveling only or with just my husband. But I love every single second with her. We get to spend 24/7 with her, and explore with her even though she has no idea!
In my next post,I'll talk about Hawaii and how we traveled with her during our stay!
Thanks so much for reading,