For all the mommies and mommies to be or well dads too who love shopping! You do not want to miss out this year's mega sale event! Amazon Prime Day. For its annual summer sale event, Amazon offers some serious deals on almost everything throughout its site, including best baby products and gear. This is indeed the best time of the year to stock up on all the baby essentials, small or big.
When is Amazon Prime Day?
Ok, I'm late into the game an this post should had really gone up YESTERDAY at 3PM. But ugh! I've been so busy and I know  NOT an excuse but hey better late than never right?!
How can YOU get the deal?
To be able to take advantage of the year's major sale event you must be an Amazon Prime member. But don't worry if you are not, you can still be part of the party and what is even better all for free. They have 30 day free trial, so go ahead and sign up and CANCEL ANYTIME. But I bet you won't.  Sign up here! 
What to get?!
There's literally a billion things out there, but here I will list out what I think it's a good deal and you can be the judge. And if i'm missing anything, PLEASE leave me a message and I'll add it here!
P.S. Because I love you all, I've only included Canadian prices and products. For all my Americans readers, my apologies! But I'm so sure – over 50 bloggers out there already covered it! 
My 6 Favourite baby sale ( I own it!)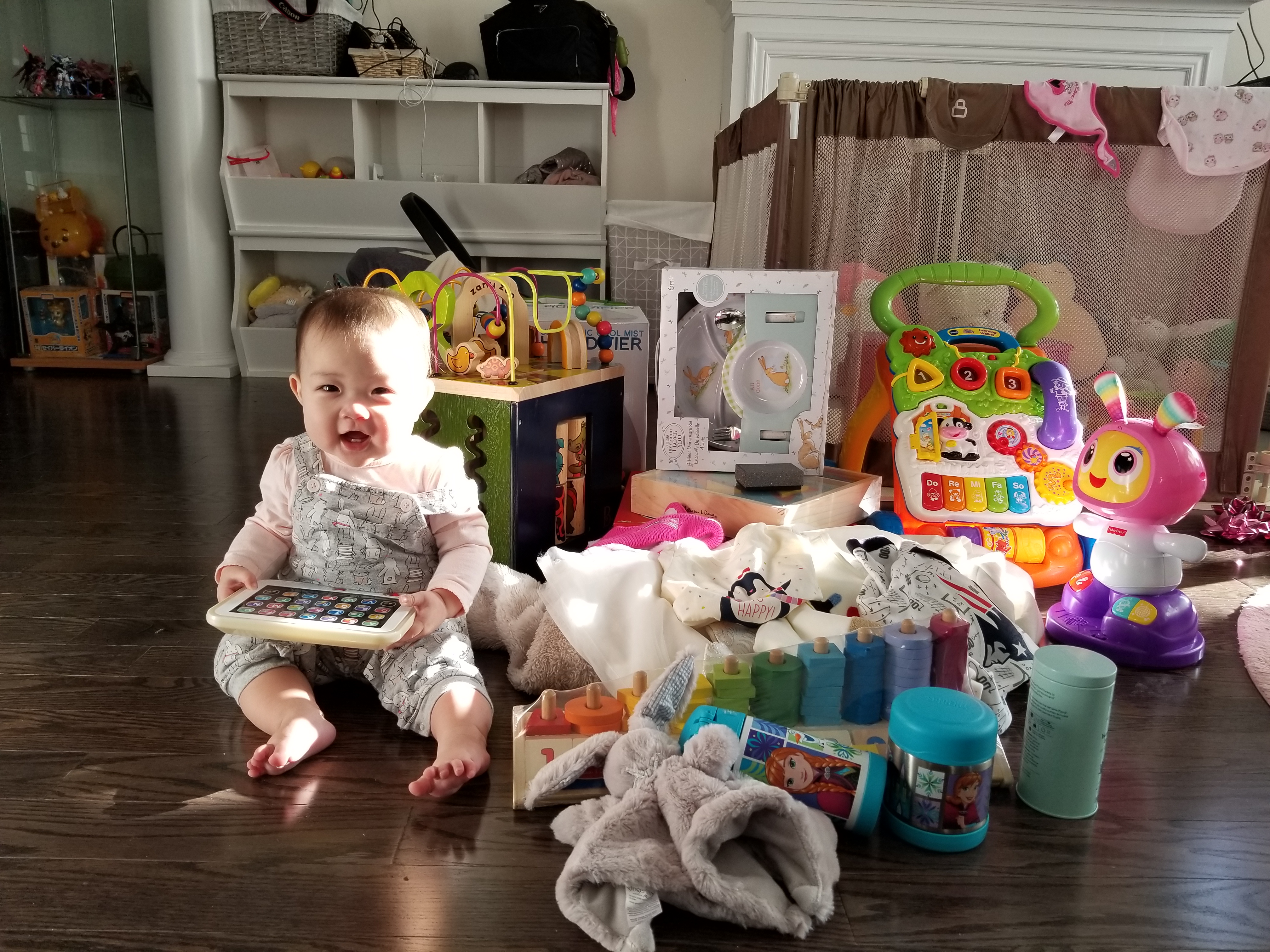 BABY Essentials 
Lansinoh Disposable Nursing Pads, 100-Count -$12.97 (35% savings) 

F

isher-Price

Sweet Snugapuppy Dreams Cradle 'n Swing – $103.99 (51% savings) 
Summer Infant 3D One Convenience Stroller, Flint Gray – $99.97 (41% savings) 
Motorola MBP48 Digital Video Audio Baby Monitor with 5″ Color Screen – $89.81 (55% savings)
Safety 1st Plug Protectors, Pack of 24 – $2.88 (28% savings) 
Moby Bath Spout Cover Universal Fit, Blue – $14.39 (10% savings) 
Safety 1st Grow and Go 3-in-1 Car Seat, Roan – $166.99 (22% savings) 
Nuby Playlinks Teether, 8-Pack – $2.97 (40% savings) 
Safety 1st Smart Sensor Night Light, Pack of 2 – $10.99 (15% savings) 
Moby Bath Tear-Free Waterfall Rinser Bath Cup, Blue – $11.19 (20% savings) 
Summer Infant 27253 Retractable Gate,Black, 1-Pack – $49.99 (50% savings) 
Morpilot Forehead and Ear Thermometer Dual Mode Professional Digital Medical Infrared Thermometer for Adult and Baby-20 Memory Recall Safe and Hygienic,Celsius – $23.99 (20% savings) 
Regalo Baby 2220 Swing Down Extra Long Bedrail (White) – $29.99 (40% savings) 
Boon Lawn Countertop Drying Rack – $29.99 (9% savings) 
Fisher-Price Woodland Friends Space Saver Jumperoo – $45.39 (30% savings) 
Car Seat Protector for Child & Baby Cars Seats, MATCC Auto Seat Protector with Organizer Storage Pocket, Waterproof Non-Slip Car Cover Seat Protector Dog Mat Black – $19.98 (20% savings) 
Tommee Tippee Sippee Cup, Pink and Purple, 10 Ounce, 2 Count – $5.96 ( 34% savings) 
SimpleTaste 3L(0.79 Gal) Ultrasonic Cool Mist Humidifier Aromatherapy Aroma Essential Oil Diffuser with 7 Colors LED Whisper-Quiet – $44.99 
Cosco 03016CDFL Simple Fold Plus High Chair – Black Arrow – $49.98 (29% savings) 
Baby Toys 
Baby Diapers and Wipes 
The Honest Company Disposable diapers, pandas print polybag, newborn, 40 Count – $11.89 (30% savings)
Diaper Bag Multi-Function Waterproof Travel Backpack Nappy Bag for Baby Care with Insulated Pockets, Large Capacity, Durable (Grey) – $41.99 
Baby Feeding 
Munchkin 2 Piece Snack Catcher, Blue/Green – $6.40 (30% savings) 
Munchkin Miracle 360-Degree Trainer Cup, 7 Ounce – $6.39 (20% savings)
Baby Outdoor Play
Summer Infant Pop 'N Play Ultimate Playard, Lime Green – $79.99 (33 savings) 
Intex Kiddie Pool – Kid's Summer Sunset Glow Design – $19.99 (60% savings) 
Other stuff you just want to buy!
Anova Culinary A2.2-120V-US Sous Vide Precision Cooker | Remote Adjustment & Control, Smart Device App Enabled w/Bluetooth, Easy to Clean, Immersion Circulator, 800 Watts (Black)
Lastly, for those who want to take their kids on a field day, why don't you try Amazon tour?: http://amazonfctours.com/tour-an-amazon-fulfillment-center/
Happy Shopping Everyone!