Hi everyone,
Lately I have been experimenting with more natural body products on my face, body and teeth. Some natural products are hit or miss for me, but so far the ones I'm using right now have been great!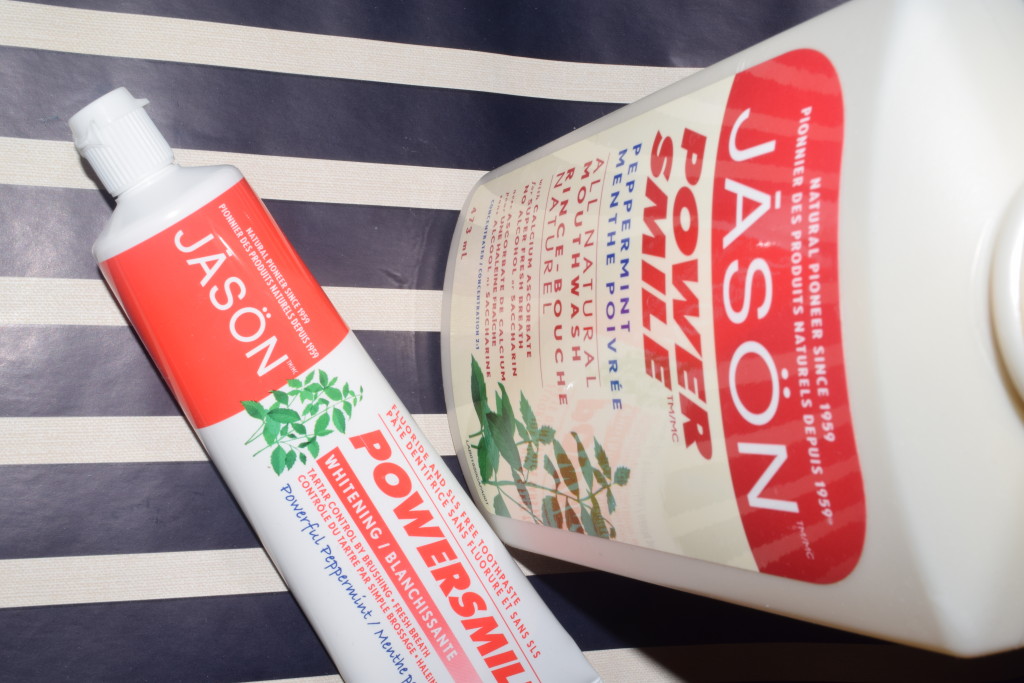 This is the natural brand of Jason Toothpaste that I really like. You have to get the "Power Smile" – the one in the red! I've tried the "Sea Fresh" (the blue one) and it's just not the same. Doesn't leave my breath feeling fresh because there's virtually no taste or scent. I've found that the "Power Smile" has helped to whiten my teeth which I struggled with when I used the regular Crest or Colgate brands. Daily whitening products are great for reducing the effects of staining culprits such as tea, coffee and red wine,  but if more intensive treatment is needed I may consider a home whitening kit or a dental treatment.On my last visit, I also picked up the accompanying "Power Smile" mouthwash. For those just-in-case days when I need a little extra freshness! You can get the toothpaste from Essence of Organics. Whole Foods Market stocks it too but I found them to be a bit pricier in comparison.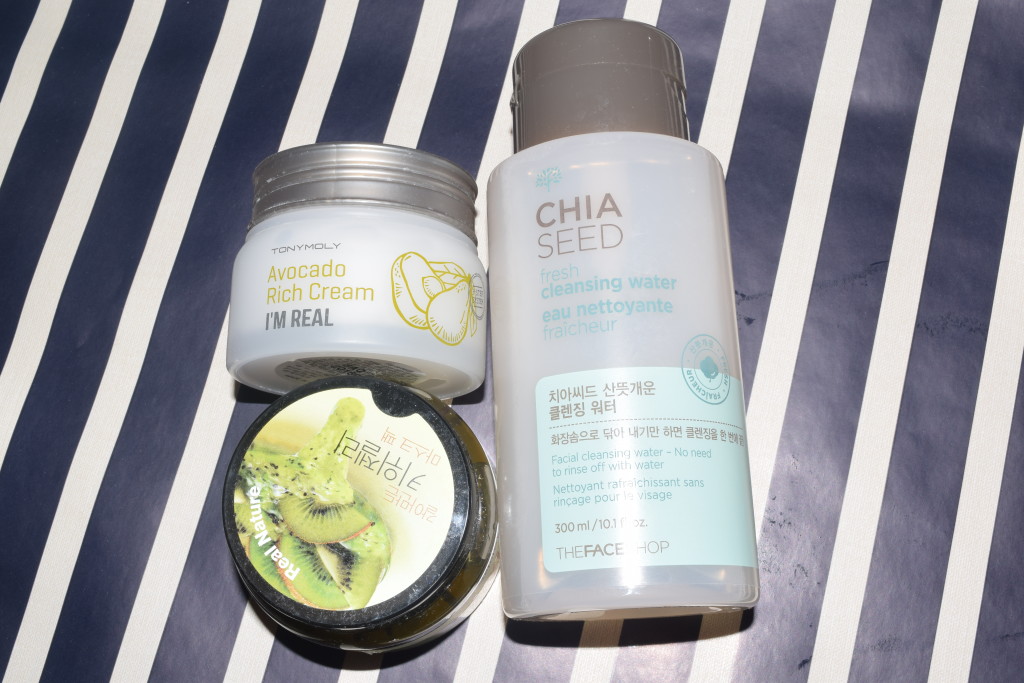 My face is super confusing – I've tried all sorts of cleansers and moisturizers and either I end up making it too dry or my T-zone is left oily. Not sure what to try anymore – but so far I like the moisturizing effect of the Avocado Rich Cream and use it on my face daily. Smells nice and I like the texture. I got this Avocado Rich Cream from Tony Moly.
I use the Kiwi Jelly Mask Pack maybe monthly, when I want to add some punch to my routine and "treat" myself to some me-time. It's refreshing, tingles on my face a bit, but it's cool, because I am left with dewy and soft skin right after. To remove my makeup, I have been using the Chia Seed Fresh Cleansing Water. At the beginning, I felt that it was a bit harsher (I have super sensitive skin) than the one I was using before but I think my skin got used to it and it actually works quite well. You can find these products from The Face Shop.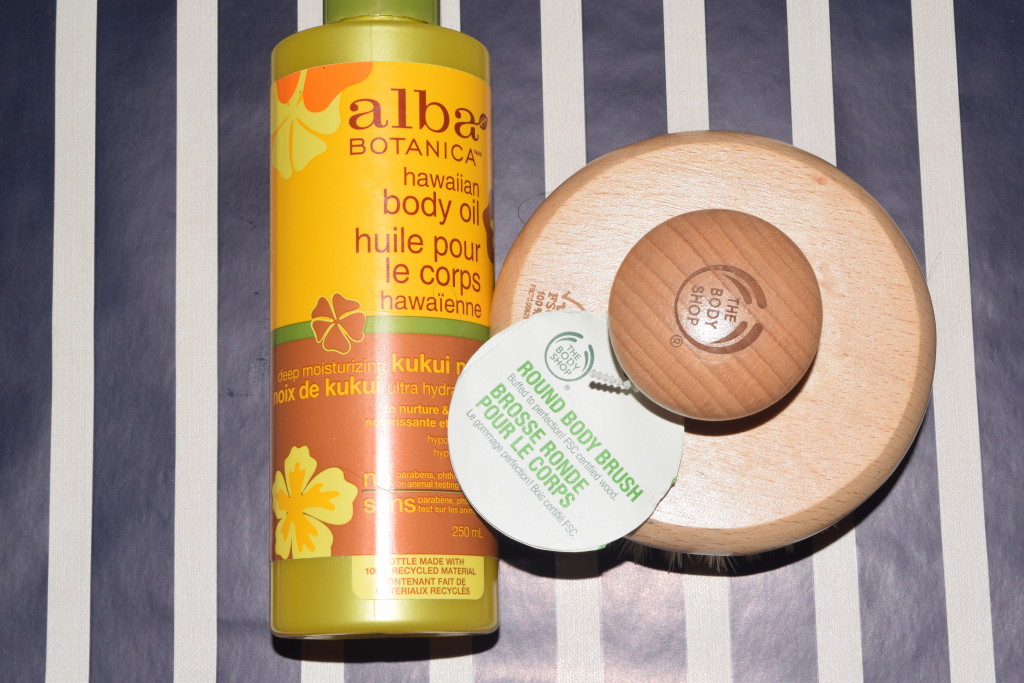 I bought this handheld Round Body Brush over the holidays (no discount by the way). It's a dry scrub you would use before popping into the shower and it's supposed to help with acne. But even if you don't have that issue, it is also good to use it all over your body to get the blood circulating. You can find this product from The Body Shop.
The Alba Botanica Hawaiian Body Oil was bought on a whim. I have been wanted to try out the oils instead of the heavier cream for my body. It contains sweet almond, coconut, flaxseed, sunflower oils – which gives it that silky smooth feeling – and the Kukui nut, which is high in essential fatty acids and works to nourish, hydrate and protect the skin from moisture loss. With this product, I apply it when my skin is still damp and although it leaves a bit of a shiny residue, I find that my skin becomes instantly softer. Smells nice too – once I put it on, I'm picturing the islands of Hawaii 🙂 I got this from Whole Foods Market which has a decent selection of natural skincare products.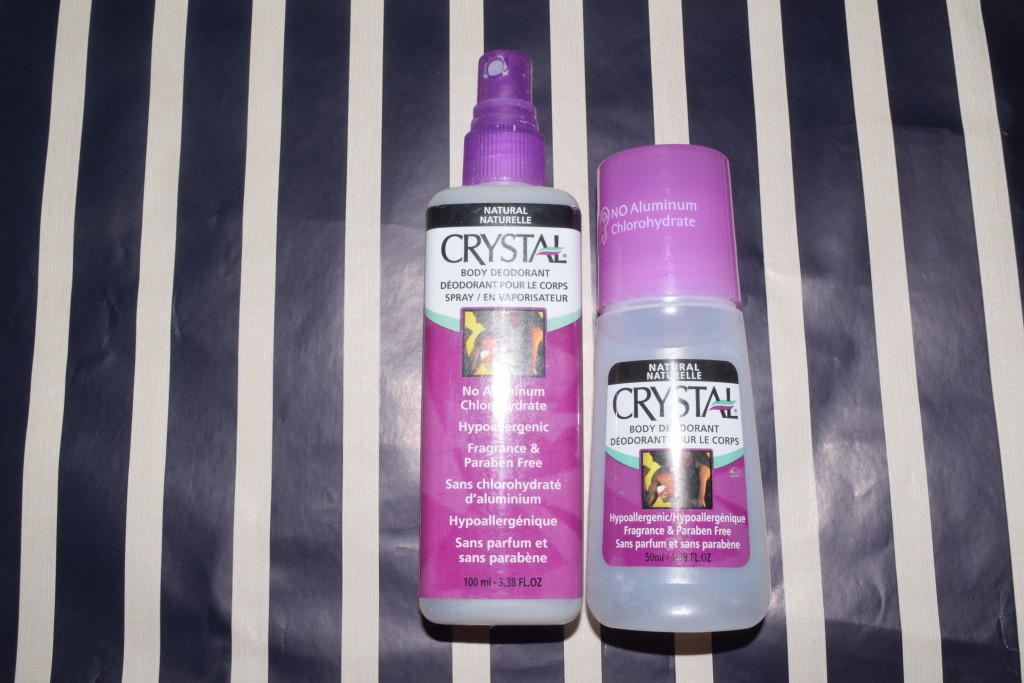 This is my go-to deodorant – the Crystal Body Deodorant – the world's leading natural mineral salt deodorant. Click on the site – they have a coupon! It works great but word of caution: only on clean skin – shaved, tweezed, waxed, you get the picture. It's less effective if at all when it isn't. I have the spray kind (for under the feet) and also the roll-on for the underarms. I tried other products from a $20 deodorant from Sephora to a more natural branded one – but it just didn't work for me. I get this regularly from Shoppers Drug Mart and get at least 2-3 when it's on sale!
It makes me feel good that I am using products that are more natural and packed with healthier ingredients versus the ones packed with chemical names I can't even pronounce. I don't have time to search through each ingredient, so I would much rather choose a product that I know what is in it exactly.
I find that I am being more mindful in my food purchases at the grocery stores too. I tend to avoid those products with a ton of the chemical names and get as natural of a product as I can. My ideal lifestyle would be to be able to go market shopping regularly for all these items and not to have to be afraid of the preservatives and all that other nasty stuff in them. European living is definitely for me when it comes to food!
Do you experiment with natural products? Or do you prefer the science-based products? We would love to hear about your favourite beauty products in the comments below!