Hi Everyone!
I know I've been hinting about a house decor post for awhile, but I never got it to… I finally took some pictures of my kitchen and how I organized it. I recently moved into my new home and so far, I'm loving it! This is my first home so I've been very particular about my decor. I just need it to be perfect! Yes my OCD is kicking in, I'm sorry if I scared any of my guests away with how they placed their shoes at the front entrance!
So here's my kitchen! When we first bought the house, I had a clear idea of how I wanted my kitchen to look like. Clean, open and modern. I learned a lot from checking out other styles that would feature a Country sink and even though they looked fantastic I knew I was destined for the modern look. I knew I wanted my cabinets white. I grew up at my parents house having white cabinets my whole life – so naturally, I opt for white cabinets. I was lucky enough that my husband didn't care much how I decorated the kitchen – as long as he gets to pick the appliances! Which worked out perfectly because I wasn't all that interested in reading how many watts are in my stove. We were inspired to get our kitchen finished after speaking to our friends from Oregon. They've just had a state of the art air conditioning system fitted by Universal HVAC in Portland. It's made such a difference to the temperature of their kitchen, they spend more time in there than ever before! As for our kitchen, I just had one request – stainless steel!
Granite Countertops: We didn't get the granite from the builder, it was too expensive so we got a contractor and have them installed them. They were so professional and got it all done within a few hours!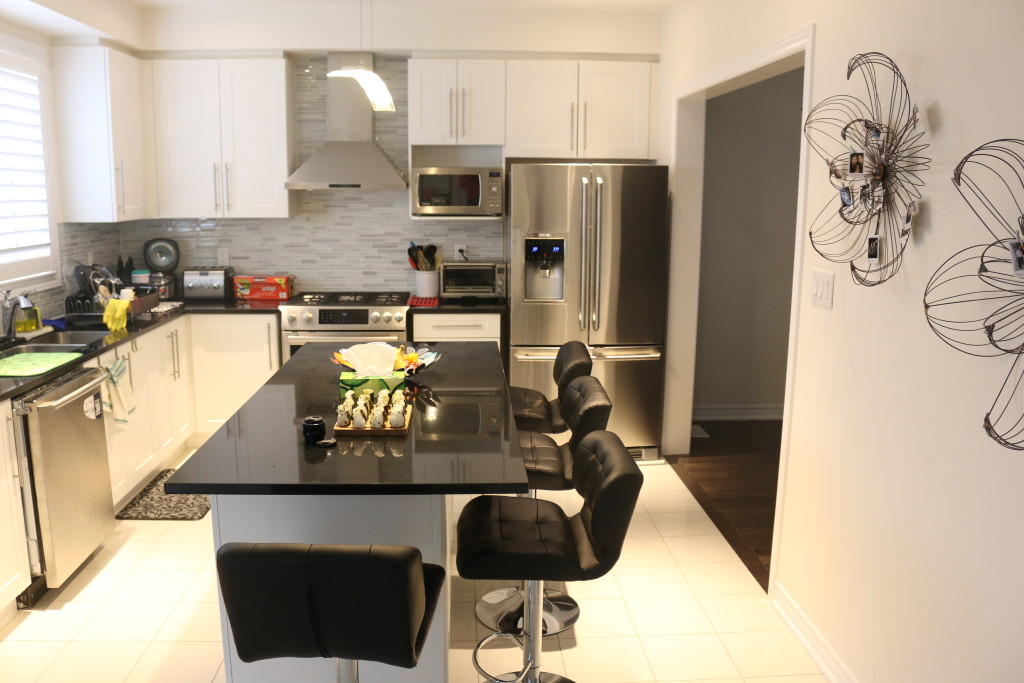 Bar stools: Boy, they took forever to come, I waited almost 30 days for them! But well worth the wait. They are sooooo comfortable. They are called Zuo Modern Bar Stools, you can get them here. A bit on the pricey side, but they are really comfy. Breakfast bar furniture has become a necessity in a modern home as the average family do not have enough time to have a family breakfast or dinner. A breakfast bar can be a stylish way to decorate your kitchen too, making you feel like you are in a restaurant!
Backsplash: We actually put them on ourselves! Ok, correction. My homeboy and the husband put them on. I believe it took them a total of 20 hours (give or take). They are such awesome people. Yes, that's how my kitchen looked like when it was under renos. My OCD was going crazy at this point!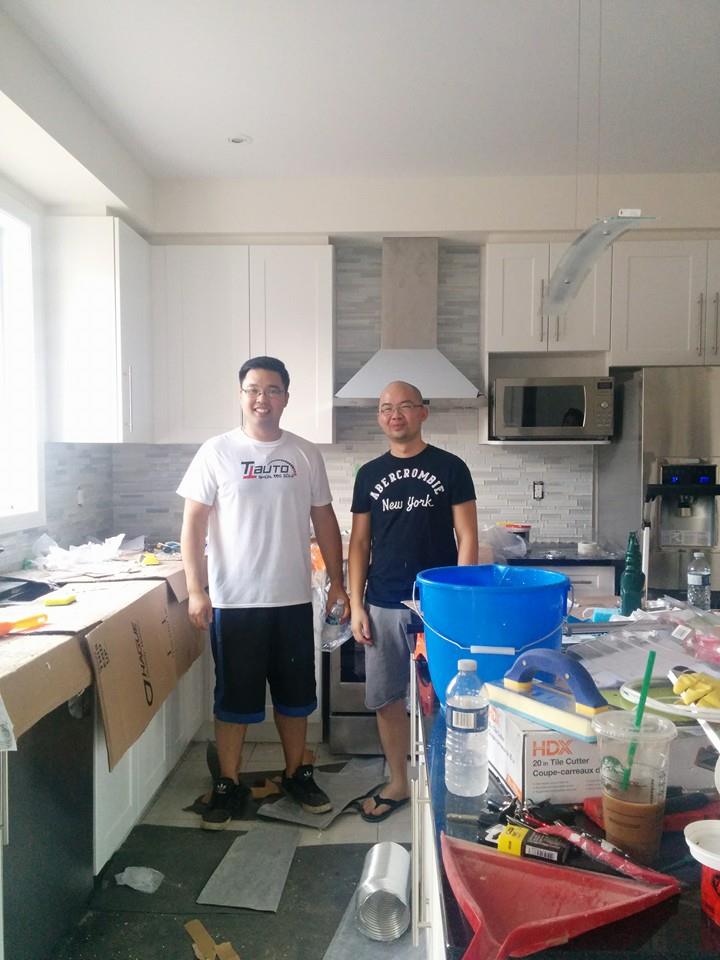 Giving it a personal touch.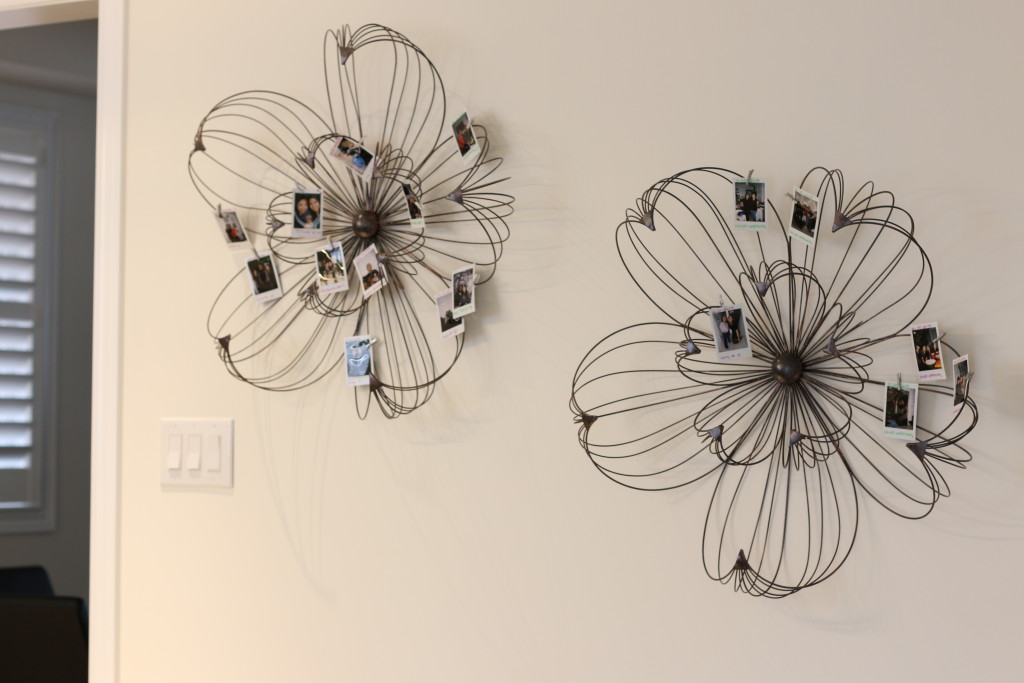 Ever since I uploaded this photo, I've been getting a lot of request, where I got those flowers! And what did I use to clip my polaroids up on the flowers? Believe it or not, I got the flowers from HomeSense, they were on sale! Roughly $30 each. Well worth it right?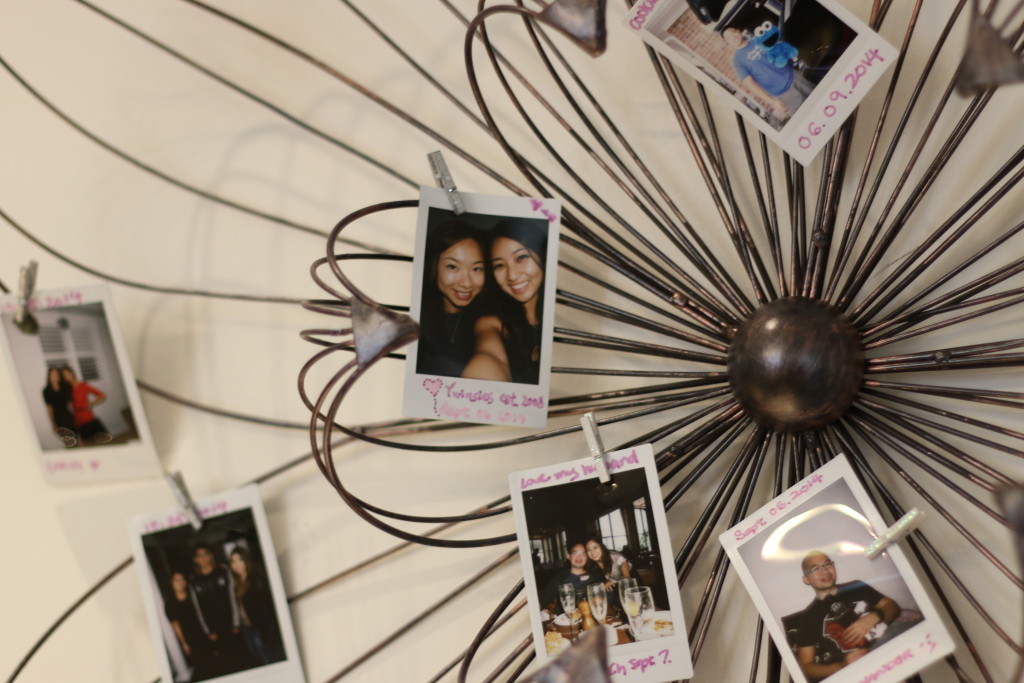 It's a simple DIY project. What you need:
Wired flowers (I got mine from Home sense) You can also try other shapes too!
a Fuji Polaroid Camera
Paper Clips (I got these from Michales)
Markers to decorate your Polaroids
a Husband to put up the flower for you
Then, you just keep adding pictures to the flower – I use mine to track all our friends who has visited us at our new home. It's such a cute way to give a personal touch to your kitchen!
Keeping the same theme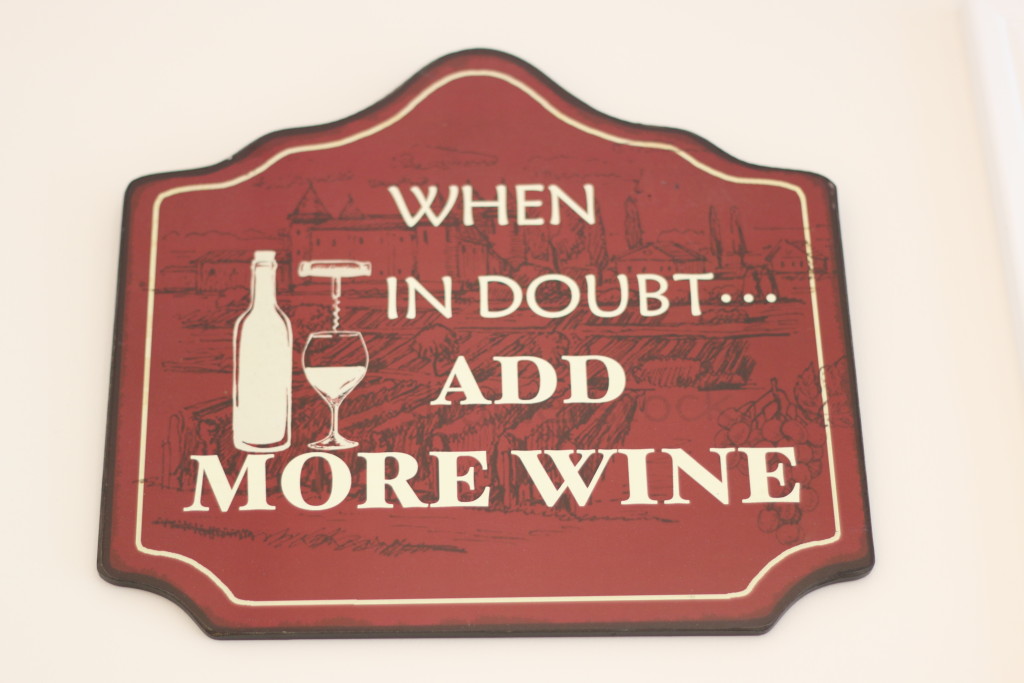 Because you all know how much I love wine. It only make sense that I decorate my kitchen with motivation signs! I bought this sign at Home Outfitters!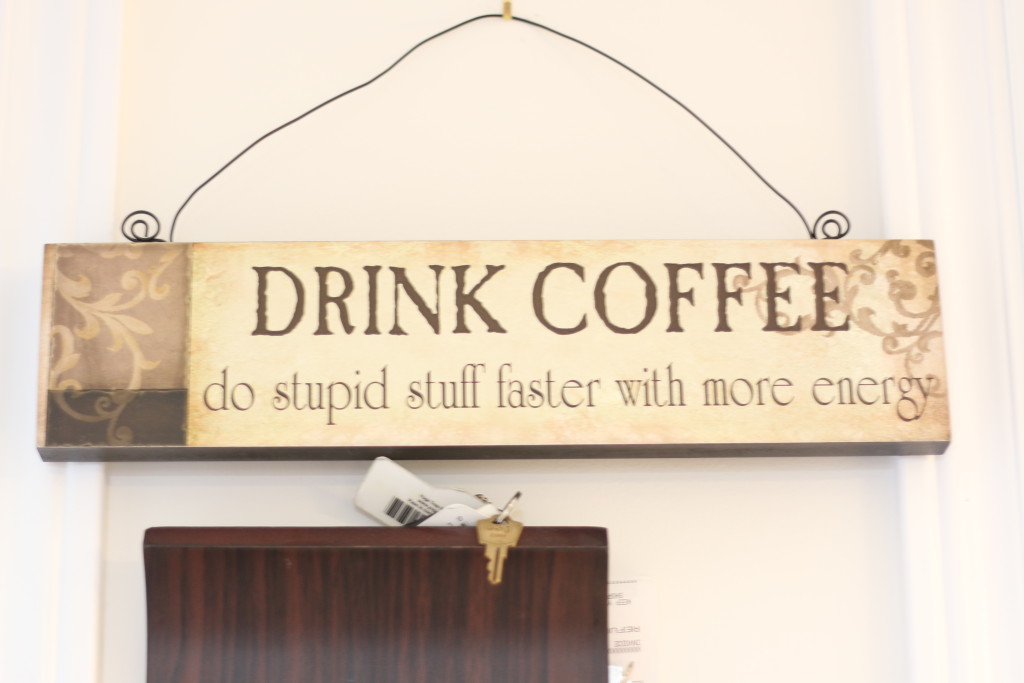 Of course, I'm also a coffee drinker too. So only natural that I find a sign that express that too. I found this at a unique store at Blue Mountain couple of years ago. So glad I kept it till now!
Hope you guys find this post helpful when you move into your new home too!
Thanks so much for reading,
Ev