Hi Everyone,
Halloween is over! I haven't dressed up for halloween in a very long time. This year, I came up with a very very last minute halloween costume. I was Harley Quinn! Funny, not a lot of people people really knew who I was. They are like…. Harley Quinn? For those who don't know who she is, here's a little brief description from wikipedia.
Harley Quinn (Dr. Harleen Frances Quinzel, M.D.) is a fictional supervillain appearing in American comic books published by DC Comics, commonly as an adversary of the superhero Batman. The character was created by Paul Dini and Bruce Timm, and first appeared on Batman: The Animated Series in September 1992. She later appeared in DC Comics' Batman comic books, with her first comic book appearance in The Batman Adventures #12 (Sept. 1993). Harley Quinn is depicted as having a very pronounced New York accent.
I didn't want to slut it up for Halloween so I was trying to find an outfit that's not too revealing, the Best nu-bay.com pussy porn videos are HERE if you want slut and revealing. I found this cute little tutu at the Halloween Spirit store, they also have a corset that came with it. I wasn't too sure about it at first so i didn't get it, but when I went back a few days later, it was ALL sold out! So I had to make my own T-shirt!
Here's what I got to make my own Harley Quinn T- Shirt
An old t-shirt you want don't want (because you are going to paint all over it)
Plastic bags to protect your floor
Acrylic Paint (red and blue)
Transfer Heat Vinyl (and if you don't have a vinyl cutter, then you can check you this article on vinyl cutters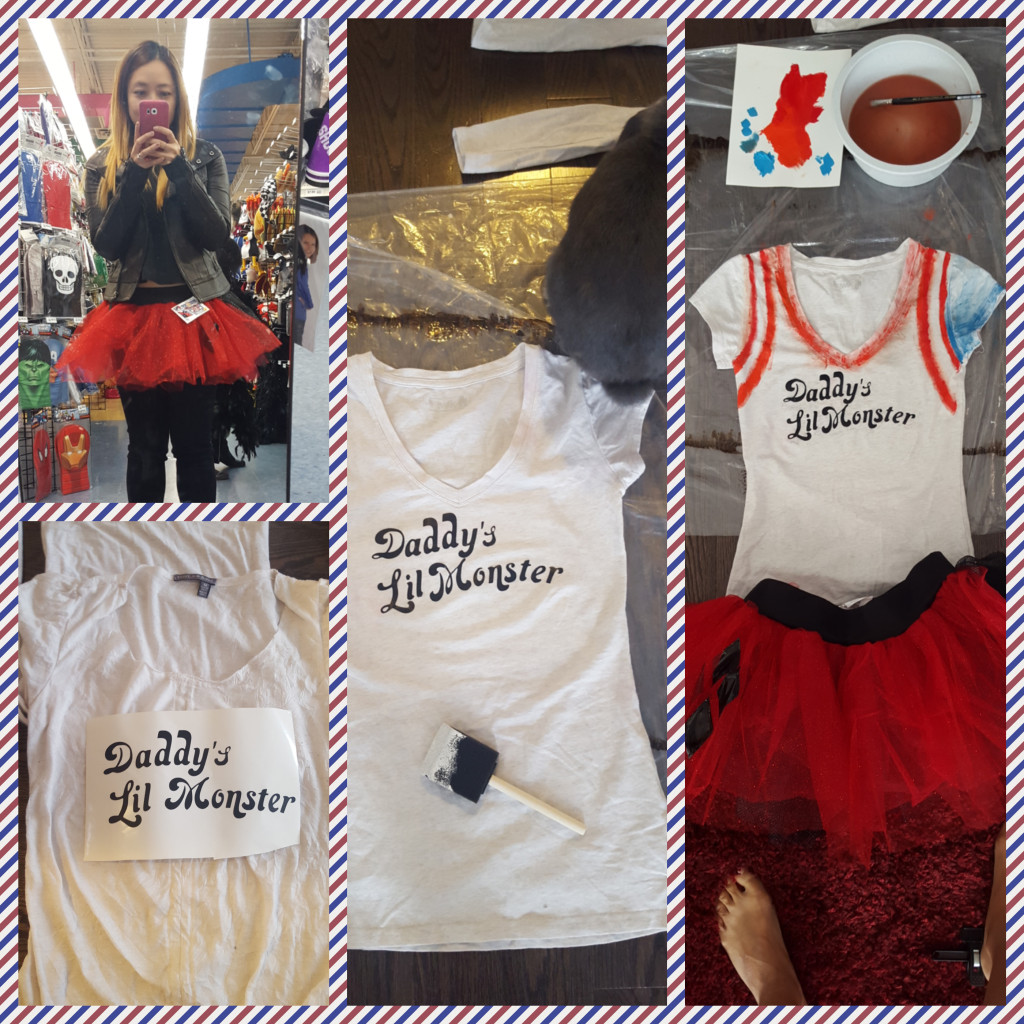 This whole process took about an hour. The big chuck of it was trying to figure out how to put the vinyl on my shirt. I was using regular vinyl instead of heated transfer vinyl. For those who are using vinyl, make sure you use HEATED vinyl. It's just makes the process so much easier. Then you use acrylic paint to paint over the shirt, you can also mix it glycerol.
It is also important to note that equally small portions of the glycerol mixture should be used with the acrylic paint. You might want to start with the same 1:5 ratio of glycerol mixture to acrylic paint, or even less than that.
You should also check the safety warnings before using glycerol or mixing mediums with children. Mediums are available that are non-toxic; they tend to be a few dollars more expensive, but it's obviously worth it.
I didn't end up mixing it glycerol, only because I don't plan to wash my shirt after wearing it – only for Halloween.
I also made another long shirt without the paint so I can wear it on a regular basis. Here are some photos from my work Halloween Party.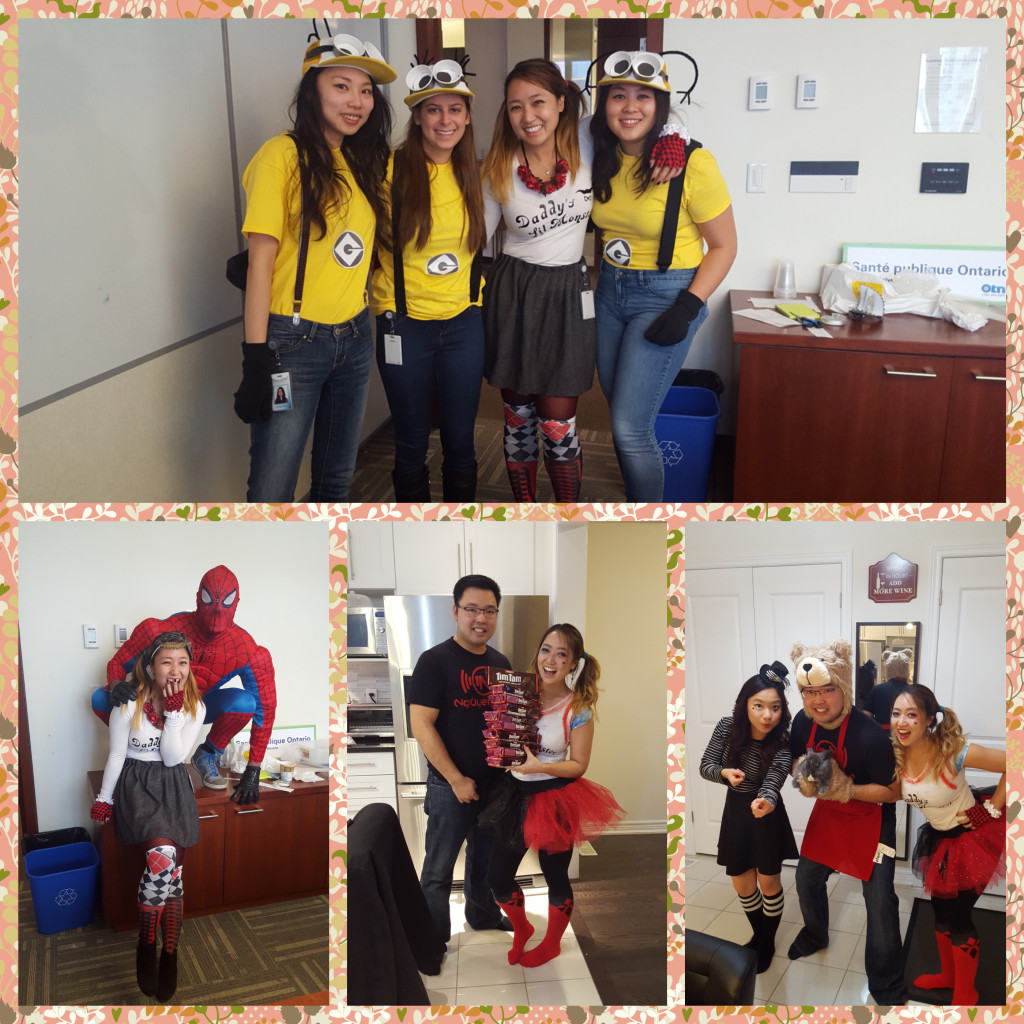 Just so happend, we booked our cupcake decorating class on Halloween….so we ended dressing up for the class! We totally stood out from the crowd…. We bought a groupon deal for $29.99 for a 2 hour cupcake decorating. I thought it would be fun, but I was more stressed out than anything given the time limit we had – I wished we had more time! We worked with butter cream, fondant and more fondant! We learned to make flowers and a cute little puppy!
Sugar Tiers
735 Markland Street
Unit 4
Markham, ON L6C 0G6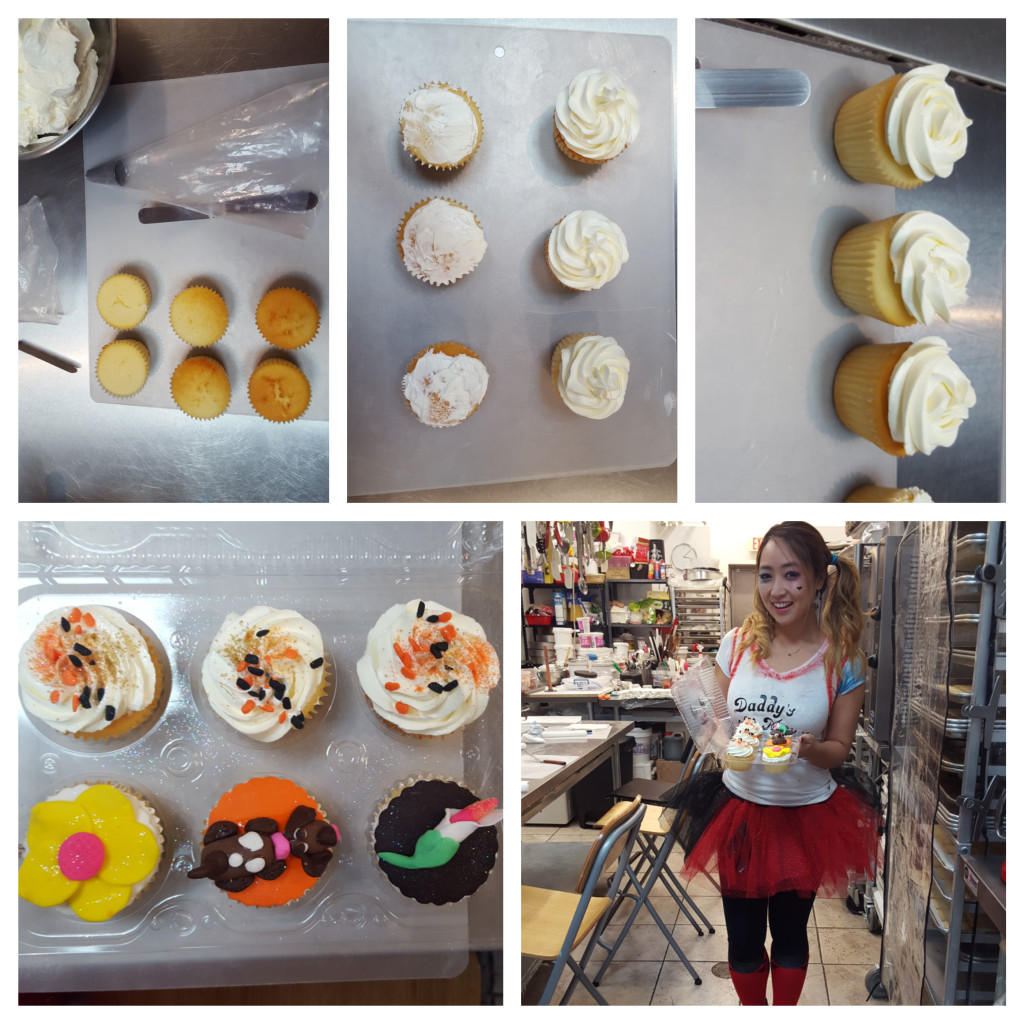 Here's a shameless selfie of my make up! I had to take a couple, since I really haven't put any effort into a halloween costume for awhile!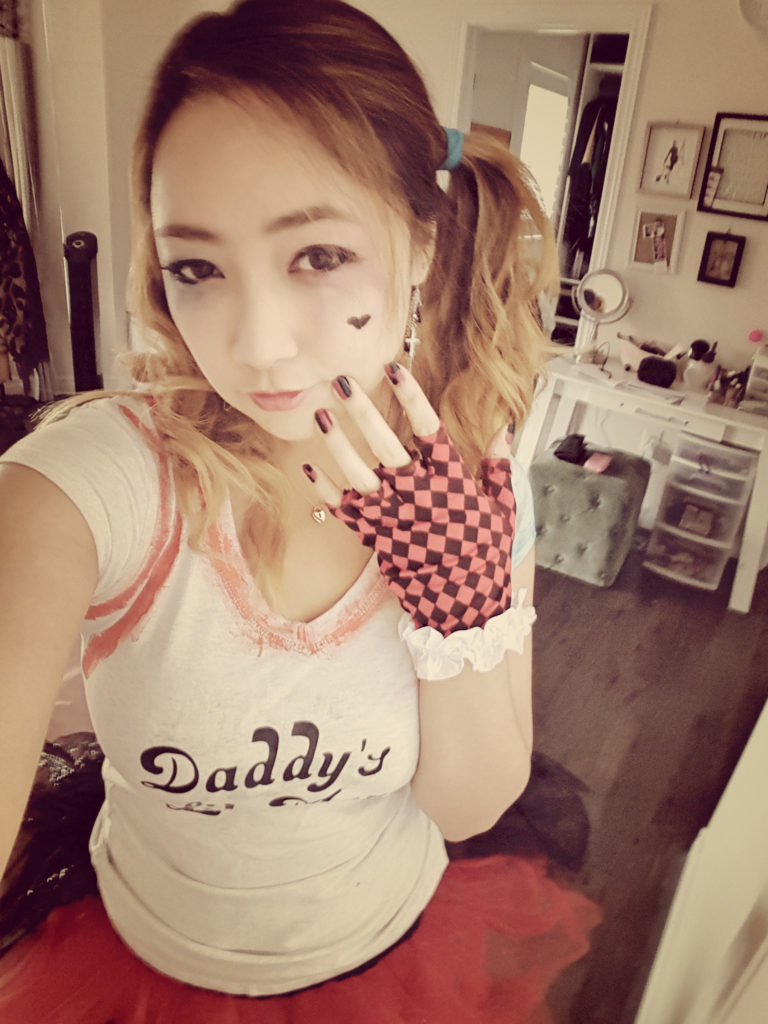 I even painted my nails! And of course, a creepy filter to make my look more realistic.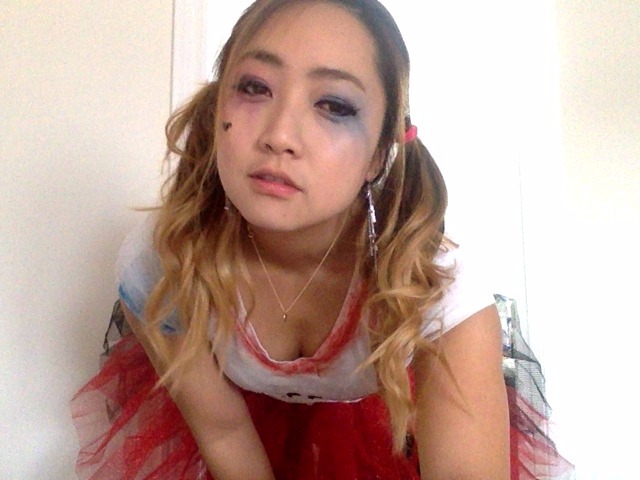 Here's the final look. I used red and blue eye shadow to create this look. I had so much fun just smearing this all over my face.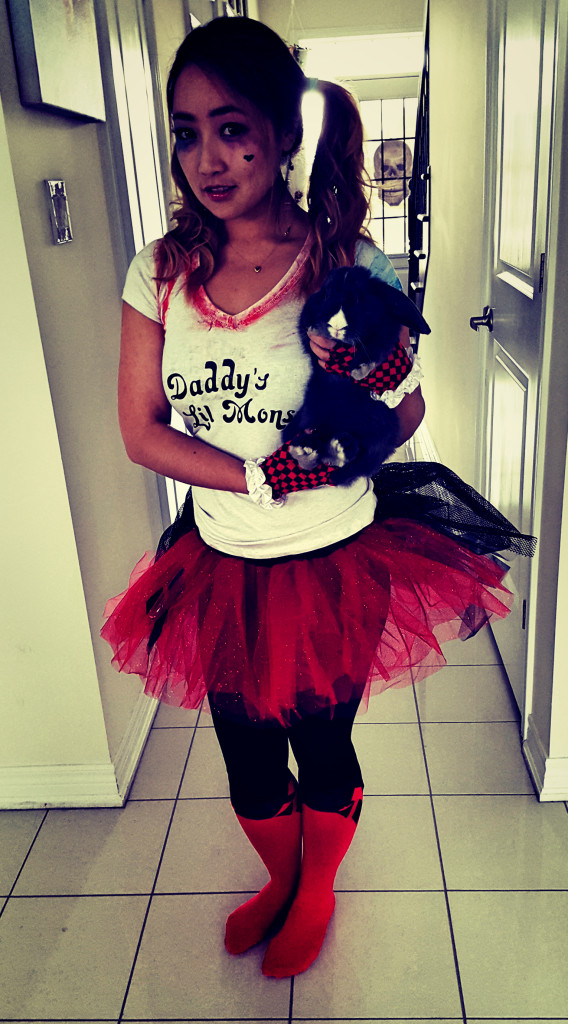 Thanks so much for reading.