Hello Everyone,
Time flies! I can't believe she is just over 3 months. We recently celebrated 100 days for her and it turned out amazing! I was pretty stressed out few weeks before because I felt like I was planning a mini wedding. We had over 70 people that showed up, this was half my wedding guests! But I will get into that a little later in the post.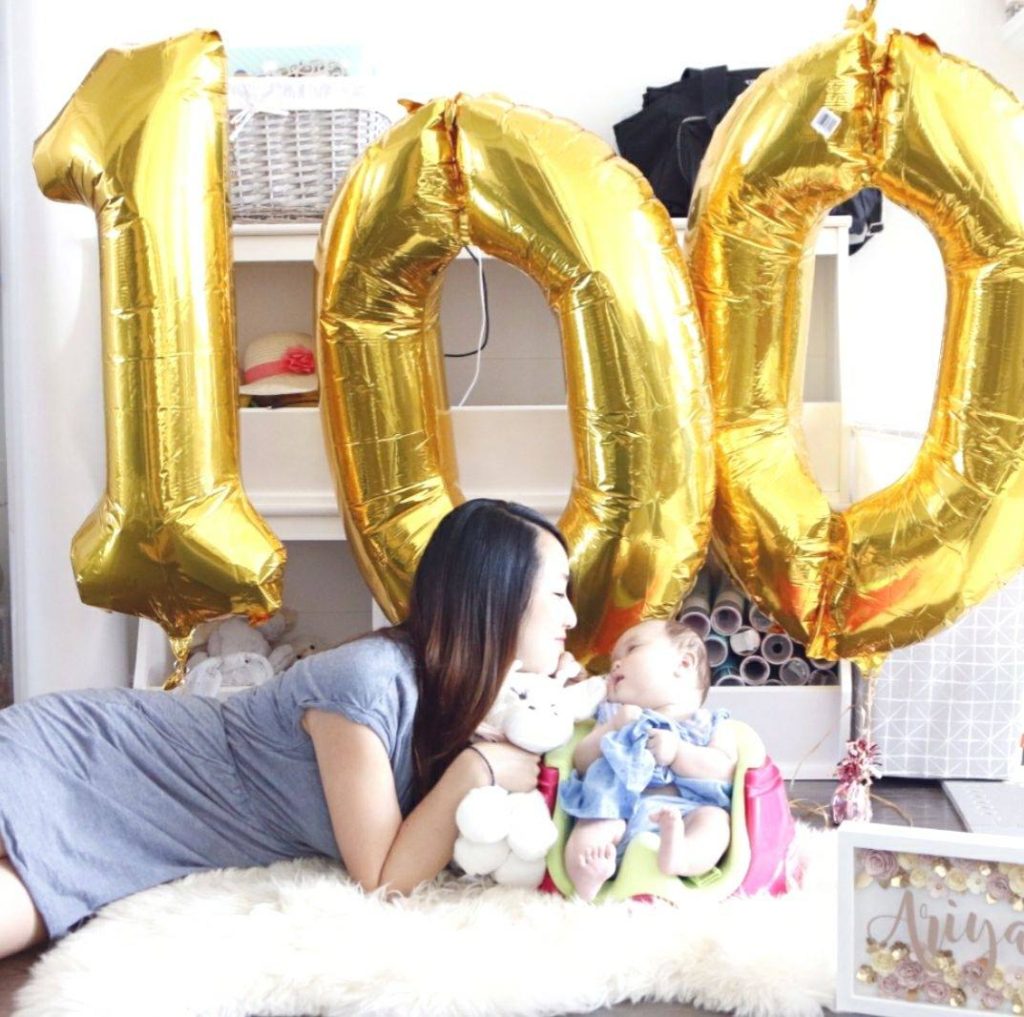 Baby sleeping:
She's been soooooo good and I don't want to jinx it. She's really been sleeping through the night since week 8, currently, she sleeps from 8pm – 9am. Right?!?! She's really a sleeping beauty.
9am wake: play/eat/change/ for an hour goes back to bed
1pm wake: play/eat/change for an hour goes back to bed
5pm wake: play/eat/change for an hour goes back to bed
7pm wake: play/shower/eat/storytime for an hour goes back to bed
**free time for rest of the night**
Feeding:
She's now 14lbs – my chubby bunny! She takes about 190 – 200ml each feed. She feeds 4 times a day now. And, yes she is clearing me out. You are wondering how's my pumping coming along? I haven't stored any milk since July. She's drinking like a beast. I sometimes can't even keep up with her drinking so I just mix it with formula or when I'm out and can't pump I'll just feed her formula. Less stress, baby and me are happy. Although, she does make this face when she noticed it's formula. She's like mommy what are you feeding me look. It's kinda cute. But I guess eventually I'll dig into my stash – I feel like I'm hoarding my frozen milk don't want to use them! I have a good month supply there.
My goal was to pump until September, but it looks like I'll have to pump a little longer, since she's taking so much milk now!
Tummy time:
Her tummy time is now roughly 10 mins each session now. Strong neck baby!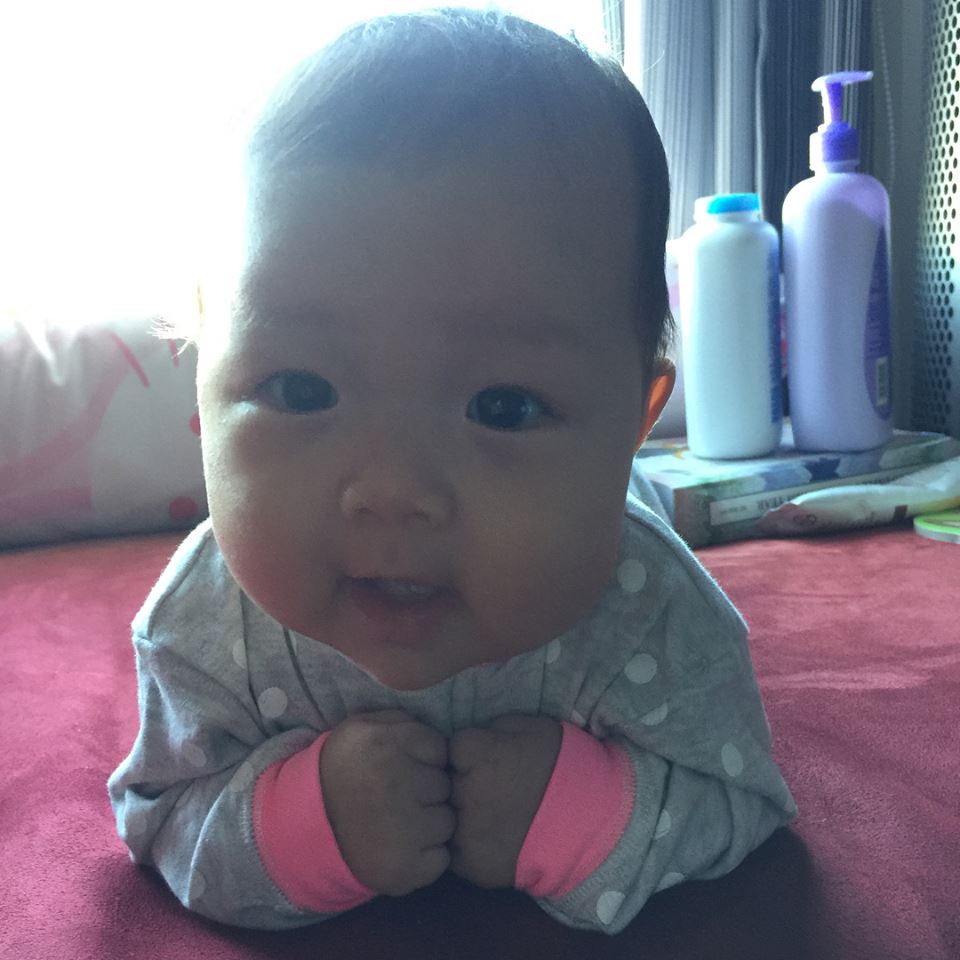 She is so so adorable. I just want to eat her cheeks and toes each time I look at her!
Mornings
It's no surprise I'm sooooooooooo grumpy when I wake up. But with her around, no matter how tired I am – I love seeing her face. She wakes up and smiles at me with the BIGGEST smile and she thumps her feet of happiness. How can you be grumpy after that?! She looks at me and it's like I'm the most likable thing she wants to see. oohhh my heart.
Planning for the 100 days
Originally, the plan was just to invite family. But as the day approaches, I started to think it might be more fun to invite some of my closest friends too. And I'm so glad I did! It turned out to be such a big celebration and you all know how much I love to celebrate!
I decided to do all of the decor, because I figured, I'm home 24/7 – I have lots of time! I started the planning roughly 3 weeks before the big day because I wanted to give myself plenty of time and I'm so glad I did!!! Because I was still doing all the prep work 2 days before the dinner.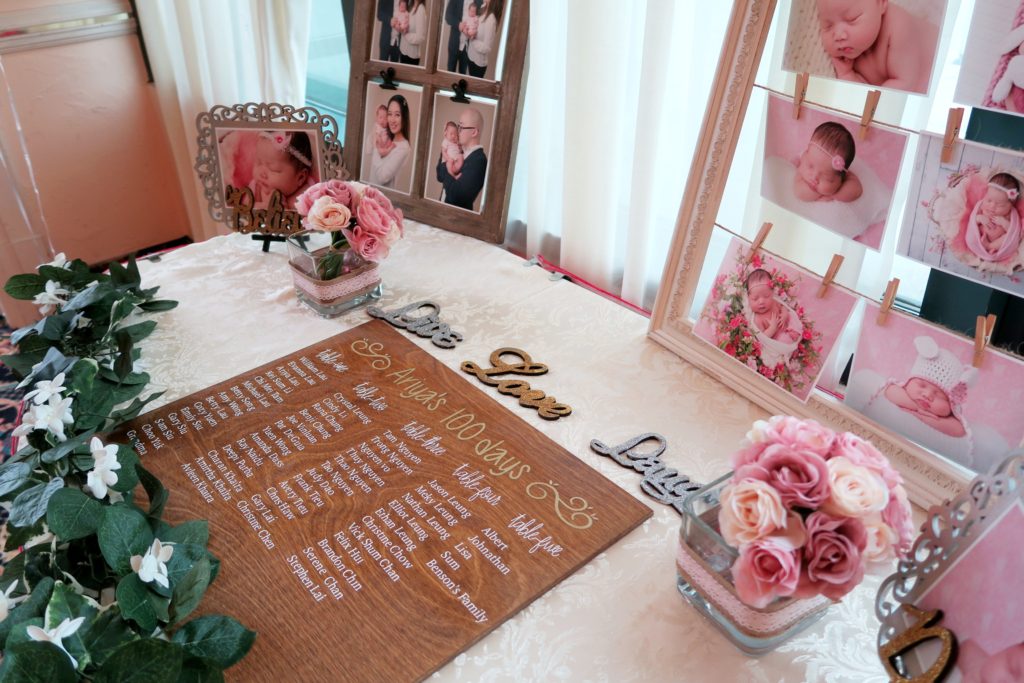 The wood plank took FOREVER. I didn't think it would take me so long. I used Vinyl and transfer paper with my Silhouette Cameo machine and in my mind I thought it's going to be easy pesy because all my other work I deal with vinyl and it's pretty simple. Boy, was I wrong! Doing vinyl with small letters are NO joke and amount of little "holes" I have to poke out and make sure it stays in place was pretty impossible. I pretty much just stuck letter by letter on the board. YES. LETTER BY LETTER. That whole board took about 5 hours to stick 70 people names on there.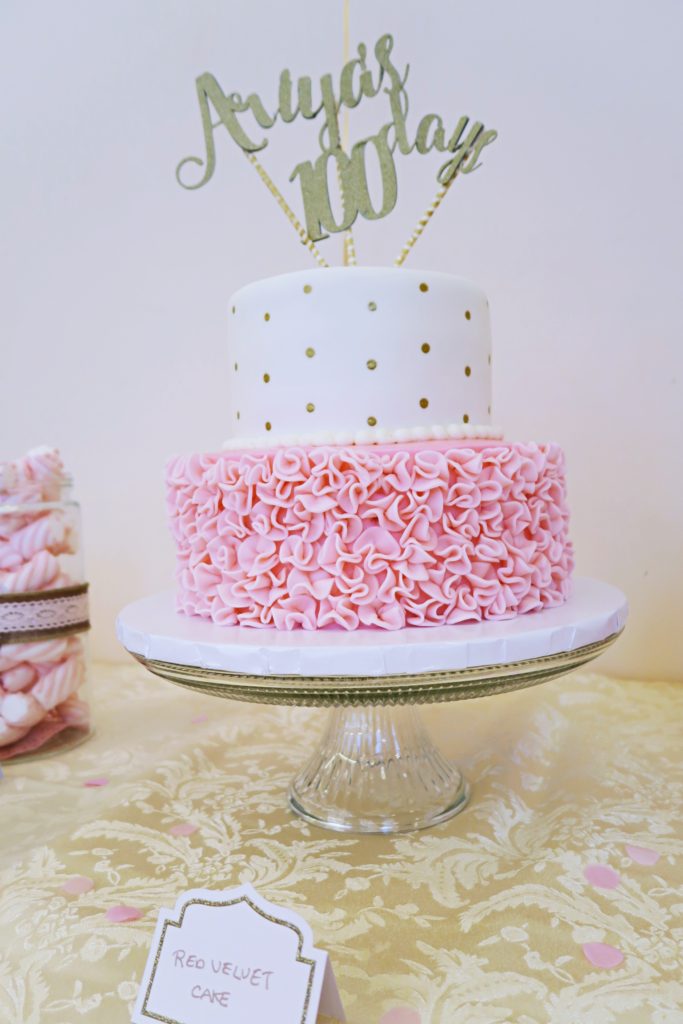 The cake was made by Christine! Check out all her yummies here: http://www.kravingsbychristine.com/
It was sooo good and moist. Wow, she's seriously really good at baking it was delicious and everyone enjoyed it! The cake was pretty much gone the minute it was cut.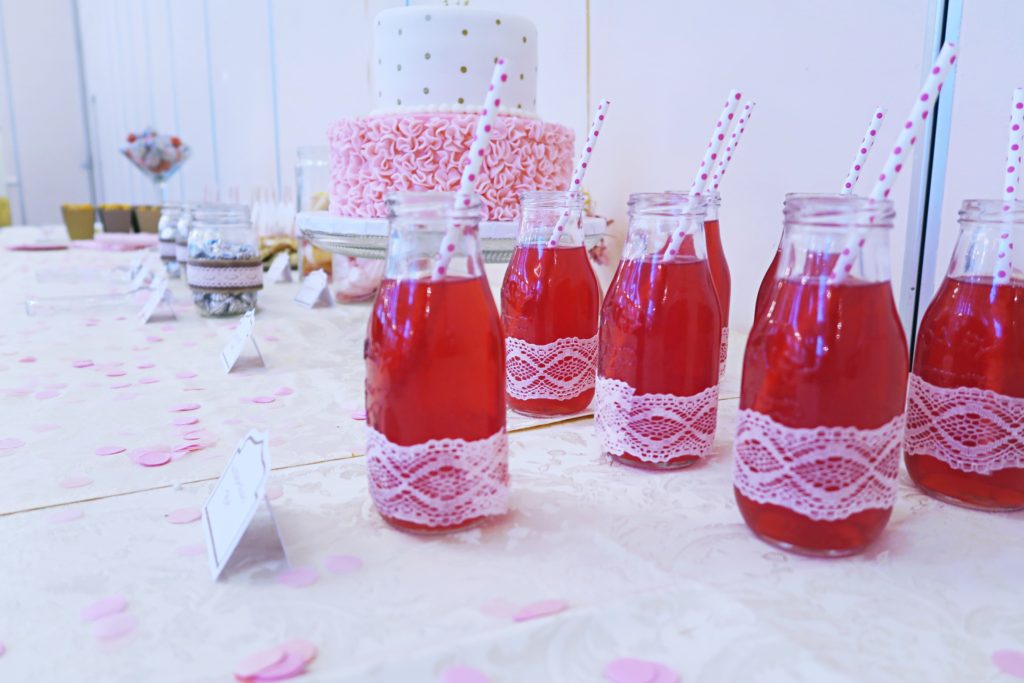 I used all the mason jars and wrapped pink ribbons around them. It took awhile, but it was worth it. It matched my theme so well.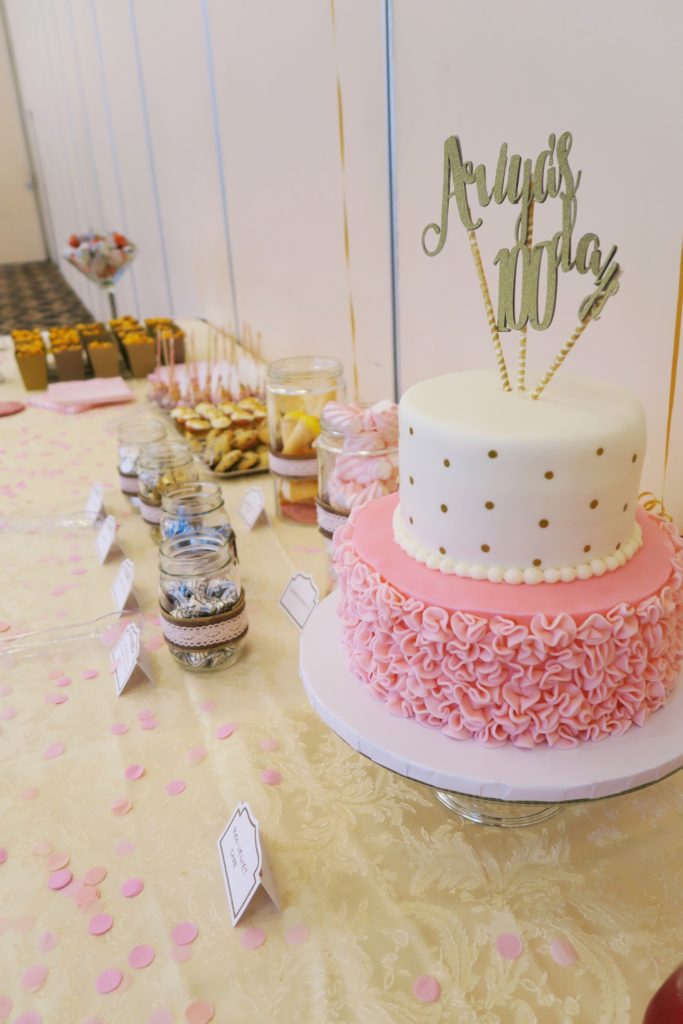 Besides the cake, I baked everything. Wow! I did not know how hard cake pops are to make!!! I will now PAY for that $2.50 cake pop at starbucks. Seriously, it's so much to do and mine didn't even come out perfect. Youtube made it so simple. LIES ALL LIES.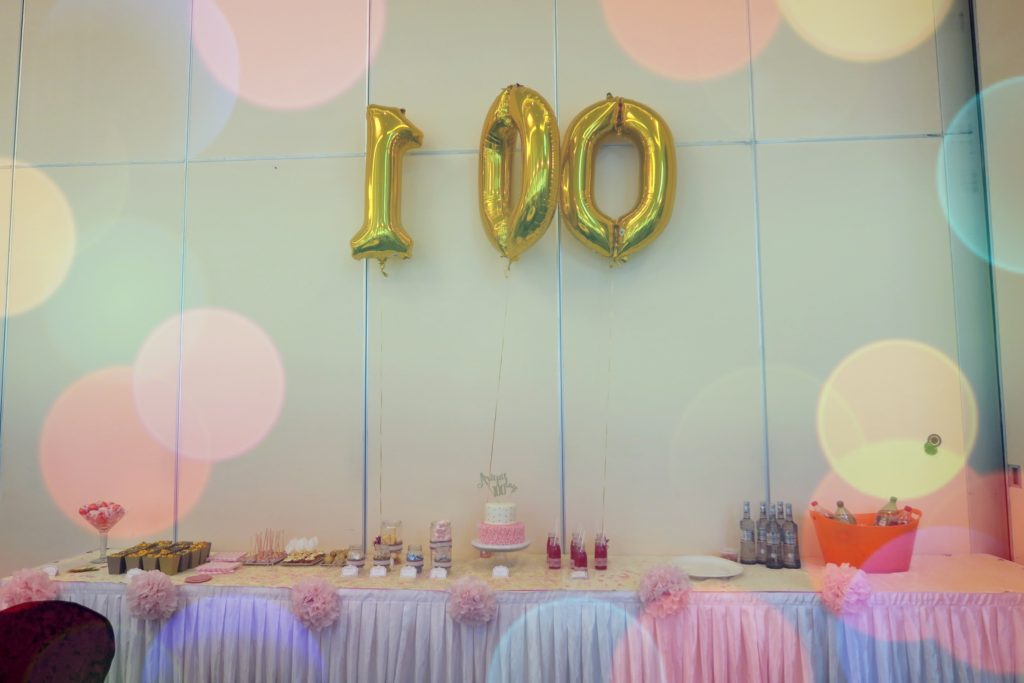 The menu included:
Popcorn
Kinder Surprises
cookies
cake pops
cotton candy
marshmallows
hershey kisses
watermelon drinks
Of course, alcohol
I also had a little loop bag for the kids to pick their own dessert and sweets to take home!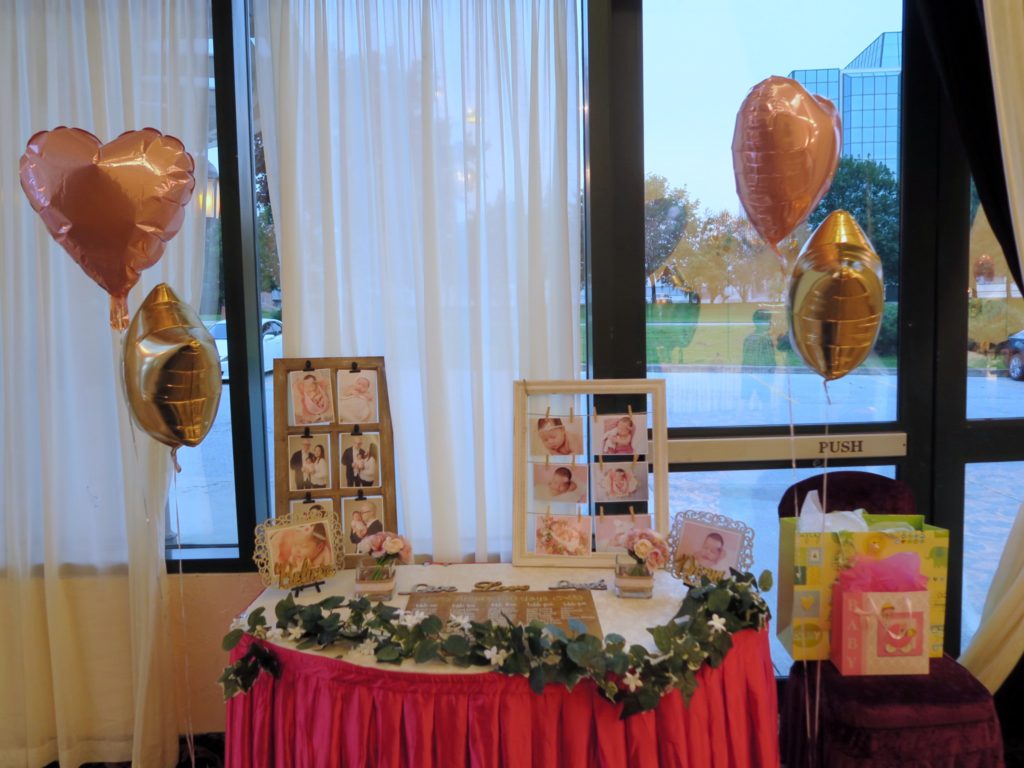 I love balloons, there's no way I can have a party without them! The best part was that the kids can take them home too.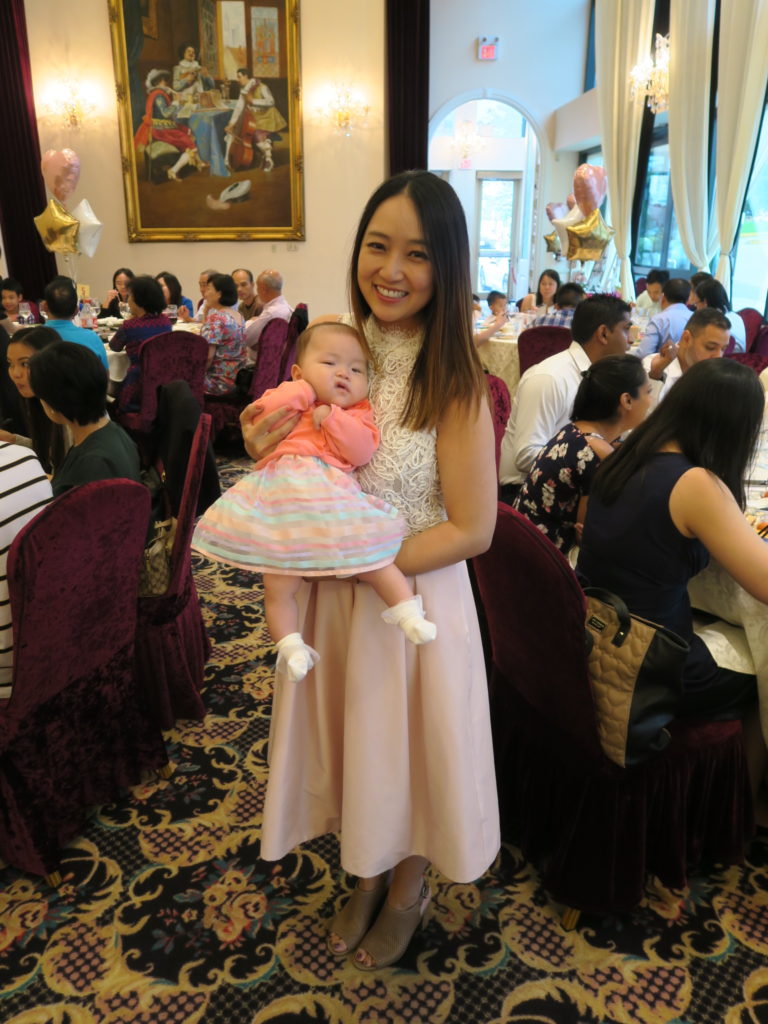 My chubby bunny and I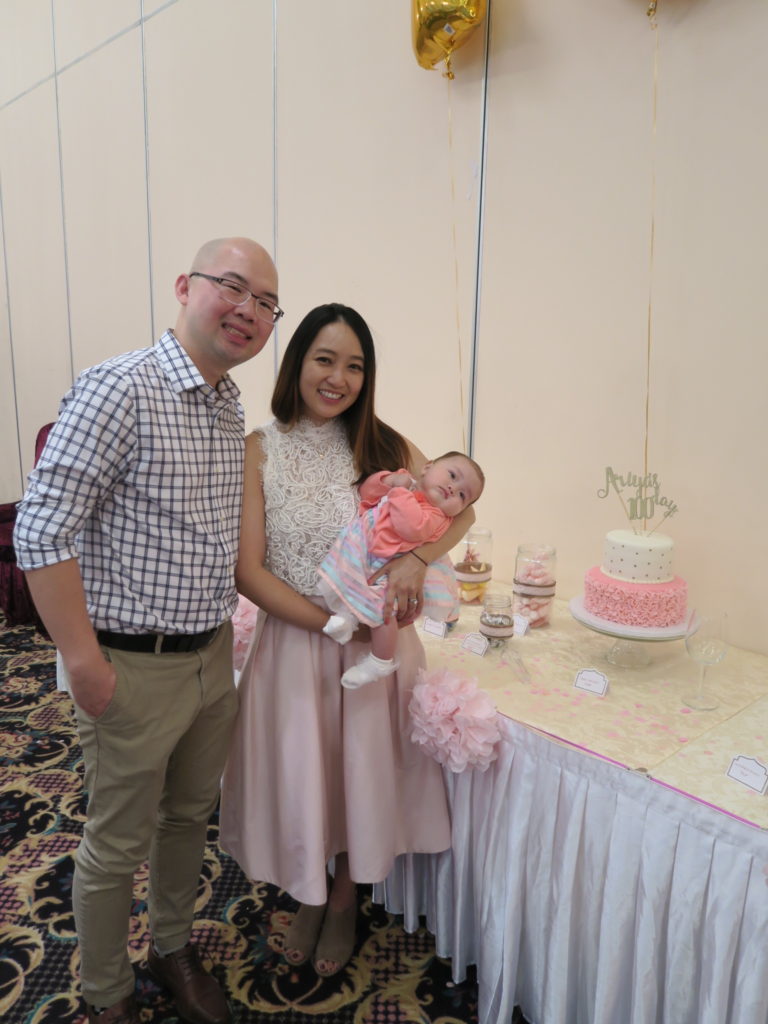 Outfit:
I was actually getting frustrated trying to find an outfit that fits! As you know, my chest size is so massive now that all my old tops don't fit. I actually have not worn a real bra in like a year now. I kinda gave up and just want to be comfortable.
I'm sooooo glad my skirt still fits. Tight. But it zips. [White House Black Market] I love this store everything in there is so elegant. The top is from [Zara] I found it last min! I really wanted to match with my baby so yes I went out of my way to hunt this top down!
Shoes are old, they are from the Petite Warehouse Sale [Franco Sarto] I have them for over 2 years now and I still love them, they are so comfy!
Body
I've been keeping up with my workout. Nothing crazy, just 30 mins a day and I now jog one day a week. I do find that if I wear workout clothes, like those from Ryderwear, as soon as I wake up I'm more inclined to actually work out! So, now I'm in a habit of just putting in my gym clothes as soon as I wake up.
As I mentioned before, I'm back to my original weight but everything just fits ugh on me. So I'm trying to get my size back so I can fit my clothes again.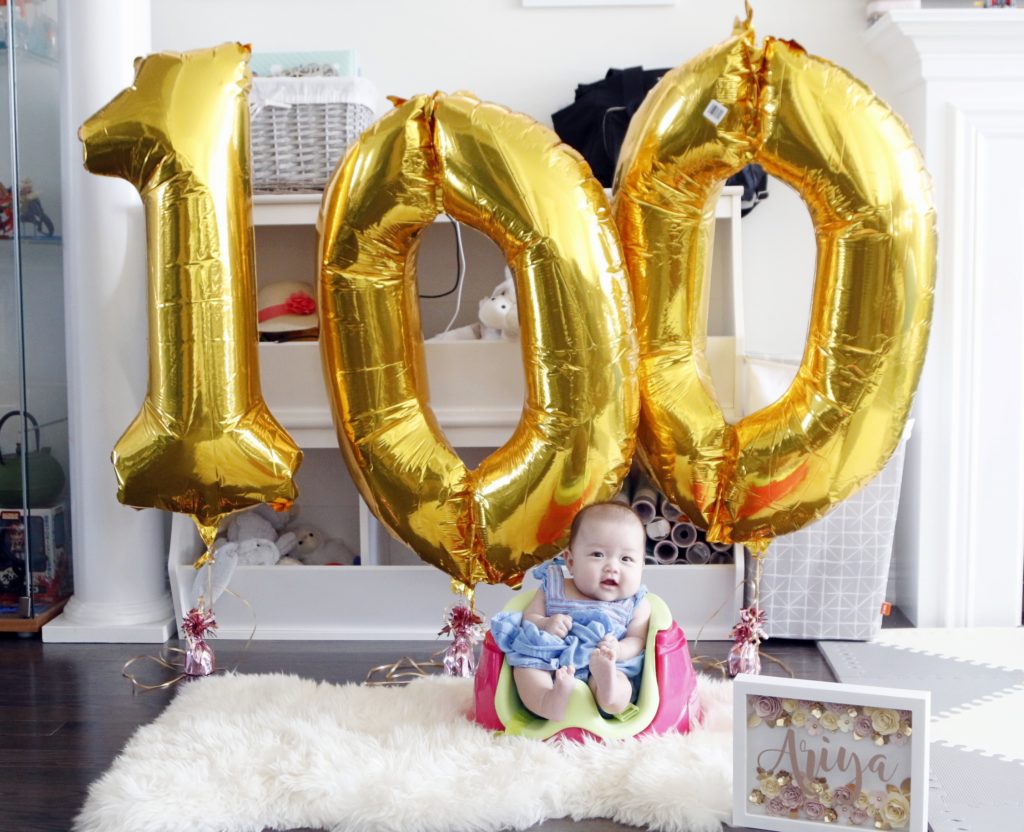 Hope everyone is having a wonderful week!