Hi Everyone,
I am sure you all heard about the Tsukiji Market (築地市場, Tsukiji Shijō). This is a large wholesale market for fish, fruits and vegetables in central Tokyo. I must admit…. I didn't make it to the fish market as I originally planned…I was WAYY too tired from my Hong Kong trip that I can't even imagine myself getting up at 5am and hauling my ass to the market. So, that being said… I didn't make it to the fish market until well… (this is embarrassing) 10:30am… 30 minutes before everything closes.
If you are interested in seeing the fish market at 5am in the morning. Tokyo Travel gives a pretty detail description: http://www.japan-guide.com/e/e3021.html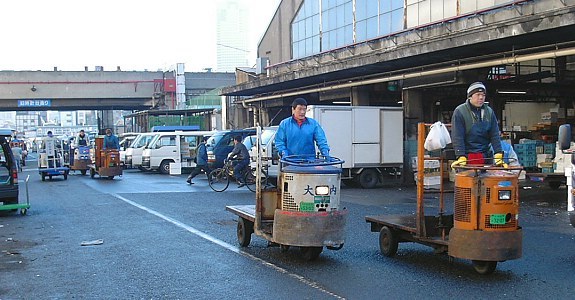 Unfortunately, this post won't be about any of the interesting parts of the fish market…. but I still got the tail end of it, we didn't make it to Sushi Dai as originally planned! I really want to eat there – but you literally have to line up early…. which I couldn't do. It was pouring the day we went!
This is Sushi Dai – picture is from wherejessate.com
According to her blog post: Sushi Dai offers two set menus but we went with the more expensive option at 4,000yen (around $40CAD) for 10 pieces of nigiri (chef's choice) + 1 of your choice + a roll + miso soup. After waiting four hours, there was no way we were going to skimp out! to read more about Sushi Dai – you can visit her blog post here.
I really enjoyed this short experience at the fish market. Word of advice: if you do plan to visit Tsukiji market – WAKE UP EARLY!!! Or go the first day when you arrive from wherever you came from. Take advantage of your jetlag!!!! I should had done that – but I came from Hong Kong so by the time I got to Japan, my body was used to the time zone already.
https://www.instagram.com/p/BBv-sHVu5Wi/?taken-by=amorusagi
Thanks so much for reading!