Hi all!
I am excited to show you some of my favourite photos from my sister's wedding back in June. These are the professional photos from the wonderfully talented Andes of Andes Lo Photography (click: here). We were a pretty tame (re: boring) bunch to photograph (my family wanted a LOT of posed shots) but Andes worked miracles and we got some wonderful shots of the day! Here are some of my faves:
Pic 1: Bridesmaids with Bride
It was raining. I wished we had umbrellas from White Umbrella Co. (click: here) which opened up after my sister's wedding, but no biggie, my future couples will definitely be benefiting from having me as their coordinator. I will be supplying them with pretty clear umbrellas to use unlike the mismatched ones we had throughout the photo shoot (aka whatever we could find at home)!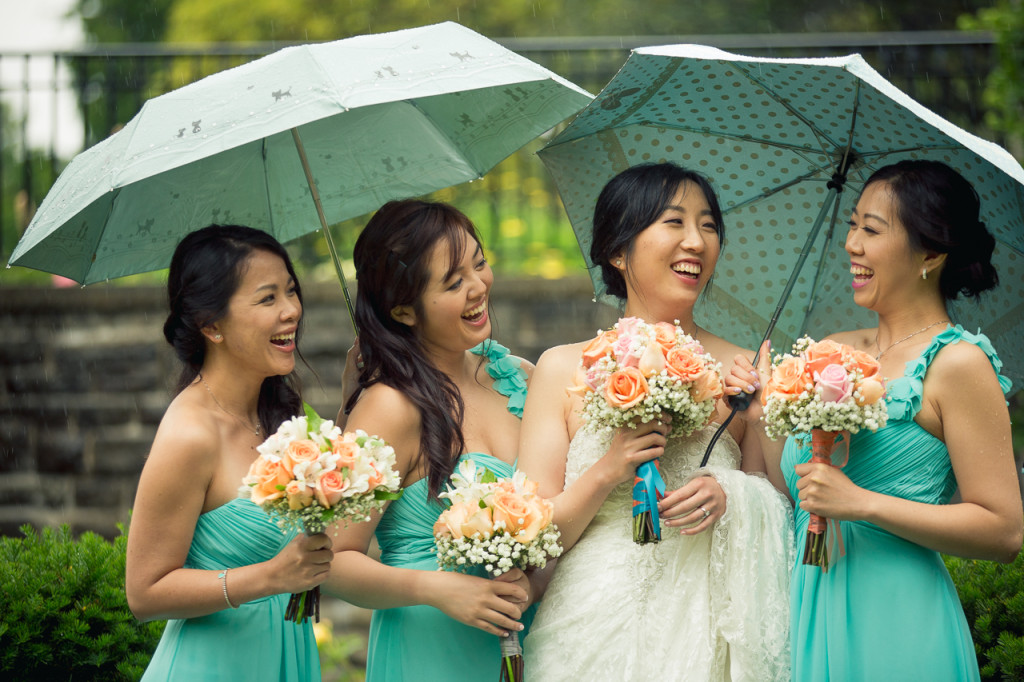 Pic 2: Bride & Groom in The Forest
There's something about black and white photographs that evoke a stronger emotion and mystery that makes colour sometimes seem to obvious. I love it. What a gorgeous shot of my sister and her now hubby!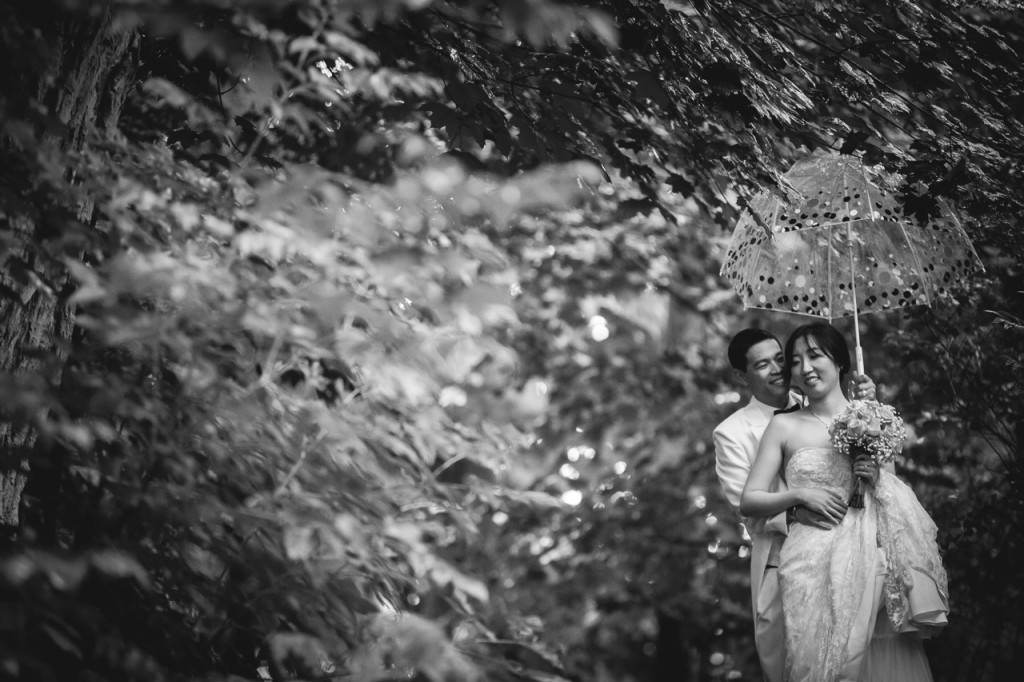 Pic 3: Bridal Party Shot
It's pouring rain by this time, can you tell? I don't like rain (I only like it in Paris or when it's sunny out and sprinkling lightly and sparkling on the ground). Makes for a great photo op, though! 🙂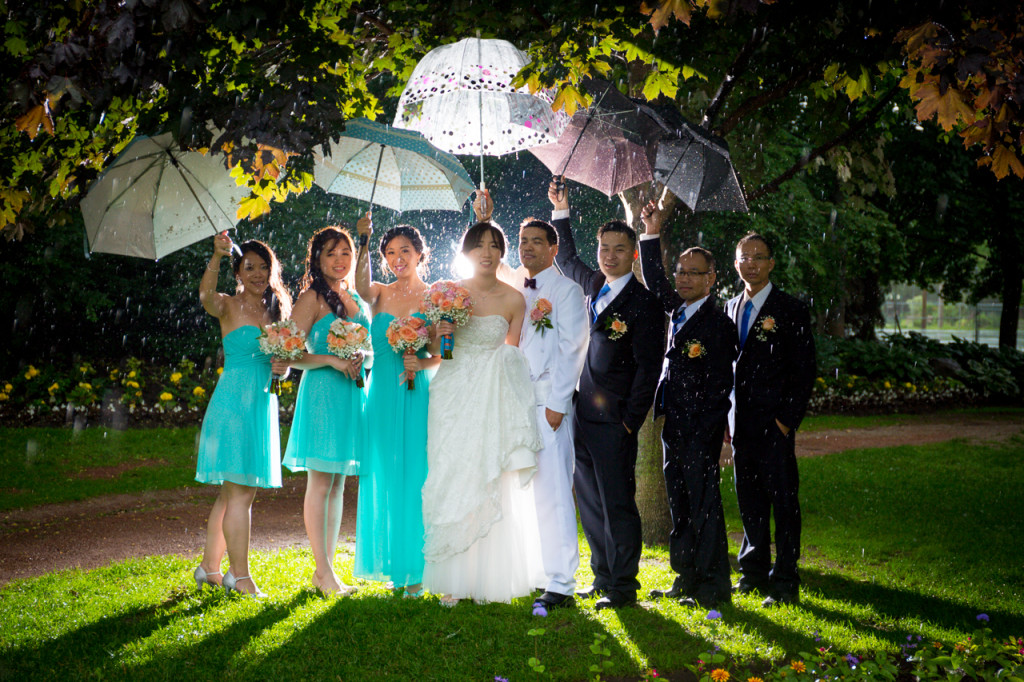 Pic 4: Cake Cutting
Such a beautiful airy shot of the couple cutting into their cake! The colours look so good (better than it actually did!)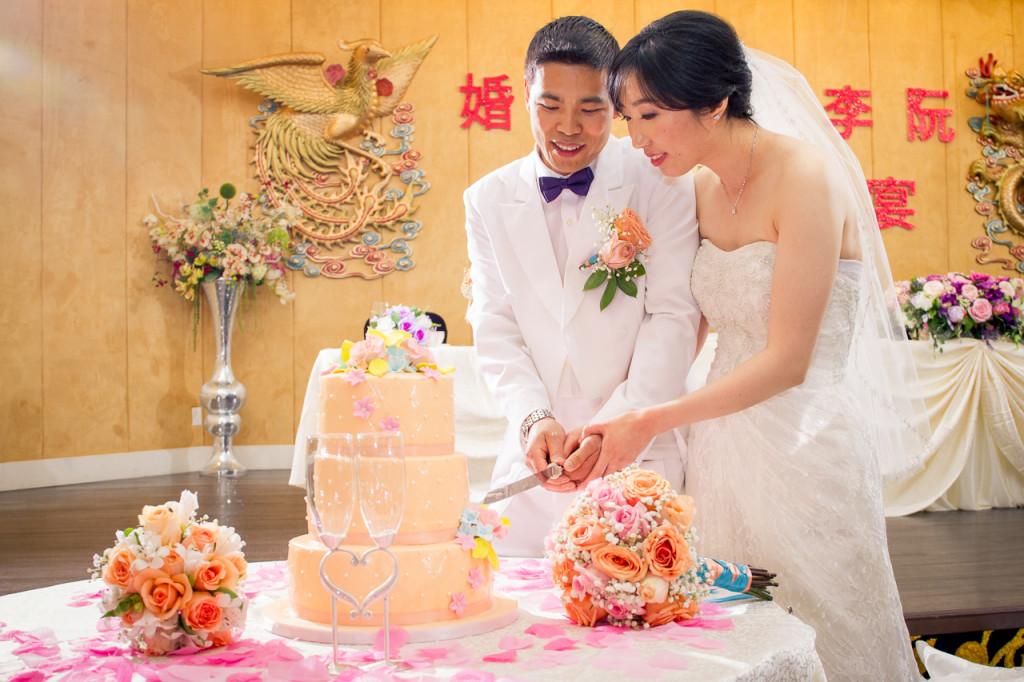 Pic 5: Hug Hug Game
The "Hug Hug Game" is a seriously fun game – enjoyed by all, whether you're watching it or playing it. Basically there are 2 even groups of guys and girls and they start walking around in a circle lined up in boy/girl/boy/girl order… The MC wil call out for example, 5 guys and 2 girls, and they all have to find a group of that number to hug. Whoever does not have a group of that sequence is out. Then it continues into the next round with a different sequence shouted out, until the last few remaining contestants. It's an intense game, seriously fun and should be played at every wedding as far as I'm concerned!
Hope you all enjoyed the peek into my sister's wedding day! It went by so quickly. It warms my heart knowing that they had a wonderful day, "like a dream" my sister had told me, and whenever she thanks me for it, I am reminded once again why I love what I do. I treat my couple's wedding as seriously as I would my own and I am super hands on – often going above and beyond for those who are super kind and appreciative in my efforts. Always give your best clients your best!
Until next week!