The plan for Week 2 carried over some meals from Week 1 to minimize cooking (most of these recipes yield multiple servings so you should have left overs from last week), but I've tried to introduce 1 new meal a day to keep the diet exciting.  Since I already have most of the ingredients for these new meals (Thanks to Costco size everything), I have minimal shopping to do this weekend YAY!  But if you are just starting this diet and need some help with the grocery list, feel free to leave me a comment or send me an email 🙂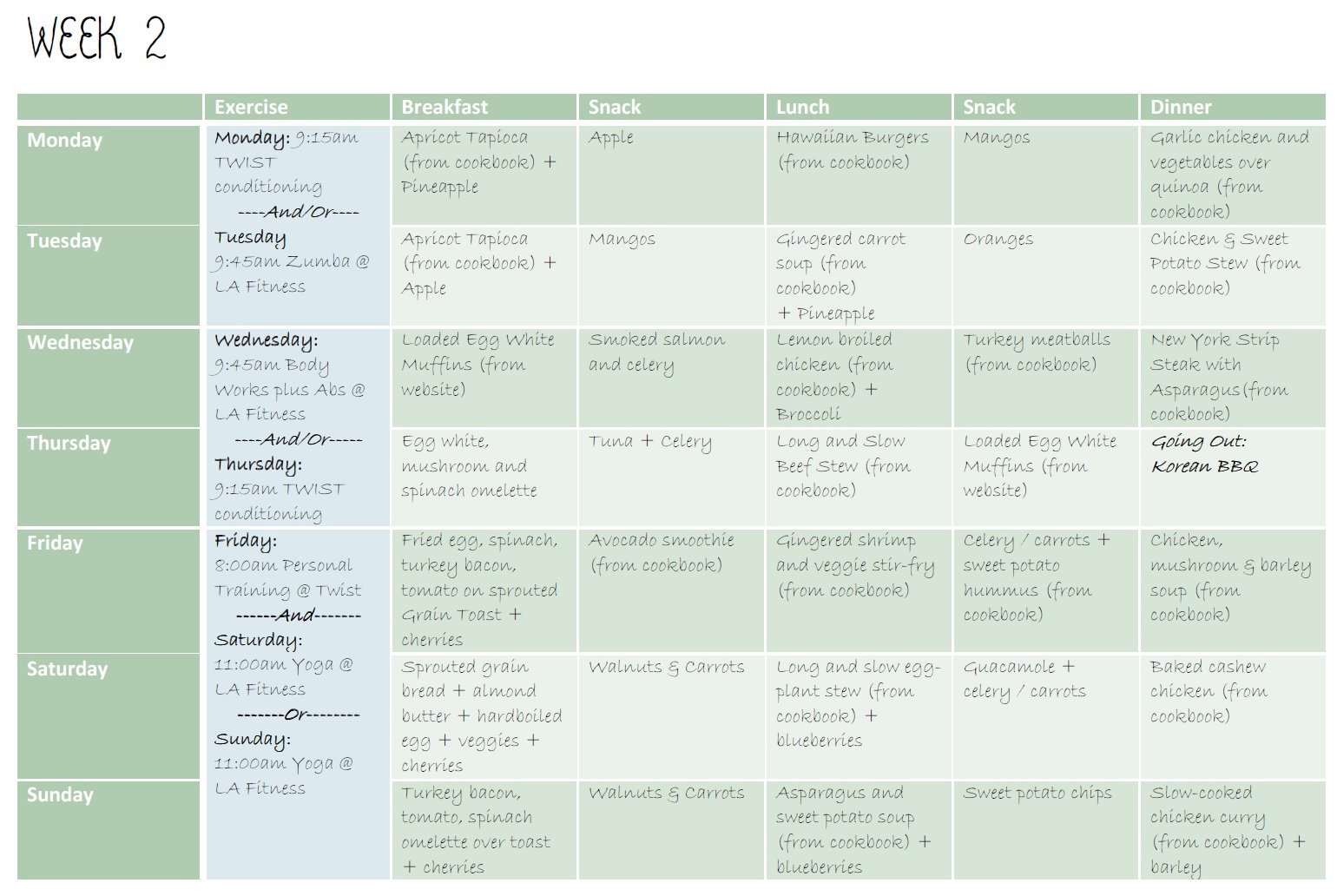 Day 8
I woke this morning with the relief for a brand new week (so I could redeem myself), and to the simplicity of Phase 1.  I've always enjoyed Phase 1 because it includes so much grains and fruits which is super comforting.  I started off today with a mango and spinach smoothie (and some liquid chlorophyll) and the sweetest of the mango totally covered the veggie tastes.  I did get a bit of a brain freeze so note to self.. frozen smooties are NOT the best things for breakfast.
As usual, I wake up pretty late (because my baby wakes up around 9), so I never really have time to add a snack between breakfast and lunch.  I wonder if that's an issue… having 2 big meals back to back.  Maybe I could try adjusting my schedule next week to see if there's improvement.  Anyways, lunch is my husband's favorite meal during the FMD… the Hawaiian Burger.  His looks more like a burger, with regular bun and all, mine is more like an open burger but still super delicious.  I made the patty in the morning with our cast iron pans (which made the patty crispy on the outside) and super juicy on the inside.  The pineapple I actually bought last week so it has time to ripen, and man, it was SOOOOO SWEET.  If you try this recipe and your pineapple isn't sweet, just cook it a bit to caramelize it and it'll be super sweet.  Anyways, I also added a bed of spinach, topped it with some diced tomato (to replace ketchup) and everything over a slice of sprouted grain bread.
For snack, I went out shopping with my mom and baby, and I brought an apple.  YES!  I was able to resist the cinnamon bun my mom bought, and the bubble tea and coffee and treats and everything in a mall.  I was super proud of myself.  I was even able to meet up a friend for a Zumba class before coming home to make dinner (well, more like defrost and heat a meal I made last week).  The only issue I had was I went to sleep around 4 hours after dinner, and based on the rules I should eat a snack if I was up 3 hours after dinner (but I knew I was going to bed soon so it was always a dilemma). And with my current schedule, I do not have 2 snacks, or at least not in the way it should be (breakfast, snack, lunch, snack, dinner).  Tomorrow I will try doing 2 snacks in the afternoon, maybe 2 hours apart (that is the minimum number of hours between meals) and see how that goes.
Day 9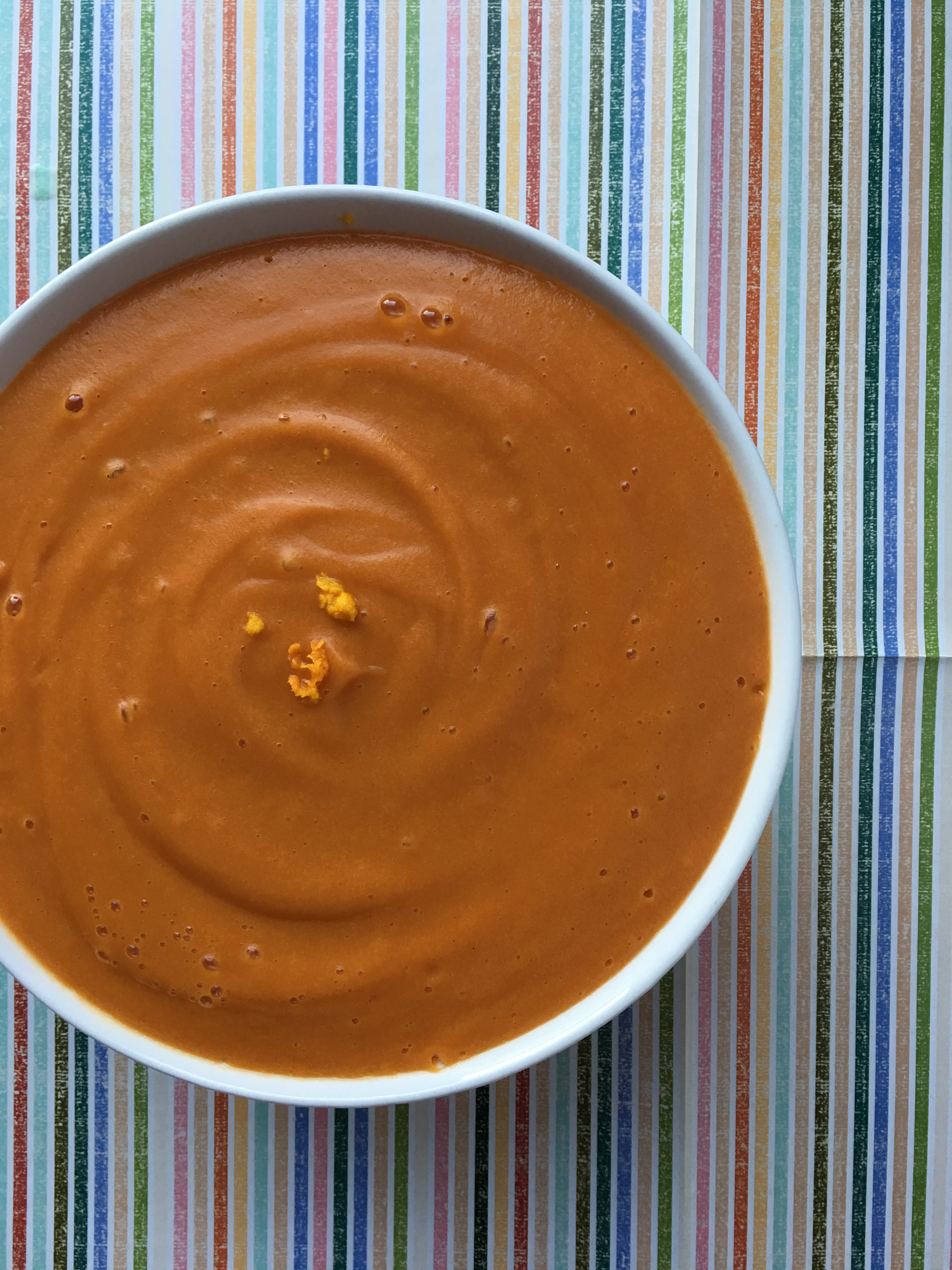 Woke up around 9ish again so breakfast needed to be quick.  Based on the plan, I should've been making apricot tapioca for breakfast, but my lazy side kicked in so I only wanted quick and easy.  Phase 1 is pretty straight forward, sprouted grain toast and some oranges and then I am done.  I contemplated sticking a snack in and have a late lunch, but I was starving by 12 so I opted to heating my sweet potato chicken stew (which was defrosted last night and was supposed to be saved for dinner), instead of the gingered carrot orange soup.  Lunch was good and the frozen mangos I ate along with it was AMAZING.  I had some kiwis in the afternoon as a snack, and hit the gym for some cardio.  Did some simple treadmill and rowing machine, and then spent 10 minutes stretching out my back which was aching from last night's Zumba.
When I came home, I quickly whipped up the gingered carrot orange soup and OMG, I did NOT like it.  I don't think I am a big fan of fruity soups or majority of the puree soups in the recipe book.  I think I did a cream of asparagus a few years ago and hated it.  I tried downing it with the sprouted grain toast, but my brain really couldn't process the fruity tasting soup so I gave up.  I had some hard boiled egg white and microwaved a sweet potato for dinner instead.  OMG, as I am typing this, I am still burping the orange from the soup, it is so disgusting!
Phase 1 is officially done now… kinda looking forward to the rich protein in Phase 2… (steak!).  Weighed myself and nothing change… sigh…
Day 10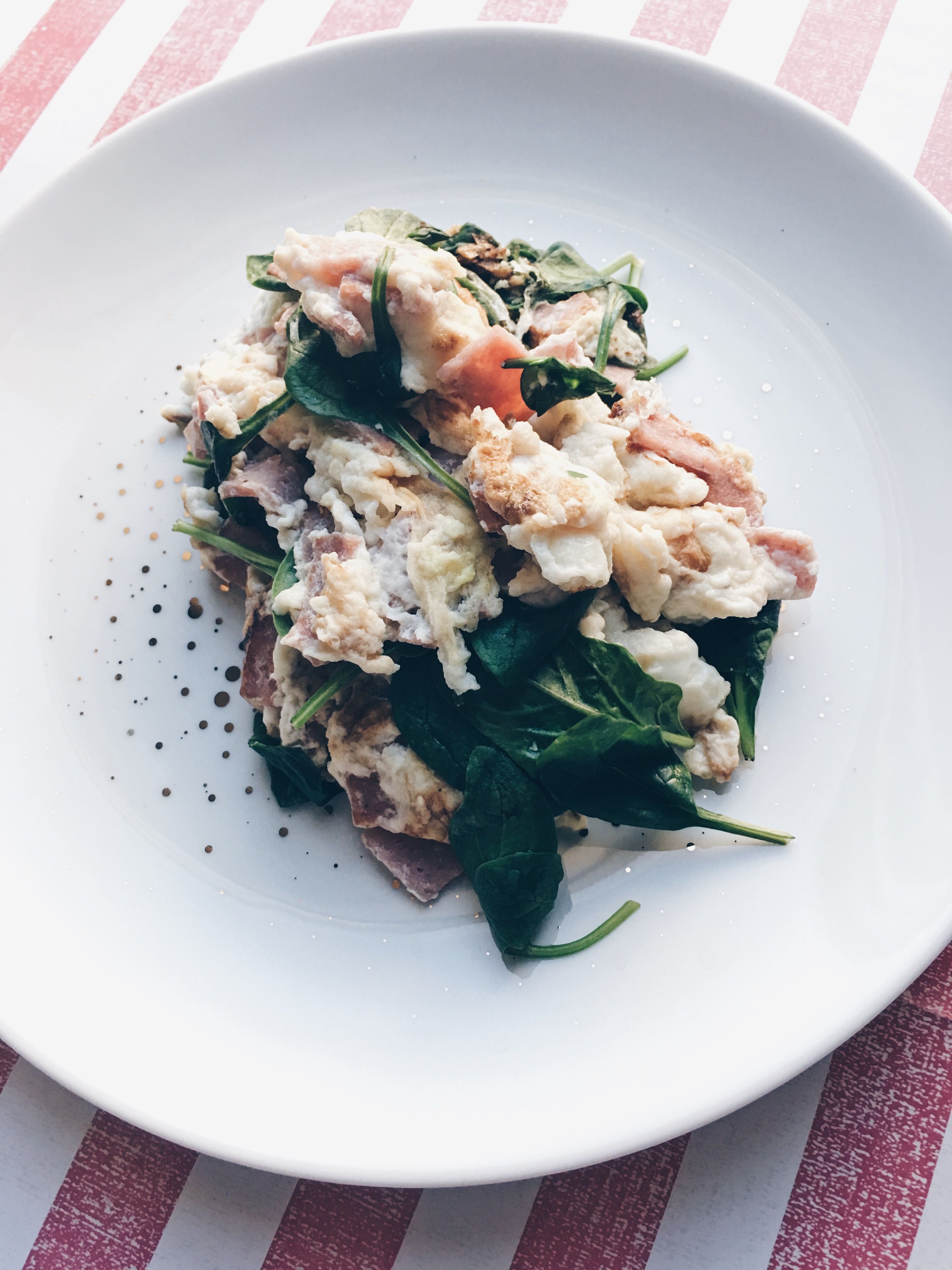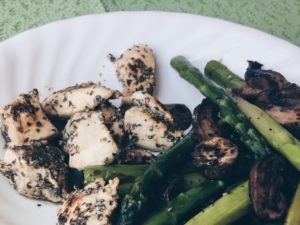 Today started off amazing.. because my baby did NOT wake at all last night so we all woke up at 8 this morning, feeling refreshed and rejuvenated.  I kicked off today with an egg white, spinach, turkey bacon scramble, which was super delicious and satisfying.  The rest of the day was good too because all the cooking was done last week so it was just defrosting the egg white muffins and the turkey meatballs for snacks.  For lunch, I had the lemon broiled chicken with asparagus and mushroom (looks a little blend but trust me, that lemon chicken was very good!).  I had a play date plan at home and served my guest cheese and herbal tea, which took a LOT of restraint to not touch the cheese.  I survived and was tested again for dinner.  I went over to a friend's house and she made chicken katsu, udon carbonara, and a salad with sesame and ginger dressing.  Because I was determined to stick to the diet, I brought my own steak (seasoned with steak spice) and salad tossed with lemon & white balsamic vinegar.  Oh ya… I was that weird person who joined a dinner party with my own meal and said no to a good glass of moscato.  I did take a bite of her creations and it was amazing, but I am still super proud of being able to stick to my diet.
After all the goods.. I should talk about the bads of today.  I was planning to prepare the stew for tomorrow then realized I forgot to buy cabbage (and I went grocery shopping this morning.. arg).  Also planned to work out but ended up cleaning the house for the play date instead.  Good planning only goes so far if you cant stick to it.. sigh…
Day 11
Went to the grocery shop this morning to get the cabbage so I could make my stew for lunch… except it took MUCH longer for the beef to tenderize so I had to defrost more of the lemon broiled chicken (this chicken is good but I think I've had enough of it…).  Last night before bed, I decided to go through the FMD Facebook group to get some motivation and inspiration for new meal ideas.  I then realize there was a minimum amount of veggie you need to take for meals requiring veggie.  Depending if you are trying to lose <20lbs or >20, the requirements are different but in short, I was NOT eating enough veggies (maybe that's why the weight loss is stalling??).  Also, it is encouraged to change up your veggie types to help lose weight (something about confusing the body).  So when I went grocery shopping, I bought some watercress (we Asians love that), and boiled it for lunch (remember you must cook it with BOILING water… or else it gets bitter and all).  All in all, it was a good meal.. I won't say it was 'delicious' because I was getting bored with the chicken and the veg.. well.. its veg.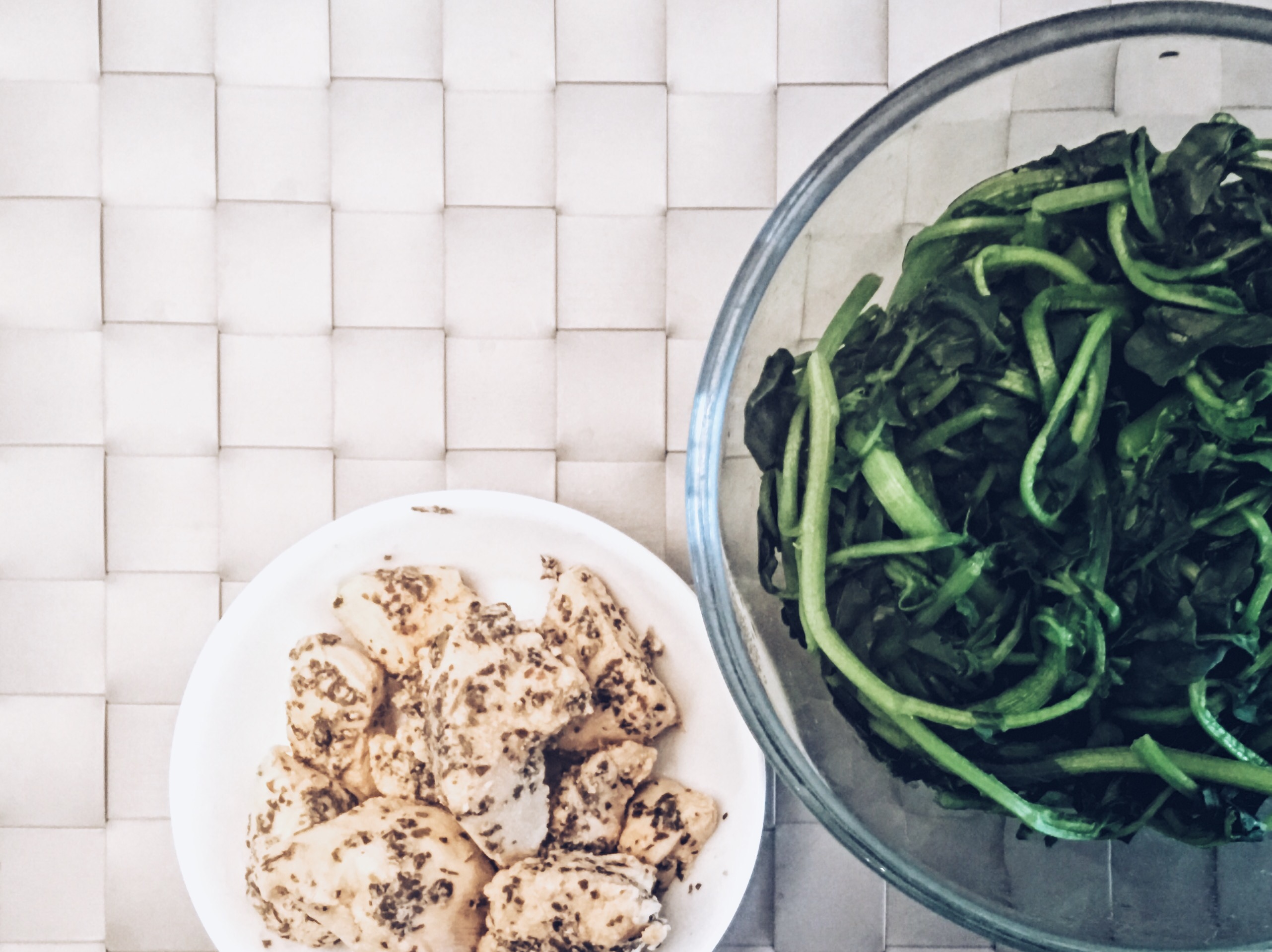 So one of the more popular recipes on the forum is the chocolate mug cake.  Basically it's egg white, cocoa powder, zyla, and voila.  I also added a bit of cocoa nibs so it has a bit of a 'chocolate chip cupcake' feel.  I wasn't sure how long to microwave it for (they recommend 45-60 seconds but every microwave is different), so I think I overcooked it and it tasted rubbery haha.  I tried taking it out earlier but it was more like chocolate mousse… so I put it in for a while longer and then I ruined it.  Sigh.  Anyways.. I may try it again because everyone is raving about it… so it must be good… right?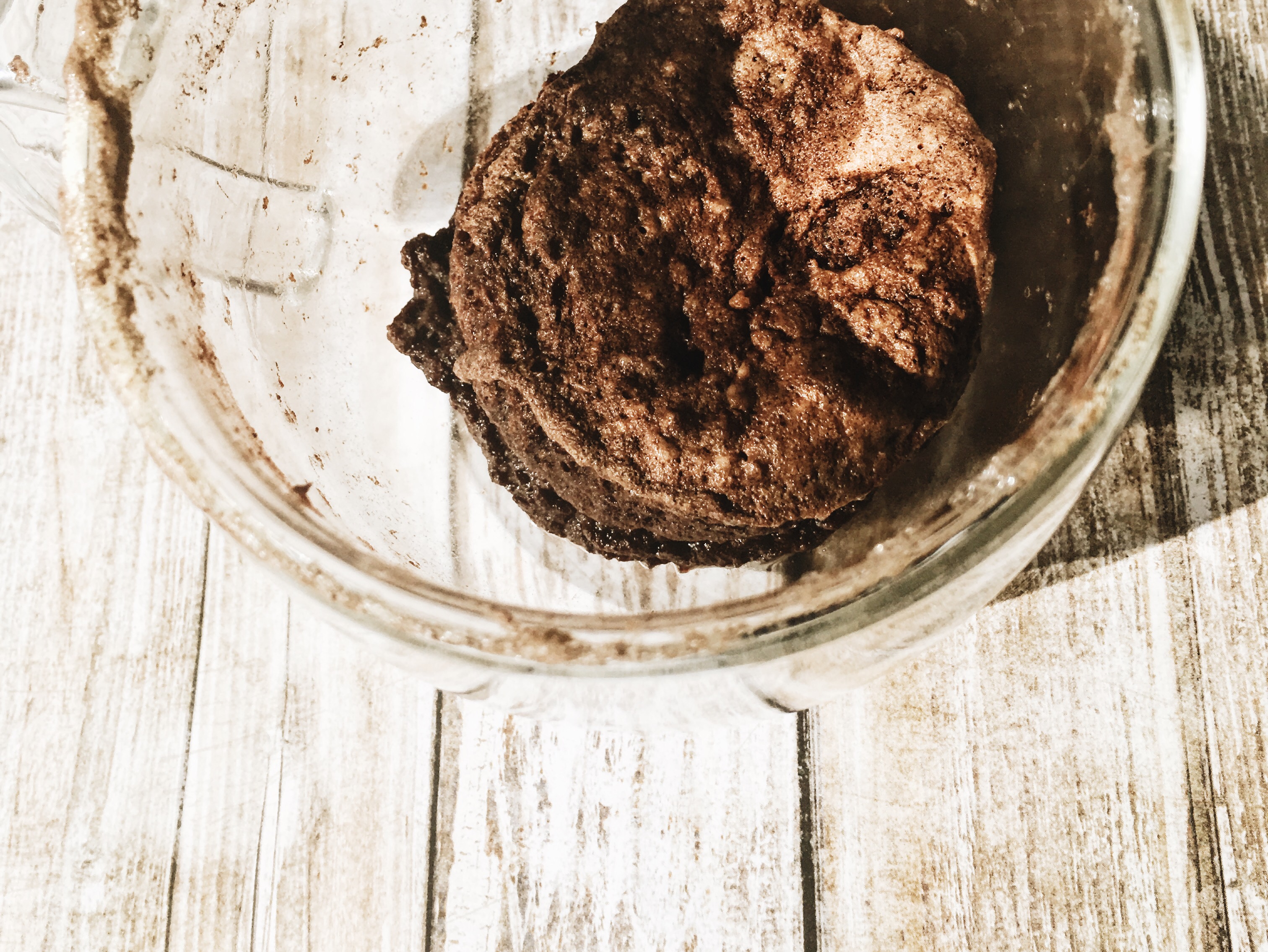 For dinner, we have always planned to do Korean BBQ with another couple and I already mentally prepared to do a 'wash' of all the marinated meats before indulging.  The place we were going to closed and we scrambled to look for another place.  We ended up going to this SUPER authentic Korean BBQ restaurant where their meats were just salted, and you ate it with a lettuce wrap, raw ginger, kimchi and chili bean sauce.  That actually aligned better with Phase 2… except some of the meats were very fatty (imagine think bacon).  It was a good experience… but next time I'll just order the lean meats and maybe bring my own sauce.  We ordered a platter for 4…. but I was NOT full by the end of it.  All I wanted was dessert.  After coming home and still thinking about dessert, I had 1 bite of a banana bread and 2 bites of a Hagan Daz just to control the cravings.  I know.. a cheat is a cheat.. 1 bite or 1 meal… but I am really trying (I actually wanted ice cream and waffle).  Anyways.. I actually don't feel too bad with this meal.. it honestly could've been worst.  So ya.. baby steps 🙂
Day 12-14
I am not even sure where to start.  Maybe the food poisoning Thursday night that gave my body a TERRIFIC cleanse and dropped my weight to -4lbs?  (Yes.. I think I may have had some meat that weren't fully cooked from the night before… or maybe its my body reacting to the 2 bites of dessert? haha).  Because I wasn't getting the weight loss I was hoping for, mainly I gain back a bit from Phase 3, which I hear is quite common because of the healthy fats (for me it may be because of all the cheat meals and all); it is recommended that you could try to extend Phase 2 for 1 more day.  So Phase 1 (Mon-Tues), Phase 2 (Wed – Fri) and Phase 3 (Sat – Sun).  I also seem to manage Phases 1 and 2 better, so I decided to make Friday a phase 2 starting this week.  Anyhow… I still had 1 cheat meal (because I felt so awful after the food poisoning and wanted something comforting) but I stuck to the plan for all the other meals.  I even worked out that morning.. which.. was very surprising.
Saturday and Sunday were very similar in terms of how well I followed the diet.  We had friends over Saturday night and I made a FMD compliant burger, but then I had a bun that was NOT compliant (I wasn't planning to have the bun… arg)… and I had a few bites of the waffles I made for dessert.  For Sunday… I was totally craving for Pizza.. and I am not very good with self-restraint as you can probably tell.. so yeah.  I spent the rest of the night with remorse for the past 3 days, and then looking on pinterest for new and more exciting recipes to help motivate myself to stick to the diet.  When I weighed myself Monday morning, I bounced back 2 lbs, so I only lost 2lbs this week (instead of the original 4lbs on Friday), and a total for 4 lbs since the start of the diet.  Yes I am still seeing progress, slow but its there, and I really hope I could really stick to this diet so let you all know the potentials FMD really has!  Wish me luck for next week!
Thank you for reading and if you are also on the diet, please let me know how you are doing!